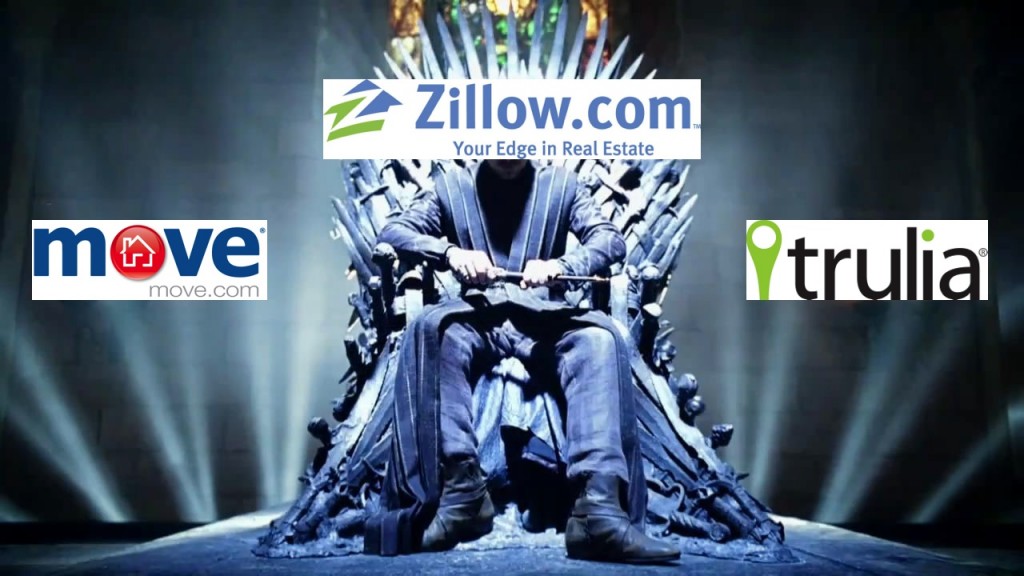 The 2012 results for the Big Three publicly traded real estate portals — Zillow, Trulia, and Realtor.com (Move, Inc.) have been filed, and their senior executives have endured the grilling by Wall Street analyst types. There have been volumes of words already written about them, by financial analysts, by finance bloggers, by real estate industry people, and so on.
But I got interested in doing a substantial treatment of all three companies, since these three in some ways drive the real estate industry into unknown territory. Now that Trulia is also public, and reporting on full year results, I thought it time to take a close look at all three companies, see how they're doing, what they're doing, and what they're planning on doing.
As I got into the project, however, it became quickly obvious that this was no mere blogpost. I couldn't do justice to the topic just going off the top of my head. I ended up spending dozens of hours reading through their SEC filings, listening to the earnings calls and reading their transcripts, and really having to think about what these things mean. The result is a Full Report on their 2012 results, as well as what strategic insights we can get on all three companies, as well as on the shape of the real estate industry as we go forward. It's weighing in at over 10,000 words, 26 printed pages. I spent a ton of time on it.
And I realized, I can't just give it away like one of my blogposts, because this wasn't "fun" to write. It was interesting, but it really was work.
So I'm charging for it. That may mean that only three of you will end up reading what I spent so much time on. You know what? I'm comfortable with that outcome. Because it will tell me in no uncertain terms who values my analysis and opinion, and how much they value it.
But let me provide you with some of the topline insights so you can at least get a sense of what you might find if you do pay for it.
Is This a Sales Pitch?
The Full Report details the 2012 performance of Zillow, Trulia, and Move, Inc (Realtor.com) with a bit of in-depth analysis of their reported numbers, including traffic, core operational performance, and efficiency of spending. It also incorporates some comments and feedback from all three companies from advance drafts circulated to them.
Main Takeaways
These are some of the major takeaways from the Report:
2012 results 

reveal that the changing of the guard in the online real estate space that seemed to happen a couple of years ago has solidified.

Zillow is absolutely, without question, killing it. They're doing this in a year when both Trulia and Move turned in spectacular performances.

The three companies are now engaged in a game of thrones to see who can emerge as the unquestioned king of real estate. They take different strategies in some cases, and compete on the same battlefield in other cases. That game will drive the shape of the real estate industry for the foreseeable future.
Zillow's full ambitions for itself become clearer in 2012, and 2013 promises to be a truly interesting year.
Move turned in a solid, praiseworthy performance, but they are saddled with a major strategic dilemma, and some legacy issues because they're not the new whippersnapper, but the grizzled veteran. They will be forced sooner or later to confront that dilemma head-on if they are to stay in the game of thrones.
Relatedly, Move's performance suggests that the industry's focus on listings, listings, listings may be misplaced, with significant implications for the rest of the real estate industry, from agents and brokers to MLS and Associations.
The next battleground will be on real estate CRM. Move remains the leader today, but Zillow will be making a strong strategic play, and Trulia will have to figure out a way to play the CRM game as well.
I may not be a good enough self-promoter to tell you that this is a MUST READ! I'm not sure that if you're just an individual agent vaguely interested in these companies that this report is for you.
But I do think that if you have to work with these companies, make strategic decisions for your organization, if understanding where these three giants of technology are driving the industry are important to you, and you need to get a neutral, not-paid-by-some-bank, and frankly, somewhat unique (because I am) look at these three companies… well, then yeah, I think you should check it out.
You can click below to be taken to Paypal, where you can purchase the report. Upon checking out, your browser should send you directly to the report itself.
The price for this report is $49.00. All of the proceeds will go to a children's education charity, spending all of its funds on the feeding, clothing, housing, and tuition for the two rugrats who live under my roof. As it turns out, all my income goes to that charity… hmm….
EDIT: I've changed the product, price, and the shopping cart. Please click below to be taken directly to the report in the Shop.
FY2012 Strategic Analysis: Zillow, Trulia, Move
Since this is my virgin journey into this whole thing, if you encounter any problems or technical glitches, please let me know. And I beg your patience as I work out the kinks in this whole new thing I'm implementing.
Thank you.