If you haven't heard the name of Jim Abbott and of his company, ARG Abbott Realty Group, located in San Diego… well, I'd like to welcome you to the real estate industry. Because you have to be brand spankin' new not to have heard of him and seen the famous video in which he announced that ARG would no longer syndicate listings. Here it is below:
I wrote about the announcement a while back, but in the course of research into some topics (soon upcoming), I ran across some fun facts. So I figured I'd write about them, because they're not only fun, but thought-provoking.
We Know ARG Doesn't Syndicate…
And indeed, if you go to Trulia or Zillow, you can find not a single listing of ARG. Unlike Edina Realty, whom I wrote about earlier, it appears that ARG is able to enforce its ban on syndication on its agents (or convince them not to do it).
So I went to the ARG website, and looked under Featured Properties, as Jim Abbott instructs consumers to do. I then took the first listing I found and Googled it.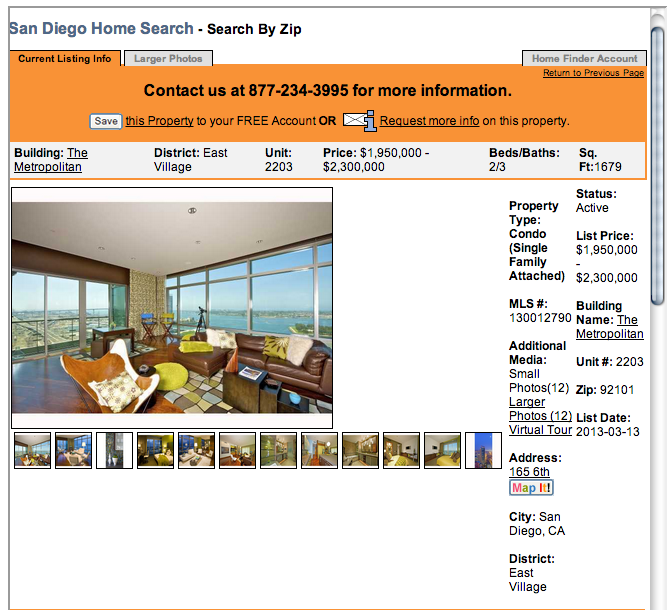 As you can see, there's no address. So I searched for "The Metropolitan 2203 San Diego".  This is the search, but I must warn you, the results might change if you do them since no one really understands how Google works, except for people at Google.
In any event, of the ten results on the first page, nine were of this property, located at 165 6th Ave. in sunny San Diego, CA.
Here's where the fun begins.
Fun Fact #1:
ARG's own website is not on the first page of results. In fact, I did not find ARG's own website in the first five pages of results, and gave up. The way I see it — and most SEO people see it — if you're not in the first two pages of results, you might as well be invisible.
Recall for a moment Jim Abbott's passionate plea: "Go to the source!" Well, as far as Google is concerned, the source is invisible.
Fun Fact #2:
Speaking of "the source"… Google thinks that the "author" of this listing is one Gonzalo Martin Vidano.

Who is Mr. Gonzalo Martin Vidano? He's the broker of a company called Sky Village Realty. (And I must say, he has a lovely website.) He also has someone who knows his way around Google "rel=authorship" tags.
The industry has been much abuzz about canonical tags and authorship tags in the past couple of months, and I recorded a podcast with the man responsible for bringing the topic to the industry, my Trialogues partner and all-around brilliant guy, Gahlord Dewald, of Thoughtfaucet. Most folks appear to think that those tags would help the industry fight Zillow and Trulia.
Well, based on the above, I'm thinking they would help the industry fight each other. Should be all sorts of fun.
Fun Fact #3:
Estately is the second on the results. Since I wrote about Estately a bit ago, that sort of jumped out at me.
If you see a huge world of difference between what Estately does and what Zillow/Trulia do, please let me know what that might be. 🙂
Fun Fact #4:
I mapped the actual physical addresses of all of the companies who appeared on the first page of Google. Here it is:

View The Metropolitan 2206 in a larger map
Huh. To be fair, four companies/individuals are located right there in downtown, mere blocks from ARG Abbott Realty itself. But two companies are… well… not.
Jim Slater is with Century 21 Award, based in El Cajon, CA. Aaron Dickinson, with Prudential California, is up near Del Mar. Now, granted, those may be merely their office addresses, and these gents may actually be living/working in downtown San Diego, where this property is located. On the other hand, since IDX is in no way restricted by area or expertise, it is true that some broker/agent 15 miles away who knows nothing about living in downtown San Diego or luxury condo properties can show up before the listing agent/broker.
Chances are, if a buyer should inquire about a property so far away, and outside of an agent's wheelhouse of knowledge, he'll just refer it to someone he knows… for a 25% referral fee. At that point, how that broker/agent is different from Estately (see above) is beyond me.
Fun Fact #5:
See that dot near "Mission Valley" on the map? That would be OpenOffer.com. I had trouble figuring out what they are. If they're using the IDX feed, then they must be a broker/participant in the MLS. But I was under the impression that brokers and agents in California have to display their DRE (Dept. of Real Estate) license number on websites. I couldn't find one for OpenOffer or for anyone listed as staff.
There's a Dory Roberts on the listing page whose photo appears under "Customer Support", but no DRE #. On the About Us page, I find a number of names listed, but no DRE number anywhere.
But then, maybe OpenOffer.com isn't a brokerage at all. From the About Us:
OpenOffer.com® offers a smarter way to buy or sell a home. We offer an online common ground for Home Owners and Home Buyers to interact while negotiating the price of real estate.

Our proprietary software facilitates multi level price negotiations, negotiations with all potential Home Buyers and negotiations with Real Estate Agents, at the same time. OpenOffer.com® is a real estate site designed to show the willingness of a Home Buyer to buy real estate and the intent of the Home Owner to sell real estate in a no pressure, non binding format.
Huh. So maybe it's a software company? Some sort of SaaS play? But one with a brokerage license, or at least an IDX feed.
(Note: at the same address as OpenOffer.com's corporate address, one finds a Eureka Realty. But the broker, Dali Collins, is not listed as one of the people at OpenOffer.com. Probably coincidence, right?)
Fun Fact #6:
Sandicor, the MLS, has a public facing website. It does not appear in the first five pages of Google results. It too is functionally invisible.
Is This Nirvana?
I want to make something clear. I have never met Jim Abbott or spoken with him. He seems like a great leader, a thoughtful man, who makes very intelligent points, and he is fully within his rights in everything he's doing. I suspect that were I to run into him at some event or another, I would enjoy hanging out with him and hearing his opinions on this crazy industry of ours. I've got nothing against Abbott or ARG or anyone who follows that strategy.
But I do have to wonder… is this state of affairs what he intended?
Take a look at this followup video that Jim Abbott put out two months after his initial announcement.
There are two major themes in both videos cited as problems with syndication.
1. Consumers get a raw deal, because syndicators sell ads to any agent who pays them. That agent may not be an expert in the area or the property. From the first video: "They are often so unfamiliar with the neighborhood or the complex, they start selling against it." The tagline is, "Talk to the Source" and the accompanying graphic says, "Official Listing Agent".

2. Syndicators are engaging in an immoral business practice, of using the free content of listing agents and reselling the leads to subscribers. From the second video: "Listing syndicators take our creative content and resell it to our competitors… With respect to consumers, they can get the data they want on my listings from me, or any other agent in my MLS."
Well, as it turns out, talking to the source is impossible when the source is functionally invisible on Google. Talking to the source is merely an interesting hypothetical when Google thinks the "author" of ARG's listings is Gonzalo Vidano of Sky Village Realty.
In the second update video, Jim Abbott says his agents are answering the buyer calls on their own listings. I'm rather curious how that works mechanically when neither ARG nor Sandicor appear in the first five pages of Google results.
Clearly, Jim Abbott considers what Zillow and Trulia do — selling leads to subscribers — to be borderline criminal. So what to make of Estately.com, who is far more forward about actually selling the leads themselves for a referral, and OpenOffer.com, whose business model appears to be selling software subscriptions to consumers? For that matter, if the two agents who are basically in other towns — Jim Slater and Aaron Dickinson — were to send leads from these IDX listings for a 25% referral fee, how exactly is that practice sanctified while the syndicators are perpetrating a great evil?
Jim Abbott also makes a very big deal of consumers being sent to a "local expert" who is anything but. That insight, more than any other, underlies the entire argument against syndication. Since syndication sites sell subscriptions and/or leads to paying customers without particular regard for local expertise, knowledge of the area, etc., buyers get poor service, sellers have to endure non-serious, non-qualified buyers, and so on. He's quite emphatic about how terrible this is for everyone.
Yet… that Google search where I stopped looking after five pages lists 28 million results. Yeah, probably 27,990,000 of that are totally irrelevant to the property, keying off of words like "Metropolitan". But that still leaves thousands of broker and agent websites, including this one located in Forest Hills, NY.
I get a lot of dismissive snorts because I think IDX=Syndication. A lot of very smart, very experienced people tell me just how crazy I am, or how ignorant. Both may actually be true. Nonetheless, looking at the above fun facts, and thinking about the basic motivation not to syndicate ("Talk to the Source")… I have to wonder.
Well, if I've learned anything in the past few years, it's that once someone's mind is made up, I can't change it. But facts — even fun facts — ought to at least get folks thinking.
And thought, rather than answers, is the goal of Notorious ROB. As always, yours are welcome.
-rsh