Zillow reported its 3Q/22 results last week and it was one of the most anticipated earnings calls for people following the real estate industry, the housing market, and proptech in general.
As expected, it wasn't a good report from a numbers standpoint. Zillow actually did okay, especially as compared to the disaster that was 3Q of last year (when Zillow Offers imploded). But in a way, Zillow did pretty well since everyone was expecting a horror show from the macro environment.
But that isn't what we do here really. We focus on the hard-to-see, the indications from the discussions that suggest where Zillow is headed and what that in turn means for the industry as a whole.
On that front, 3Q was all kinds of interesting.
I titled this post "What's the Opposite of Rocket?" because my big takeaway from what I heard is that Zillow is undertaking what might be the most ambitious fight it has ever undertaken: taking on the mortgage industry, head on. I suppose if anybody in real estate can do that, it would have to be Zillow, but man… CoStar is scary enough as an opponent. Now Zillow wants to add Rocket Mortgage, JP Morgan Chase, Wells Fargo, United Wholesale Mortgage, etc. etc.?
It almost seems as if Zillow wants to take on the whole world all by its lonesome. Maybe that's what it takes to remain the king of the Andals, the Rhoynar and the First Men.
Let's get into it.
The Numbers, Briefly
From the Press Release:
Zillow Group's third-quarter consolidated results from continuing operations exceeded the company's outlook for both revenue and Adjusted EBITDA.
Consolidated Q3 revenue from continuing operations was $483 million, above the high end of the company's outlook range.

IMT segment revenue of $457 million, while down 5% year over year, was above the high end of the company's outlook range.

Premier Agent revenue decreased 13% year over year to $312 million, above the high end of the company's outlook range primarily due to better-than-expected conversion rates, customer connections and retention rates during Q3. The year-over-year decrease was driven by macro housing market factors, including interest rate and home price increases, as well as tight inventory levels.
Rentals revenue increased 10% year over year to $74 million, better than the company's expectations.

Mortgages segment revenue was $26 million, near the high end of the company's outlook range, with purchase loan origination volume growing 24% compared to Q2 2022.
The wind-down of the company's iBuying business was complete as of Sept. 30, 2022, and has been presented as discontinued operations for all periods presented.

Consolidated GAAP net loss was $53 million and consolidated net loss from continuing operations was $51 million in Q3. Segment income (loss) from continuing operations before income taxes was $5 million for IMT and $(51) million for Mortgages.
Consolidated Adjusted EBITDA from continuing operations was $130 million in Q3, exceeding the high end of the company's Q3 outlook range. Adjusted EBITDA from continuing operations by segment in Q3 was $164 million for IMT and $(27) million for Mortgages. Consolidated Q3 results were driven primarily by higher-than-anticipated margins in our IMT segment
Traffic to Zillow Group's mobile apps and websites in Q3 was 236 million average monthly unique users, an increase of 4% year over year. Visits during Q3 were 2.8 billion, up 4% year over year.
The $53 million losses is a huge improvement from the $329 million last year since Zillow is done with the iBuying business for good. And they ended the quarter with $3.5 billion in cash and investments, which puts them in a very strong position balance sheet wise. They keep growing traffic even in this insane market, so that's a strong sign as well.
So overall, the numbers look good considering that we are in a strange housing market with demand falling through the floor. IMT being down only 5% is kind of remarkable if you think about it.
The Five Pillars
We also heard kind of a repeat of the strategy laid out earlier in 2022 about the five pillars of future Zillow: tours, seller solutions, enhancing the partner network, integrating our services. That's the "housing super app" that Barton announced already. There are three things here that were new and are worth digging into.
For what it's worth, Zillow's accomplishments in tours (many more real-time tours via ShowingTime, etc.) are solid and a good sign; it's just that there isn't a lot there I find super interesting. The whole "integrated services" thing is cool and all, but the One Stop Shop has long been everybody's dream and we already covered that in earlier earnings reports.
So really, there are three new things in ascending order of "huh, that's interesting."
Enhanced Partner Network
Barton made quite a big deal about a test that Zillow ran in Raleigh. From the Shareholder Letter:
The most recent evolution is in flight in one key test market — Raleigh, North Carolina — where, earlier this year, we significantly consolidated the number of partners we worked with to enable scalable testing, send more customers to our best-performing partners and offer our shared customers an improved mortgage product experience. We also have a partner who has created a team solely built to serve Zillow customers and provide an integrated customer experience. With a roughly 15% customer adoption rate of Zillow Home Loans in Raleigh, our new approaches to serving Zillow customers in this market give us confidence in our strategy of integrating and improving our mortgage product experience. [Emphasis added]
That Zillow has spent years and years trying to improve consumer experience by working with fewer and fewer agents and agent teams is well known history. What is new is the emphasis on mortgage.
15% adoption rate (not sure what that means exactly — does it mean 15% of consumers applied for a Zillow Home Loan, or that 15% actually closed on the house using a Zillow Home Loan?) is really quite nice. It's especially nice since most top producing agents and teams have pre-existing mortgage relationships that go back years and years. How Zillow managed to displace those relationships — which are normally very, very strong — is something to look into. More on that below.
Seller Products
The second "Huh, that's interesting" new thing mentioned are the new seller products that Zillow will be launching. I imagine this will be the thing that captures most of the industry's attention.
From the Shareholder Letter:
In 2023, ShowingTime+ will offer two new tools to help agents win their next listing: Listing Media Services, a photography service and media package that captures all aspects of a home, giving shoppers an immersive digital shopping experience; and Listing Showcase, a complete media placement package that puts the listing agent's brand front and center using the most cutting-edge interactive technology we have. We expect the combination of ShowingTime+'s software capabilities and Zillow's audience reach and proprietary technologies to allow us to access listing agent wallet share through both software and marketing spend, further broadening our reach within the addressable market we are going after.
Barton went into a bit more detail on the earnings call but not much. He did mention that these new tools are intended to help listing agents win more listings.
Why is this interesting?
One, after Zillow folded up Zillow Offers, I have really wondered what hook Zillow will have to get listing leads. Remember that no matter what you think about iBuying as a business, it did result in some crazy listing lead flow as homeowners requested offers — a clear sign that they're interested in selling their houses.
Opendoor is one answer, and Barton did mention the partnership with Opendoor. There were no further details on that partnership, however, so there isn't anything new to analyze there.
These two products might be another answer… though not really.
It isn't as if photo and media package will get a homeowner to signal selling intent; those come after the homeowner decides to sell. And usually, it isn't the homeowner but the listing agent who makes photo/media decisions.
The Listing Showcase puts the agent's brand front and center, which is hardly going to generate seller interest. It could help the agent win the listing, of course, as Barton mentioned, but it isn't likely to get a homeowner to decide to signal selling intent.
On balance, then, these two products aren't really about generating seller leads. They're about arming Zillow Premier Agents with more stuff to help them win listings… which is fine, but not equivalent to the kinds of listing leads they were generating with Zillow Offers.
Two, what this feels far more like is an answer to the threat from CoStar and Homes.com.
Andy Florance has made it clear in multiple earnings calls now that a central value-add from Homesnap/Homes.com will be content: photos, videos, written content, and other content. In the 3Q call, CoStar told us that they're bringing a lot of that capability in-house as employees of CoStar's vaunted research team as opposed to independent contractors.
The threat is super inside-baseball, and has to do with copyright and real estate, but the idea that an agent could get a free (or hugely discounted) listing photography package from Homes.com for advertising the property there is a problem for Zillow. Listing Media Services and Listing Showcase strike me as a direct answer to that competitive threat. Which is smart.
What makes it interesting is that Zillow is taking on CoStar where CoStar is (historically) stronger. Direct research, content creation, hiring and managing photographers and videographers, etc. etc. are things that CoStar has been doing for years now. They already have the processes, people, and infrastructure to do this. Zillow would need to create those and then play catch-up. Which is not to say that Zillow can't do that; I'm fairly certain that they can. It is to say they are starting out behind the main competition.
Zillow Home Loans
But speaking of starting out behind the main competition… this was the part that really made me wonder.
Barton talks about how they know financing is a key part of the consumer journey, and that Zillow had taken some previous swings with iBuyer and refi. He said neither are "durable" and proceeded to say that Zillow is going big into direct to consumer purchase mortgage. I don't have the transcript to quote, but I do have the Shareholder Letter. This is a long passage, but it's worth reading in full:
We know 87% of buyers use a mortgage, and this year, we've turned our eyes toward building a substantial direct-to-consumer purchase mortgage operation to serve them. From first dreaming about a home to the close of contract, financing is core to a buyer's experience, which is why it's a must in the integrated, end-to-end customer experience we envision.

Beyond that, we see a large and fragmented market where we are well-positioned to take share over time. The top 25 lenders in the country combined have about one-third share of purchase mortgage loans originated. We believe there are three key reasons for this fragmentation: The product is highly regulated, so manufacturing a loan is a commodity; few brands are nationally recognized, so acquiring customers is expensive; and distribution requires brand power and a network of local real estate agents.

Against that backdrop, we see a significant opportunity for Zillow. Roughly two-thirds of actual primary homebuyers use Zillow today, and roughly 40% of all homebuyers begin their journey with financing. Millions of Zillow users raised their hands for financing help in the past year, but the vast majority didn't know they could get a mortgage through Zillow — and roughly 80% did not yet have a real estate agent.

We plan to overhaul our current mortgage funnels away from third-party lead generation and toward Zillow Home Loans, and bolster our loan officers' tools and capabilities to help the customers who come their way. Our future state is one where customers who start with Zillow Home Loans work with a Premier Agent partner to whom we've connected them, and customers who start with a Premier Agent partner through our touring product are also choosing Zillow Home Loans as their mortgage provider. We aim to increase the number of purchase loans, loans per officer, and Zillow Home Loans customer adoption rate. [Bold is added emphasis; italics are emphasis in original]
So 40% of all buyers start with mortgage. Some millions of them start on Zillow, and ask for a mortgage quote or mortgage information. 80% of those did not have an agent, which makes them ideal for Premier Agent.
Zillow is going to stop sending mortgage leads to third parties, whether they be lenders or mortgage brokers, and start handling all of that in-house with Zillow Home Loans ("ZHL"). To do this, Barton mentions needing four things:
More consumer awareness that Zillow does in fact offer mortgages;
Better digital mortgage experience;
More and better tools for loan officers;
More Premier Agents to understand the value that ZHL can provide to them and to their customers.
The first three seem pretty easy to understand. That fourth one though… what is the value that ZHL can provide them and their customers?
Long and short of it is that Zillow is offering a "bundle product" that combines ZHL and Premier Agent and offers a combination of lender credit and rebate up to $7,000 to the buyer according to the Zillow Premier Agent Customer Bundle Guidebook, a pamphlet that has been distributed to agents interested in the program. Thanks to readers who sent me the document. The document says "Confidential for Industry Use Only. Not for consumer use or distribution" and while I think I am covered — as I am definitely "industry use" and VIP is not exactly a consumer distribution channel — I'll skip uploading it here for now. Do know, however, that I am not making up these numbers or these benefits of the bundle program.
Basically, a buyer using a Zillow Premier Agent who is on the Zillow Flex program, and getting a mortgage from Zillow Home Loans, will get thousands of dollars as lender credits at closing, and thousands more from Zillow Inc. for using one of their Premier Agents. Some quick math shows that Zillow is rebating almost half of the expected income from a Zillow Flex Premier Agent — $2,750 rebated on a $550K home purchase translates to almost 48%, if the Flex referral fee is 35% (which I've heard is about the norm today). I don't know what ZHL's unit economics are, but at one point in the earnings call Jeremy Wacksman threw out $9,000 per mortgage origination as revenues to Zillow per origination. So it's a big chunk of that revenue being invested as well.
I can see why buyers would want to use the ZHL loan product, assuming that all other factors like rates and terms are equal. It's a bit reminiscent of what home builders used to do if you purchased a home using their in-house mortgage company. $5,000 to 7,000 cash back on a home purchase is nothing to sneeze at for the average buyer.
That 15% adoption rate in Raleigh seems perfectly reasonable in light of these benefits.
The Rocket's Red Glare
Having praised Zillow's new bundled offering, let me now ask a few questions. Because this does feel like the ultimate "starting behind, and playing catch up" move to me.
I'm certain that Barton is correct that mortgage is a highly fragmented business, and that the top 25 lenders originate only about a third of purchase mortgages. Zillow could become a big player very quickly.
Let us also stipulate, for the sake of analysis, that Zillow has better engineering and tech talent than do all of the leaders in mortgage today. I don't know that that's true, but let's just agree that a Seattle tech company has better and more tech talent than do commercial banks and warehouse lenders. That means Zillow will build better tools, faster tools, more efficient systems, etc. etc. Again, let's just stipulate that Zillow has a tech advantage in loan officer tools and even consumer tools to deliver the "digital mortgage experience."
Let us further acknowledge that Zillow has the number one portal in real estate, and the number one brand in real estate. More people google the term "Zillow" than do the phrase "real estate" today. So Zillow has incredible brand strength in housing and real estate.
Even with all that said, here are just the top ten competitors to Zillow in the mortgage arena: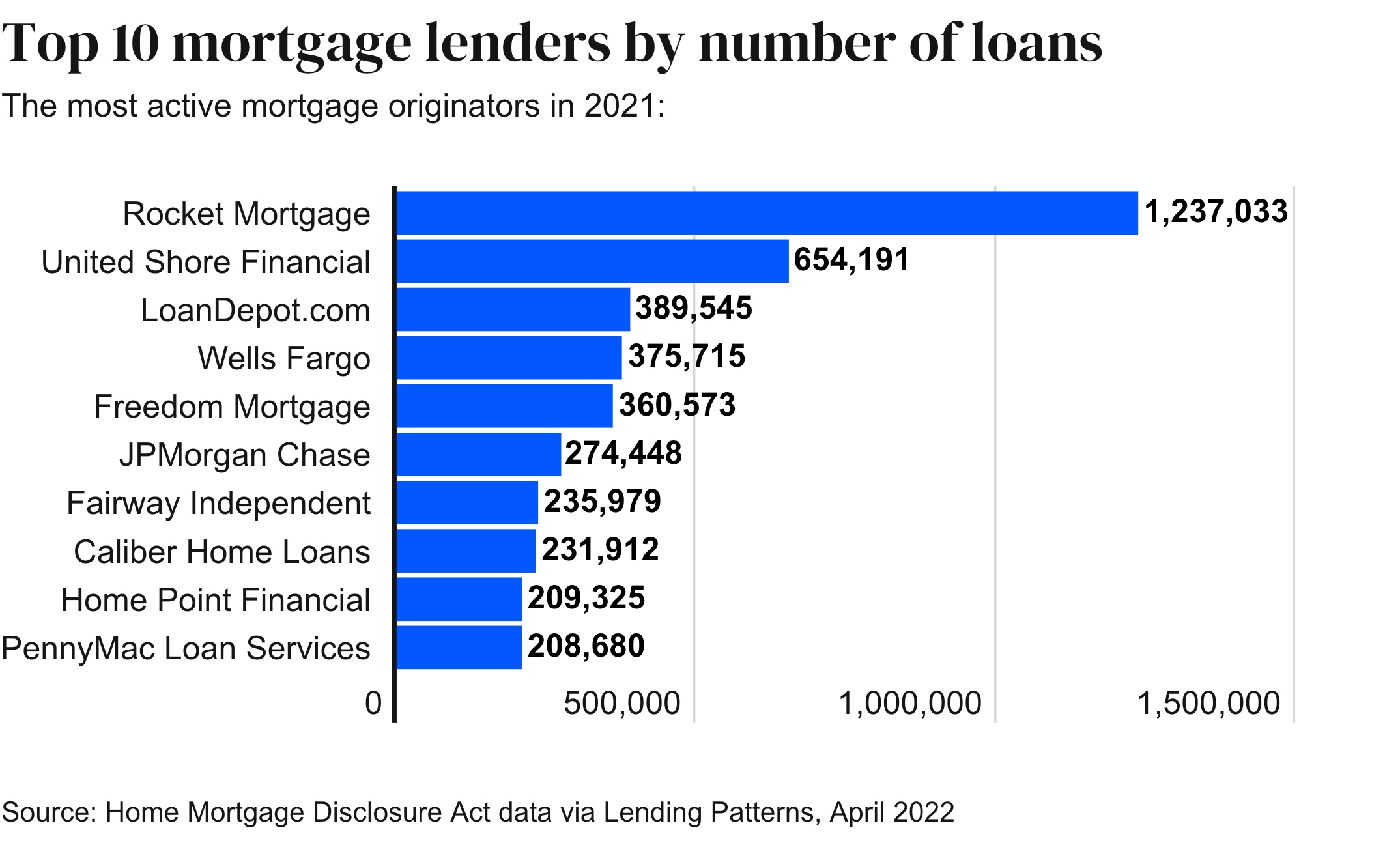 I mean… those are some scary ass names in terms of competition. Rocket is the leader by number of loans, but UWM (United Shore Financial) is #1 overall. Then you have the banks like Wells Fargo, JPMorgan Chase. LoanDepot, Fairway, Freedom Mortgage, Home Point Financial, PennyMac… none of these are small startups who are going to face real problems in the current macro environment. In fact, a few of them are genuine Masters of the Universe types who populate fever dreams of conspiracy theorists.
The one that is most interesting, in a way, is Rocket Mortgage. Because they're different from the others in ways that sound awfully… Zillowy. For instance, Rocket Mortgage (or at least, its parent company through its many permutations) became what it is because Dan Gilbert embraced the internet back in 1998. For another, Rocket talks a lot about platform. And I mean a lot. Here's a sample from the 3Q earnings call:
Turning to our platform, the Rocket platform and its engagement tools are the engine that will expand the top of our funnel, lift conversion and lower our cost to acquire new clients, thereby driving growth in revenue and profitability over the long term. These tools allow us to keep our clients connected to and active within our brand until the moment they're ready to transact. This helps us eliminate the need to reacquire previous leads or compete directly for new leads, reducing our cost to acquire clients. Rocket can leverage the valuable insights we gain from our platform to make more personalized recommendations.
What you get from Jay Farner, CEO, and the rest of the team is that Rocket thinks of itself as a tech-enabled lender, much like how Redfin thinks of itself as a tech-enabled brokerage. They talk a lot about lifetime value of a customer, about long-term relationship with the brand, etc. They really touted their Rocket Rewards program during the call:
Rocket rewards gives our clients points for taking certain actions, such as applying for a prequalified approval letter, utilizing mortgage affordability calculators, or reading informational articles about the home purchase process, ultimately helping to drive education and brand loyalty across the Rocket ecosystem. Early signs are very encouraging. Within the first 72 hours, over 70 million points were awarded to both new and existing Rocket clients for completing over 17,000 activities. While you may have seen membership or loyalty programs in other consumer industries such as hotels, restaurants, travel, and e-commerce, this is an industry first, and we believe a game changer for Rocket.
This is the sort of thing that feels very Zillowy to me: focus on brand, customer loyalty, and "ecosystem" and "platform." They boast 24 million Rocket accounts across all of their products. They claim that this loyalty, this platform, gives them a competitive advantage in customer acquisition costs. The Rocket executives talk a lot about engagement and platform and tech and product, and not so much about finance and banking and money.
And just like Barton in his take on the real estate industry, Farner thinks that a lot of his competition in mortgage is about to disappear as the economy tanks and rates keep spiking. Both think that their respective company's balance sheet strength and cash flow will ensure that they emerge from this downturn stronger than ever.
So let us agree, for sake of discussion, that Zillow has superior tech and superior engineering to Rocket. Let us agree that Zillow has the portal, the consumer traffic, and the agent network. Let us even agree that Zillow is the strongest brand in real estate.
But even Rich Barton has to admit that Zillow is not a brand in mortgage. One of the key things he said Zillow has to do is to make people aware that Zillow does in fact offer mortgages. There's a long way to go before people will associate Zillow with financing, the way that they associate Rocket with mortgages. It is, I think, roughly the same hill that Rocket would need to climb if they wanted consumers to associate Rocket with buying and selling homes — which they do, via Rocket Homes, a wholly-owned brokerage subsidiary.
Yes, Zillow has the Premier Agent network and its experiment in Raleigh, combined with the bundle discount offerings, suggests that there is a path there for Zillow to become a major player in purchase loan mortgages. I'm just saying they're going up against some real big boys with real power and real assets, and they're having to play catch up on Rocket's home turf.
Jeremy Wacksman in the earnings call said that they have real cost advantages at scale in producing and distributing what are commodity undifferentiated products: mortgages. They might, at scale. But getting to that scale against competition like Rocket, UWM, the entire commercial banking industry, and new fintech companies left and right… in the middle of one of the worst meltdowns in the mortgage market overall thanks to Jay Powell's crusade against inflation… is something of a tall order.
Not saying it can't be done; just saying that's quite the hill to climb.
On Alliances and Interests
Let me leave off with an observation that I haven't read or heard anywhere yet.
"The enemy of my enemy is my friend" is an old proverb that turns out not to be entirely true… but it does motivate quite a few real world and historical examples of alliances of convenience. The United States, Great Britain and the Soviet Union allied against Nazi Germany despite the fact that Stalin and Churchill would never see eye to eye on much of anything. Yet that example proves that as soon as the present conflict is done, the enemy of your enemy can be your enemy as well.
What is far more true is the adage that nations have no friends, only interests.
Similarly, I believe that corporations have no permanent friends or allies; they merely have interests. Zillow and Trulia fought for years, then got married. Opendoor and Zillow recently inked a partnership, after Zillow got out of iBuying; doesn't matter that Barton once called Opendoor an existential threat. Interests change, so the relationship must change.
With the moves in 3Q… whose interests are now aligned with Zillow's? One could argue that Zillow's Customers (with capital "C") and Partners — that is, consumers and real estate agents. Those are strong foundations for sure, but who else?
CoStar is going head on at Zillow for consumer eyeballs and for the hearts and minds of agents. CoStar is also going right at brokerages, trying to convince them that their interests are opposed to Zillow's.
Now Big Mortgage has an interest in seeing Zillow's foray into mortgage end in disaster. Up to this point, I have not seen mortgage give a damn one way or another about which portal has what. They just wanted the mortgage leads so they could sell a buyer a loan. CoStar does not have a mortgage operation. Opendoor just got rid of theirs. Brokerages tend to do joint ventures in mortgage, and usually as brokers rather than as lenders. Zillow just did away with third party mortgage partnerships to keep it all in-house.
Big Title has always been on the sidelines of the industry's battle for supremacy, because again, they don't care about portals or tech companies as long as they can sell title insurance or open escrow files.
In fact, the entire "housing super app" leaves precious little room for any of these other big interests to find alignment on any basis other than submission to the hegemon. And as long as they are big, they are unlikely to submit. Partner for temporary alliances of mutual benefit and convenience, yes, but submit, no.
So I am left wondering, whose interests are today aligned with Zillow's interests? Who could be their allies of convenience and against whom? And the converse: whose interests are now aligned to want to see Zillow brought low for their own individual purposes? They might become enemies in the future, but for today? For right now?
With the macro environment what it is, with all of the headwinds in housing for quite some time, this does feel like a time when even the strongest among us will want friends, and allies if not friends, and failing both, at least those whose interests align with ours.
That doesn't feel like the path that Zillow has chosen to follow. No, it seems as if Zillow has chosen to go it all alone to stay on top of the Iron Throne of real estate. It will be a difficult task, as only Opendoor appears to be an ally for the moment. But… just as House Targaryen has dragons, House Zillow has consumer eyeballs and technology. Perhaps that might be enough.
-rsh