I've been 100% heads-down on a project. But thought I'd take a moment to comment on the news that CoStar and News Corp are no longer in talks about Realtor.com.
This is not a Q4 review; that still remains to be done, probably after all the reports as there have been very few worthy of note. But this news is interesting, especially when combined with other comments from CoStar during the earnings call.
Plus, there's this from Andy Florance:
And there is competitive elements here where you don't want to be terribly transparent on every detail, and you want, we believe investors and analysts can figure some of the stuff out, but we don't want to put it in an earnings call script to make it that easy.
Challenge accepted! Let's see if we can figure some of the stuff out.
The Obvious
Let's start with the obvious possible reasons why CoStar and News Corp broke off talks, though none of this was mentioned anywhere.
Price: News Corp could have asked too much, and CoStar just said nah, Realtor.com ain't worth what you're asking.
Terms: News Corp could have asked for things other than price, such as control over revenue models, employee retention, or other things that CoStar simply found unacceptable.
NAR: It's possible that NAR simply refused to license the REALTOR brand to CoStar.
We don't know what happened, and unless someone talks, we'll never know.
Let's assume for the sake of this "figuring some stuff out" that the reason for the breaking off talks wasn't an obvious one like price. That way, we can actually gain some strategic insights from this refusal to acquire Realtor.com.
Buy vs. Build
In the earnings call, we have Andy Florance saying this:
So there are additional opportunities out there in both commercial and in residential. And we're also looking at that we're also looking at the buy versus build scenario continuously.

So you could use a you could use a real estate analogy, you could buy an existing property or you could build a property. And there are different seasons for each where you get a better ROI on one or another.

So right now, you can see some of the success we're having in traffic growth. And we see some of the positive feedback we're getting on the approach we're taking to the market.

And so we feel that we have a unique offering on the organic side that no one else is offering out there.

And so we're a little more focused on that and acquisitions that might support an organic, inorganic — a more organic strategy on building out the opportunity. It's important to remember that in the residential portal space, the vast majority of residential agents don't buy anything from the leading portals.

So I believe that maybe 97% of active residential agents aren't buying anything from the existing portals.

And so we think there's a very attractive organic opportunity there. And we think that there are acquisitions that help you reach that goal. And then there are also less directly related acquisition opportunities.
Now, earlier on in the call, Florance went into quite some depth about how amazing things are going for Homes.com. There's a lot there so let's take it in chunks.
Traffic Growth
First, Homes.com grew traffic pretty significantly. Andy Florance:
I'm pleased to report that we're making significant gains in building consumer traffic on Homes.com. Unique visitors to Homes.com climbed 130% year-over-year in January according to Google Analytics.

Our SEO traffic to Homes.com increased 78% month over month in January.

Our SEO traffic to Homes.com increased 78%% month over month in January. According to ComScore, January 2023 over January 2022, our Homes.com traffic increased 100%, while ComScore indicated Realtor.com com was down 15%, Zillow was down 6% and Redfin was relatively flat at about 6%. In total, our Homes.com network had approximately 24 million unique visitors in January according to Google Analytics.

We still have a lot of work to do here, but we have a clear roadmap and have our heads down focused on building the best residential real estate portal in the United States.
It's not hard to juxtapose 130% YOY growth for Homes.com, while Realtor.com was down 15%. If you're CoStar, why would you spend billions of dollars buying a property that is shrinking, when you can spend that money on your own property that is growing?
I kind of touched on this in my last post thinking through CoStar and Realtor.com when I pointed out that having two brands to advertise is not necessarily a great thing:
Presumably, that turn around has to be accomplished with aggressive marketing and advertising — just like CoStar did with Apartments.com.

I have real questions about whether that is helped or hindered by having two brands instead of one.

For the sake of thinking through this, suppose that CoStar was planning on spending $500 million a year in advertising for Homes.com. That gets you a certain amount of reach, a certain amount of consumer eyeballs. Superbowl ads and such. What kind of traffic growth to Homes.com could CoStar have gotten with that sort of spend?

If CoStar adds Realtor.com to its stable, does that imply a doubling of the ad spend? Or dividing the $500 million between two websites now? Is either a particularly great option?
It seems pretty clear that CoStar looked at the math, looked at the fact that Homes.com is growing while Realtor.com is fading and decided to spend money on "building" instead of "buying."
I mean… Homes.com got to 24 million monthly uniques with the minimal marketing and advertising they've done so far. Sure, that's less than a tenth of what Zillow has, but it's about a third of what Realtor.com has. Not sure that spending $3 billion (the figure that was quoted in earlier reports) on a 90 million a month website is worth it.
Unique Value Proposition
Second, Realtor.com might be the #2 portal in traffic, but its core business model is no different than Zillow's. Realtor.com generates traffic, then sells leads to buyer agents. And like Zillow, Realtor.com is trying to get into other pockets in the transaction: mortgage, title, escrow, etc. etc.
Homes.com is trying to offer something quite different. Andy Florance:
We're making significant progress executing on your listing your lead strategy.

While other sites are injecting their agents into the homebuyers search experience somewhat awkwardly, we offer a friction free environment connecting buyers directly to the listing agents who know the property and the home best that the buyers interested in. We're also presenting consumers with hundreds of thousands of highly qualified potential buyer agents for free based upon those buyer agent skills and experiences rather based on how much the buyer agent is willing to give up in commission to the portal. We believe that we offer a dramatically better consumer experience than do sites that try and take commission split from the inquiries buyers submit.

I've used some of these competing sites myself and submitted leads on properties I'm interested in. The experience is remarkably awful. The moment you submit a lead and for months afterwards, you're bombarded with cold calls from countless agents who have questionable qualifications. We believe that Homes.com offers a significantly improved consumer experience over that competition. Not only do we believe we offer a superior consumer experience for buyers, we also believe we are much better aligned with real estate agents. The competing models use all the agents' listings in a market to funnel monetize leads to just a very small percentage of agents.

So, some of these competing models are diverting all the agents' leads to a small number of agents who are paying the portal. In their model, these few agents pay a huge fees and the vast majority of agents get little value if not downright disadvantage by these competitors. We believe that by respecting your listing your lead, we can serve all the agents better. [Emphasis added]
Whatever you think about the whole "Your Listing, Your Lead" thing, it is different from what Zillow and Realtor.com offer.
And if you truly believe, as Florance seems to, that the whole "buyer leads" thing sucks both for consumer experience and as a business model… and it's difficult to gainsay Florance when he talks about getting bombarded with cold calls from agents with questionable qualifications… then acquiring Realtor.com requires a wholesale model change.
I'm guessing that making such a model change makes the ROI math not work out. Spend $3 billion to acquire ~70 million monthly uniques, then spend more money advertising that brand, and while you're doing that, drive revenues from the newly acquired property to near-zero while trying to pivot it to the Your Listing, Your Lead business model. That's not a winning strategy for anybody.
Organic Growth Opportunities
Third, it seems pretty obvious from CoStar's remarks that they're interested in acquisitions that help organic growth for Homes.com. Andy Florance says as much in the quote above, about acquisitions that help you reach organic opportunities.
If it is true that 97% of agents don't buy anything from existing portals — which includes Realtor.com — and CoStar is interested in getting at least some of those 97% of agents to buy something from Homes.com… then Realtor.com ain't gonna get it done. Realtor.com and its parent Move, Inc. have very few properties/assets/products that the 97% of agents who don't buy leads from them buy. They have very little value to agents who aren't interested in online leads.
We might then wonder what kinds of companies would help Homes.com persuade those 97% of agents to buy something from them, or alternatively, help Homes.com grow organically to eventually convince those 97% of agents to spend money on Homes.com.
I'll speculate on those below.
The New Free Buyer Agents Directory
Fourth, and finally, we get this from Andy Florance:
We are not just providing value to the agents with the listing though, we're making it easier for buyers to find agents who have expertise and experience that are the best match for the needs of those buyers and then facilitating connecting with them and collaborating with them without us trying to again inject ourselves in the process inappropriately.

Our product development and research teams have now released a robust agent directory featuring hundreds of thousands of agents and extensive media to enhance their profiles.
We can explore this below, but it seems obvious that a website reliant on buyer agent referral fees and selling buyer leads to buyer agents cannot actually deploy something like this directory of agents that make it easier for consumers to find agents who have expertise and experience for free.
I am reminded of the kerfuffle that erupted years ago in the industry when companies like Homelight or HAR or Redfin did agent ratings based on performance metrics. The MLSs and the REALTOR Associations who depend on member dues cannot tolerate a business that purports to promote some agents on the basis of "expertise and experience" while demoting others because they have, in the words of Andy Florance, "questionable qualifications."
The MLS put a kibosh on those earlier efforts because those companies were reliant on the MLS for data, including agent performance data. CoStar is less reliant and possibly not reliant at all on the MLS for agent performance data, because it owns Homesnap which has its own agent performance data.
Which leads us to…
A Curious Note about Back End
In the earnings call, Andy Florance made a statement that is likely go over every Wall Street analyst's head:
Our team is excited to be working on this. They're highly motivated and committed to the mission. We believe that given our progress in building traffic to date, we'll be in a position to begin monetizing Homes.com in the later part of this year. We now have over 1 million agents registered on our Homes.com platform, which is an increase of 33% over last year.

During the year, we successfully integrated the back ends of Homes.com and Homesnap platforms into one efficient residential technology stack. [Emphasis added]
I can't think of many analysts who think these two statements are important. And maybe they're not important. Maybe I'm just reading too much into things. On the other hand… I do know this industry and this space pretty well.
My take is that these two statements are important for a couple of reasons.
First, I'd like to know more about 1 million agents who have "registered." I think it is significant that Florance says "Homes.com platform" instead of simply "Homes.com." Because I don't know many agents who give a damn about Homes.com. It's simply not a real thing in their minds because it is so far behind Zillow, Realtor.com, and Redfin. On the other hand, I do know hundreds of agents who give a damn about Homesnap, the utility that they've been using (for free, via the local MLS) for a few years now.
Ergo, I think it quite likely that there are 1 million agents on Homesnap while there ain't no way in hell that they're on Homes.com.
Second, that is why the integration of the Homes.com and Homesnap backends is important. CoStar did not get a million agents to sign up on Homes.com; I doubt they got a million agents to visit Homes.com. What they did get is a million agents on Homesnap to automagically have Homes.com profiles by integrating the back end of the two systems.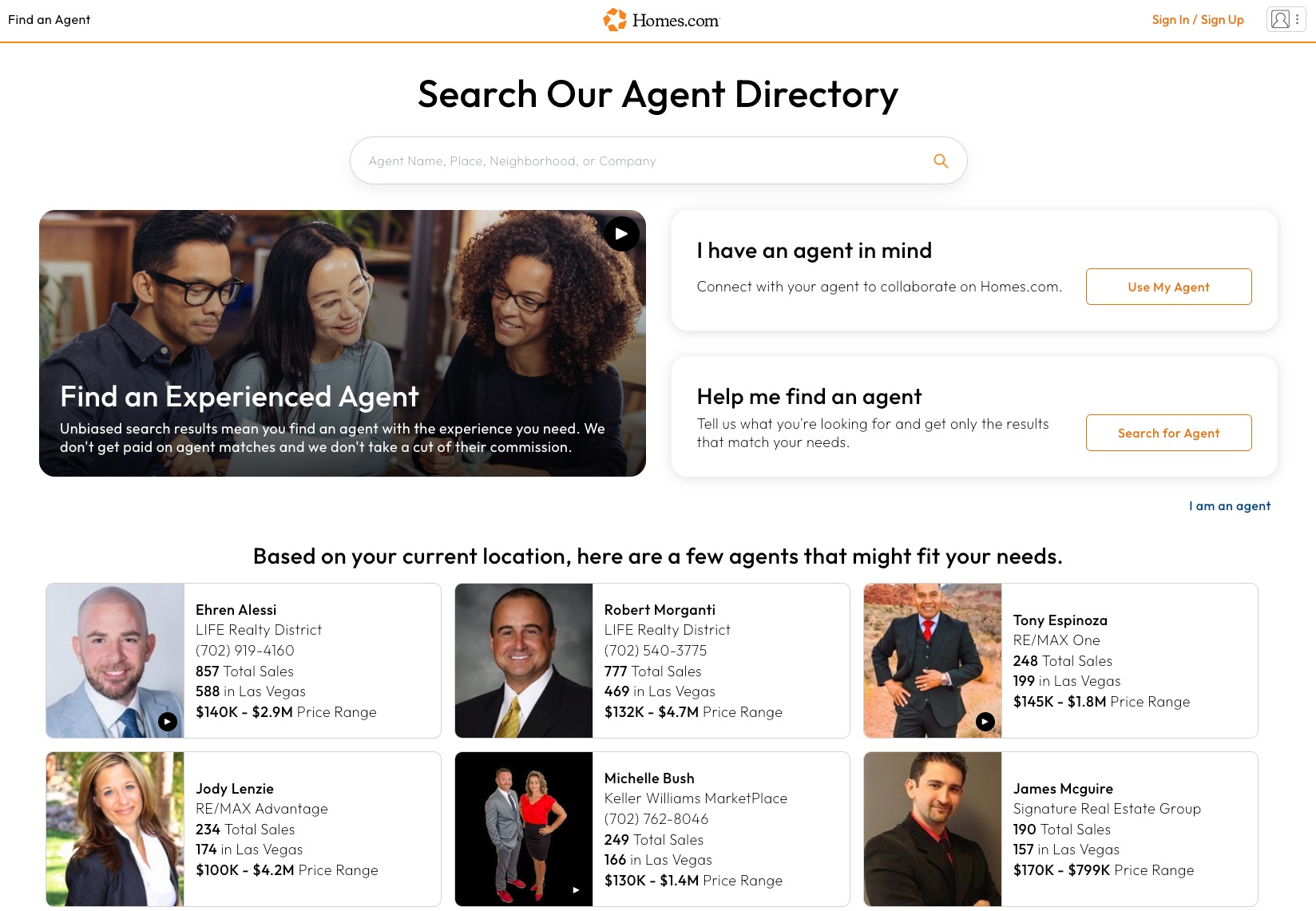 I know a couple of the agents listed for Las Vegas. I know for a fact that they have never once thought about Homes.com. Yet, here are their profiles in the agent directory. It's because of Homesnap, which they have used and liked.
This is important because depending on the Homesnap back end, how it's structured, how it gets data, etc. CoStar may not be as reliant on the MLS system as previous attempts at various things like agent ratings, like lead generation, etc. etc. The MLS may not have the kind of leverage on Homes.com as it had on Redfin or on Homelight.
That makes all the difference in 2023.
Zillow vs. Homes.com From a Reliance on Precursor Standpoint
One way this independence from the MLS could play out is how Zillow and its business model progresses vs. how Homes.com and its business model progresses.
Today, both Zillow and Homes.com utilize the restrictive IDX feed for all listing data. As Homes.com clearly says in the footer, it is operated by Ten-X, a licensed brokerage in all 50 states, which is a member of all of the MLSs where it needs to be to get listing data. The same goes for Zillow.
Tomorrow, if the Homesnap and Homes.com back end are unified, then anything that an agent adds to Homesnap can be reused on Homes.com. As of this writing, Homesnap does not have any kind of an Add/Edit functionality that lets agents enter listing data into Homesnap, but Homesnap does get public records data from various third-party vendors.
Keep in mind that listing data is not copyrightable, and may be copied and kept as long as one would like. Photographs are copyrightable, of course… but that's where this statement from Scott Wheeler, CFO, might have some bearing:
We also have significant resources in our research team now embedded under Lisa Ruggles, working on residential as well as the research for CoStar Apartments.com, LoopNet.

And so as they deploy folks out into the field to do media shoots and other property information, those resources go all across the different property types that we have and they produce information. [Emphasis added]
CoStar's research team is the best in the business in commercial real estate. Say what you want about CoStar or working there or the lifestyle of a researcher there, there is no questioning the results they have produced year after year after year. CoStar knows how to run that team. And now Lisa Ruggles, who has been at the company since 1999 and has proven herself time and again, has "significant resources" to devote to doing media shoots and other property information research.
All of that data, all of those photos, all of those videos, all of that content belongs to CoStar as its intellectual property. CoStar can and will use that data/photo/information in Homesnap. The agent can be provided all of that — as well as the non-copyrightable data — to put into the MLS, but who is whose precursor then?
Push the timeline 3-5 years forward. Some MLS gets pissed at CoStar decides to terminate X-Ten as a Participant and cutoff CoStar's data feed. First, CoStar will sue the living pants off the MLS (it has a full-time Head of Litigation). Second, CoStar will pivot to using the data and media it has gathered to power Homes.com and encourage agents to submit listings directly into the Homes.com/Homesnap back end.
What leverage does the MLS have then?
It's no coincidence that Zillow recently acquired VRX, a large photography/media company. Today, the MLS can hamstring Zillow by pulling the data feed. Zillow knows it can copy all of the data, since none of that is copyrightable. The photos though… huge problem. CoStar has them or is busy acquiring them. Zillow must do the same.
Whither CoStar?
Let us wrap up the speculation-fest by addressing what kinds of companies would help Homes.com persuade the 97% of agents who buy nothing from portals to buy something from them, or alternatively, help Homes.com grow organically to eventually convince those 97% of agents to spend money on Homes.com.
I don't think it will be a portal. Homes.com is growing traffic rapidly, and CoStar has a lot of experience and track record in advertising a website to get massive traffic. Realtor.com is not a target anymore, and it seems unlikely that Redfin would be a target either. The Your Listing, Your Lead thing will have issues trying to fit Redfin's brokerage model into it.
The focus, I think, should be on the new Homes.com/Homesnap back end. Getting data into that back end makes a ton of sense. So it could be:
Content/photo/media company. But CoStar brought contractors in-house to have more control; maybe acquiring another digital media network makes sense, but maybe not.
CRM. A critical tool that agents use to keep in touch with clients is a CRM system. That's a lot of unique content that could power up Homesnap as well, while generating listing data and contact data. Companies like kvCore (Inside Real Estate) or Moxiworks are giants in the industry, but to CoStar, they're small fish. CoStar could acquire those guys for a few hundred million dollars, which it has in cash.
Transaction Management. Same logic as CRM, and an area where Zillow with Dotloop (and its focus on the Housing Super App) currently has an edge.
Home inspection company/network. Another extraordinarily rich source of property data would be home inspectors. Trouble is, they're fragmented as hell, and it isn't clear that there is a dominant leader in that space. But maybe a franchise like Pillar to Post makes sense.
Public Records/Data. I've already spoken about CoreLogic, which CoStar went for, and Black Knight, which is in talks to be acquired by ICE. There are other title companies out there, such as First American, or data companies like Attom Data. Both are huge giants by real estate standards, but again, CoStar is a Whale.
Those all make logical sense to me. A step removed might be a physical marketing company that helps real estate agents create and publish postcards and flyers. (That makes Moxiworks, which acquired Imprev back in 2019, a strong choice.) Why? Because of this from Florance:
Our number one competition in my mind is the United States Postal Service.

So I feel very comfortable competing against the United States Postal Surface.

In fact, I don't know what your mailbox looks like, but about the last thing in my mailbox is residential ads.

So I collect them all from every place I have a mailbox and I bring them all and I throw them at a conference table in our office here in the product design studio.

Just as a reminder of how much money residential real estate is spending on marketing properties very little of it with who you would consider to be the entrenched real estate portals.
It isn't because CoStar wants to be in the real estate postcards business; it's because agents creating postcards have to put information into something to create those postcards.
Finally, while I think it is highly unlikely, if I were advising CoStar (which most assuredly I am not, to my bank account's detriment), I would tell them to look at acquiring an MLS. There are quite a few broker-owned MLSs with local monopolies that are much more amenable to business discussions with a $35 billion S&P 500 company. Imagine if CoStar acquired FMLS in Atlanta and Northwest MLS in Seattle and MLS PIN in Boston. All of them belong to every MLS-related organization in real estate, like CMLS and RESO. They're gonna kick them out because of corporate ownership? Especially if CoStar then decides to donate a couple million bucks to CMLS and RESO in exchange for a couple of board seats?
Probably won't happen, but hey, if CoStar really wanted to juice the Homesnap/Homes.com back end… that's one surefire way to do it.
Anyhow, at this point, it appears that CoStar has decided to build instead of buy when it comes to traffic. It's a smart decision. Where it goes from here will need to serve the purpose of growing Homes.com, growing Homesnap, and competing against not only Zillow but the US Postal Service.
-rsh