Back when Todd Carpenter was applying for the position of Social Media Manager at the National Association of REALTORS, I endorsed him with reservations. Those reservations had nothing to do with Todd, as he was (and is) perhaps the most qualified person to head up social media strategy for NAR.  When he got the position, I was extremely happy for him personally, but concerned about a few implications of what "going corporate" would mean for Todd and for NAR.  I wrote about those here, and made a couple of recommendations.
Fast forward to last week, when an absolute blogstorm erupted over the issue of NAR endorsement of a local MLS rule forcing members to block Google from indexing IDX listings on their websites.  Some of the responses of people on that thread were extraordinarily interesting from a social media strategy standpoint.  The substance of the issue in that post is addressed there and elsewhere.  The focus of this post is on the process of deploying social media strategies for large organizations, particularly when the organization brings in a well-known figure in the wider community.
Message Control vs. Openness
L'affaire de MLS instantly revealed a real tension between message control that is typical and traditional in public relations doctrine and openness that is inherent in social media.  For example, as the storm of outrage threatened to get out of hand, Hilary Marsh, the Managing Director of Realtor.org (the actual website of NAR, since Realtor.com is a consumer-facing website operated by Move, Inc.), posted a response from Cliff Niersbach, NAR's Vice President of Board Policy & Programs.
The immediate question that arises is, "Does Cliff not know how to use a website comment form?  Why is Hilary posting for Cliff?"
The overwhelming temptation for any company or organization that suddenly finds itself in the middle of a brewing (or full-blown) controversy is to lockdown message control.  One person, typically the person in charge of Corporate Communication, speaks for the organization, and all inquiries are referred to that person.  Behind the scenes, PR consultants, staff, lawyers, and other executives get into meeting after meeting to work out what will be said, how it will be said, and by whom.  Once the message has been polished to a high gloss, it is put out to the world with extreme care.
The downside to such a strategy, of course, is that most people who view such a highly polished message are used to such "PR spin".  After all, we live in a world where every other word coming out of our elected officials' mouths can be assumed to be a lie of some sort.
The upside is… the organization speaks with a single voice, through a single channel, and can disavow anything else said by anyone else.  Not that this stops, halts, prevents, or reverses any sort of shitstorm being stirred up 'out there', but the people within the PR Fortress have a sorta warm feeling.  Queasy, but warm.
Proximity to Power and Alienation
Furthermore, within a social media context, 'proximity to power' counts for a good deal.  It's amazing that the CEO of Zappos will interact with people over Twitter.  Blogposts by senior executives (e.g., GM's Fastlane blog) makes consumers and interested parties feel as if they are more directly connected to the organization.
In contrast, some spokesperson relaying the official word from some official hidden inside the PR Fortress immediately puts distance between the community and the 'right people' inside the organization.  It widens the gulf, which is not a good thing unless you really mean to make your customers/members/whatever feel even more alienated from you than normal.
In the NAR MLS case above, that Hilary provided an email from Cliff Niersbach proved not to be good enough.  Commentators emailed Cliff, then reposted his responses in some cases, but that in turn fed the feeling of alienation for those who did not do so.  The ultimate result is that a clear feeling of "Us vs. Them" was created, with Jay Thompson and Paula Henry (the original author of the AgentGenius post) becoming the spokespersons for the Community, to present the grievances of the Commuity to NAR.
Now, nothing against Jay or Paula, but look at this from NAR's perspective.  Is it really a good thing that large numbers of your own members think of themselves as a "community" distinct from you, an organization which ostensibly represents them and is the "official community" of REALTORS? That they feel alienated enough to want to designate "spokespeople" to bring the case to you?
Would it not have been better to have Cliff engage directly with the community on AgentGenius (or better yet, on Realtor.org itself), debate, hear issues, post responses, and just communicate openly so that the members of NAR feel as if they are part of the whole process, and not a part of an insurgent "Us" vs. the power-structure of "Them"?
This blogstorm presented the perfect opportunity for NAR to use social media techniques to prevent comments like this one:
However; it seems you "have your ear to the ground" more than your average NAR aristocrat and can actually relate to and understand the conversation we are having here in addition to having an audience at the NAR. (Emphasis mine)
It's too bad that NAR missed the opportunity, because the folks I know at NAR are far from "aristocrats" and take their mission to provide value to the members very seriously.  It's further too bad because all evidence suggests that Cliff Niersbach spent quite a bit of time answering emails sent to him by outraged members.  If he were going to spend the time doing that anyhow, why not simply engage in the social media channel?
Perils of Visibility

Todd Carpenter, Ninja
One of the most interesting issues, I thought, was the strain put on Todd Carpenter (@tcar), a prominent member of the RE.net community who became the Social Media Manager for NAR.  Because Todd has always been engaged in industry issues, he did what he always did: engaged.  At the same time, he made it clear that all of the opinions were his personal opinions:
I'm the social media manager here at NAR. I do not work for REALTOR.com. Again, ALL of my comments here are my personal opinion despite what Jay says. I've been expressing my personal opinion on Agent Genius LONG before I ever worked for NAR.

I don't make policy at NAR. To be frank, I won't be doing anything to get this policy changed. That's on you guys. The members. An official statement for NAR was published in the comment stream.
Unfortunately, when a member of the community "goes in-house", the tension between his former openness and new status as an "insider" has to be resolved.  Comments like this one by Jay Thompson is representative of one feeling that was running through the community:
You are well aware that before you were even named to this position, there were questions out there that asked regarding how long it would be before the SMM was "assimilated" by the NAR. Well, some of your personal opinions in this thread — to me — have answered that question. It didn't take very long.

I hope I'm wrong about that. And maybe that's just my interpretation and my feelings/emotions getting the best of me, but that's how I felt when I read many of your responses.
Let us leave aside Todd's personal predilection for the moment, and focus more on what NAR as the organization should think about this issue.
As I see it, Todd's connection to the community, his stature within the community, and his credibility with the community are all assets to be used by the organization.  In fact, those reasons contributed to why Todd was hired in the first place to be the Social Media Manager.
Putting Todd's standing at risk in the community, therefore, is counterproductive for NAR.  It decreases the value of Todd Carpenter to NAR, and prevents him from being able to fulfill his core mission of bringing the organization closer to its stakeholders.
In the instant case, I think NAR made two mistakes.
The first one was funnelling all responses through Hilary Marsh and Todd Carpenter.  If, instead, Cliff Niersbach (or other executives, for example the folks from CRT) got involved with the community directly, that would have provided the space for Todd to speak his personal opinion, since someone else is representing the official NAR position.  Even if there are disagreements between NAR staff on various issues, that would have really eroded the feeling of separation and alienation between the "Them" of NAR and "US" of the RE.net community.
The second mistake was then using Todd as the official channel for NAR:
After a considerable amount of behind the scenes discussions here at NAR, we decided that the most effective way to assure the MLS Committee sees how this verbiage is effecting agents would be to have them engage two members who really understand it's consequences.

I have invited both Paula Henry and Jay Thompson to speak before the committee. NAR will be covering their travel expenses as well. Lots of items are on the agenda, this will not be the dominant topic discussed, but Jay and Paula will be able to bring this issue to the committee's attention.
This is not Todd's personal opinion.  This is not Todd Carpenter speaking as @tcar, but Todd Carpenter speaking as the Social Media Manager of NAR, empowered to make this announcement, empowered to invite people to speak before an official NAR Committee, and put items on the committee's agenda.  That pronoun "we" is a critical one.
How can Todd then credibly claim that he's only voicing his personal opinions?
Message Control, Social Media Style
The purpose of this post is not to bash on NAR for its mistakes.  They just happened to be the example at hand.  I have a feeling they will improve their social media practice continually going forward.
The point is to think about what message control means in a social media context for any organization, of any size.  Applying traditional PR concepts to social media can backfire in dramatic fashion, because social media at its heart is about Openness and Authenticity, while traditional PR at its heart is about Controlling the Message.
And few things test corporate communications like a crisis, a blogstorm of controversy and criticism.
My current off-the-top-of-my-head thoughts and recommendations are that a company that finds itself in the midst of a PR crisis should make some immediate decisions at the outset.
1.  Which mode will we take?  Traditional PR, or Social Media?
If the former, then follow the disciplined approach of traditional PR rigorously.  Instruct the social media channels to refer all inquiries, discussions, and whatever to the traditional PR channel where the message will be tightly controlled.  Blogs should refrain from commenting, Twitterers should not respond except to say "Contact @So-And-So for more information", and every other non-sanctioned channel must be silenced.
In part, this is to protect the social media channel as well.  Since social media is about openness and authenticity, the last thing you want to do is the ruin that channel with tightly controlled messaging that reeks of spin.
If, instead, you decide to go the Social Media route, then…
2.  Figure out who the Decisionmakers are, and get them into the social media channel.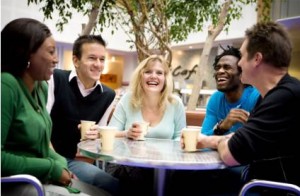 Avoid the temptation to conduct message control, to funnel any info through a "spokesperson" channel, etc.  In other words, reject rigorously any traditional PR strategies for controlling a crisis.  You're no longer trying to control the message; you are now trying to share the message and open up the whole affair to the relevant community at large.  Get the PR consultants out, the Corporate Comm people out, and go straight to the policymakers at the highest level possible, and have them speak openly and honestly, like human beings.
The only role your social media people should be playing here is an administrative one — introducing the relevant decisionmakers to the community.  For example, Todd Carpenter getting on Twitter and saying, "Hey everybody, on this whole MLS issue, please follow @NARExecutive and @NARBigWig — they are the ones in charge of the issue."  Or posting on various blogs, "We're going to address this at our corporate blog, at blog.XYZ.com — please consolidate all the discussions there, and our CEO will be posting and interacting with all of you there."
At no time should the social media people speak on behalf of the company, unless they themselves are the relevant decisionmakers.
And… 3.  Unless there's some good reason not to do so, open up the whole process to the stakeholder community.
Unless the issue at hand involves trade secrets, proprietary technology, or personal information that you just can't share, consider opening up the whole process from soup to nuts on social media.  Conduct the business in plain sight, in front of your community, and get them involved in the whole process from very early on.
Imagine if Cliff Niersbach had simply gotten on that AgentGenius thread, posted a greeting, acknowledged the controversy, and said, "Okay, I'm all ears, people.  What do you want to do?"  There would have been no "Us" vs. "Them" created; instead, all of the commenters would have made suggestions, protested the policy, etc.  Cliff could then have responded with his concerns, brought other staffers in, brought in people from the CRT to raise questions, ask questions, and turned the thread into a wonderful discussion/debate.
Some individuals would have remained very fired up about it, but the vast majority of stakeholders would see that things have settled down to a boring, dry, technical discussion of how to word the policy, how to define "indexing" vs. "scraping", and so on, and would have gone back to their daily lives, feeling reassured that "people" (not "We" or "They" but "people who know what they're talking about") are looking at it.
If you can't open up the process to that level of transparency, then say so, and say why not:  "Hey gang, as much as we want to get you all involved, I'm afraid this involves some pending patents, and possible litigation, so we're gonna have to go behind closed doors.  But we'll let you know as soon as we decide something, and get your thoughts."
In that latter case, rather than conducting message control, just make sure that everyone relevant to the discussion is substantively on the same page.  You don't want to censor anyone, or take someone to task because he went "off-message", but you do want to make sure that everyone inside your firewalls more or less agrees on the important points, before you decide to go face the public via social media.
Social Media PR?
I don't know what social media public relations ultimately boils down to.  I think I have some ideas, but I want to hear from experts (like Allie Herzog, of Quinn & Co., who is presenting at the June Lucky Strikes Social Media Club meeting).  [Slick plug, Rob, real slick. – Ed.]  But here's a thought, and this will end our program for the evening:
Social Media PR is about the WHO and the HOW
rather than the WHAT and the WHERE.
Let's think on that.
-rsh