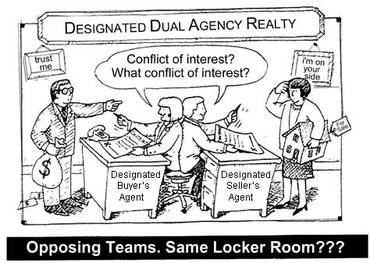 Once in a while, realestistas get around to discussing tame, non-controversial topics.  And as any regular reader of this blog knows, I am simply allergic to controversy and disagreement.  I am glad, therefore, that people are talking over at Agent Genius about the entirely boring and controversy-free topic of dual agency.
As it happens, I happen to have a view or two about dual agency, and figured I'd meditate on a few unrelated (or maybe related) topics as follows.  Most of them are inspired by the comments to the AG post:
Dual Agency and #RTB
Dual Agency and Brokerage
What Dual Agency Says About Agent Value
Twitter version: Dual Agency is a symptom of so much that is wrong with real estate today.  Long version follows after the jump.
On Dual Agency and #RTB
#RTB of course, is the hashtag for "Raise the Bar" — the current obsession of many of the RE.net.  The goal of the RTB movement is to make it more difficult for people to become real estate agents so as to raise the standards of professionalism within the real estate industry.
The practice of dual agency makes a mockery out of the notion that real estate is a profession, period.
The duty of loyalty is one of the strongest elements of what makes someone a professional as opposed to just a businessman.  We expect the used car salesman to try to rip us off; we don't expect our doctors to try to rip us off because we expect that the doctor owes us a fiduciary duty of loyalty.
The responses (from the comments on the AG post) are interesting, to say the least.  A few examples follow.
"The law in my state allows it."  Congratulations, you're not a criminal.  Do you want a medal or a statue?  The law in my state may not require that I pay child support for an illegitimate child; that doesn't make it ethical not to do so.  The law establishes the floor, not the ceiling, of ethical behavior.  Just because something is legal doesn't make it ethical, any more than something being illegal makes it unethical (see, e.g., Jim Crow laws).
"The parties want to do a deal, so there's no problem."  The idea that dual agency is okay because buying and selling a house is not an adversarial situation, but one where the parties want to reach agreement, is an interesting one.  By that token, when you go to negotiate an employment contract, you should have no problem using the lawyer who represents both you and the company.  And your financial adviser should be putting you into those stocks his investment firm is getting paid to market.  After all, the parties want to agree; it doesn't have to be an adversarial thing.
"Dual agency is okay if it's disclosed to everybody, and all parties agree."  Frankly, this is a variant of the "it's legal so it's ethical" argument.  On the surface, it's a strong argument: the seller's okay with you representing him and the buyer, and the buyer's comfortable with it.  What's the problem?  The problem is that disclosure and agreement are the absolute bare minimums that society expects of a so-called fiduciary.  Put another way, disclosure and agreement by the principals are factors that excuse behavior that would otherwise be a breach of duty.  Homicide is also justifiable in some circumstances, but we don't go around celebrating taking of human life as a wonderful thing.
During the recent real estate bubble, there were a number of mortgage brokers who engaged in practices that were entirely legal, like selling interest-only ARM loans to people who were ah… "unsophisticated".  Disclosures were fully made.  The client agreed fully to those disclosed terms, supposedly fully aware of the disclosed risks.  Nonetheless, can we agree that the actions of the mortgage broker were far from ethical?
So to my friends in the #RTB movement, I say unto thee, if you're serious about improving professionalism in the industry, relax the clamoring for higher educational requirements and apprenticeships.  Agitate to eliminate dual agency instead.
Dual Agency and Brokerage
One of the more interesting insights into a fundamental issue with the real estate industry today is what dual agency reveals about the role of the broker.
"It isn't really dual agency if I'm representing the seller, and another agent in my office is representing the buyer."  The idea is that Agent Jones represents the seller 100%, and Agent Smith represents the buyer 100%, so even if it's dual agency to the brokerage, it isn't really dual agency.  Single-agent dual agency is a no-no, but with two agents, that isn't really a conflict of interest.
This is, frankly, the strongest argument for a form of dual agency: dual agency at the brokerage/company level, but not at the agent level.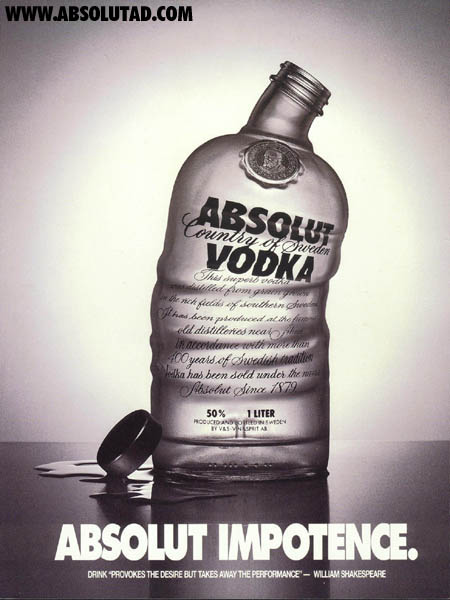 The trouble is, more than just about any other issue in real estate, this form of dual agency reveals just how impotent and unimportant brokerages have become in our industry.
In theory, when I go to list my house, I'm not listing it with Agent Jones; I'm listing it with Broker Jackson who has employed Agent Jones to be his representative.  The fiduciary duty actually accrues to Broker Jackson, and Agent Jones acquires it by being Broker Jackson's agent.  In reality, I don't know Broker Jackson, never met the man, couldn't care about him, have no idea what the name of the brokerage is, and only know Agent Jones.  My relationship is with Agent Jones, and Agent Jones and Agent Jones alone considers herself any sort of a fiduciary to me.
Is it any wonder that brokerage brands are so meaningless today?  That consumers couldn't tell one brokerage apart from another?
Sure, broker dual agency is more or less the norm in the industry.  Sure, it's not likely to change anytime soon.  But as brokers move further and further away from seeing themselves as having real clients, as having real duties to real consumers, and see themselves more as recruiters of agents and renters of desk space, their importance and value continue to plummet.
Dual Agency and Agent Value
Dual agency also goes to the heart of what the value of a real estate agent is in a transaction.
"As long as disclosure is made, there's no problem."  This is an interesting perspective.  The comment is worth quoting:
However, it is legal in PA if both sides agree and it is disclosed, and I have closed transactions as a dual agent. You must take special care with it, and be super diligent in your documentation to be able to prove you have not favored one side or the other. (Emphasis mine.)
If I'm hiring someone to be my agent in any other situation, I'm not looking for a dispassionate referee who doesn't favor one side or the other.  I'm looking for someone who is 100% in my corner, advocating for my interests and my interests alone, and trying his damnedest to favor me in the deal.  Isn't that at least a part of why I'm paying you?
At least Florida has recognized the situation and created the "transaction broker" who owes no fiduciary duty at all to either party.  Their duties are spelled out in statute; they are entirely creatures of legislation, rather than of common law or of long-standing principles of Anglo-American tradition.
Of course, whether the transaction broker is as valuable to the consumer as the more traditional fiduciary broker is for the consumer to decide.  I know where I fall on that question (less valuable) but the market dictates value.  And of course, it's difficult to consider the "transaction broker" as any sort of a professional.  I don't consider Ebay to be a professional services company either.
In an era where realtors are struggling to define their value to the consumer, as realtors are trying to be taken seriously as knowledge experts, trusted advisors, and advocates for clients, the practice of dual agency drags them back into being classified as glorified price-transmission systems.
Guess what?  There are things that are far better than real estate agents at transmitting prices to principals.
The Solution?
There are two possible solutions that I can think of to the dilemma of dual agency.
One is the transaction broker, as in Florida.  Drop the pretense to being a fiduciary to either party, and go with being a guy (or gal) who just facilitates the transaction.  No loyalty is owed to anyone, and everyone is acting ethically as long as the law is followed.
The other is to enforce fiduciary responsibility at the broker level, whether through legislation or through ethical standards.  This is my preferred option, as it has the benefit of bringing the brokers (and brokerages) back into the business of having clients as opposed to the business of having a stable of agents who have clients.
All of my little pet causes — enforcing brand standards, having enterprise CRM, discipline and education, etc. — are advanced by brokers taking a far more active role in serving clients.  Those in turn help reestablish the value of a brokerage, and the importance of the company.  It will also likely lead to greater specialization amongst brokerages, and a proliferation of number of brokerages.  Both of those things strike me as something that may be beneficial to consumers on balance.
And it would go a long way towards establishing the real estate broker as a true professional, a fiduciary worthy of trust:
"The distinguishing or overriding duty of a fiduciary is the obligation of undivided loyalty." ASIC v. Citibank, 62 ACSR 427.
-rsh