Ah, Spring… a time when a young man's fancy lightly turns to thoughts of love… and respected real estate market analysts voice cautious optimism…
For example, here's Lawrence Yun of NAR voicing cautious optimism:
Yun expects a slightly stronger demand for housing and a fairly even level of foreclosures entering the inventory pipeline before easing in 2011. "We expect distressed home sales to account for 30 to 40 percent of transactions for the remainder of this year," he said.
And here's Mark Zandi, Chief Economist of Moody's, doing the same:
Zandi also forecasts improving demand for housing, but with foreclosures rising later in 2010 before easing in 2011. He said home prices may weaken this year. "The housing crash is over—nearly. We are now near the bottom," he said. "There will be no real price growth in 2010 or 2011. Whether home prices weaken is unclear, but it will take two more years to work off excess housing inventory at the current sales pace. Of course, if demand picks up, it would take less time for prices to rise," he said.
Then there is David Crowe, Chief Economist for NAHB:
"Home buyer tax credits clearly did their job and got people back into the marketplace," said NAHB Chief Economist David Crowe, who also served as moderator of the two-hour webinar.

With the expiration of the tax credits in April, Crowe said the housing momentum is being carried forward by low interest rates, pent up household formations, stabilizing prices and budding employment growth.
Freddie Mac is almost bubbly (PDF):
The reason to expect this relatively benign outcome is that, despite short-term swings in sales activity, the underlying fundamentals for housing markets are steadily improving. The job market report for April showed a rise in nonfarm payrolls of 290,000, the largest new hiring in four years. While temporary Census workers accounted for 66,000 jobs, private payrolls posted a respectable gain of 231,000. The other "headline" figure in the report—the unemployment rate—gave a head fake by rising two tenths, to 9.9 percent. Somewhat paradoxically, this was due to improved labor market conditions, which attracted over 800,000 job seekers back into the labor force. A broader measure of employment that is not affected by changes in labor force participation, the employment-to-population ratio, rose two tenths of a percent. Overall, labor market trends are looking much better than a few months ago. More robust job growth and the incomes this will bring should directly contribute to the housing market recovery, and will likely also have further indirect effects by boosting household confidence.
And we have very encouraging data from the Commerce Department, Fannie Mae, and others.
So why do I feel an unnamed dread going up my spine?  Is it just some sort of Eeyore-itis?  Perhaps, vampire-like, when the sun is shining and the birds are singing, I have to retreat to the chill of the grave.  Yeah, I probably need more Vitamin D….
Nonetheless, I have a bad feeling about the housing market, because of data that economists rarely look at.  That probably makes them right and me wrong (and boy, I'd love to be wrong on this), but hey, this is a blog, so… what the hell.
"We're All Subprime Now"
First sign of gloom comes from actual economic data, so maybe there's something to be worried about here.
According to Calculated Risk's reporting on the MBA (Mortgage Bankers Association) conference call, there are some startling things to consider:
FHA foreclosures are up sharply. (!)
Prime fixed rate is now the key problem. (!!)
The Q1/2010 delinquency and foreclosure for prime loans is a new record. (!!!)
According to the graph, more than 1 out of 10 prime fixed loans are now in serious delinquency (90+ days) or in foreclosure.  We're not talking subprime no-doc loans here, or wacky interest-only ARM's.  We're talking prime fixed loans, the bedrock conservative 30-year fixed mortgages.
A number of the more positive analysts on the real estate market have cited the tax credits (that have expired now) as one reason for boosting demand.  I've always wondered whether people who wouldn't have taken on $300K mortgages over three hundred and sixty months, were it not for a $8,000 one-time tax credit, was really the best idea in the world.
Well, seems to me, we may get to find out soon enough.
Web Search Terms
The second "uh oh" comes from Hitwise, the web traffic analysis company.  In this blogpost of May 12th, Hitwise pointed out some rather interesting trends.  Read the whole thing; it's interesting.
First, Hitwise reports that year-over-year visits to websites in the Real Estate category are down 22% for April of 2010, and that is 11 consecutive months of traffic decline:
That there is a pretty steep curve…
However, Hitwise also reports that visits to "Home & Apt Rental" websites are up 45% in April 2010 year-over-year, and that represents the tenth consecutive month of increases:
And finally, Hitwise reports: "The most popular term ranked by the overall share of search clicks is 'apartments for rent', which has increased 162% for the 4 weeks ending May 8, 2010 when compared to the same time period 2 years ago."
Given that 90% of all homebuyers use the Internet during the purchase process, 22% decline Y-O-Y for traffic to real estate sites, combined with 45% increase for rentals suggests that the market demand for housing sales might be a helluva lot softer than economic data indicates.
I think this stat might be something the economists should take into account more.  The fewer people who search for homes in April will translate directly into fewer people contacting realtors a couple of months later, which then translates to fewer home sales a couple of months after that.  If April is the 11th consecutive month of decline, why do we think that September of 2010 will be anything but down? And significantly so?
I worry about this one… unless you're a landlord.  In which case you should be thinking about rental increases, and hope that your local government hasn't passed rent control laws yet.  Rental demand looks like it will be very, very strong.
Government Debt
Finally, on my Eeyore World Tour of the Market, there are now some serious people sounding like… well… Eeyore.
"We better get started," the 82-year-old former central banker said in a speech yesterday in Stanford, California. "Today's concerns may soon become tomorrow's existential crises."

…

"Little has happened to allay my concerns" raised five years ago that "dangerous and intractable" problems were rising in the U.S., said Volcker, chairman of the president's Economic Recovery Advisory Board.

"Intractable not just because of the combination of complicated issues, but because there seemed to be so little willingness or capacity to do much about it," he said during a dinner at the Stanford Institute for Economic Policy Research.
Now, again, this ain't some pajama-wearin' bloggin' fool.  This is Paul Volcker.  As it happens, the sunnier economists like Yun, Zandi, and Crowe all agreed that their rosier forecasts depended on something being done about the massive structural deficits and anemic employment.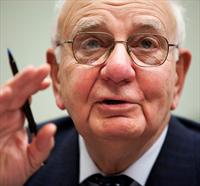 Thing is… as Volcker said, there seems to be little willingness or capacity to do much about the massive debts and budget deficits.  Normally, this wouldn't be much of an issue (one would think) for the housing market; didn't we hear bitching and whining about budget deficits and government debt for decades now, and housing has been strong?
The difference today is that there is no private mortgage market anymore, for all intents and purposes.  Fannie Mae and Freddie Mac are no longer "government sponsored entities" in anything but name; with bailout after bailout, they are really "government entities".  The Fed is backing them up, buying their securities, and the like.  And that money has to come from somewhere.
There are, broadly speaking, three places that money can come from: taxes, lenders, and the printing press.  With unemployment at near 10% (and many think that figure is far too low), and Tea Party movements getting active, more taxes doesn't sound likely unless Congress decides on political suicide.  Lenders (mainly foreign central banks) might keep funding the U.S. mortgage market (via Fed, which then supports Fannie/Freddie)… but might want more money to do it… which means higher interest rates.  Finally, the Fed could just decide to print more money and devalue the dollar… which means inflation… which means, again, higher interest rates.
If you really feel like freakin' out, you might take a look at some… ah… not-quite-so-sober and serious people.  Like the National Inflation Association (which sounds like a political advocacy group with an agenda to push, but… they make interesting points).
I Ain't Nostradamus
Keep in mind that I blog about real estate, marketing, technology, social media, business models, and the like.  I'm not an economist, nor do I play one on TV.  I didn't stay at a Holiday Inn Express last night.  These are just pessimistic musings.
But in the midst of blooms of hope about the real estate market having "hit bottom" and stabilized, I can't help but think that the worst is yet to come.  Maybe savvy investors, afraid of the threat of massive inflation, would plow their money into assets like real estate.  The dollar might be devalued, but a house is a house is a house, and people gotta live somewhere, right?  Given the interest in renting vs. buying, that might be a smart thing to do.  That will keep the housing market percolating along for a while, especially for the distressed market where investors are bargain hunting now.
And yet… with more than 10% of prime fixed mortgages now in distress, with millions of homes in the shadow inventory as banks play extend and pretend games, employment showing no real signs of growth, can we really call the bottom of the market already?
Yes, real estate is local; all markets are different.  Consult your local realtor for your local market information, and so on.
But I tell you what… if I were a broker… I wouldn't be expanding office space just yet… give it a couple more years before you make major investments.
What do you think?  Are you in the Eeyore Fan Club as well?  Or do I just need a hug and some coffee?
-rsh