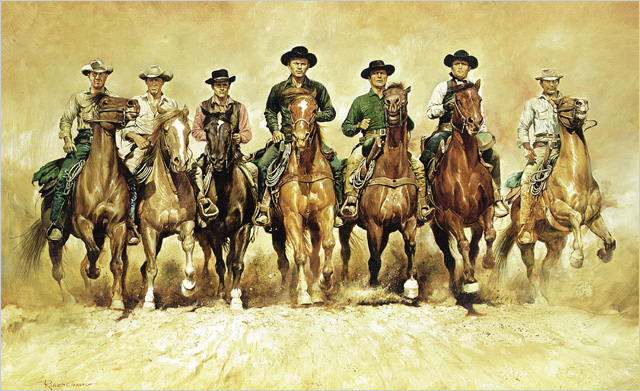 I'm honored to be asked to give the closing remarks at the Council of MLS conference in Chicago this year at the end of September/early October.  Since I'm supposed to be wrapping up the discussions of those few days, I can't actually prepare anything ahead of time.  But I can sort of cheat by putting out to the industry some of the bigger issues/questions I've been thinking about, in the hopes that the speakers, panelists, and participants at CMLS this year might talk about some of these things.
These Seven Big Questions represent some of the really fundamental challenges facing the MLS industry as a whole.  I do not (yet) pretend to have all the answers, or even any answer (at least, not in public, heh) but I did want to start posing them to my readers.  For those attending CMLS, please give some consideration to thinking about these questions.
Question 1: Geography and the MLS
The recent DotMLS initiative got me thinking about how tied the MLS is to a particular geography.  Some 40 MLS's have joined, and are claiming URL's like Atlanta.mls and Charlotte.mls.  Whether the DotMLS thing is a good idea or not, the initiative raises a question as to just how tied to a geography a MLS is.  For the smaller MLS's that only service a particular county or a small market area, presumably this means that we'll be seeing things like EssexCounty.MLS and TownofBridgeport.MLS.
So the question is: Is geography destiny for a MLS?
Followup: If the answer is yes, given that geography is destiny for a MLS, what does that imply for small or medium MLS's with small footprints?  What does that imply for very large MLS's such as MRIS, MRED, CRMLS, and others?
If the answer is no, why then are the services of a MLS so geographically constrained?  Habit? Custom? Local regulation?
Question 2: Dealing with Loss in Membership & Revenues
The trend for the past few years for almost all MLS's has been drops in membership numbers – and accordingly, dues revenues.  Many MLS's have spent and grown while the going was good, and now face extremely challenging times.  The peculiar feature of the MLS is that it is an organic local monopoly that enjoys positive network effects: every real estate agent has to join.  The flipside of that is, the MLS simply does not control how many customers it has within its footprint (see above, re: geography).  People either join the profession and therefore the MLS, or they leave it and therefore the MLS.  It isn't clear why some MLS's even have a Marketing Department — whether you have the greatest marketing department in the world or the worst, you'll get the same number of subscribers influenced entirely by larger market considerations.
And those larger market considerations don't look good, and don't look like they're getting any better. Consider:
Many economists are forecasting a double-dip recession, especially in housing, as the foreclosure problem was merely kicked down the road, and numerous participants in programs like HAMP and the "extend-and-pretend" are now defaulting.
Government policy is now on-record as seeking to back away from homeownership towards rentals and "sustainable homeownership".  No one yet knows what this means, but it certainly doesn't look like we'll be back to the heyday of the 00's.
Technology keeps accelerating, and keeps leaving MLS systems behind.  There are still technology systems that require Internet Explorer; meanwhile, the world is moving onto the iPad, Android devices, and HTML5.
Question is: Which of the following strategies will the MLS embrace most successfully?
Do we think a wave of consolidation is coming?  If so, what does that consolidation look like?  How many MLS's will remain standing in 2015?
Can MLS's cost-cut their way to sustainability?  If so, what do they cut?
Can MLS's increase dues to achieve sustainability?  If so, how much can the individual member tolerate?
Those are pretty much the only ways a MLS can impact its top and bottomlines: take over other areas, cut costs, or raise prices.  Which of the three will prove most successful?
Question 3:  Ancillary vs. Core Revenues
A key concern, and a rather interesting trend, over the past few years for the MLS has been "ancillary" revenues.  These are value-added services or products for which the MLS either charges extra fees, or gets a cut of revenues from the vendor.  The biggest hoopla, of course, has been the RPR which proposed to monetize the MLS's data, but the larger picture for years has been MLS's trying to increase their non-core revenues.
Thing is, they're doing this not from a position of strength where their core revenues are strong and growing, and throwing off profits that can be reinvested, but from a position of weakness where their core revenues are under assault (see above, loss) and they are prohibited by either market conditions or by governance (Boards, Associations, etc.) from raising prices or acquiring new markets.
So they turn to ancillary revenue sources.  The issue is, and we've been seeing this play out here and there, as the MLS expands its operations into other value-added areas of the real estate practice, they come into conflict with brokerages and franchises.
Question is: What is the proper interplay between the MLS, the brokerage, and national companies (both franchises and others, such as Zillow/Trulia/Realtor.com)?
All three offer tools and services to the individual agent.  Who should do what?  Assuming for the moment that competition for the individual realtor dollar is a good thing, how much should a MLS compete with its member brokerages?
Question 4: Governance
Many if not most MLS's are organized as nonprofits, with an eye towards keeping costs as low as possible for member REALTORS instead of generating a return.  The governance structure of the MLS reflects this understanding, with brokers, agents, and Association of REALTORS executives on the Board of each MLS.
Question is: Is this structure, which has served the industry and the MLS so well for decades, still the best one given the challenges that we face?
How much does the consensus-oriented governance structure of a MLS help or hinder progress?  Why don't more MLS's have outside board members – e.g., executives at data/technology companies like Google or Cisco, or academics, etc.?  Would such outside board members help or hurt the MLS?
Question 5: Is the MLS a business?
Closely related to Question 4 above, is the MLS a business?  Should it be?
Nonprofit status only speaks to whether the shareholders can take dividends from their ownership stakes.  Being a nonprofit means that the organization does not have profit as a primary motive. But even nonprofits have to pay their bills.
Some 70% of MLS's in the United States are owned by the local Association of REALTORS, itself a not-for-profit organization.  They are operated as a member benefit at the lowest possible cost.
Question is whether, given the challenges the industry is facing, the MLS should continue to operate as a nonprofit membership organization or be operated as a business, with business realities (revenues, growth, profit, and loss) driving decisions.
Question 6:  Technology Issues
The importance of technology to the MLS can hardly be understated.  And there are so many trends, so many factors, so many issues going on at once that the big picture question cannot help but be a bit overgeneralized.  But here they are:
What are the five top technology challenges facing the MLS today?
Who is/should be responsible for addressing those challenges?
Are they up to the task?
If not, what needs to happen for them to be up to the task?  Is the barrier political? Financial? Technical?
Question 7: Who is the Customer?  Who should be?
MLS's have a wide range of customers (individual brokers and agents).  They break down in Pareto principle (aka, the "80/20 rule") along the production axis and along the tech-savvy axis. If Pareto principle holds across both axes, 20% of agents do 80% of the business, and 20% of the agents use 80% of the technology features.  That sets up this chart: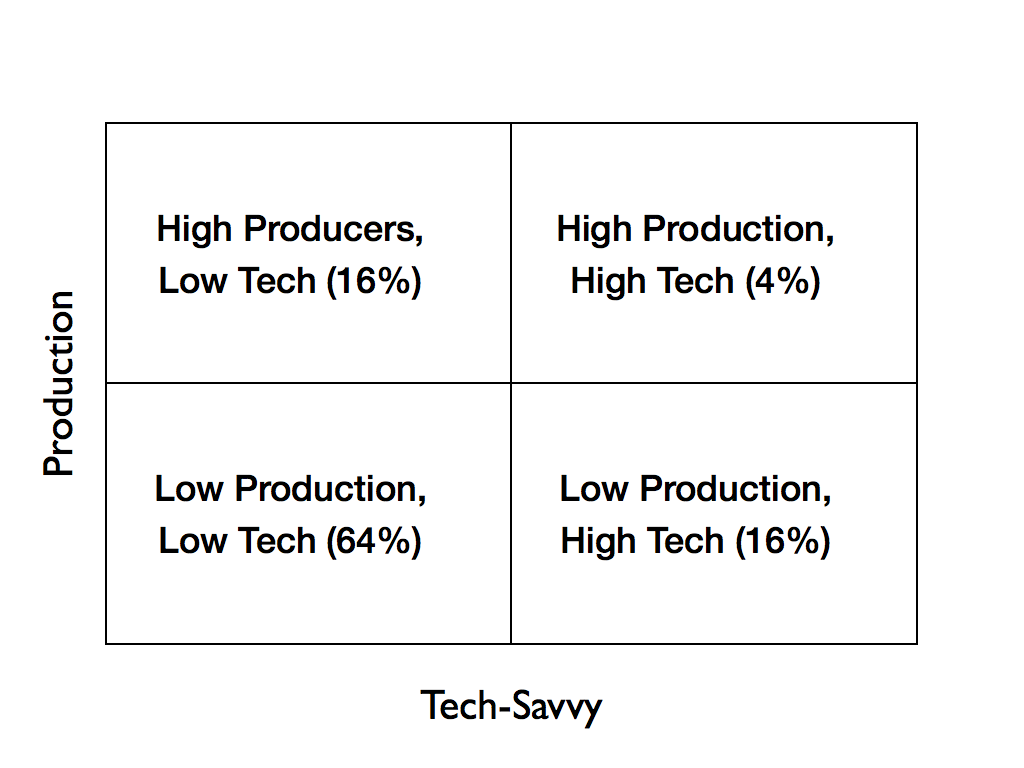 Note that the high producers are all making money and using the system extensively, but not all of them are using all of the advanced features.  The high tech agents tend to be the most vocal in complaining about the system, and push the envelope the most, but not all of them are making any money.
The demographics and characteristics of each quadrant are likely to be quite different.  The High Production, Low Tech, for example, might be your older agents who have an established practice, are very successful, but don't really use technology very much.  The Low Production, High Tech agent, on the other hand, may very well be your new Gen-Y realtor who is demanding an iPad app but doesn't yet have the book of business to the point where price-sensitivity is not an issue.
If the Pareto principle holds along both axes, a super-majority (64%) of the MLS's subscribers are the Low Production, Low Tech agent.  Only 4% of the customers are using all sorts of technology, and making a lot of money doing so.
They are all the MLS's customer.  The question is, who is the most important customer, and who is the least important?  Who should be the customer in order of priority?
There May Be Answers
There are my Seven Big Questions for the MLS industry.  It's possible there may even be answers to some or all of these questions.  I hope to learn about some of them — or at least your opinions on some of these questions — in the next few weeks, and at the CMLS show.
Please share any thoughts you may have, or any questions you yourself may have.  If you'd like, you can email me any anonymous comments/questions at: rhahn@7dsassociates.com.
-rsh