A month ago, I read this depressing story on the Interwebs and it's stuck with me since. Gary Shilling, the author, runs a research service for which one would pay a presumably hefty premium — I don't subscribe to it, so I'm going simply on what's on that website.
His conclusion is that housing prices will drop another 20% from today's levels:
This huge and growing surplus inventory of houses will probably depress prices considerably from here, perhaps another 20% over the next several years. That would bring the total decline from the first quarter 2006 peak to 42%.

This may sound like a lot, but it would return single-family house prices, corrected for general inflation and also for the tendency of houses to increase in size over time, back to the flat trend that has held since 1890 ( Chart 26).

We are strong believers in reversions to the mean, especially when it has held for over a century and through so many huge changes in the economy in those years—two world wars and the 1930s Depression, the leap in government regulation and involvement in the economy, the economic transformation from an agricultural base to manufacturing and then to services, the post- World War II population shift from cities to suburbs, the western and southern transfer of population and economic strength, the movement from renting to homeownership and the accompanying spreading of mortgage financing, etc.
Seems to me that Gary Shilling runs a market research firm and normally gets paid for his analysis and opinions. They're worth paying attention to, maybe. And the data, the charts, and the conclusion are pretty devastating and difficult to refute. Go read the whole thing; it might depress you a bit, but there's some really good information and analysis there.
What I started wondering is, what would be some of the impact to the industry should Shilling's predictions come to pass?
Is there a Correlation Between Home Price and Number of Real Estate Agents?
The first question I have is whether there is a strong correlation between home price and the number of people working as real estate agents. I'm not enough of a statistician to say with certainty, but there is no question that the Bubble led to a whole lot of people coming into the industry. I'm using NAR membership figures as shorthand for real estate agents, although I know that's not the same thing.
The Bubble probably started in earnest in 2000, based on this graphic here:
One could argue that 1999 was when things started to heat up. The Bubble reached the peak in Q2 of 2006, and has been falling precipitously ever since. Well, here's NAR's membership count from 1980 to present: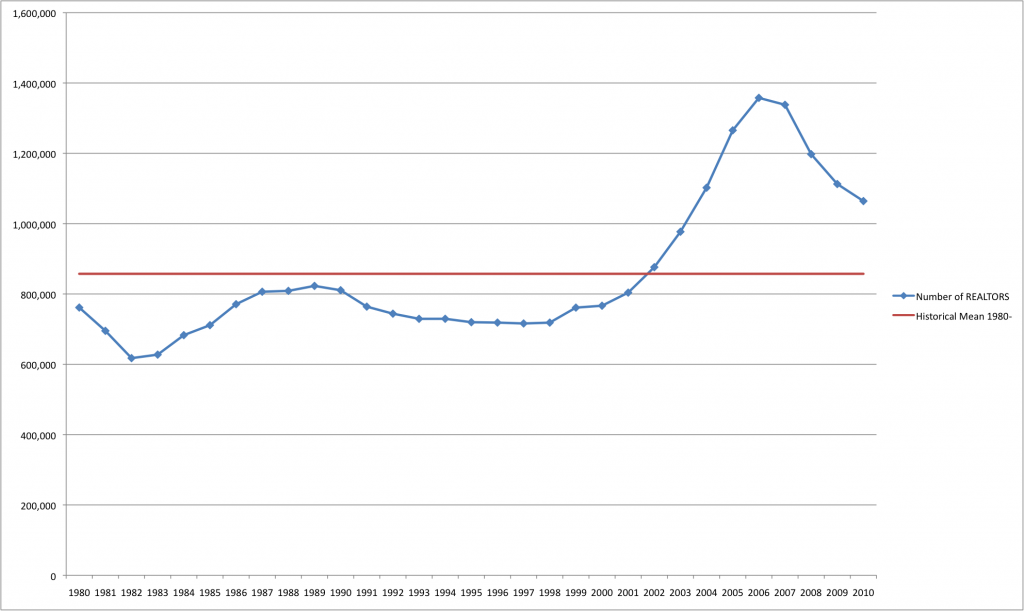 There was a bump in the mid-80's to over 800K REALTORS, but numbers fell back below 730k in the 90's… until 1999 and 2000 came along, and zoom! As you can see, we are currently way over the historical 30-year mean for NAR membership at 1.08 million or so REALTORS.
So let's say there is a correlation between home price and number of real estate agents. If Shilling is right, and we're headed to a 20% drop in home prices from their current levels, where might we end up? The October median home price came in at $170,500, down 0.9% from October of 2009, according to NAR. A further 20% drop from here means the median home price could be $136,400. The last time the media home price was $136K? That would be the year 2000, when the bubble first started to appear. And at the end of 2000, NAR's membership was 766,560.
How Many Parts of Real Estate Industry Rely On This Number?
For the sake of discussion, let's pretend that we'll have a one-to-one correlation: 2000-level prices = 2000-level agent count. Some 200,000 people will be leaving the real estate industry (actual number larger, since REALTOR is not same as licensee). Without thinking too hard about it… who will this impact, and how?
Agents: In theory, those who remain should benefit from the decrease in competition. In practice… it's unclear. Who after all would leave real estate? The part-timers who are doing it just for some extra cash, who are not relying on real estate to pay the bills, aren't going to be affected that much by the drop in housing. The elite top 5% or so can probably just tighten their belts some and make do with making 600K a year instead of 800K a year. The ones in the middle, those for whom real estate is a career, who are relying on it to pay the bills, might have to reconsider. Who knows what that will do?
Brokerages: Anyone with overhead tied to number of agents (e.g., office space) or operating on thin margins premised upon recruiting a large number to agents is going to be in a world of hurt. 20% drop in bodies, coupled to 20% drop in prices, and an unknown drop in transaction volume should all lead to existential crises for some brokerages. The high-split, high-service, boutique brokerages might really benefit, however.
Franchises: There's probably enough competition out there (no one has more than maybe 25% of the total agent market) that going from 1m to 800K in the target market shouldn't hurt franchises too badly. However… as some of the franchisees start to feel the pain, the royalty fees and other payments to Corporate will be looked at very closely. This is the segment where I think the biggest "What have you done for me lately?" effect will be.
Associations & MLS: No further comment. Another 20% drop in membership = 20% drop in revenues. Ancillary revenues might help, but most of those also rely on there being a large subscriber base.
Vendors: Almost every single one I know of depends on a low-price, high-volume, recurring-subscription model. The big national websites will almost certainly feel the pain if 20% of their possible subscriber market disappears. Some of the other vendors, whether CRM suppliers, website makers, data providers, or sign makers will face tough choices: raise prices in a down market to make up for unit loss, or cut costs dramatically, or cut profits. Quite a few companies will have to close their doors if this 20% down scenario becomes reality.
This is just off the top of my head, without real analysis or thought put into it. I may have to get around to doing that.
But here's the real question for everyone in the industry: Are you prepared?
We all hope, myself included, that none of this comes to pass. We hope that things will turn around, that employment picture will improve, that we'll avoid all of the possible pitfalls trying to dig out of the hole we're in as a nation, and that 2011 and 2012 will be marked by a return to the recent normal. But hope is not a strategy.
Things look bad enough that it might be time to do like the survivalists: hope for the best, but prepare for the worst. Pray that things will never get that bad, but stock up on food, ammo, and medicine.
Oh by the way, Shilling's 20%? That might be conservative:
Furthermore, our forecast of another 20% fall in house prices may be conservative. Prices may well end up back on their long- term trendline (Chart 26), but fall below in the meanwhile. Just as they way overshot the trend on the way up, they may do so on the way down, as is often the case in cycles. Furthermore, another big house price decline will spike delinquencies and foreclosures leading to more REO sales by lenders,which will further depress prices. Our analysis indicates that a further 20% drop in prices will push the number of homeowners who are under water from 23% to 40%, resulting in more strategic defaults, more REO, etc.
Yikes!