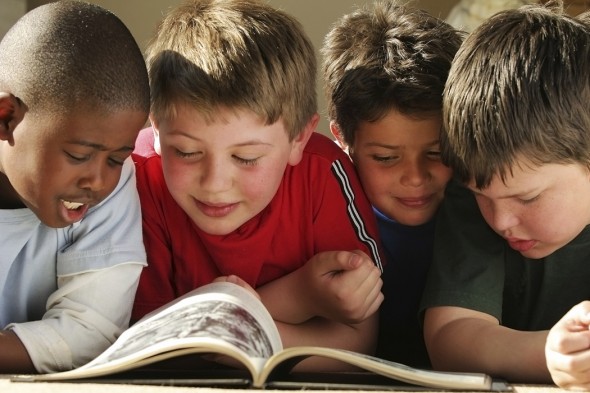 Once in a while, the Internet has gems in it that I find absolutely amazing, and tonight, I found one of them: online readability tests. I hadn't ever given the topic much thought, since I write for my pleasure not yours, but it does appear that this blog is written for an older, more educated audience.
For the record, I've analyzed this post (which was the #1 most popular post in the last year) using this tool and got the following results:



Number of characters (without spaces) :	 7,939.00
Number of words :	 1,667.00
Number of sentences :	 104.00
Average number of characters per word :	 4.76
Average number of syllables per word :	 1.58
Average number of words per sentence:	 16.03

Indication of the number of years of formal education that a person requires in order to easily
understand the text on the first reading
Gunning Fog index :	 11.23

Approximate representation of the U.S. grade level needed to comprehend the text :
Coleman Liau index :	 10.38
Flesh Kincaid Grade level :	 9.26
ARI (Automated Readability Index) :	 9.02
SMOG :	 11.49

Flesch Reading Ease :	 57.20



It appears that you need an 11th grade education to understand what the hell I'm talking about on the first try, according to the Gunning Fog Index. Thankfully, my Flesh Reading Ease score is pretty good at 57.20 suggesting that it's not really that hard.
We'll get into what some of this stuff means, but here's why I think it's interesting, particularly for some of my readers. If you blog, and unlike me, you're not doing it just for fun and pleasure but to connect and communicate with some sort of an audience… you probably should care how readable your blog is. If you want a wide distribution, but write at a 11th grade level, chances are, a lot of people are just going to find what you're saying incomprehensible.
About Those Tests
I haven't investigated all of them, although you are free to do so, but I did look up the Gunning Fog Index, the Coleman Liau, and the Flesch Kincaid tests. All of them work by counting how many words there are, how many characters per word, how long the sentences are, and so forth. The gory details of the algorithms are in the Wikipedia articles, but it is enough for me to know that number of people and organizations accept these tests as valid when trying to figure out how readable a document is.
The State of Florida, for example, requires that life insurance policies have a Flesch Reading Ease score of 45. And from Wikipedia:
Reader's Digest magazine has a readability index of about 65, Time magazine scores about 52, an average 6th grade student's (an 11-year-old) written assignment has a readability test of 60–70 (and a reading grade level of 6–7), and the Harvard Law Review has a general readability score in the low 30s.
So with a Flesch score of 57.20, my post wasn't that hard to comprehend. But at the same time, because of sentence length, the complex sentence structures, and the long words I tend to use, the grade level needed to comprehend my posts are between 9th grade (Flesch-Kincaid) and 11th grade (Gunning Fog). Notorious ROB ain't Harvard Law Review, but it'll probably fail the People magazine editorial test.
So Why You Might Care
This is, I'm sure, all fascinating to you as well, but why would anyone care?
The reason is that there is pretty strong evidence to suggest that to gain a wider audience, you must lower the reading level to somewhere around the 6th to 9th grade levels. This is one example:
In 1947, Donald Murphy ofWallace's Farmer in a split-run edition, found that lowering reading difficulty from the 9th to the 6th-grade level increased readership 43% for an article on nylon with a gain of 42,000 readers in a circulation of 275,000. He found a 60% increase in readership for an article on corn. He also found greater response among people under 35.
That may have been over 50 years ago, but it isn't as if the American public has become more sophisticated and more educated with time. More and more people might graduate with college degrees in 2011 than did in 1947, but the average American reading level hasn't progressed very much. In fact, if this report by the National Endowment for the Arts is to be believed, American reading skills have declined over time. Googling suggests that most American newspapers and magazines are written at the 8th grade level — which would correspond to a 8.0 on the various tests. Some of the more popular fare, such as People and US Weekly, are apparently written at the 6th grade level.
So, considering the extent to which real estate professionals have been told to start blogs, and a number of realtors have very popular blogs that work as both a lead generation source as well as a branding channel, it might make sense to pay some attention to the reading level of your blog. If you're not getting the kind of traffic or the kind of responses you were hoping for… maybe the issue is that the reading level is too high for your intended audience?
I ran the numbers on a few of the top real estate blogs I know of, by taking a random post and running it through the calculator, and the results are interesting. I'll just cite the Gunning Fog Index and the Flesch Reading Ease scores.
Jay Thompson, PhoenixRealEstateGuy
Gunning Fog: 8.85
Flesch Reading Ease: 69.18
Heather Elias, LoCoMusings
Gunning Fog: 12.69
Flesch Reading Ease: 55.86
Ardell DellaLoggia, Rain City Guide
Gunning Fog: 8.98
Flesch Reading Ease: 73.46
Elizabeth Newlin, Real Estate Tangent (she also runs Real Estate Blog Pro, which is why I wanted to analyze her)
Gunning Fog: 7.78
Flesch Reading Ease: 72.88
How about some Big Guys?
Gunning Fog: 11.49
Flesch Reading Ease: 62.52
Gunning Fog: 11.84
Flesch Reading Ease: 61.67
Gunning Fog: 14.13
Flesch Reading Ease: 45.99
Interesting no? Except for Heather Elias, the other real estate agent blogs I analyzed (and I realize this is hardly a scientific test, since it was one random post) are at about the 9th grade reading level. Maybe Heather writes for a more educated audience who can afford more expensive housing? I don't know (but would love to hear from her on this). The Big Guys blogs are all at the 11th grade plus level, with Move's blog making Notorious seem like a nursery rhyme blog. 🙂 Maybe those differences are the result of different target audiences — although it's hard to imagine that the real estate agent audience is somehow far better educated than the general public. Or maybe the writer/operator simply hasn't thought of it too much. I know I haven't.
I imagine most of you who are bloggers are now, if you haven't already, running over to the online calculator to find out what your reading levels are. 🙂 Well, good. What do you do with such information?
I can't rightly say, without knowing what you want to accomplish with your blogging activities. But it does seem to me that if you want a wider audience, you should look at dropping the reading level required to understand your writing. If, on the other hand, you want a more sophisticated, more educated audience, then perhaps you can think about raising the reading level required.
For what it's worth, I looked at my business blog over at 7DS Associates, and ran a random post through the calculator:
Gunning Fog: 13.12
Flesch Reading Ease: 51.65
I'm okay with those numbers. 7DS isn't for everyone. I don't want the People reading average consumer interested in celebrity real estate stories. But I do find it interesting that Notorious is significantly easier to read than 7DS, without my paying conscious attention to it.
In any event, go run those calculators, figure out your readability, and decide where you want to go from there. I would really like it if you would post a comment with your website or blog's readability stats, and give your thoughts on why you think they are the way they are, and what — if anything — you plan on doing about readability. Coz… me, I'm always curious.
-rsh