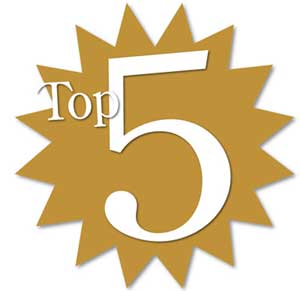 Inspired in turn by Jillayne Schlicke's list of Top Five New Wave Songs, it got me really thinking what my top five would be. It's a really hard thing to cut down all the universe of great songs to five. That, I suppose, is the whole point. But here goes, in reverse order.
#5 – The Killing Moon, Echo & The Bunnymen
Quite simply, this song is poetry set to some of the most imaginative music of the New Wave era.
In starlit nights I saw you
So cruelly you kissed me
Your lips a magic world
Your sky all hung with jewels
The killing moon
Will come too soon
While I don't put Echo into the top five, or even the top ten, of the top groups/bands of the New Wave era, this song is an absolute masterpiece.
#4 – It's A Sin, Pet Shop Boys
Pet Shop Boys, to me, always symbolized the artifice of the 80's — the cool, detached, ironic attitude that also celebrated money, wealth, fashion. I think Paninaro by PSB could be seen as a snapshot of the culture of the times. But in this song, said to be inspired by Neil Tennant's struggle with homosexuality and his father, there is a passion that seeps through their detached hipster attitude. And yet, the emotional lyrics are laid on top of a rich, gorgeous orchestration of techno sound that is a hallmark of both the Pet Shop Boys and the New Wave movement.
#3 – The Promise, When In Rome
This was the toughest choice. When In Rome was a one-hit wonder who created one absolutely phenomenal love song and faded away. But what a song it is! The entire decade, the entire musical movement that is New Wave, is filled with songs of heartbreak and longing and wanting… except this one. This is the one true, pure love song of the decade. It's filled with an innocence long since lost in pop music, a tenderness laid over a core of strength in those words, "I'll be there."  This is the song that women want their men to sing to her even if in silence, and the one that makes men want to find a woman who would deserve these words, this music, these feelings. Which leads us to…
#2 – Somebody, Depeche Mode
If The Promise is the one real love song of the New Wave era, then this song represents the deepest hopes of an entire generation for what they wanted in their mate. Although the song is written from a male voice, since Martin Gore is a man, there's nothing particuarly "masculine" about the song, and one can easily imagine a woman singing this to herself. The lyrics are worth reproducing in full:
I want somebody to share
Share the rest of my life
Share my innermost thoughts
Know my intimate details
Someone who'll stand by my side
And give me support
And in return
She'll get my support
She will listen to me
When I want to speak
About the world we live in
And life in general
Though my views may be wrong
They may even be perverted
She'll hear me out
And won't easily be converted
To my way of thinking
In fact she'll often disagree
But at the end of it all
She will understand me
And I….

I want somebody who cares
For me passionately
With every thought
With every breath
Someone who'll help me see things
In a different light
All the things I detest
I will almost like
I don't want to be tied
To anyone's strings
I'm carefully trying to steer clear of
Those things
But when I'm asleep
I want somebody
Who will put their arms around me
And kiss me tenderly
Though things like this
Make me sick
In a case like this
I'll get away with it
And in a place like this
I'll get away with it
Ahhhh…….
The last six lines, of course, transforms what could have been just a over-the-top sappy song into something else: a deeply self-aware love poem that recognizes at once the futility of the search and yet, is willing to try and transcend the deep cynicism of the age. It's an astonishing turn. The phrase about not wanting to be tied to anyone's strings, and yet wanting somebody who will put their arms around me tenderly is heartbreak, past and future, of a generation that grew up truly knowing divorce as a widespread phenomenon wrapped in strains of the piano.
I think when the world has forgotten about the rest of the New Wave movement, it may remember this song for the aching beauty of its hopeful cynicism.
#1 – Bizarre Love Triangle, New Order
Personally, this was never in doubt. I have called this song the Asian-American National Anthem; if you've gone to college in the 90's or to Asian club scene in the 90's, you know this to be true. Literally every single dance I have been to from about 1988 to 1995 featured this song, at least once, and often more than once as the DJ saw the crowd rush the dance floor whenever the instantly recognizable synth horns whoosh in. And no matter what part of the country someone was from, if he or she was Asian-American, this song would be in his or her top ten favorites.
I have no idea why we all responded to this song, but I know every word of this song, have made up dance routines to go with the lyrics, and even twenty years later, if this song comes on at a club, I'll have a hard time staying in my seat. This will be the #1 wedding party song in about 20 years' time when all of our kids start to get married, and the Gen-Xers will want to get our fat old rears in gear.
Every time I see you falling
I get down on my knees and pray
I'm waiting for that final moment
You say the words that I can't say
For someone lacking that particularly cultural milieu and particular set of experiences, I can understand how this may not make his/her top five. But for me, there are literally volumes of memories tied to this one song. It must be #1, by a country mile.
Notable Songs that Missed the Cut
There are just too many to list. Just off the top of my head, Forever Young by Alphaville, Only You by Yaz, More You Ignore Me, Closer I Get by Morrissey, Tainted Love by Soft Cell, Heaven Knows I'm Miserable Now by The Smiths, Just Like Heaven by The Cure, True by Spandau Ballet, and the list goes on and on and on.
That's my list. If you're a child of the 80's and a fan of New Wave, what's your Top Five? It's a lot harder than you think, because of the songs you have to leave off the list.
-rsh