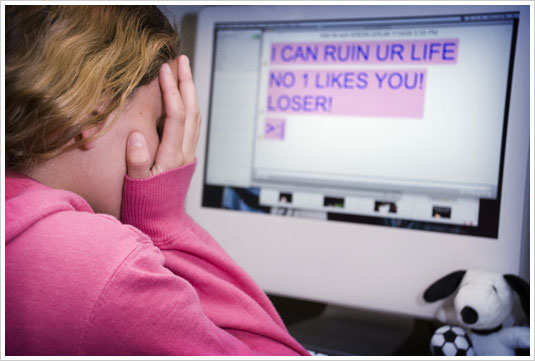 I've been assiduously staying away from Zebragate, except for stating my support for my friend Daniel Rothamel, because the issue is a tough one. All trademark cases tend to be, where two parties both believe they have the right to use a particular trademark in a particular way. Unfortunately, the dispute/debate/whatever has turned a corner and entered a Twilight Zone where logic and reality get suspended in the heat of partisan passion, and there is now something to discuss, about which I feel strongly.
Inman News reports on the "chain reaction" response from the RE.net community in response to the Zebragate lawsuit, and has this:
[Denise] Lones, whose company provides marketing and other business services to real estate agents, says supporters of Rothamel launched "one of the most aggressive online bullying campaigns I've seen," after a Feb. 25 story about the lawsuit published by Inman News.
And later, Frances Flynn Thorsen (whom I consider to be an active, valuable member of the RE.net), is quoted as saying:
"The issue is not about the lawsuit anymore, it's about cyber bullying and the mob mentality," Thorsen told Inman News, elaborating on a blog post she wrote in Lones' defense.
Maybe cyberbullying — otherwise known as being mean to someone on the Internet — is a soul-crushing devastating thing to teenagers with fragile, developing egos. But to employ it in the context of a couple of grownups having a commercial disagreement is intended to silence dissent, stifle debate, and take a moral high ground where none exists.
Are We Pre-Teen Bieber Fans?
First of all, here's a definition of cyberbullying from an organization who actually thinks there is a cyberbullying problem, and that "we need to do something about this" (as in pass laws infringing upon the First Amendment):
"Cyberbullying" is when a child, preteen or teen is tormented, threatened, harassed, humiliated, embarrassed or otherwise targeted by another child, preteen or teen using the Internet, interactive and digital technologies or mobile phones. It has to have a minor on both sides, or at least have been instigated by a minor against another minor. [Emphasis mine]
The entire underlying premise behind the notion of "cyberbullying" is that immature children do not have the mental and emotional capacity to deal with social rejection that supposedly grownup people do.
As far as I know, none of the people involved in Zebragate are children. And for even supporters of the concept of "cyber-whatever" to classify an activity as "cyber-harassment", there has to be a child victim involved. Why is that?
It's because we as a society believe that when two adults are involved, "sticks and stones may break my bones, but words will never hurt me". A lesson most of us learned in nursery rhymes. When only words — even strong ones — have been used, that's just called "bad publicity" or "arguing".
There Is No Right To Positive Search Results
Contrary to what some members of our great Republic might think, there is no right not to be offended. This means that everyone else has the right to insult you.
There IS a right against defamation, but those have to allege false facts: "Rob wears a toupee" would be actionable, whereas "Rob is a moron" is not.
Should words cross over into action, then crimes have been committed. Are the folks invoking "cyberbullying" claiming things have moved into action? No. Was someone's corporate website hacked? No. A DoS attack launched? No. Personalized death threats of the kind that say Sarah Palin receives on a daily basis? No.
The whining is over negative search results on Google. As it turns out, there is no right to positive search results. If you do something that pisses off a lot of people — fairly or unfairly — then, you're going to end up with crappy results ranking highly in Google. Hopefully, enough people think you're a classy guy so that counter posts and expressions of support and the like can push those negative results off the first page. That's Internet Reputation Management 101.
There Is No Right Not To Be Boycotted
Another problem apparently is that "the mob" — or as it appears, one single member of said mob — threatened a boycott of the Lones Group's business:
While some who have commented on the lawsuit said they wanted to help Lones with damage control, some agents stated they would never do business with her, and some have called for a boycott of her business.

On the Google place page for The Lones Group, one anonymous commenter also threatened to boycott other companies that hire Lones.
Well, which is it? "Some" or "one anonymous commenter"? Either way, does it matter? People have the right to boycott anybody they want, for any reason they want, or for no reason. People boycott businesses because of political views of the CEO (see, e.g., Whole Foods),because of manufacturing processes, or because the boycotters are ill-tempered sociopaths.
Does a business have some sort of right not to be boycotted? Of course not. Once again, if you're providing a valuable product or service, your customers will think the boycott is ridiculous, and you'll be troubled all the way to the bank.
The Cult of Niceness
The reason I'm devoting thousands of words to this unimportant issue is that I wish to smash the Cult of Niceness that reigns over real estate. It's preventing us from getting real with each other when we need to.  If we're going to get this worked up over something like a trademark infringement lawsuit — a topic that lawyers with years of experience have trouble navigating because of inherent uncertainty — then how the hell are we ever going to deal with really contentious topics? Like the fact that some brokers and agents are straight up unethical sons of bitches who need to be hounded out of the industry by a "coordinated mob attack"? Is Frances Flynn Thorsen going to invoke the Code of Ethics and its omerta provision if some NAR member decides to start slamming this guy?:
A Sheboygan Falls Realtor convicted of felony theft for stealing and auctioning off property from a client's house continues to work as a Realtor and as of today remained licensed by the State of Wisconsin.
Well, I'm not a REALTOR, so I'm not bound by the omerta code. Caleb Hall needs to be condemned and told to resign, preferably by a wide-spread coordinated attack campaign, until any Google search for his name or the name of his brokerage is filled with "toxic" and damaging posts, all of which would hopefully ruin his and his brokerage's business.
I suppose that would be a "good, positive" use of the dangerous Internet attack mob posse. Give me a break.
Fact is, our industry would benefit from a little less nice and a little more honest.
I thought Dan and Lones Group both handled the unpleasantness as well as they both could. I thought Lones Group's response, on the merits, was extremely good. Trademark disputes are dicey things every single time, and the principal, Denise Lones, appears to be a well-respected veteran of the business. As a business owner, and a marketer, I have a ton of empathy for her decision, and as an attorney, I think her position is pretty strong. Some judge somewhere will decide the issue, or the parties will negotiate and come to some settlement. None of that is any of my business.
But, when Lones Group and its supporters start invoking "cyberbullying" — as if the Lones Group were a fat acne-ridden 13 year old — or whining about "coordinated attacks", this is where I roll my eyes.
Take-Aways
So here's what I'll say about any social media shitstorm event as takeaways. Let those with eyes perceive.
There is no right to a positive reputation.
There is no right against getting your feelings hurt.
There is no right to having Google searches return only wonderful glowing reviews; you want those, go make them happen. Piss off a large number of people, and expect bad things. That's life.
Life is unfair. Deal with it.
Whining about cyberbullying makes you sound like a child, because… well, grownups cannot be bullied on the frikkin' Internet. If some huge guy is jabbing his finger in your face, and you're fearful of your safety, fine… let's talk about threats and inappropriate behavior. But words? Blogposts and tweets?
The mob is a positive or a negative, depending on the issue, but using words like "the mob" suggests you're not part of the community. That's fine; you don't have to be, and you can go make your own "community/mob". But do please climb down from the high horse you rode in on.
So, can we please drop this ridiculous term "cyberbullying" as it comes to disagreements we'll all have periodically about one thing or another? C'mon, man!
Because when I hear someone using the term "cyberbullying" and "coordinated attack" and such, what I hear is, "Shut up!" No thanks. This is the Internet. Words cannot break bones, though they might hurt feelings and Google SERPS. Let argument and debate reign supreme, because in the end, the truth does matter.
-rsh