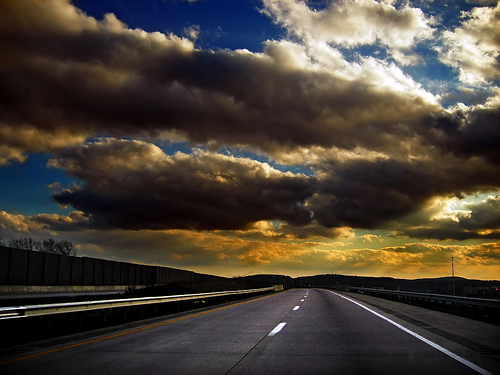 One advantage of long road trips, particularly with say… one's spouse, is the opportunity to talk without interruption. The car moving down the highway at 75 65 miles per hour (or whatever the legal speed limit is, officer) becomes a sort of isolation chamber without TV, without the kids demanding attention, and without any other distractions.
So it was on a recent trip to San Antonio. Having left the kids home with the grandparents (truth be told, we were sort of asked to leave so they can monopolize the time with The Spawns), Mrs. Notorious and I found ourselves with all this time to talk about things and catch up. Eventually, you run out of the domestic, immediately relevant, personal topics… so being that the Missus has a MBA and some twenty years experience in fashion retail, we got to talking about business.
She raised a complaint, and an ancillary point, that I thought was interesting enough to share, especially with the audience of this blog that tends to be almost all real estate people.
She thought that the retail industry needed to "go back to basics" in a profound and fundamental way.
I agree, but it's worth understanding what "the basics" are.
The Basics of Retail
Mrs. Notorious's complaint, being an executive at a retail company, is that she was having to manage, work with, and train the young people coming out of school with degrees in business, in fashion merchandising, and marketing who didn't know the basics of retail. For example, she would complain about these young women (they're all young women in her company, it seems) who graduate from a four-year college program with a degree in fashion merchandising who didn't know how to do retail math. There were business majors who couldn't figure out whether "buy-one-get-one-free" is a better deal or not than "50% off". (For retailers, the former is better since it results in faster inventory turnover.)
These young people were full of the latest ideas about e-commerce, about social media marketing, about using QR codes, and spent their time looking at the latest fashion trends in the pages of Vogue, Elle, and WWD, but did not know the very basics of the business of retail.
My wife's idea: she wanted to put all new employees on a 90-day probation period during which she would teach them the basics, test them, and fire the ones who didn't pass her standards. As she put it:
The business of retail hasn't changed in a hundred years. It's still about buying inventory at one price, selling as much of it at full price, then working the markdowns to get to a margin number. Marketing is still about getting people to want to buy something they don't really need, because it's pretty, or cool, or whatever. And all this Internet stuff is great, and e-commerce might be the future, but the retail business is still about factory to warehouse to stores to customer.
I, of course, concurred.
Jumping To Advanced Too Soon?
The car-ride conversation brought to mind all of the hundreds of conversations I've had in the past few years about the real estate industry. All the countless hours spent talking about "raising the bar", about professionalism, about quality service, about marketing, about social media, about everything real estate. Even all of the data chatter, all of the technology talk, all connected in some way to the supposed lack of core skills on the part of real estate brokers and agents. How many conversations with smart technology guys ended with, "Yeah, that's all great… but you know the agents are just too lazy to implement any of that, right?"
I spoke recently with a friend who is in the coaching business. He told me that one of his clients, a newcomer to real estate with all of nine months under her belt, spent more than $50,000 on websites, SEO optimization, print advertising, and even TV spots. She didn't get a single deal from any of that, and hadn't done a single transaction, but was arguing with him about the value of branding and long-tail marketing.
As a strategist and a marketer, I immediately wondered what someone who hadn't done a single deal yet was doing thinking about, and worse, investing in, long-tail marketing. That sort of thing represents one of the most advanced topics in marketing. It's a specific phenomenon applicable to a fairly narrow segment of the economy, although Allah knows it's been tortured to fit just about every conceivable arena — usually by consultants and vendors who make a living selling "long tail marketing" solutions to various people.
Not being a real estate broker or agent, I don't know what the fundamentals of the real estate business are. But is it so unthinkable that the basics haven't changed in a hundred years, as they haven't in fashion retail? Some people want to sell property; others want to buy property; helping the first group find the second group, and making sure that deal gets done… is it really that much more complicated than that?
The Fundamentals: Consumer's Perspective
I may not have ever worked as a real estate agent, but I have now been a real estate buyer and seller multiple times. Here are the fundamentals from my point of view.
The real estate transaction can be divided into three parts: Marketing, Pricing, and Legal.
The Marketing part is where we all spend most of our time thinking about: how to market a house for sale, how to find a home for sale, what channels are most effective, how to stage a house, etc. I think most consumers know about the MLS now; that's not going to be enough. As a seller, the basics I'm looking for is some knowledge of what buyers are looking for and how the agent can advise me to make my property stand out in some way. As a buyer, I'm looking for knowledge of the neighborhood, and alternatives to that neighborhood. I've probably done a bunch of research into an area; I may not know about some other development or some other neighborhood that could fit my needs better.
The Finance part really boils down to one thing: pricing. As many top agents have told me over the years, pricing is part science (involving comp analysis, economic forecasting, and number crunching) and part art (involving gut feelings, buyer preference trends, location knowledge, etc.). I want to know that the price I'm paying/getting is a fair one. And this is where consumer distrust is the highest, since we all know that agents get paid a percentage of the final price. But assuming that I trust your integrity, the fundamental I want is the ability to price a property and justify that price with reasoned argument. Some basic knowledge of mortgages would be useful, but I expect that I'll end up working with some mortgage banker or broker on that. Negotiations are important, of course, since concessions, timing, etc. all play a part in the final price. But above all of those is pricing.
The Legal part is all of the procedural hurdles that a real estate transaction has to go through. Various towns, developments, counties, and states have laws, regulations, and rules that I don't know and have no business knowing. The fundamentals here are just knowing what steps have to be followed, in what order, what papers have to be filed with whom, what authorizations are needed, etc. etc. Yes, I know that many brokers and agent teams employ transaction managers who handle these procedural things. I understand why that would be useful for the experience agent who already knows how to do those things; I wonder if it's such a great idea to provide such a thing to newbies who don't know.
Fundamentals: Teaching and Evaluating
The question I have now is… who teaches these fundamentals? Who evaluates them? And what is the impact of evaluations? Do the real estate schools really teach these and test them to ensure that every agent with a license knows how to do a comp analysis, how to price a home, and what the procedural steps of a transaction are? If not… what's the point of these schools?
Does the broker teach agents how to market a property, or how to find a property for sale? Does he test agents for pricing knowledge, or negotiation skills? If not, what's the point of the broker?
Coaches abound in the business; from what I've seen and heard, they coach primarily one thing and one thing only: lead generation. How to get new clients. How to market yourself. How to work the "sphere of influence" so you can get more clients. Does any coach teach the fundamentals? If so, how do they test them? What happens, if anything, if an agent fails?
There's much talk about raising requirements for a real estate license, to include things like mandating a 4-year degree. I have a 4-year degree; I don't know that I learned one frikkin' thing about how to do a comp analysis. My wife's experience is that people graduate with 4-year degrees in seemingly applicable areas like business or fashion merchandising, yet these people have no clue about the basics of retail.
There are a number of people who think that mentoring programs and apprenticeships are the way forward. Maybe they are. But who tests the mentors to see if they know the basics.
And finally, who stands in the way of the newbie with nine months of experience who can spout off theories on long-tail marketing, and spends time and money on organic SEO, but hasn't done a single deal to say, "Hey, listen, maybe you should make sure you know the basics before you start dropping thousands of dollars on advanced marketing techniques?"
Back to Basics
It's an appealing notion, this idea of returning back to basics. In fashion retail, where my wife works, there are well-settled principles, time-tested techniques, that constitute the basics: retail math, inventory management, supply chain and distribution, pricing and markdowns, etc. An experienced person like my wife not only knows what to do, but knows how to teach it to newbies, and how to test them to make sure they know.
My question now is, even assuming that it would be a good idea for real estate to return to the basics… what are those basics? And who is/should be responsible for teaching them and testing on them?
Your thoughts, answers, questions, and critiques are welcome, as always.
-rsh