When I began writing this report, I did not think that a mere update on quarterly results would reach over 12,000 words and require so much work. After all, the annual report is the really important one, and the quarterly reports are mere milestones along the path.
But with all of the changes going on in real estate today, it turned out that there were some really significant signs and developments in Q1 of 2013. The three companies – Move, Trulia, and Zillow – have begun to diverge from each other in not just performance, but in their overall strategic narratives. Each has made important strategic decisions and has begun to execute on them, and the first quarter of 2013 provides glimpses into what the future holds.
Move, the veteran, actually showed revitalization across the board. But it is unlikely to get much credit for its strong performance because the two upstarts outperformed Move on virtually every metric. Nonetheless, the narrative for Move has shifted subtly, but importantly. The content to connection to close story is a good one, and Q1 suggests that perhaps, that strategy is working. At the same time, there are some hints that perhaps Move is undergoing a far more fundamental change in who they are and what they do.
In the case of Trulia, of course, it isn't merely a glimpse. With their $355M acquisition of Market Leader, Trulia has more or less set its strategic path for the next couple of years. It was a bold move, probably a necessary move, and one filled with high risk and high reward. Coming on top of an extremely strong quarter, where Trulia beat out Move handily and either outperformed or kept pace with Zillow on almost all key metrics, the acquisition sets Trulia's strategy and narrative for the foreseeable future. If I wrote in the last report that I wasn't sure what Trulia's strategic vision was, well, consider that corrected. It is now obvious what Trulia's narrative will be.
Zillow's Q1 results and the important management discussion that followed can be described with a word: confidence. Having announced in the 2012 earnings call that Zillow plans to start heavy TV advertising to take over the "brand whitespace" that is real estate, Q1 gave us some results and some glimpses into how that is working. This is a company that knows it has the lead, knows it's winning, and has decided to start building enduring competitive advantages. Trulia won the quarter, but it will take more than one quarter to catch up to the frontrunner, who knows he's out front, and by quite a lot.
All of these developments will have deep strategic implications for everyone in the real estate industry, from brokers to agents to franchise companies to MLS and Associations to vendors and other technology companies. Some of the implications will be obvious, and others less so. What I have tried to do is to tease out details on the one hand, while taking a step back and looking at all three companies and their narratives to get a sense of the overall shape of things to come.
For all of you who have subscribed to access this Premium Report, my deepest gratitude. For those who have not, please click on through and you'll get to page where you can purchase access to this, and other, Premium Content.
This report is provided for informational use only, intended to assist professional investors and industry professionals. The information contained herein does not constitute investment advice and may be subject to correction, completion and amendment without notice. 7DS Associates assumes no duty to make any such corrections or updates. While the information contained herein contains opinions and projections, it is not our intention to state, indicate or imply in any manner that current or past results are indicative of potential future results. As with all investments, there are associated risks and you could lose money investing. Prior to making any investment, a prospective investor should consult with his own investment, accounting, legal and tax advisers to evaluate independently the risks, consequences and suitability of that investment. 7DS Associates disclaims any and all liability relating to any investor reliance on the accuracy of the information contained herein or relating to any omissions or errors and as such disclaims any and all losses that may result in an investment in any company mentioned in the report.
Executive Summary
The first three months of 2013, coinciding with the resurgence of the real estate market, was an important one for Move, Trulia and Zillow for different reasons.
From a key metrics standpoint, Trulia outperformed both Move and Zillow on a year-over-year percentage basis. Trulia posted the most gains in revenue, core operating income, cash flow from operations, unique users, and the critical Average Revenue Per User. It is now the second largest real estate website in the U.S., overtaking Move in Q1. Trulia also released a potential game changer by enabling its agents to post transaction history on their Trulia profiles.
But of course, the news that Trulia had agreed to acquire Market Leader for $355M overshadowed everything else that Trulia did in Q1. My analysis of the acquisition is that it was probably a necessary move in order to be relevant in the "central hub of real estate" conversation. It certainly was the boldest move possible. The obvious synergies of combining a high-traffic web portal with widely used CRM solutions have been proven out by Move for years. Trulia is now in that game, and boy is it ever.
At the same time, it was a risky play. Trulia did not purchase a small startup it can transform with its sales and marketing muscle, as well as its top-notch technology and design capabilities. No, Trulia bought the largest of the CRM companies, one that is currently public, with its own strong sales and technology teams. This is not a combination that can generate reasonable ROI by merely taking advantage of operating efficiencies. Trulia must elevate the products, services, and sales capabilities of the combined entity across the board, seeking and finding real synergies between the two companies and their platforms. Trulia can be said to have pushed all-in. There are some real risks with such a move, accompanied by some real rewards if Trulia can pull it off.
In fact, Trulia launched a new feature with game-changer potential, but it has been overlooked because of the Market Leader news. The ability for agents to upload transaction history to Trulia to be displayed on their Profiles is one that could have reverberations going forward. This is something other companies and organizations in the industry have tried to do before to get slapped down.
In the meantime, the now-third place Move actually had a great quarter. It's just that Trulia and Zillow overshadowed Move's strong performance. I see a whole lot to like in what Move is doing, and their product innovation has been really, really strong. Its narrative of content to connection to close makes a great deal of sense. But its reliance on content to drive traffic growth and user engagement might be flawed; consumers have shown no evidence that they care all that much about accurate content.
There are hints here, however, that Move may be undergoing a fundamental shift away from being a portal with CRM to being a CRM with a portal. I don't believe Move management would ever suggest such a thing, nor do I think that is their strategy. But the widening gap between Move and its younger competitors on traffic combined with its acquisition of Tiger Leads and how excited they are about the growth possibilities in that segment suggest that the narrative of content to connection to close might end up with greater emphasis on the last two than on the first. At a minimum, it is difficult to see how Move could make up a 23 million monthly uniques gap between itself and Zillow, especially as Zillow isn't sitting still on its traffic acquisition efforts.
Speaking of Zillow, while Trulia had a stronger first quarter, it isn't as if Zillow fell down on the job. They posted impressive numbers in all but core operating income. But that was intentional, as the management discussion makes clear: Zillow is sacrificing profits and income to build what they consider to be long-term enduring strategic advantages. In fact, Zillow sounds and acts about as confident as a company could. They are way out front, and they know it. While Move is rebranding and retrenching, and Trulia is making bet-the-company moves, Zillow is pouring in money into both branding and technology. If either of those investments play out as Zillow hopes, it could be an insurmountable lead over the other two. If both play out, it will be an insurmountable lead.
Two things to watch for Q2 and Q3:
One is the extent to which Zillow's advertising accelerates its traffic growth. Spencer Rascoff sounded particularly confident that the advertising generated short-term gains in users and leads, and also threw off "halo effects" that lingered. For example, he mentioned that April of 2013 showed 63% growth over April of 2012. Well, Trulia kept up with Zillow from Q4 to Q1. Let's see if that remains the case in Q2. If Trulia keeps pace with Zillow's growth rate, then perhaps the advertising campaigns are a waste of money. If, on the other hand, we see Trulia grow by 33% from Q1 to Q2, but Zillow grows by 45%… that bodes very ill for both Trulia and Move. I can't wait to see what May and June bring.
The other trend to watch is the relative investment into technology and development. Q1 was the first time that Zillow outspent Move in technology and development. On a year over year basis, Zillow more than doubled its spending on technology, while Move and Trulia remained more or less flat at 13% and 5% respectively. How much you spend isn't evidence of anything except how much you spend, but in the technology game, having more and better (and therefore more expensive) talent cannot be anything other than a competitive advantage.
The Numbers
As always, we begin with the numbers. Since each company has released their first quarter results, you can go check out all the details yourself. However, I like to keep track of what I consider to be the Key Metrics of the three major portals. To be sure, the management of each company rarely uses some of these (such as Operating Income, preferring Adjusted EBITDA instead).
*NOTE: Move began using its internal Omniture data for unique users in this quarter's report, and as a result Q1 of 2012 was also provided to show the Y/Y change. It has not yet provided any historical data using Omniture. In my analysis, I've looked at the difference between the comScore data (provided by NAR) and the Omniture data; the difference is a factor of 2.28 and 2.29. As a result, I have modified the traffic info for Move for Q2, Q3, and Q4 of 2012 by multiplying the comScore data by 2.28. They are my calculations, rather than anything reported by Move itself. I expect that going forward, we will get the actual Q2-Q4 data from Move directly.
Just based on these topline numbers, it seems pretty clear that Trulia won the quarter. Its revenues were up the most both Q/Q and Y/Y (16.8% and 97.4% respectively). Trulia's operating loss increased by 17.7% Q/Q, but its competitors had horrible quarters in comparison, with Move going from making $1.2M to losing 676K Q/Q and Zillow plummeting from income of 511K to a loss of 3.8M. On an Y/Y basis, Trulia improved operating income by almost 60% while Move and Zillow were down some 200% and 325% respectively. Cash flow from operations tells much the same story. Trulia worsened slightly on a Q/Q basis, but actually improved on an Y/Y basis, while Move and Zillow both plummeted Q/Q and Y/Y.
We will look at all three companies in greater detail below to understand what happened in Q1.
Moving away from the topline financial numbers, however, the picture gets more interesting and complicated.
Traffic
The disparity between Move and its younger competitors became starker, even when we use the internal Omniture numbers that Move is finally reporting. Move's unique user count grew only 10% or so, while Trulia grew over 50% and Zillow was close to 50% on an Y/Y basis. Zillow in particular reported that in March and April, it hit 50 million monthly uniques, a psychological milestone and possibly a market share milestone.
At the same time, Move's Q/Q improvement was extremely strong. Since we know (see more below) that Move has undertaken significant redesign, rebranding, and marketing efforts in recent months, Q1 results might be the start of something. On the other hand, even its 20.7% growth Q/Q lagged behind the growth rates of Trulia and Zillow (at 33.1% and 35.1% respectively). Future results will provide bit more clarity there.
Subscribers & ARPU
On the subscriber front, Zillow beat out Trulia both Q/Q and Y/Y, growing by 15.5% vs. 14.2% and an astonishing 82.8% to 42.2% respectively. I can't help notice that Zillow outspent Trulia by almost $23M in sales & marketing since Q1 of 2012.
But on the other hand (see, I said it gets more interesting and complicated), Trulia vastly improved the all-important ARPU (Average Revenue Per User) number, by 46% on an Y/Y basis, while Zillow's ARPU fell slightly. And over the five quarters from Q1/2012 to Q1/2013, Zillow has been flat on ARPU ranging in the $265 range, while Trulia has improved ARPU every single quarter, from $128 to $187.
On the other-other hand, I wouldn't draw any strong conclusions based on that figure, as we will see below when we get into the discussions of each company's results and strategies.
Discussion
Let us delve in a bit deeper into the reported numbers, looking at some of the details from the reports and from the management discussions of the results from earnings calls.
Move: Real Evolution?
It has got to be frustrating to be a senior manager at Move. They turn in a great quarter by most measures, make serious moves, and get overshadowed by upstarts.
Let's not overlook the fact that Move turned in a 13.6% improvement on revenues Y/Y. For a company that went public in 1999 as HomeStore, increasing revenues by almost $7M in a year is a solid, if not great, achievement. But again, that achievement was overshadowed by what Trulia (97.4%) and Zillow (70.7%) achieved. It is unlikely to be fair to compare an established mature company to growth-mode startup companies, but there it is.
We will see when Move reports unique users information for Q2-Q4 of 2012, but my analysis suggests that Move grew traffic by over 20% from Q4 of 2012 to Q1 of 2013, and we know that Move managed almost 10% Y/Y traffic growth. And they managed this with almost no consumer marketing or advertising, with a brand name they don't control. That's pretty impressive. But again, that achievement is overshadowed by Trulia decisively pulling ahead in Q1 of 2013, and by Zillow breaking the 50 million monthly uniques milestone.
They don't have subscribers per se, as does Trulia and Zillow, but they do have customers for some products who look a whole lot like subscribers. Rachel Glaser, CFO of Move, said in the earnings call that Move's CoBroke product is gaining steam: from about 8,000 customers a couple of quarters ago to about 10,000 today. But both Rachel and Steve Berkowitz, CEO, pointed out that the growth in CoBroker isn't simply from adding new customers, but also from selling more "slots" and more "zip codes" to existing customers. Look, going from 8,000 to 10,000 is a 25% improvement over a couple of quarters, and getting more dollars out of existing customers is always good. That's really strong performance.
But of course… Trulia added some 3,500 new subscribers from Q4/2012 to Q1/2013 and Zillow brought in another 4,500 or so Premier Agents in one quarter. So Move's good performance gets overshadowed again.
There are two main themes, I think, that come out from the earnings call that are significant enough to call attention to.
ROI and Smarter Leads
The first is the emphasis on "ROI". The term was mentioned 23 times in the 45-minute call, and referenced numerous other times by both Berkowitz and Glaser. This passage, I think, captures the overall theme quite nicely:
Steve Berkowitz, CEO

We expect to see more competition for available inventory as the market get stronger, and we know that agents will demand not just lead volume, but that their lead becomes smarter. Agents want to be more productive and get higher return on their marketing dollars. At Move, we have a single-minded focus on creating the best products for customers with the highest returns on investment for them.

So for instance, we do not sell the same lead to multiple agents. Our aim is to help the agent be more productive by giving more tools and better reporting, so they can follow-up with the consumer even faster and that's where Move really shines. What we're doing for our customers is translating into solid financials. Our revenue was $54.2 million in Q1, up 14% year-over-year. That's our highest reported growth since 2006 and reflects solid growth from our consumer ad products category and our software and services.
The narrative that Move tells – and has been telling for a while now – is "content to connection to close". The story is that Move has the best content in the industry, focuses more on connecting consumers to real estate professionals than the other guys do, and provides the best tools to take the consumer from a web lead to a closed transaction.
I'm going to address the Content piece below, but on the Connection and the Close pieces, there is quite a bit of evidence to suggest that the team at Move is really focused on those.
Exhibit A would be the collaborative search on the Realtor.com mobile app. Move was absolutely first to market with this feature, although Zillow is coming on strong with its acquisition of Buyfolio.
Exhibit B would be the acquisition of Tiger Leads, which Steve Berkowitz talked about in a few places in absolutely glowing terms. Between Top Producer and Tiger Leads, I think it is safe to say that Move does in fact hold the advantage in the CRM battle at least for now — especially since Trulia's acquisition of Market Leader is merely announced, rather than completed, never mind implemented. (More on that below, in the Trulia section).
Content Is King?
Another really significant piece of the narrative is Move's bet on content.
Move's most important competitive advantage starts with a quality and accuracy of the data behind our products. We source listings from directly over 800 MLSs around the country and update most of them every 15 minutes. No one else comes close to the quality of our data we provide. We've also been working very hard to make sure that the high quality data is easier for consumers in real estate professionals to access and use by launching better products.
They're backing that up with a few new initiatives.
First, Move is providing AVM data from SmartZip, DataQuick, and ePpraisals. The AVM info won't be available on any active listings – a differentiator (and I'm sure a requirement) from Zillow's Zestimates.
Second, Move has rolled out school district search on its mobile apps. Makes all sorts of sense from the consumer's point of view, since schools is one of the most important criteria for homebuyers.
Third, and this is one I find the most significant, Move is putting status change information on its mobile apps. Steve Berkowitz:
A third great feature we launched on mobile device is in Q1 is status changed, for most homes, we now highlight for mobile consumers a change in the for sale status within 15 minutes of that change in the MLS, using our unique content relationship. This means in a fast moving market as soon as the property goes pending is sold or removed from the market, our mobile app displays a grey pin suggesting you call your local real estate agents to learn why the property is no longer available. This is weeks or months before it hits public record.
Oh my. This "off-market" information is one of the most valuable pieces of data in a MLS, and something that the team at Move has been actively trying to get. My understanding is that the NAR agreement did not cover the status change information, so the fact that Move launched this on its mobile platform strikes me as significant.
And… of course… Move acquired Doorsteps, a startup which helps homebuyers way early in the entire process. From the website of Doorsteps itself:
We're on a mission to empower every homebuyer to make the best possible decisions at every step along the way. Whether it's choosing an agent, a mortgage, or a moving company — and everything in between.

We provide 100% unbiased information, written by industry experts and insiders, so you can avoid all the homebuying mistakes that helped worsen the housing crisis of the last ten years. That includes overpaying for a home, a mortgage, or any one of the dozens of service providers you'll need along the way. It also means finding the right people to support you — like inspectors or attorneys — and knowing they have the right information, presented in the right way, to be as efficient and effective on your behalf as possible.
And from Berkowitz's presentation about the acquisition:
Today we are excited to announce the acquisition of Doorsteps, a platform which helps consumers navigate the home buying journey very early in the process. Whether a consumer is two months or two years from buying a home it makes the daunting prospect of home purchase comfortable and delightful. Doorsteps is a collaboration engine enabling consumers to assemble a complete task A of information they will need and use as they move through the steps of the home buying process for the first time.

There were two doors into Doorsteps, the first for real estate professionals where they are able to invite all their contact in clients to join or for unaffiliated buyers are also able to join build a profile and engage with agents when they are ready. Doorsteps will generate smarter and more highly valuable leads because it includes such rich information about potential buyers.
The concept seems simple enough. When people first even get the glimmer of the thought that they might want to one day think about buying a house, perhaps Doorsteps would be there to advise them on how much money they might need, what to do about credit scores, how to pay down loans, whatever. And since consumers would be engaging so early on in the process, presumably, they would use Doorsteps to find a REALTOR® — the constituency of Realtor.com.
Move may very well be correct. But what we want to clearly identify is the fact that with Doorsteps, with the AVM play, with the school search feature, with the status update info, with almost everything it does, Move's long-term strategic bet is that when it comes to consumers, Content Is King. Provide the most accurate data, and consumers will come. Get consumers earlier in the purchase cycle with compelling content, and they will turn into high-quality "smarter" leads, which generates greater ROI for the customers of Move (agents and brokers). That in turn would drive revenues, profitability, and overall goodness
The trouble for Move is that the claim is as yet unproven. And there is evidence to suggest that in fact, content is not king. It's not even the crown prince.
Move's content advantage has been in place since, well, forever. Berkowitz is absolutely correct that Move enjoys a unique relationship with MLS's thanks to its NAR relationship that Trulia and Zillow do not have. In fact, Move owns ListHub, one of the main pipelines for listing data, and its two biggest competitors are publishers on the ListHub platform. But those things have been true for at least a couple of years now.
Complaining about the inaccuracy of the data on Trulia and Zillow has been a favorite pastime of the real estate commentariat for years now. Brokers have used the lack of accuracy as a reason why they pulled listings from Trulia and Zillow completely, saying that inaccurate data hurts buyers and sellers.
Well, look at this chart of the last five quarters, using Move's updated internal Ominture metrics on unique users: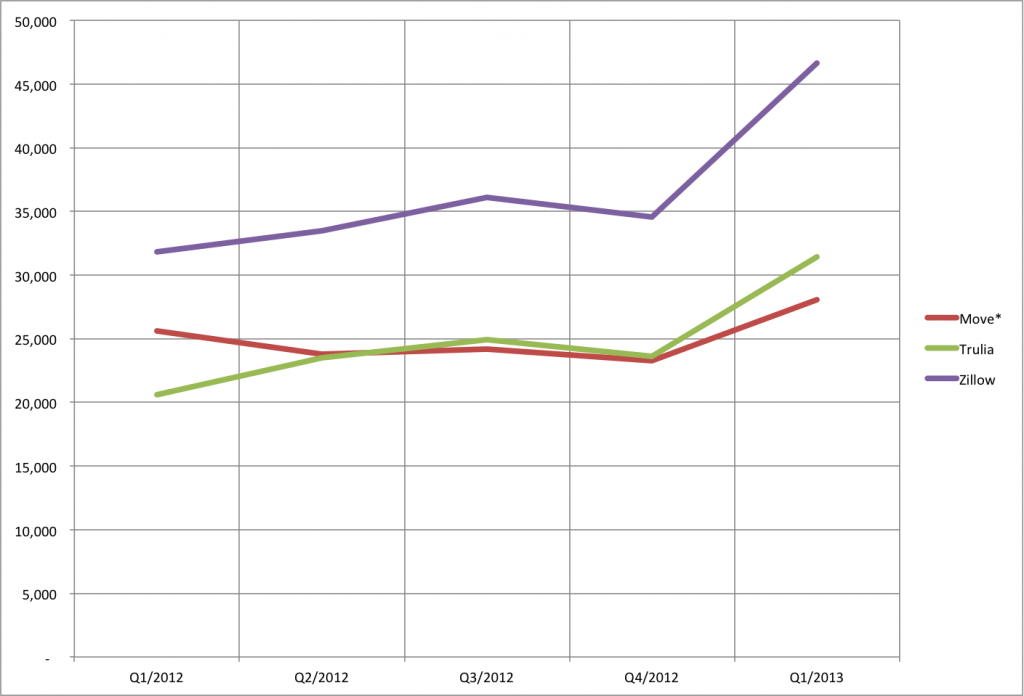 If Content Is King, at least in terms of data accuracy that Move stressed during the earnings call, then the performance of Move from Q1/2012 to Q4/2012 makes very little sense.
To be fair, it may be that there is a growing awareness on the part of consumers, especially in the new seller's market of 2013 thus far, and things might change. It may also be that Move's new content initiatives will bend the growth curve upward, from the 20% Q/Q rate of Q1/2013 to something closer to the 33%-35% rate of its competitors.
Combine the Narratives: Has Move Moved On From Being A Portal?
But the real story, the true narrative, may be one that Move itself either has not considered or will not admit. Move may be setting itself up as the Quality Over Quantity play. It may never truly seek to challenge Zillow in terms of consumer traffic; if Trulia keeps growing at 33% per quarter while Move keeps growing at 20%, then in a matter of a few quarters, challenging Trulia for the #2 spot will also become daunting. But what Move might want to do instead is to position itself as the source for good quality traffic, while the other two are selling brokers and agents a whole mess o' random eyeballs that don't mean a whole lot.
The overwhelming emphasis on ROI, ROI, and even more ROI, and the whole strategy of "smarter leads", all buttressed by the acquisition of Doorsteps – a content website that might bring consumers on two years before they're ready to buy – suggest that the real narrative of Move is that while the other guys might be bigger, might grow faster, the real money, the real leads are at Move and at Realtor.com.
Even more interestingly, two of the three "C's" of Move's Content to Connection to Close may have to do more with the SaaS division (Top Producer and Tiger Leads) than they do with Realtor.com. Consider this:
Steve Berkowitz, CEO

Sure. I mean TigerLead embodies what we're talking about. It really is about from content to connection to closing. And so TigerLead is a product focuses on actually a joint accountability between the products we deliver and that the agents and brokers will use them. So I have to tell you, I just came back from a process. So we're going out and continuing to find customers. It has the same in some cases of course the same channels we have in other businesses, which is once you sell a zip code, you have to continue to generate more and more leads in that zip codes to be able to sell the product. (Emphasis added)
I don't want to put words in anyone's mouth, and I don't know that Move's senior management thinks the way I do. (In fact, I'm pretty sure they probably don't). But looking at that statement, then looking at the rest of the facts, I can't help but think that maybe Move has crossed some sort of threshold in which the relationship between Realtor.com and the CRM software has flipped around.
That is to say, Move used to be a real estate portal that had a CRM division. It may be that Move is becoming more of a CRM company that has a real estate portal division. Doorsteps, as a clear example, might throw off those smarter leads that Berkowitz talked about, but those well-incubated consumer leads would feed much more directly into something like TigerLeads that allows an agent to stay in touch with that buyer, incubate the lead even further, and skip Realtor.com altogether. After all, if an agent is already working with a buyer, why send him to some website, when the agent can feed the buyer listings directly from the MLS?
The same can be asked of its earlier acquisition, SocialBios, which would connect consumers with agents based on shared social networks. Again, I see no reason why those leads couldn't bypass Realtor.com to be fed directly into the CRM platforms.
One reason why I think this isn't completely nuts is this, from Rachel Glaser's presentation:
Consumer ad products including Realtor.com, Moving, Senior Housing and Rentals grew 7% year-over-year, while our software and services offering that better than we had hoped with 46% growth last year. This growth in this software and services line was driven by TigerLead, which is benefiting from the combination of a stronger market.
Keeping in mind that the SaaS division is still only 22% of Move's total sales, the disparity between 7% growth vs. 46% growth cannot be ignored. Further, we cannot overlook the fact that Trulia and Zillow are outgrowing Move in terms of traffic, but Move still has a massive advantage over both in terms of CRM platforms.
Again, I caution readers that there is nothing from Move's management to suggest that they're looking at things this way. There is no reason to think that there has been a strategic shift at Move. Nonetheless, careful analysis of the key metrics, actions by Move, and management commentary leads me to believe that 2013 may end up being an important inflection point in the evolution of Move, Inc.
Trulia: Surfing the Big Wave
After the Q1 earnings report and attendant call, Trulia made the biggest move in its history – and quite possibly in the history of online real estate to date. Trulia agreed to acquire Market Leader for (as of this writing) $355 million. Combined with Trulia's very strong performance in Q1, it's not crazy to say that Q1 of 2013 belongs to Trulia.
The reported numbers show just how much Trulia kicked ass in Q1. Topline revenues almost doubled in a year. Operating loss improved by almost 60%. Cash flows from operations were up a healthy 17%, while the other two saw declines. Traffic growth and subscriber growth were both strong, keeping pace with Zillow. And Trulia increased its ARPU rather nicely.
There are a couple of things that Trulia announced that are somewhat important, and if Trulia hadn't announced the blockbuster merger with Market Leader, we'd spend far more time obsessing over them. So we'll look at them, but probably obsess over the Market Leader deal a far more.
Transaction History in Agent Profiles
During his presentation at the earnings call, Pete Flint, CEO of Trulia, revealed an interesting new feature on Trulia:
Through a new feature we launched in Q1, agents can further bolster their online reputations by showcasing homes they have successfully sold on their Trulia profiles. When agents add the transaction history to their agent profile, they are able to attract both prospective homebuyers and sellers, with examples of their local expertise and past experience.

This also helps consumers more easily find agents with the right specialties and learn more about their backgrounds. In addition, these features have increased agent engagement and attracted new agents who build profiles.
Here's an example from Lisa & Goran Forss in Temecula, CA: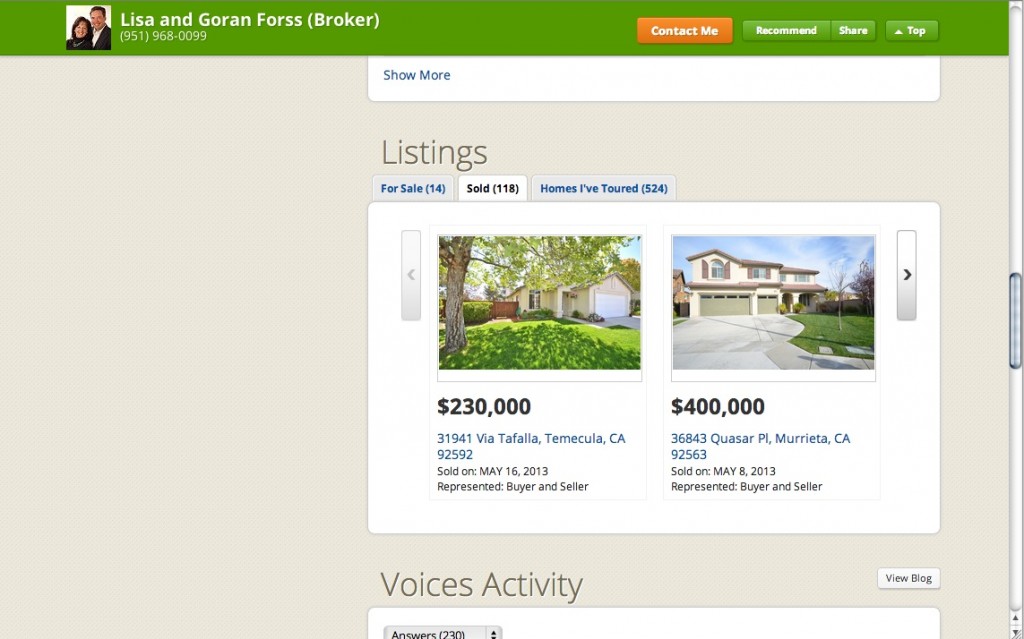 I spoke with Ken Shuman from Trulia about this feature, and was told that this "transaction history" feature is strictly opt-in. Furthermore, once the agent tells Trulia that she was involved in a successful sale, Trulia confirms it before loading it onto the Profile. I don't know the specific mechanism involved in that confirmation, but Trulia is sensitive to the issue of some agent claiming to have done a bunch of deals without any proof. (I imagine Trulia probably checks the claim against MLS data or public data.)
Neither Zillow nor Realtor.com has this feature. They do put active listings on the agent profiles, which is obvious, but nothing about deals that the agent has done in the past.
From a consumer point of view (which is what I am), this is a game-changer. I was able to go through agent profile after agent profile and see who has done actual deals and who is merely claiming to be a local expert.
Again, random samples taken from Trulia right now show that Dave Gubler has done 48 transactions while Bob Phillips has done 2. The latter claims 37 years of experience, but the data simply isn't there. To be fair, perhaps Bob Phillips hasn't opted in to put the transactions on his Trulia profile, and in fact, he's got Dave Gubler beat by a mile. But at least on Trulia, looking at it from a consumer's point of view, there is no question that Gubler looks like a contender, and Phillips looks like a pretender.
What is even more surprising is that this is more or less the feature that the Houston Association of REALTORS wanted to put on its website, HAR.com. The resulting furor made HAR step back, scale back the program dramatically, and replace it with an entirely subjective voluntary agent ratings program. Redfin, the Seattle brokerage, tried something similar with Scouting Report, to have the industry beat it about the head and neck, until it shuttered the program. And most recently, the Google-backed venture HomeLight was the subject of scorn, suspicion, and cease-and-desist actions from MLS's for using MLS data to do much the same thing that Trulia is doing here: showing consumers the actual track record of agents.
As I said, if it weren't for much bigger news, we would obsess over this new feature. In future reports or blogposts, I may do more of that obsessing. But for now, there are a couple of things to note here.
First, because Trulia is not an MLS, and the entire thing is voluntary by the agents, it is able to do things that the more formal organizations – like HAR – simply cannot without months and months of political infighting, turmoil, and so on. It is yet another reminder why real innovation almost certainly cannot come out of organized real estate.
Second, I expect some level of controversy around this feature for Trulia, even if baseless, because it is such a game changer. Allowing consumers to see who is for real and who is just talk when it comes to actual track record is enormously valuable. But exactly for that reason, those agents who have a vested interest in not letting consumers know that their "local expertise" is based on two actual transactions will be crying bloody murder. We will see how this plays out over the next few months.
Increasing Inventory
The second thing that Trulia did in Q1, which would have gotten far more press had it not been for the Market Leader deal, is this initiative that Pete Flint announced:
In response to significant demand from agents, we started to expand the inventory available to paying subscribers during the quarter. These product changes will increase the amount of available inventory we are able to sell to agents, enabling Trulia to connect a greater number of agents to our rapidly-growing consumer audience.

Among the core changes that we are making is that we used to sell placements for one agent per page, whose photo and contact information would be displayed when a consumer is searching for homes on our site or mobile apps.

We will now sell placements to two or potentially more agents, and have also made it easier for consumers to connect, contact agents by optimizing our page design. In this way we will be able to sell placements to more agents, especially markets where all of our web-based inventory is sold out.

This will expand the number of agents for whom we can provide visibility, as well as support an incremental increase in the number of leads we generate for agents.

Consumers will benefit from the changes, as it will now be easier for them to reach out to multiple agents at once, when they see a home that interests them.

This facilitates a quicker response time for their home inquiry, and by liberating inventory in sold out zip codes, we will help drive the continued growth of our agent business.
An analyst on the call asked Pete about this move, and whether it meant that Trulia had just doubled or trebled its inventory. The answer was no, that Trulia is rolling this out gradually, market by market, and focusing on the sold-out zip codes where there is very little inventory.
For good reason, it turns out, according to Sean Aggarwal, CFO:
Here is what we did see with, as we gradually have started to roll out this inventory expansion initiative that Pete touched on, we are now making available additional placements for agents, and particularly in sold out zip codes, and we have been able to command a premium pricing for those second placements, and are charging higher prices for our web products in making those second placements available, because there is a tremendous amount of pent-up demand amongst the agent base, and they continue to receive a very strong ROI from us.
Reading between the lines, what I conclude is that in the weird real estate market we are in today, where inventory is bizarrely low and buyer demand is way up, every single for sale listing is generating huge amount of traffic and leads. With one agent on that listing (plus, one assumes, the listing agent, given Trulia's promises on that count), quite a bit of that is simply getting lost. Furthermore, I'm thinking that this move suggests that in the markets where inventory isn't a serious problem, where buyer demand isn't all that strong, (not sure where that might be in the United States today, but… maybe some rural areas?), Trulia isn't having the kind of traction they want for sales. So, the solution is to put more ads on those high-demand pages in high-demand zip codes.
Question is… will those agents who bought the zip codes thinking they were the only one be cool with having to share that traffic and those leads with others? Chances are, probably yes. We've already seen other major portals make changes to their pricing model and business model with no apparent ill effects. But one never knows.
Again, if this were a normal quarter, we'd obsess about the inventory expansion quite a bit more. But this isn't a normal quarter. Trulia caught the big wave and is riding it. So we turn to it next.
Market Leader Acquisition
First, let's look at the announcement itself:
"Our acquisition of Market Leader will create unprecedented value for our customer base while also accelerating our growth," said Pete Flint, Chief Executive Officer of Trulia. "Marrying our 31 million – and increasing – monthly unique visitors with Market Leader's robust offerings and extensive partnerships with leading real estate franchisors and brokerages creates a company that will play an even more integral role driving value to the real estate industry. Together, we will help brokerages and franchisors enhance the productivity of their agents by offering them the most comprehensive, end-to-end solution via web and mobile devices. Our combined platform also will enable agents to increase their follow-up capabilities, engagement with clients and the return on investment on their leads."

A real estate industry leader for more than a decade, Market Leader partners with major real estate brokerages and franchisors to help their agents build their personal reputations, manage their leads, and ultimately convert those leads into closings. Market Leader is a rapidly growing company and its products are complementary to those offered by Trulia.
That the acquisition makes strategic sense is hard to dispute. In my 2012 Report I wrote the following about Trulia:
Zillow laid out its agenda for 2013 and beyond in big bold strokes. I have few questions about where they're headed and what they're planning on doing. In contrast, after the Trulia call, I have very little idea of what their major strategic initiatives are in 2013 and beyond. It feels like a "more of the same, but better" to me.

That is unlikely to be the case, of course, as the battleground between these three changes too rapidly. (For example, if Zillow really releases a solid CRM platform for free in Q2, Trulia is going to have to answer somehow.) Let's not forget that Trulia is sitting on $100M in cash after the IPO, and Sean Aggarwal, the CFO, mentioned that they plan to be very aggressive with their balance sheet if the right M&A opportunity presents itself.

But I don't have a clear picture of what sorts of companies Trulia might acquire, because it isn't really clear to me what Trulia's strategy is. It may be that they don't need a new strategy, because the one they have — focus on sales, focus on profitability — may be the right one for today. After all, they just went public, and still haven't turned a profit, and still need to show significant growth. That might be the only strategy they need right now, and everyone at Trulia is just noses-to-the-grindstone focused on execution. Nothing wrong with that at all. Trulia may simply need to out-grow, out-earn, and out-execute Zillow for a year to come up to parity with their rivals in Seattle by end of 2013.
Well, consider my picture cleared up. Trulia's bet on Market Leader means we can kiss the "more of the same, but better" goodbye. Instead of Zillow releasing a solid CRM platform for free in Q2, Trulia bought itself one of the premier real estate CRM companies out there. Now, of the Big Three, only Zillow does not have a serious high-penetration CRM platform.
Zillow, however, probably isn't worried (as we'll detail below). Move, on the other hand, probably should be. I hypothesized above (alternatively, pulled a bunch of crap out of my rear) about Move focusing more on its high-growth CRM division. Their ability to funnel leads from Realtor.com into the CRM platforms to increase the value of both was a competitive advantage.
Once Trulia consummates the deal, they have the ability to do the exact same thing – except with more traffic, more big company relationships (e.g., Keller Williams), and faster historical growth. Depending on how the two companies work out tough questions post-merger (i.e., who loses jobs), the revenue growth of Market Leader might end up being earnings growth as well as both companies could see real operating efficiencies.
At the very least, Trulia will take a huge lead over Zillow in terms of actual paying subscribers: 43,000 to 34,000. (I asked Trulia about that number, and was told that the figure is after the overlapping subscribers have been taken out. It's a lot of new subscribers.) Even though Zillow can be expected to grow subscribers by the time the deal consummates, Trulia can also be expected to grow organically. Short of a major acquisition by Zillow, it does appear that Trulia will be the new leader there.
Looking further down the line, combining the product and technology teams to bring best practices of both companies to the table could be very powerful. For example, Trulia has one of the best UI/UX design practices in the real estate game – especially on mobile apps. Updating Market Leader's various products, such as agent websites, with Trulia designs could make them very compelling indeed.
For now, within the Game of Thrones amongst the Big Three to become the dominant "real estate operating system" (the central hub of it all), I would have to put Trulia ahead of Move with this acquisition. Since the acquisition won't be completed until Q3 or so, I expect that we'll have to wait until mid-late 2014 to see whether Trulia's big bet paid off. But at the very least, we can acknowledge that this was a very important – even necessary – move for Trulia to make.
I wrote in the previous report that CRM is the next battleground. I consider myself vindicated on that front. Now we get to wait and see what Zillow does.
Some Concerns
Having praised Trulia for making the boldest of choices for a strategically necessary move (to get into the CRM game), I must turn to some possible dark linings in all those silver clouds.
Failure = Death Or At Least Exile
As bold as the Market Leader acquisition is, it is a high-risk play. This is not a big bad public company gobbling up a small little startup. If things don't work out, you can't just write off the $10M investment or whatever and move on. No, with this acquisition, if Trulia and Market Leader can't make the marriage work, it probably means years and years of problems (not the least of which would be the punishment that Wall Street would deliver to the Trulia stock price).
Trulia spent $355M (so far, and we'll see if some of these shareholder suits have the effect of raising that) on buying Market Leader, with $162M of that in cash. Since Trulia reported $214M or so in cash for Q1/2013, Trulia would be left with about $50M in cash assuming no significant changes between now and the consummation. (In comparison, Move has $30M and Zillow has $132M or so.) Pete Flint was clear that they could still make acquisitions after swallowing up Market Leader, but this big purchase would certainly limit Trulia without additional financing or a massive improvement in cash flows.
In thinking about the risk, a couple of things give me pause.
Not An Accretive Acquisition
First, consider some topline numbers. Trulia had core operating income/(loss) in Q1 of ($1.5M) on revenues of $24M and core expenses of $25.5M; Market Leader had core operating income/(loss) in Q1 of ($1.1M) on revenues of $12.9M and core expenses of $14M. Let's pretend, for the sake of discussion, that the deal was consummated in Q4 of 2012. Let's further assume that for all of Q1, Trulia managed to cut the core expenses of Market Leader by half, from $14M to $7M, resulting in $6M in core operating income rather than a loss of $1.1M or so. That would be a heroic achievement of post-merger operating efficiency (and would in fact result in a ton of transition costs, like paying severance and so on).
Let us further stipulate that Market Leader's revenues would continue to grow at 30% annually, without expenses growing at all. So it would look like this:
Q1: $6M

Q2: $6.3M

Q3: $6.8M

Etc. 
And so on and so forth. With those incredibly rosy, unrealistic assumptions, it would take 16 quarters, or four full years, for Trulia to break even on its $162M cash investment. The full $355M would take approximately 24 quarters, or six years. That's just breaking even, not actually getting a return on the investment.
If Trulia had taken its $162M in cash and put it into a Vanguard 500 Index fund (7.87% average annual returns over past 10 years), 16 quarters later it would have net return of $55M. 24 quarters later, it would have a net return of $92M.
All this is to say that the challenge facing the combined Trulia and Market Leader is significant. This is not an accretive acquisition, but a strategic one. Synergies and cross-selling and upselling and capturing more and more share of wallet are all incredibly important. Product innovations and upgrades through cross-pollination are important. It is not enough just to take the fast-growing revenues of Market Leader and cut expenses through operating efficiencies. 1+ 1 must be greater than 2 for this combination to be judged a success.
To be sure, this 1+1=3 (or more like 1+1 = 11) is precisely what Trulia has in mind. But that gives rise to the second pause.
The Dog That Did Not Bark
Because of the merger announcement, Market Leader canceled the conference call to discuss Q1 earnings. We do, however, have the transcript of the full year 2012 earnings call (courtesy of Seeking Alpha). Check out the following:
Raghavan Sarathy – Dougherty & Company LLC, Research Division

So I wanted to drill down on the Keller Williams Partnership. Can you give us some sense for about how many agents have activated the base level and then, upgraded to premium services? And then what sort of expectations do you have from a revenue perspective from this account?

Ian Morris – Chief Executive Officer, President and Executive Director

So I can only share so much about any specific partner, as you can imagine, from a competitive standpoint for them. I would say that — it's safe to say that as far as the base platform, we're very integrated with their other systems: their corporate internet, their transaction management, things like that. As a result, it's safe for you to assume that the vast majority of their 80,000 agents have now engaged in the base platform.

As far as specifics around how many, then, upgraded to different services, we don't provide that other than to say, it has been a very rapid ramp-up. I think we announced a number of quarters ago, maybe, it was the first quarter of last year that we had gone — that, that had become a $10 million plus run rate business for us after just the 3 quarters with them. So we've seen a significant ramp and it has continued to grow from there. We're bullish that there's a lot of headroom left in that number and we're even more bullish about the fact that we've got a couple of other relationships that will take growth paths, not just for 1 year or 2 but potentially, for many, many years to come given the success that we've seen with our first partnership, and that they see with us.
Um, what? Why so vague? The question was a direct one and rather relevant for people trying to figure out what is going on with Market Leader. Of the 80,000 Keller Williams agents, how many are paying you?
Earlier in the call, Jacqueline Davidson, the CFO, said this:
At the same time, we'll also extend our strong revenue trajectory, with expectations for a third consecutive quarter of 30% top line growth. This growth will be driven by the strong demand we're seeing for our unique products at both the professional and enterprise level, an improving real estate market, and our ability to upsell premium services to our existing customer base, now 125,000 agents strong.
Okay, well, if strong demand and Market Leader's ability to upsell premium services are two of the three drivers of growth, it seems to me that boasting to Wall Street of that ability to upsell would be something one would expect of Market Leader's management, no?
We also know that of the 125,000 agents in the customer base, some 24,000 are paying subscribers of one sort or another, because Davidson tells us that. That's about one out of five. Does that ratio hold for KW agents? If so, some 16,000 KW agents have upgraded to some premium product. In other words, two out of three paying customers of Market Leader are KW agents. That's… kind of a heavy reliance on one relationship, no? So it might be relevant to find out what percentage of KW agents have upgraded. But, no info on that.
Also in the call, Ian Morris mentions webinars with 1,000 agents on them, and how it's very easy for them to click a button and get upgraded. That's true, but the difficulty of upgrading to premium isn't how easy it is but the fact that you gotta pay. (Boy, if anyone knows that, it's me, with Premium Content like this one.) So out of the 1,000 agents on the webinar, how many actually cough up cash? Is it 100? 300? 3?
There are a number of exchanges just like the above. The analyst would ask a question about conversion, about upsells, about enterprise relationships, about integration into existing systems and the like. And the answers would be vague at best, "don't have a specific number for you", or similar, with a lot of talk of optimism. The word "bullish" or "bullishness" appears eight times in the transcript, but there's very little actual data offered to support the bullishness.
That doesn't mean the bullishness is just bullshit. Just because Ian Morris didn't offer specifics of conversion or upsell doesn't mean that Market Leader isn't killing it on both metrics. For all we know, Market Leader is growing revenues at a 30% annual rate because its conversions are at 30% once an agent gets on the free basic platform. But the fact that Market Leader management did not go out of its way to boast about how much they're killing it on upsells and conversions is a dog that did not bark. We know it isn't due to shyness or an unwillingness to go out on a limb. Market Leader isn't Realogy, who refuses to provide guidance, and tends to be extremely reticent about everything. These guys boldly set out $100M in annual revenues and 25% EBITDA margins by end of 2015.
So what gives? Obviously, we don't know. Whatever you assume from the lack of details could be completely wrong. But in all the silver clouds, the absence of details, the absence of "let me show you just how awesome we are", is a dark lining.
The Challenge, In Context
I think the lack of clarity on some key questions about Market Leader's upsell and conversion abilities is particularly worrisome. Because Market Leader isn't a promising startup that a big public company bought, to which it can bring all sorts of marketing muscle, administrative support and technology know-how. It's a big public company itself.
That is to say, if Trulia had bought a 10-person startup company with a cool product, that company's sales and marketing capabilities would be irrelevant. Trulia has a large sales force and accomplished marketers. Put that muscle behind the cool product of the little company, and one might reasonably conclude that sales will grow exponentially.
With Market Leader, a company with 278 employees, most of whom are in sales and marketing, according to Davidson, there is no such dynamic. Trulia is larger, with about 460 employees, but this isn't an orders-of-magnitude difference. We might further assume that the salespeople at Market Leader were competent professionals, just like the ones at Trulia.
If the reason why Market Leader management was so coy with details on upsell and conversion was that they were so rocking that they didn't want to tip off competitors on just how awesome their strategy was… then, great for Trulia. If, on the other hand, the reason why they didn't boast was that they didn't have much to boast about… then… well, not so great.
The challenge then, is to drive revenue growth by combining the product offerings of the two companies, to create truly compelling "whole products" (think iPod and iTunes), enabling both sales teams to elevate conversion and upsell rates way beyond what they've managed to date. And they have to do this while achieving operating efficiencies.
It can be done. I've touched on some possible synergies with this deal. Let's not forget that Move has proven that the model of combining high traffic consumer portal with professional tools can work. Trulia has bet the farm that they can and will do just this.
But it won't be easy by any stretch of the imagination.
Zillow: Jilted Lover or the Knowing Playa?
A final nagging question with the Trulia-Market Leader deal has to do with Zillow. My first question when I heard about the acquisition was why Market Leader was available at all.
Market Leader is a Seattle-based real estate technology company. So is Zillow. They both grew wildly in the past few years. The entrepreneur community is never very large anywhere, but it's particularly small and tight outside of Silicon Valley. Plus, we get this tidbit from an interview that Pete Flint gave to Geekwire:
The deal has all sorts of interesting subplots — not least of which is that Market Leader board member Nick Hanauer and Zillow chairman Rich Barton are best friends. (The acquisition could make for some very interesting late-night discussions between them).
Zillow went public before Trulia did. It has not had a CRM component, and has not yet bought one. As I've written in the previous report, CRM is the next battleground for all three companies, and Pete Flint certainly lays out the case in the Geekwire interview:
We think the combination of our consumer, agent marketing and lead generation tools, with their, what we call the operating system for the real estate industry, is a really transformative deal for the real estate industry as well as for both of our businesses. (Emphasis added)
"Operating system for real estate" is exactly right. It isn't as if the folks at Zillow don't know this. They've told Wall Street months ago that they plan to build out CRM solutions, to be the "central hub".
So why was Market Leader available for Trulia to acquire at all? Why didn't Zillow buy them first? It is inconceivable to me that Zillow did not at least consider acquiring Market Leader. It is inconceivable that best friends Hanauer and Barton didn't at least have idle chit-chat over wine about the possibility.
There are only three possible answers.
Cultural Mismatch: The deal made perfect sense on paper, but… the personalities just didn't mix. That's a polite way of saying the actual human beings within the two companies hate each other. Many a promising merger has gone disastrous because of personality conflicts and cultural mismatch (see, e.g., AOL Time Warner).
Zillow Was Spurned: Zillow did try, but Market Leader rejected them. Normally, this would be expressed in terms of price offered. But maybe not. Maybe Zillow did make a real attempt, and courted Market Leader, but Market Leader just wanted to marry Trulia instead. It happens, and many a sad songs have been written over just such a thing.
Zillow Knows Something: Zillow never tried (at least seriously) because they know something that the rest of us don't. Perhaps Zillow did make a bid, but it was such a lowball offer that Market Leader knew Zillow wasn't really serious.
For Trulia, the second option would be the best. They fought over the hot prom queen, and they beat out the captain of the football team and won her heart. But we can't discount the suspicion that maybe, number three is the case, and the captain of the football team didn't really fight all that hard for the prom queen, because he knew she's got a drinking problem she's been hiding.
Finally, if Zillow was a jilted lover, then we should see them make a big play for CRM in the next couple of quarters. They certainly have the cash to do it, and strategically, it is impossible to be the central hub of real estate if they have no real CRM offering. Zillow might build it, of course, but if Zillow were the rejected suitor in the dance for Market Leader's hands, I expect to see them make a big acquisition. If they were not, if Zillow knew something the rest of us don't, then I expect they will sit quietly, do their own thing, and not let the Trulia-Market Leader marriage worry them much.
Since we are talking about Zillow, let's just turn to them next.
Zillow: Attacking Where There Is No Defense
In the Art of War, Sun Tzu writes:
Appear where they cannot go, head for where they least expect you. To travel hundreds of miles without fatigue, go over land where there are no people.

To unfailingly take what you attack, attack where there is no defense. For unfailingly secure defense, defend where there is no attack.
Well, Zillow is following Sun Tzu's advice.
In the 2012 earnings call, Spencer Rascoff said:
So, when I talk about brand whitespace, what I really mean is that even though Zillow is the number one real estate website in the category, and even though most of our traffic comes to us organically and for free, we still have a relatively unknown brand. So we've actually done extensive consumer research in the US and if you ask Americans to name an online real estate website, more people say "I don't know" or "I can't name one than say Zillow and we're the number one site in the category. And more people say Amazon who doesn't even have a real estate section at their website than say the company that's number two in the category.

So just to paint a picture to you by what I mean by brand whitespace, we believe that by advertising and by continuing to invest in product development, we have an opportunity to create a massive enduring brand that from which significant shareholder value breaking and margin expansion comes.
Well, Zillow's had a chance to execute this brand whitespace strategy for three months. What's the result? Here's Spencer Rascoff again:
Seizing this opportunity, we began our first limited test of brand advertising late last year, specifically television advertising, to understand what impact this could have on our business. The initial test showed promising results, so we ran a larger, more involved test in the first quarter of this year, increasing the scope and scale of TV and testing other complementary brand advertising channels. We measured this test with the same analytical rigor we use in all areas of our business and saw statistically significant increases in high-value traffic and home shopper engagement all the way down our measurement funnel, including a halo effect of making all of our other unpaid and paid marketing activities perform even better.

Based on our Q1 results, we believe convincingly that advertising is working for Zillow. It is driving increased brand awareness, which creates long-term benefits, and it is increasing the quality and quantity of leads we provide to our advertisers, which yields near-term benefits. The test results, in addition to our strong organic momentum and business optimism, give us the confidence to step on the gas, to go after that brand white space. Therefore, we have made the decision that starting in the second quarter and through the remainder of the year, we are almost doubling our planned advertising spend across a number of channels, increasing it by an additional $10 million to $15 million this year. We'll also be taking up our full year revenue guidance from the midpoint of $167.5 million to a midpoint of $180 million. While this increased investment directly impacts our EBITDA levels in the near-term, we believe firmly that advertising will allow us to achieve greater revenue scale more rapidly.
You know what those two paragraphs smell like? Supreme confidence. Sure, one can't expect Zillow to tell anybody, even analysts, "We ran this ad in Los Angeles for 3 weeks, and got 2M more uniques". That would be telegraphing to competitors where to advertise and what the ROI would be. But stating that they plan to increase their advertising by $10-$15M in 2013, and that they are raising their revenue guidance by $12.5M is confidence. Chad Cohen, CFO, later clarified that for Q2, they are essentially doubling their spending on TV advertising, and Spencer Rascoff pointed out that advertising is not a dollar-for-dollar benefit to revenues.
Well, based on those numbers, it looks pretty close, doesn't it? So the idea that while Zillow's purpose in spending on TV advertising is for a mid-term and long-term branding gambit, they're seeing short-term gains on traffic and revenues ought to be disturbing to competitors.
It is important to note that Zillow is doing this with effectively zero competition. Move has launched a "Find it First" campaign, but all of it is running online. (I do wonder where Move's sales & marketing dollars go, since they've always spent at a high level; Zillow just caught up with Move in Q1 of 2013 in sales & marketing spend. But Zillow's spending millions on TV ads; what is Move spending on?) With Trulia spending 3/4 of its cash on buying Market Leader, I don't know that Trulia will be eager to spend tens of millions on TV advertising. Franchises do run significant TV advertising, but in the battle for control over the online audience, they're so far back as to be irrelevant.
Maybe it was the advertising spend, but Zillow crossed the 50M monthly uniques milestone in Q1 of 2013. Trulia grew faster on a year-over-year basis, but the raw numbers are that Trulia is a full year behind Zillow in terms of traffic: Zillow hit 31 million monthly uniques in Q1 of 2012, which Trulia just hit. The largest real estate company appears to be RE/MAX, with less than a tenth of the traffic that Zillow gets.
Tie them together with the following answer from Spencer Rascoff to a question from an analyst:
So we've been testing advertising now for 2 quarters. And I can say, unequivocally, it has near-term advantages and long-term advantages. So the near-term advantages are, we've proven in a statistically significant way, to our satisfaction, that it grows audience, it grows shoppers, so specific types of audience. It also grows lead volumes to Premier Agents. And it increases the affinity that Premier Agents have for Zillow because these agents can't afford TV advertising on their own and so they view Zillow's ad spend as a way for them to get leverage from their own marketing investment in us.

…

We also feel that we have the P&L to support it. We are taking profit and reinvesting in order to push out margin expansion. So even with this stepping on the gas, we're still looking at around $20 million in full year EBITDA, still quite profitable, but in the near-term, we have a P&L to support this type of investment.

…

I'll give you 4 numbers here: year-over-year unique user growth for January was 45%; February was 40%; March was 55%; April was 63%. So there's clearly something going on in the business here where traffic is growing quite rapidly. Part of that is driven by advertising. Part of it is product development. Part of it is growing brand awareness and PR. Part of it is surely macro housing. It's a combination of different things, but advertising is definitely part of that. (Emphasis added)
Trulia may have won the quarter in some core operating metrics, but Zillow is still frontrunning, and running hard.
What About the CRM Battleground?
I still hold to my belief that CRM is the next battleground for these three companies. To become the "operating system" for real estate, a CRM platform is a requirement.
So we know that Trulia bought Market Leader to be a player. We know that Move still has the advantage with Top Producer and Tiger Leads. If Zillow was a jilted lover in the wooing of Market Leader, then I expect to see them make a play for one of the remaining proven real estate CRM companies, such as BoomTown out of Charleston, SC. If it was not, then what Zillow will do is somewhat less predictable since many of the companies it already bought has CRM elements in them (e.g., Mortech, Buyfolio, etc.).
But there was something rather significant from Zillow in its Q1 earnings call. Here's Spencer Rascoff again:
Next, to further benefit our Premier Agents, we just released 2 frequently requested enhancements to the free CRM we provide to Premier Agents. First, with our new lead-forwarding rules, agents can set up automated responses and e-mail rules to better manage their leads. Next, with our new e-mail functionality, Premier Agents can keep their clients and potential clients informed with market updates and saved search notifications that automatically send new listings as they hit the market.
That second feature? You know who does that for real estate agents and brokers today more than any other company? The local MLS. The "email gateway" is a critical productivity tool for agents using the MLS. I've received more than a few such emails when trying to buy a house. Those MLS-powered email gateways leave much to be desired in design, user experience, speed, functionality, and the promotion of the agent. The email gateway was one of the low hanging fruits for improvement, and Zillow has done that.
The lead forwarding feature is also potentially interesting, as this blogpost on Zillow from Jay Thompson, a former broker and REALTOR, points out. Of course, it can be used to forward leads to an assistant. But it can also be used to create and support referral networks.
Both features are critical to the day-to-day work of a real estate agent. Zillow might not have bought a major company or CRM platform. But they haven't stood still and ignored their homegrown CRM platform either.
Unheralded Domination: Rentals
In the 2012 Report, I pointed out that of the three companies, Zillow was the most aggressive with rentals and had the most assets, including 600,000 rental listings. Trulia had sounded very serious about rentals as well, but with its acquisition of Market Leader and the challenges of making that work, I'm not sure how much of a priority rentals will be for Trulia going forward.
Meanwhile, Zillow is chugging away at rentals. Spencer Rascoff:
Next, in our Rentals marketplace. During the quarter, we launched new Rentals apps on Android and iPad that were both featured in their respective app stores, with the new Android app supporting Spanish language. Rental shopping skews heavily towards mobile and our investment there is paying off. On listings count, the majority of our more than 600,000 rental listings are now sourced via direct relationships with property managers and landlords, which differentiates us from competitors. We remain on track for greater focus on monetization in our Rentals marketplace late this year and into 2014. We anticipate a hybrid approach tailored to the different segments of the rental market that both encompasses the sale of advertising, as well as Software as a Service technology tools.
Okay, so kind of ho-hum, no new news kind of a deal. The reason to mention rentals in this report is that once again, we are seeing Sun Tzu's maxim play out. Zillow is attacking a marketplace that the other two aren't really defending.
Spencer mentions the "Software as a Service" technology tools for rentals there, kind of as a throwaway comment. Well, I've used the Zillow Rentals (formerly Rentjuice) platform. It is by far the fastest, cleanest, easiest to operate MLS platform I have ever used. And while there are no stats or studies on the subject, I am willing to bet serious money that 600K listings makes Zillow the largest "rental MLS" in the United States.
Keep watching the performance of Zillow's rental business. If it keeps going at this current rate of attacking it while competitors are just dabbling in it, Zillow will soon establish total dominance in that segment, and do it under the radar.
One Last Thing…
The Q1 results and earnings call for Zillow were all about advertising and traffic growth and revenue growth and all of those wonderful things. And all of those are surely critical for thinking about Zillow specifically and this Game of Thrones more generally. But there is one small detail few people have mentioned.
In Q1 of 2013, Zillow outspent Move for the very first time in the technology & development category: $10.6M to $9.8M. In fact, if you look at the trends, you see that both Trulia and Move have held technology and development spending more or less steady, while Zillow has more than doubled its technology and development spend year over year.
It may mean nothing. It may mean that Zillow's HR overpays developers left, right, and center, and that Zillow's doom is written in its pension plans. But that's quite unlikely. Instead, take a look at this little tidbit from Chad Cohen, CFO:
Moving on to our expenses. Total operating expenses were $42.8 million in the first quarter as compared to $21.1 million in the same quarter last year. The increase in expenses versus last year is primarily due to one, growth in headcount-related expenses reflecting an increase from 380 employees to over 600 employees in the quarter; and two, increased advertising investments. Our OpEx increased year-over-year would have been closer to 80%, excluding the advertising increase.
Zillow went from 380 employees to over 600 in a year. Probably the heaviest hiring was in sales and marketing, since Zillow's sales & marketing expenses were up 138% year over year. But a very significant number of those new hires had to be in technology and development for that expense category to double.
In contrast, Move's technology and development expenses were up 13% year over year, while Trulia's spend was up only 5.4%. On a quarter-over-quarter basis, the difference is stark there too. Move and Trulia posted 1.1% and -3.2% respectively, while Zillow spent a whopping 17% more in Q1 of 2013 vs. Q4 of 2012.
The inevitable conclusion is that Zillow is investing heavily in in-house technology and development talent. (What else is that line item for? Computer rentals?) Move and Trulia, however, are keeping technology and development expenses steady.
Well, one explanation is that Move and Trulia feel that they have all of the talent they need. Move was already spending at a $9-10M per quarter clip, which is where Zillow landed in Q1. Trulia has probably been working on the Market Leader acquisition for months and knew they were going to bring on a flood of developers and engineers; perhaps they held their ammo knowing a very large tech team was coming on board. That's possible.
The other explanation, and the one that I think makes more sense, is that Zillow is doing in technology what it is doing with advertising, just without any fanfare. Remember what Spencer said "We have the P&L to support it", with the "it" being TV advertising and brand marketing? I think Zillow feels it has the P&L to support heavily investing in technology, while its competitors are going after profitability. That alone speaks to the confidence of Zillow (if they're correct) or the hubris of Zillow (if they're not).
Because while spending more on salaries is no guarantee of winning (see, e.g., New York Yankees, Microsoft, General Motors), having more and better talent – strongly correlated with cost of said talent – is not an insignificant competitive advantage (see, e.g., the SEC vs. everybody else).
It also goes without saying that in this technology arms race as well, Zillow is attacking where there is no defense. (Again, caution on making too much of this, since Trulia knew Market Leader's tech team was coming on board.)
Takeaways & Questions
I did not actually think that a report on just one quarter's results would be this long, this in-depth, or this interesting. But it has been. The main takeaways from the first quarter of Move, Trulia and Zillow's operations are:
The paths and strategies for the Big Three are starting to diverge. Move may be in the midst of a transformation from a portal that had CRM platforms to a CRM platform that has a portal. Trulia decided to roll the dice in a very big way, and entered the CRM market with the acquisition of Market Leader. That transaction, not yet consummated, will either pay off enormously and make Trulia the leader for the Game of Thrones in real estate, or it will set them back for years, perhaps fatally. Because while Move was revamping its brand and Trulia was making major software plays, Zillow is going in a totally different direction with its brand whitespace strategy.
Move actually had a great quarter in Q1. It's just that Trulia and Zillow overshadowed Move's strong performance. I see a whole lot to like in what Move is doing, and their product innovation has been really, really strong. Its narrative of content to connection to close makes a great deal of sense. But its reliance on content to drive traffic growth and user engagement might be flawed, as consumers have shown no evidence that they care all that much about accurate content.
Trulia can really be said to have won the quarter, especially with its bombshell announcement about acquiring Market Leader. But even without that news, on many of the key metrics, Trulia outperformed both Move and Zillow, at least on a percentage growth basis. (To be sure, Trulia started at a lower base than did Zillow, so there is that.) Had it not been for the Market Leader acquisition, Trulia's new feature allowing agents to upload past transactions would be all over the news. It's a game changer, and one that has a storied past in the real estate industry. Nonetheless, the topic of Market Leader will suck up all of the oxygen in the room for Trulia for the foreseeable future.
Zillow sounds about as confident as a company could sound. They are frontrunning, and they know it. Their investments in both advertising/branding and in technology and development are coming from reinvestment of profits rather than from cash in the bank or new funding. They control the level of spending in both, and in both cases, it's as if they looked over their shoulders, saw how far back the others were, and decided to do things that neither of its competitors could do.
Trulia's new agent transaction history feature and Zillow's new CRM features (especially the email gateway), tend to suggest that organized real estate – MLS, Associations of REALTORS, or even brokerages and franchise companies – simply cannot compete with private companies for innovation. This appears to be a structural problem, and one that Move has to deal with as its main brand – REALTOR.com – is controlled by organized real estate.
Something to watch over Q2 is the extent to which Zillow's advertising accelerates its traffic growth. Rascoff sounded particularly confident that the advertising generated short-term gains in users and leads, and also threw off "halo effects" that lingered. On a quarter-over-quarter basis, Trulia kept up with Zillow from Q4 to Q1. Let's see if that remains the case in Q2. If Trulia keeps pace with Zillow's growth rate, then perhaps the advertising campaigns are a waste of money. If, on the other hand, we see Trulia grow by 33% from Q1 to Q2, but Zillow grows by 45%… that bodes very ill for both Trulia and Move. Rascoff pointing out that April was 63% growth year over year is a start. Let's see what May and June bring.
Finally, the relative investment into technology and development needs to be watched in Q2. How much you spend isn't evidence of anything except how much you spend, but in the technology game, having more and better and therefore more expensive talent cannot be anything other than a competitive advantage.
Some questions do come to mind. Some may even be answered in months ahead.
Will Market Leader be hurt at all by the bad blood that some brokerages, agents, MLS's, vendors and consultants have against Trulia? The whole syndication debate is still raging on, and while Market Leader stepped into it big with its IDX-based RealEstate.com play, I don't get the sense that they were ever targeted as Trulia was and is.
Is there a point at which Zillow can be said to own all of the buyer traffic in the United States? Zillow crossed the 50 million monthly uniques figure in Q1. It isn't clear what monthly uniques would be if Zillow had 100% market share, but there is a number where one can realistically say that Zillow has about as close to 100% as one can get. (See, e.g., Google's domination of search.) What is that number? And if Zillow hits that number, does that change the dynamics of the industry in deep but subtle ways?
Real estate is more and more becoming a seller's market around the country, as low inventory and buyer demand is driving things now. Does that change the equation for many of the subscribers and advertisers to all three sites? Buyers and buyer leads are clearly worth less today than they were a year ago. Could that put any pricing pressure on the three companies, all of whom are still very much buyer-centric?
As the three companies battle it out for the throne of the Real Estate Operating System, will the current kings – the MLS, which is the central hub today – gracefully step aside?
On such questions, the future of the industry hangs.
Thank you for your subscription, and thank you for reading through this lengthy analysis.
-rsh