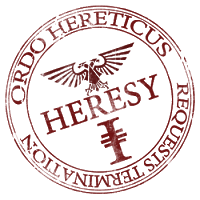 My friends over at Clareity Consulting have released a new white paper entitled, "Is Your IDX Website Mobile Friendly, or Driving Away Business". You can download the PDF by clicking on that link. It's a really solid report if you're in the market for a new IDX website, or need to redo your existing one so that it is mobile friendly.
Because, as Clareity says, citing a Google study:
If your website is not mobile-friendly, it's time to get a new website. A 2013 NAR study shows that 68% of consumers already use a mobile device rather than a desktop or laptop computer to look for a new home. Many brokers and agents spend a lot of time and money trying to drive consumers to their website, buying online ads for their listings and worrying about search engine optimization (SEO) and so forth – but are they wasting their resources? 61% of consumers on a tablet or phone who visit a website that isn't mobile friendly leave the site immediately and may never come back. You only have one chance to make that first impression – is it a good one?
They then give you a primer on mobile websites, including adaptive design, responsive design, and of course, native apps. Then Clareity provides a helpful list of vendors.
So as far as that goes, it's an excellent paper, and I would encourage you to go read the whole thing. But you know me. That ain't the end of the discussion here. 🙂
The heretical question I have is not whether your IDX website is mobile friendly or not, but whether you should have an IDX website at all in this day and age.
What's the Point?
The heresy begins by asking what exactly is the point of an IDX website in the first place. Presumably, it's lead generation. That would require, you know, traffic.
Well, listeners to the Trialogues podcast that I do with Gahlord Dewald, Matthew Shadbolt, and Linsey Planeta know that we've discussed the whole idea of a real estate website without property search at all.
But something I read recent in the RE/MAX S-1 Filing got me thinking harder about this. Here's the passage:
Our lead referral system, LeadStreet®, is supported by our award winning high-traffic websites, including remax.com, global.remax.com, theremaxcollection.com and remaxcommercial.com, which collectively attracted over 52 million visits in 2012.
Now, this is in an IPO filing, the purpose of which is to sell investors on the idea of buying shares of RE/MAX when it goes public. So this is about as positive and dressed up as RE/MAX can get the data. And they're claiming 52 million visits — not unique visitors, mind you, but visits — over the entire year from four websites, including global.remax.com (international) and remaxcommercial.com (obviously, commercial real estate).
This isn't some podunk mom-n-pop brokerage here using some templated vendor website. This is RE/MAX we're talking about, one of the top brands in real estate, one of the largest, most successful companies in our industry. And they managed 52 million visits across four websites after spending some unknown millions of dollars to do so.
Well, Zillow just reported that they topped 61 million unique visitors in July of 2013. That's uniques, not visits.
Realogy, whose CEO admitted in an earnings call earlier this year that they are out of the technology game, whose NRT division has done deals with all of the major portals, just reported record-breaking Q2 results with a 1000% (that's one thousand percent, y'all) increase in core operating income. Howard Hanna, who was one of the big brokerages that pioneered the group-buy with the portals, isn't doing badly either by all accounts.
So… I'll ask again. What's the point?
Then We Have Mobile
I predicted a couple of years ago when I thought mobile was going to be for real (admittedly, I've been a skeptic for years when the iPad did not exist and battery life was a big f'ing deal) that brokers and agents would need to waste millions of dollars on "mobile solutions" that didn't go anywhere much at all.
Well, Clareity's report — as positive and upbeat as it is about mobile web — does contain this:
Apps for brokers and agents are just starting to make their appearance. If you're considering an app as an alternative to a mobile website, consider: How will consumers find your app? Will they install it? Will they keep it on their phones for any length of time? Consider that consumers may view several agent websites before making their first contact; they are not likely to install and keep several agent apps on their phone while they make up their minds who to work with.
So even while recommending, if not insisting, that brokers and agents update their websites with mobile-friendly designs, Clareity asks some key questions about native apps.
Well, my answers to the above questions are as follows:
How will consumers find your app?
They won't. You'll have to tell them about it, once they find you… somehow.
Will they install it?
Only if they're already working with you, and there's some sort of benefit to them to installing your app. For the vast majority of broker/agent apps out there, there is zero benefit to installing it.
Will they keep it on their phones for any length of time?
Again, only if they're already working with you, and there's some sort of benefit to them holding on to your app.
Fact is, if consumers wanted to search for properties, they'd use one of the big boy apps: Zillow, Trulia, Realtor.com, and Redfin. Those apps are simply better.
For what it's worth, I just went on my iPhone and went to the AppStore and searched for "Real Estate". The top 10 results (which one must swipe-scroll to see) were:
Realtor.com
Zillow
Trulia
Redfin
Homesnap (Sawbuck)
LoopNet Commercial Real Estate
Foreclosure Real Estate
HomeFinder.com
HAR.com
RE/MAX
#6 and 7 are specialized, so ignore those. The first brokerage "brand" app is in fact RE/MAX. Well, I looked at the Ratings and Reviews. Here are Reviews #3-5 as seen on my iPhone: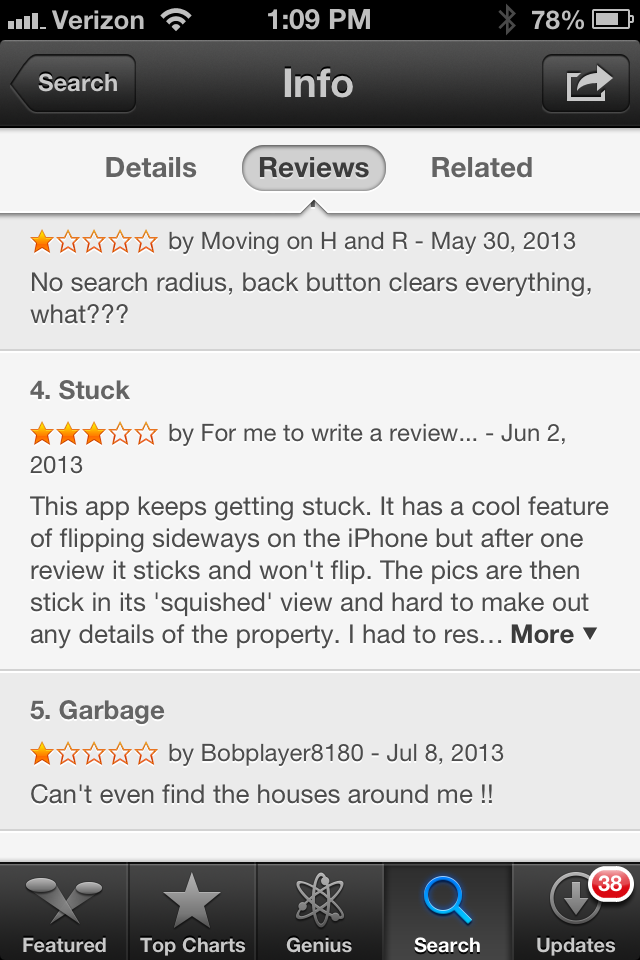 Yeah, I know. I need to update my apps….
Look, maybe it's just me, but… if this were a game, it's pretty much over, isn't it? Why spend millions on developing a mobile app to have actual consumers — the rare few that have actually downloaded it — thrash you over and over?
Why Not Simply Outsource All Online Marketing?
So here's the next heretical question.
Given the above… why wouldn't it make sense for an agent or a broker to simply outsource all online marketing to the tech companies?
Zillow, Trulia, Realtor.com — all these guys offer subscription programs where you get all the leads on your listings. Zillow offers a free website to any paying subscriber. Trulia is probably going to do the same, after the Market Leader acquisition. Realtor.com owns a couple of excellent CRM companies that offer things like agent websites. And all three offer agent/broker solutions on their mobile platforms.
Yeah, it costs money. But these mobile-friendly IDX websites aren't free. IDX search is not free. A mobile app is most definitely not free. Placester, a company prominently mentioned in the Clareity report and a company I happen to admire quite a bit, offers websites from $45 a month. Well, Zillow's Premier Gold is $49/mo and Trulia's Pro starts at $19.99/mo for one listing and $49.99/mo for three.
I mean, I'm not an agent, and I'm not a broker, so feel free to ignore everything I write here but… paying for a mobile-friendly IDX search website to get a fraction of the traffic that the big guys deliver and being left out of the dominant mobile platforms of the age strikes me as… well… an exercise in futility.
Is it really that much cheaper to buy your own mobile-friendly IDX website vs. paying one or more of the big guys to do it for you?
The Counterpoint
To be fair, there are (lots of) people who think I'm nuts with this line of thinking. My good friend Eric Stegemann is likely one of them, given this article of his in which he claims that agents can compete with Zillow, Trulia, and Realtor.com. He writes:
It all starts with the basics of SEO.  Working regularly on these items alone will be a huge jump in what you are able to achieve since so few agents even know where to start.  The first steps are to setup sitemaps, regularly monitor your analytics, carefully figure out the keywords you want to concentrate on, set a strategy for you titles and descriptions, and then execute.  It's about setting a calendar to write at least once a week, or hiring a team to write your real estate blog posts for you (PS: Make sure they are 100% custom and not "spun," or pushed to hundreds of other sites.)
Yeah, okay, sure. We know stories like that of Jay Thompson, Phoenix Real Estate Guy, who had huge success from his blogging activities and IDX search and so on. Oh wait… he might not be the best example, huh?
But the basics of SEO aren't free. Writing a blog post isn't free, if your time can be spent doing other things like calling your old clients. And certainly, hiring a team of writers to ghostwrite blogposts for you isn't free. (Keep in mind that I do this blog for fun, as a frustrated writer.)
Even Eric, however, concludes with this:
What do you have that the big sites don't?  Local knowledge.  There is no way that an automated valuation model (AVM) can ever compete with what you know about the area.  There is no way in the near future that these sites will begin to write about your local market.  But rolling over and saying that the big guys win, is not healthy to the market.  We need healthy competition from agents, brokers, franchisors, and nationwide sites to help us all up our game.  For now, that means you can show what you know by being that local knowledgeable resource.  Demonstrate what makes you different from some automated model.
He's correct as far as saying that no AVM can compete with an agent's local knowledge. That's true. Showing what you know by being that local knowledgeable resource is something that the big boys can't do.
But you know what showing your local knowledge doesn't require?
IDX search.
Since the default WordPress theme is mobile-friendly, you know what else you don't need?
A mobile solution for your local-knowledge website.
Is there some reason why you can't write a local knowledge blog, then send everyone who wants to search for properties to Redfin? Considering how many agents have told me that they routinely send their clients to Redfin to search for houses… since they know their clients will simply ask them to see property X and house Y….
In Summary…
Look, if you want to invest in an awesome mobile-friendly website, power to you. Check out the Clareity report, as it's a great resource then.
But if the point of having a website is to do lead generation… and the Big Three have completely won that war… and on the mobile front, it's not close… wouldn't it make more sense to just have the Big Three do the lead generation for you and to focus on — as Eric suggests — showcasing your local expertise to your actual clients and people who have actually contacted you already?
Why bother with IDX, nevermind mobile-friendly IDX?
Do feel free to point out where I'm wrong, what I'm missing, etc. and so on. But the tired and old "You ain't never sold real estate, son" thing will just get ignored.
-rsh