I've been meaning to write this ever since the end of CMLS Kansas City two weeks ago, but have been on the road working on tremendously exciting stuff… that I hope to be able to talk about more in a couple more months.
This is more of a "think-out-loud" piece, so for those who want to think along with me, let's go for a ride. Everybody else can likely skip it and focus on revenue-generating activities.
The immediate trigger was Project Upstream, and two panels at CMLS. One was entitled New Technologies for a New Era, and featured three of the top MLS vendors in the industry plus Dave Duran, CEO of Yodata (a company with which I've been working). The description:
Every MLS vendor has a skunkworks project or two. But what are they, and why do they matter? Hear from notable industry players about how they're building the products of the future that will transform the way MLSs do business. Chad Curry will moderate.

Panelists: Dave Duran – Yo! Data, Mike Wurzer – FBS, Jon Green – CoreLogic, Chip McAvoy – Black Knight Financial Services
The other was the closing panel, moderated by the President of CMLS, Shelley Specchio, and here's the description:
The real estate industry of the future will be built on a foundation of innovative collaboration and communication with all stakeholders in organized real estate. From Upstream to AMP, the National Broker Portal to industry mergers and acquisitions, the real estate ecosystem is changing, and will unquestionably affect every MLS. Find out how leaders in our industry are looking at today's challenges and how they plan to collaborate with each other to create the real estate industry of tomorrow.

Panelists: Alon Chaver, Board of Directors, Broker Public Portal; Kathy Condon, Cheif Executive Officer, MLSPIN; Dale Ross, Chief Executive Officer, Realtor Property Resource; and Glenn Kelman, Chief Executive Officer, Redfin.
Both were great and interesting panels, but I have to admit I walked away thinking more about what was not said than was discussed.
While Upstream, the MLS, and the related topics were the immediate triggers for this journey into thinking, fact is that the issue here is broader than those things. It actually affects the entire real estate industry in a deep and fundamental way, and I think any strategy has to take this into account.
Let's get into "this".
Fundamental Truth About Real Estate: The Industry Does Not Control the Market
I came to this realization after the panel, talking about things with a bunch of other attendees outside. (Seriously, the insights one can get standing outside with other second class citizens are amazing.)
A fundamental truth about real estate that industry people rarely discuss, because it is so obvious, is that real estate is a zero sum game.
What do I mean by that? Well, take a look at this chart of U.S. Existing Home Sales: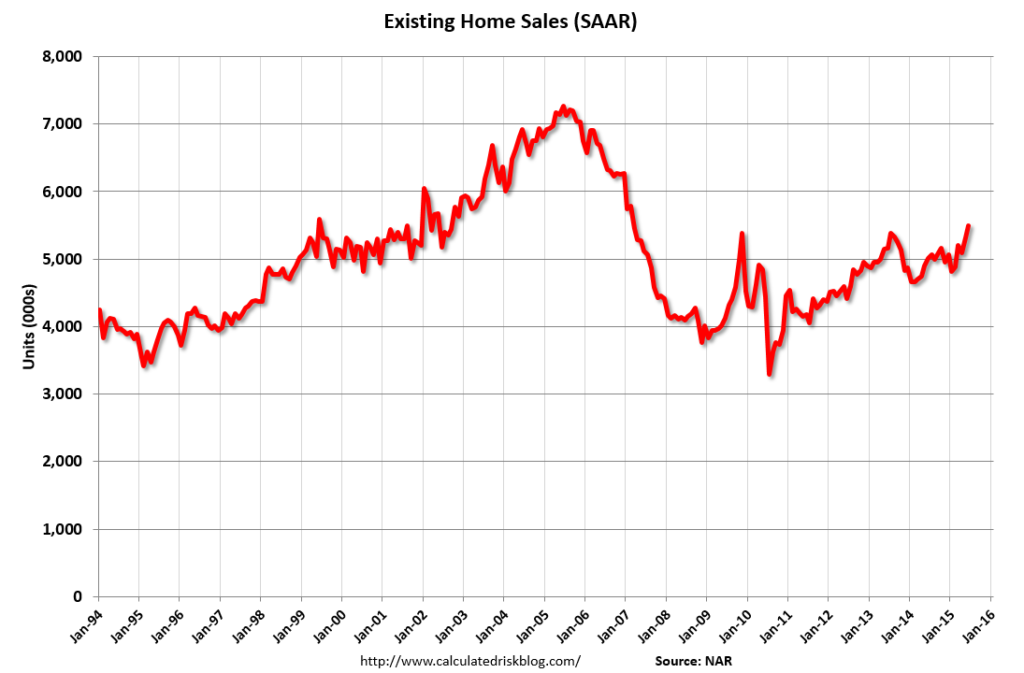 The chart is not particularly unique, since the data is publicly available from NAR. And it's from 1994 onward; we can go back a couple of decades as well.
The thing that is striking about this chart is obviously the Bubble. But the general trend-line is right around 4.5M to 5M homes sold. During this 12 year period, though, think about the changes to society, technology, and of course to the real estate industry.
This was the top selling cellphone in 1996:

"MotorolaStarTAC" by ProhibitOnions at the English language Wikipedia. Licensed under CC BY-SA 3.0 via Commons.
Anyone remember those? I remember only envy, since I was a poor law student at the time and couldn't afford even a pager, never mind the expensive cellphone contracts.
Obviously, we're talking pre-Internet days when laser printers routinely cost $3,000 or more, and heavy 8-lb laptops were the state of the art:
Midpriced laptops, costing about $3,000, come with 11.3- to 11.8-inch passive-matrix displays. The most expensive laptops, costing $5,000 to $8,000, have larger, 12-in.-plus active-matrix screens. One advantage of choosing a larger display is that these portables can double as office machines without the need for an external monitor. With a 12-in. screen, built-in sound, and 1.3-GB drive, Compaq's highly rated LTE 5300, for instance, is just as versatile as any desktop. It commands top dollar, too: a steep $6,398 as tested.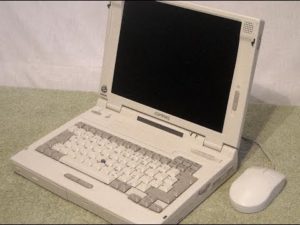 Ah memory lane! That should make all of you smirk in remembrance while reading this on your mobile phone with 128GB of memory.
That's just technology. Ever since Netscape introduced the general public to the Internet, and AOL made "email" somewhat mainstream, the business practices of real estate have completely changed. Remember, Zillow and Trulia weren't even founded until 2006 or so; right in the middle of the Bubble inflating.
And yet, home sale numbers have remained right around 5M units; higher during the Bubble years, lower during the Crash years, but hovering right around that mark.
The point is this: There is absolutely nothing that the real estate industry does that affects the housing market.
Even if some brokerage somewhere were to come up with a novel new business model charging $5 flat fee to buy and sell homes, that doesn't transform a guy on unemployment into a potential buyer. That kind of screwup requires the federal government working hand-in-hand with Wall Street.
Macroeconomics and Government, That's It
The housing market is affected only by macroeconomic forces and by government action, period, end of story. All of the marketing in the world doesn't increase transaction count by one. All of the lead gen efforts don't make someone who can't qualify for a loan become a buyer. Everything in real estate is dictated by "Big Numbers" like employment, interest rates, household formation, etc. etc.
Government action — particularly federal action — does affect the housing market, of course. Slap a 20% tax on home sales, and we can see numbers go way down. If the Federal Reserve raised interest rates to 25%, yeah, we'll see housing collapse. If some state or local government did something crazy, we might see some movement.
Through advocacy of local, state, and federal Associations, the industry does have some influence on government policies/actions, but other than that, there isn't anything that anybody in the real estate industry can do to move the housing market one way or another.
(BTW, I'm excluding new home builders here, because they do sort of control supply, if they don't mind going bankrupt if the gamble doesn't pay off….)
In fact, I can't think of another industry with these same features. Every other industry can affect supply and demand in a real way: lower the cost of computers, and suddenly, everybody wants one. A new technology creates massive demand (see., e.g., e-cigarettes) where none existed. And so on.
The Pool of Money: Commission Dollars
The immediate corollary is that if the size of the housing market is beyond the control of the industry, then so is the pool of money available to the industry as a whole.
Think about it, even though it's obvious. The source for money in the entire real estate industry is ultimately commissions from sales. Everybody, and I mean everybody, makes money in some way, somehow from this pool of money generated from commissions. Brokers, MLS fees, vendor subscriptions, Zillow Premier Agent, Dotloop fees — doesn't matter what we're talking about. Every single thing comes from the pool of money generated by commissions.
Zero Sum Game
So the clear implication is that everything in real estate is ultimately a zero sum game.
If an agent leverages technology, smart lead management, and topnotch service to increase production from selling 20 homes to 50 homes, then other agents in her market will be doing 30 fewer transactions. A broker making $100M more in revenues has to get that from somewhere — other brokers, from higher agent splits, somewhere. They don't affect supply and demand; only macroeconomics does.
Similarly, if a vendor in the real estate industry becomes successful, that success must come from somewhere. It has to get a larger share of the Commission Pool, which necessarily means that someone else has to get a smaller share.
Best example, which I heard at CMLS, was about the transition from the paper MLS to the computerized MLS. The current crop of MLS vendors became successful when the MLS transitioned from having the MLS book and printed sheets to having computers with client-server architecture (pre-Internet). But that transition, and that success of MLS vendors, meant that a whole lot of printshop went out of business. Those vendors became successful at the expense of the printing shops.
With all that said, let's turn back to the panels and CMLS and all that.
The Things Left Unspoken
At both panels, I heard leaders of the real estate industry talk about new technologies, new initiatives, and the need for collaboration and cooperation. And more collaborative efforts. Did I mention collaboration?
The future, as painted by these leaders, ranging from representatives of the major MLS vendors like CoreLogic to big game changing initiatives like Broker Portal and RPR/Upstream, is one of various companies doing amazing things by listening to their customers, empowering the broker and the agent, and offering wonderful technology tools to the industry. It felt in many ways like a kum-bah-ya moment.
Thing is, given that real estate is a zero sum game, where every winner has to have a loser (or set of losers) from whom it transfers dollars, I kept wondering, "Whose ox is going to get gored?"
Longtime readers know about my view that innovation requires destruction. Well, it's particularly a propos in real estate, which is a uniquely zero sum market.
If CoreLogic's Trestle platform makes massive headway, that money and that market share has to come from somewhere. If RPR/Amp becomes successful, it has to generate its revenues from the same Commission Pool that everybody else is currently tapping. If Broker Portal Project becomes successful, that money has to come from somewhere, whether that's Zillow as the BPP proponents hope, or brokers, agents, MLS, or whatever.
At CMLS, we heard major industry players talking about the need for collaboration and cooperation. That's true and wonderful, of course. But all that collaboration and cooperation have to lead to somebody getting screwed. Or else, none of it actually works in a zero sum market. Whether brokers, MLS, Associations, agents — people have to either shift their spending from one set of vendors to another set of vendors, or they have to dig deeper into their own pockets. Since very few brokers and agents are complaining about having too much money in their own bank accounts, and wishing there were some new things they could spend money on, I'm guessing that the success of these news initiatives will come at the cost of somebody currently making money from the Commission Pool.
The things left unspoken are exactly who these companies and initiatives are targeting for extinction. When the "real estate ecosystem" changes, who survives and who does not? Due to the collaboration-worshipping nature of the real estate industry, no one getting on stage will spell it out, but the logic of a zero sum market is irrefutable: for someone to win in real estate, someone else has to lose.
I'll have some further thoughts on who in the industry is walking around with a target on their backs, but this got long enough for a think-out-loud exercise. I'd love to know who you think the future winners and losers are, and who you think they ought to be, if you have an opinion.
Happy Monday, y'all!
-rsh