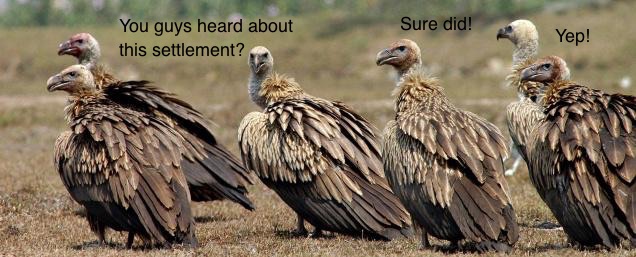 Thanks to reader Aileen Kane (who is one of you — the best informed readers in real estate) I just got word (via a comment on an old post) that the final settlement in Coldwell Banker v. Bararsani case has been ordered by the court. From Law360 (registration required):
Los Angeles Superior Court Judge William F. Highberger granted final approval Wednesday to the class action settlement between Coldwell Banker Residential Brokerage and named plaintiff Ali Bararsani. The court also conditionally certified the class of approximately 5,600 known members and approved setting aside $1.5 million from the $4.5 million settlement for class counsel attorneys' fees and reimbursement of more than $25,000 in costs.
Do some rough math and you get to the idea that the 5,600 known members of the class action lawsuit will receive about $535 each. But the big number you need to pay attention to is the $1.5 million that the lawyers in this case will get.
As is typical in a settlement like this, both the plaintiff (Bararsani, et.al.) and the defendant (Colwell Banker) will save face. The plaintiff thinks he's got a real case, that the claims have real merit, etc. Coldwell Banker, of course, denied any wrongdoing, denied any liability, and said it "is not obligated to change its business structure."
But of course, Coldwell Banker did write out a check for $4.5 million now didn't they?
This settlement order came down on Jan 13th; I wish it had happened before I had written my Seven Predictions, because I've got another one to make now. 🙂
If Coldwell Banker believes that this settlement ends the "two and a half years of litigation" and allows them to put the issue behind them… I have news for them. And if you're a non-CB broker chortling at their misfortune, I got news for you too.
Every plaintiff's attorney in the U.S., especially those experienced in class action lawsuits and going against the high-priced legal talent of major companies like Realogy (Coldwell Banker's parent company), is now looking for current and former REALTORS to bring class action lawsuits in all 50 states. And those actions won't be limited to CB; any brokerage that used independent contractors (that would be every single one) is now vulnerable to the exact same claims as Bararsani brought against CB. You could be small, you could be large — you're vulnerable to at least getting sued because the claims will be identical.
So I am now predicting that we will see a flurry of litigation around the country against large real estate companies by a swarm of lawyers seeking a pay day. Because lawyers have newsletters. And blogs. And conferences where they network and talk and share stories. In fact, they have an Association and litigators make up a big chunk of the ABA. The pattern in the past has always been that one lawyer gets a significant settlement, the others see the payday, they smell blood in the water, and then the swarm attacks begin. It's happened to asbestos, to tobacco, to drug companies, etc. etc. So… it's going to happen. It' just a matter of time.
And Monell v. Boston Pads is not going to help much here, moving forward. Which means that this issue, of real estate agents as independent contractors, will not get resolved until one of two things happen:
A real, binding opinion from a significant court that rules definitively one way or the other. Monell didn't do this; it used some rather tortured legal reasoning to reach its conclusion, but then begged somebody to bring a new lawsuit alleging that real estate agents are employees even under real estate licensing laws. Obviously, the court here didn't rule because the parties settled instead. Or,
Legislation that spells out clearly that real estate agents are not employees. That legislation can't leave doubts about the issue, as the California and Massachusetts statutes do. Given the power of unions in the public sector, the likelihood of that kind of legislation passing is only slightly better than me being named as the next CEO of NAR.
Ergo, the forecast calls for stormy weather and vultures. Lots of them.
We now return you to your regularly scheduled programming on how to use Facebook and Instagram to get buyer leads!
-rsh