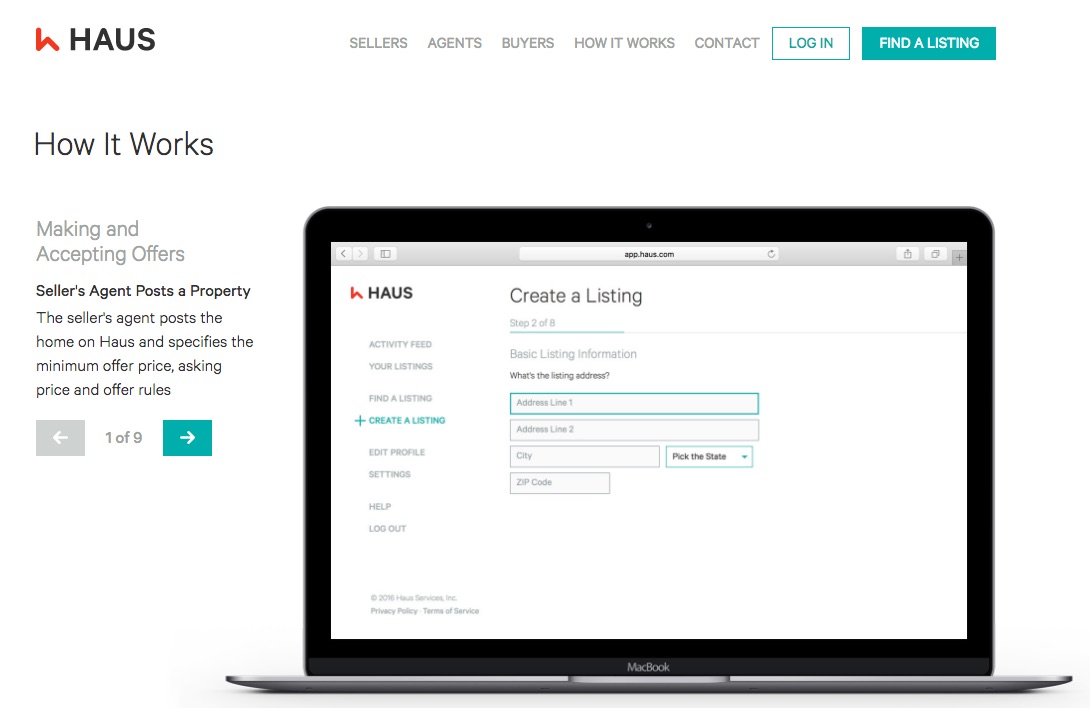 Recently, a bit of a brouhaha broke out in real estate social media around a new startup called Haus.com from a cofounder of Uber. Rismedia has the story:
The co-founder of Uber today introduced a new platform that considerably boosts transparency in real estate transactions.

The venture, named Haus, is an "open and fair real estate platform" that grants real estate agents and homebuyers access to all of the offers in front of a seller, among other permissions. The platform was developed by Expa, a startup studio helmed by Garrett Camp, co-founder of Uber.

"Most aspects of life have been improved by technology, yet buying or selling a home is still a manual process," said Camp in a statement. "Haus is creating a platform we believe can revolutionize the way people buy real estate. The open and clear communication creates a more efficient and fair process for everyone involved."
The response online has been predictably negative. So why bother talking about them, right?
Because while Haus.com likely has some issues, the underlying notion that real estate needs more transparency, and one way or another, we're going to get it, good and hard, is becoming more and more prevalent. Increased transparency is likely the future… whether we like it or not.
So whether Haus.com is or isn't worth talking about, the future of transparency is. Let's get into it.
This See All Offers Business…
Most of the real estate brokers and agents look at the Haus.com value proposition of showing all offers and think it's somewhere between stupid and crazy:
I see being the biggest cluster to happen to real estate. The problem with open source offers is that it's impossible to have confidential contracts, and confidentiality is required. What buyer will want their offer out there for all to see and one up? I can also see this opening up a fair housing can of worms.
and
Why anyone (most importantly the freaking SELLER of the home) would want this is beyond me. This isn't Ebay. Also – (for those that actually DO real estate) how do you value a) closing date, b) reputable lender c) waiving contingencies and most importantly d) agents that do or don't suck. Are they going to put a line in there that says "Sorry – your agent doesn't know what the fuck they're doing and hasn't closed a deal in 2 years and works in the suburbs (when our house is in the city) and works for a cut-rate brokerage that doesn't train their agents… Therefore, I have 0% confidence in your agent's ability to get this across the closing table – Sincerely, The Listing Agent"
Those are the thoughtful responses, rather than just the "It's stooopid!" kinds. And as it happens, I agree with them.
Measuring offers just by the amount offered is probably not the ideal way to evaluate them. As these professionals above note, a lot of things go into accepting/rejecting an offer besides just price.
Plus, as one person mentioned, Haus.com relies on the listing agent and the seller to utilize its platform to get the offers visible. Getting that participation, against the backdrop of industry hostility, is not going to be easy.
So… why talk about this at all?
Winds of Change Blowing In British Columbia
The reason is what's happening north of the border in the Canadian province of British Columbia. I wrote about that here and here. One provision in particular from the IAG Report is directly relevant here.
9. The Real Estate Council require that all offers received by a seller's agent in relation to a trade in real estate, be promptly filed with that agent's managing broker and be retained at the brokerage for review by the Real Estate Council on demand.

The IAG is aware of reports that some licensees are not disclosing all received offers to sellers, and favouring offers from particular buyers, in a manner that may compromise the licensee's duty to act in the best interests of their client. We are also aware of reports that claims of multiple offers, that in some cases may be exaggerated, are used by some licensees to encourage buyers to increase their offers. To ensure transparency and a paper trail for the Real Estate Council to identify misconduct, including possible price manipulation,

THE IAG RECOMMENDS that brokerages be required to maintain records of all offers made during the sale process.

Longer term, THE IAG RECOMMENDS that the Real Estate Council implement a real-time multiple offer registry where buyers can monitor, with appropriate privacy protections, all offers that are made on the property. This will enable buyers to confirm that their offer has been submitted and confirm that, in fact, there are multiple bids that have been received on the property. [Emphasis added]
Oh yeah. That's right. Let's walk through this quickly.
First, look at the "problems" that the Report mentions:
Some agents aren't telling the seller about all of the offers.
Some agents "favour" (Canadian spelling FTW!) offers from "particular buyers".
Some agents lie about multiple offers, which leads to price manipulation.
Each of these things is not some exotic, why-I've-never-heard-of-such-a-thing occurrence in real estate. Most practitioners know that these things happen, and not all that rarely. The fact that these are against the Code of Ethics and even against the law  does not change the reality on the ground that some agents do this, and more.
So yes, on the one hand, I agree with my conscientious REALTOR friends that just publicizing all offers fails to take into account a number of non-price factors, such as closing date, the likelihood of the loan closing, etc. etc. And frankly, a seller may choose to sell to one buyer offering less simply because he likes that buyer. (That happened to me personally, where my agent wrote a very nice letter to the seller, which got the deal done.)
On the other hand, this is yet another situation in which the fact of crappy agents hurts everybody. Again, good conscientious brokers and agents know that some agents do unethical, illegal shit, like not telling their seller clients about all offers, because they want to steer the business to some particular buyer.
And if we're going to honest, we have to concede that the existing structure of regulating agent behavior doesn't work all that well. The report-then-prosecute-to-get-blacklisted model of Association disciplinary process is… suboptimal on a number of levels. The "let's rely on the government regulators to do it for us" model results in… well, government regulators deciding to step in at some point, as they did and are doing in British Columbia.
Future of Transparency: Government Mandates
On the current trends, Haus.com isn't the concern. Government mandates are. A private entity, even if backed by Silicon Valley billionaires and super-smart techies, has a difficult time changing the culture and established practices of an industry. DotGov has no such problems.
Lack of transparency ultimately became a big enough issue north of the border for the government to step in, and as it usually does, government uses a heavy-handed hammer instead of a precise scalpel. Brokerages in British Columbia (and that contagion may spread to other provinces in Canada, since politicians talk to each other) are about to have to keep records of all offers submitted, then report those offers to the government, with the longterm goal of creating a government-operated database/website where consumers can go look up all of the offers, along with contingencies, etc. etc.
All of the valid reasons mentioned above by practicing REALTORS are going to get swept away, because the industry failed to discipline, regulate, and take care of the invalid, unethical, and illegal practices within itself.
So, what's the takeaway?
It's fairly simple. I've mentioned it time and again on this blog, and I talk about it in my public speaking gigs, and I try to work towards something like a solution. The takeaway is this:
If we, members of the real estate industry, do not voluntarily do a better job of consumer protection, we will be forced to do it… and we won't like it very much. We will be made to care.
-rsh