I've been traveling almost nonstop for a few weeks, so things have been light in the blogging department. My latest stop was Stefan Swanepoel's T3 Summit in Los Angeles last week, a fabulous event made even more fabulous this year because of agent Eric Boyenga of the Silicon Valley Real Estate Team.
T3 attracts  the most powerful people in the industry, such as Spencer Rascoff, Dale Stinton, CEOs of major brokerages, and MLS CEOs. There were amazing speakers, including the Co-CEO of Whole Foods. Yet, Eric was one of my favorites. Not only is he extremely successful, he's also an agent pounding the pavement every day, driving buyers around, and going to listing appointments. That made his opinions and descriptions of problems invaluable.  The ultimate job of every CEO in that room is to solve problems for people like Eric — the agent on the ground.
That's why when Eric talked about the industry's epidemic of incompetence, it really resonated with me. Brokerages that recruit anybody who can fog a mirror, supply little training,  provide no guidance, and offer almost no oversight make Eric's job more difficult — and make his clients more miserable. While Eric said NAR is not responsible for these "fly-by-night brokerages," he would like to see NAR focus on the quality of agents over the quantity of agents.
If that sounds familiar to you,  it should. We've been talking about professionalism and raising the bar for years. But it's really difficult to pin down what people want to change and why. I believe that we, as an industry, no longer understand the difference between a business and a profession; in doing so, we confuse the two.
Allow me to explain.
The Business of Real Estate
Just about every real estate broker and real estate agent in North America is in business. A tiny few may be salaried employees (e.g., Redfin), but their companies are in business. What is that business?
The business of real estate is to help people buy and sell houses. That's it. That's how everybody gets paid – commission on the sale of a property. In order to help people buy and sell houses, we need to do four things:
Identify people who want to buy and sell houses
Get those people to agree to pay you
Find houses that are for sale and buyers who are willing and able to buy them
Close the transaction
That, in a nutshell, is the business of real estate. Lead generation, lead conversion, transaction management, listing coordination, marketing, negotiation, etc. are all related to one of those four things. The entire infrastructure of the MLS is related to one of those four things. All the agita and agony around data ownership and data protection are related to one of those four things. All the technology in our industry is related to one of those four things. The end result of excellent business practices is money, profitability, and growth.
The Learned Professions
There is a different context for the term "professional" which comes from the original learned professions: medicine, law, and the clergy. Those professions were distinguished from other vocations by three things:
Extensive training and education
Organization
A spirit of public service
A blacksmith might have required training and education, and belonged to a guild of blacksmiths, but he did not work for the public good in the way a doctor would. If the blacksmith  came up with a new way of working steel, he kept that secret to himself as a competitive advantage in the marketplace. The learned professions behaved differently:
The third attribute of a learned profession is that its numbers are dedicated to a spirit of public service. Gaining a livelihood is incidental. A professional man offers a certain service and he confers the same diligence and quality of service whether he is paid or not. The lawyer or doctor does not patent his discoveries or exploit them for his own personal use, but makes them known to the profession and to the public in general. He practices preventive medicine and law. He does not advertise or compete for customers. He does not seek to create a demand for his services in the fashion that the businessman does.
John Wade, the dean and professor of Vanderbilt Law School, wrote the words above in 1960, in an article entitled "Public Responsibilities Of The Learned Professions." But these concepts were not novel — rather, they were centuries old by the time he wrote them down.
The Issue of Dignity
When people in the industry say that professionalism is a problem, they're usually talking about is an agent who isn't very good at the business of real estate.
Consider how often people mention production as a criteria for a "professional" real estate agent, as opposed to someone who is a part-time dabbler. After discussion, they concede that yes, there are some top producers who are extremely "unprofessional" while there are Realtors who may be part-time because they are raising a family, but who are extremely competent in a transaction. Nonetheless, most of the raise-the-bar conversation is around getting better at lead generation, lead conversion, negotiation, closing transactions, and so on.
And yet… there is an unarticulated sense that professionalism means something more. For example, the way a Realtor dresses is often brought up. Wearing shorts and flip-flops to a closing is seen as being unprofessional. Why? That disheveled agent in shorts and flip-flops might be amazing at lead generation, negotiates wisely and skillfully, and closes transaction after transaction. He might be the #1 producer in his market, but there is something unprofessional about how he dresses.
Or take this lovely piece of advertising: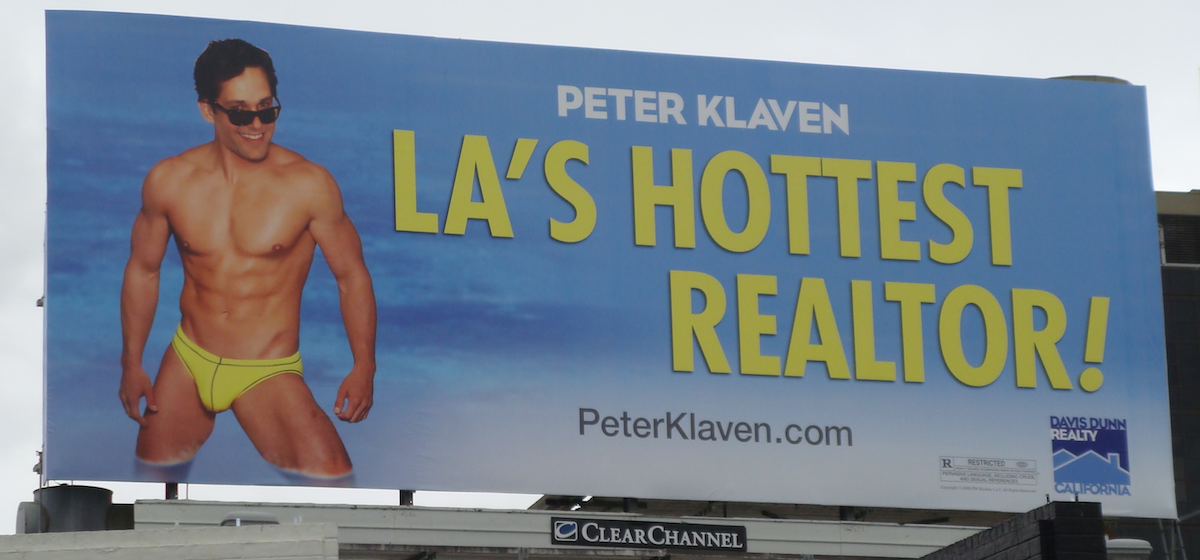 Even if that billboard – and accompanying abs – were effective in generating phone calls and inquiries to Peter Klaven, there is something about this that would make most  Realtors cry "Unprofessional!"
The reason is that ads like this, or the way one dresses, speaks to the dignity of the profession. And what many Realtors want is more dignity, more respect. Which naturally raises the question of why. Why should a Realtor be dignified? Why should she receive respect? What is it about what a Realtor is or does that should be respected at all?
The Difference: A Spirit of Public Service
There is nothing in the business of real estate that commands respect. Advertising, marketing, negotiating deals, opening doors, going on listing appointments — none of these things confers dignity. A used car salesman has to advertise, market, negotiate, take people on test drives, arrange financing, etc.  and nobody thinks a used car salesman deserves respect for being in business.
So why should a Realtor deserve respect? Why should there be any issue of dignity? The answer: the spirit of public service.
Read the Preamble to the Realtor Code of Ethics:
Under all is the land. Upon its wise utilization and widely allocated ownership depend the survival and growth of free institutions and of our civilization. REALTORS® should recognize that the interests of the nation and its citizens require the highest and best use of the land and the widest distribution of land ownership. They require the creation of adequate housing, the building of functioning cities, the development of productive industries and farms, and the preservation of a healthful environment.

Such interests impose obligations beyond those of ordinary commerce. They impose grave social responsibility and a patriotic duty to which REALTORS® should dedicate themselves, and for which they should be diligent in preparing themselves. REALTORS®, therefore, are zealous to maintain and improve the standards of their calling and share with their fellow REALTORS® a common responsibility for its integrity and honor.
Those two paragraphs are fairly dripping with the spirit of public service. A Realtor works for her clients, yes, but she recognizes that the interests of the nation and its citizens require the highest and best use of the land and the widest distribution of land ownership. She accepts grave social responsibility and seeks to fulfill her patriotic duty in her work.
The only reason why a Realtor deserves respect at all, and why the dignity of a Realtor is important at all, is that a Realtor is committed to practicing with that spirit of public service. Nothing else that a Realtor does in the actual business of real estate is worthy of respect; those are things a Realtor has to do to get paid and stay in business. It is that higher ideal, that recognition of civic responsibility and patriotic duty, which elevates a business to a profession.
Eliminating the Confusion
Seen in this way, we might make some progress on raising the bar by allocating responsibilities to the appropriate parties.
Eric Boyenga is correct when he says that we cannot blame NAR for the fly-by-night brokerages who provide no training, no guidance, and no oversight. But we can, and should, place the responsibility of elevating the business to a profession to NAR whose Code is the heart and soul of the profession itself.
The business of real estate belongs to the brokers. If an agent is incompetent, that is the broker's responsibility. If that incompetence leads to a more difficult transaction, less production, more annoyance for consumers and the agent on the other side, those are the fault of the broker who is in charge of the agents.
The profession of real estate belongs to the Realtors. If a Realtor does not recognize her civic responsibility and patriotic duty, and does not endeavor to go beyond ordinary commerce, then that is the Association's responsibility. If that lack of pride, lack of dignity, and lack of awareness of her responsibility leads a Realtor to engage in conduct (like the ad above) that undermines the public's trust in the profession, then that is the fault of the Associations local, state and national who have failed to properly inculcate a spirit of public service in their Realtor members.
The business and the profession are interlinked, but they are separate. Because competence in one does not mean competence in the other. By conflating the two, we have created a situation in which no one can actually make real changes. The brokerages outsource competence in the business to trainers, coaches, and oftentimes, the Association which provides all manner of training. The Associations have far too often lost sight of their role as the conscience of the profession and think that their job is to make their members more money.
Separate the two. Be clear on your sphere.
The consumers, whom we all serve in one way or another, deserve competent businesspeople who know how to market a home, how to negotiate, how to close a transaction, and how to provide excellent customer service along the way. That is the responsibility of the brokers who are in the business of real estate.
But those consumers are also members of the public. They have to live, work, play and raise families in their communities. They deserve professionals who know the importance of functioning cities, of productive industries and farms, and of a healthful environment. They deserve professionals who understand that in serving their clients, they are serving their country. That is the responsibility of the Associations who are in the profession of real estate.
Let the businessmen take care of the business, and the professionals take care of the profession. We might make some progress this way.
-rsh