I've been in the mountains of North Carolina the last couple of weeks with intermittent internet service and zero cell coverage. So obviously, blogging was nonexistent. I barely responded to emails, to be honest.
One interesting conversation I had with Sunny around the campfire, though, was whether investor offers are always and everywhere worse than traditional sales. Yeah, we're real estate nerds, so yeah, we talk about that stuff around campfires toasting smores.
What if investor offers are not that much worse than selling your home through an agent, the traditional way?
What if… investor offers are better? By a lot?
The Assumption
Throughout the whole Opendoor and Zillow Instant Offers brouhaha, a consistent theme from brokers and agents was that most people wouldn't take the loss to sell to an investor. The investor would charge 9% in fees, and underbid the property! Who the hell would leave so much money on the table?
Problem is, I'm not seeing the evidence that traditional sales is always and everywhere better than taking an investor's offer. I have seen some suggestion of evidence (although clearly biased) that maybe it's the other way around….
Start with this article from a personal finance site, Nerdwallet, with no real dog in the real estate going ons. It says to plan on 10% of the price of the home for the cost of selling that home.
Even Realtor.com — which we can all agree is in the back pocket of the industry — says that sellers should plan on 8% in straight costs of selling the home. (6% commissions + 2% closing costs.)
Now look at this from Opendoor: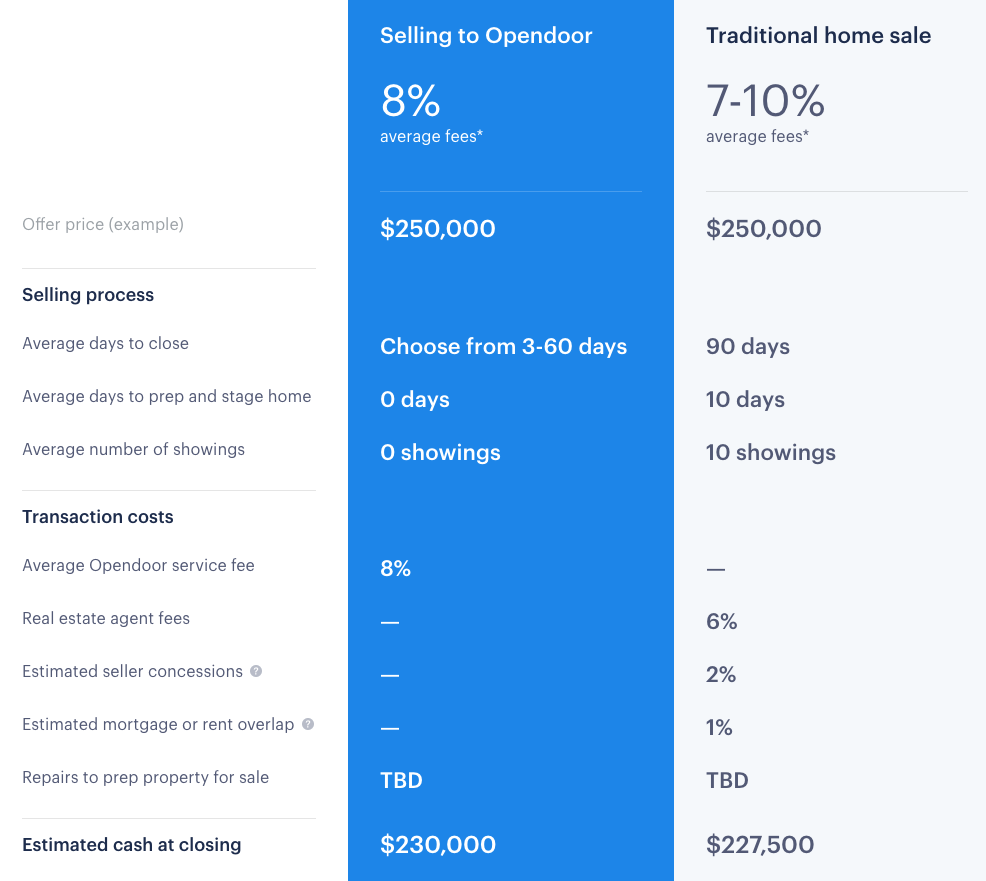 And from one of its main competitors, who is participating in the Zillow Instant Offers trial, Offerpad: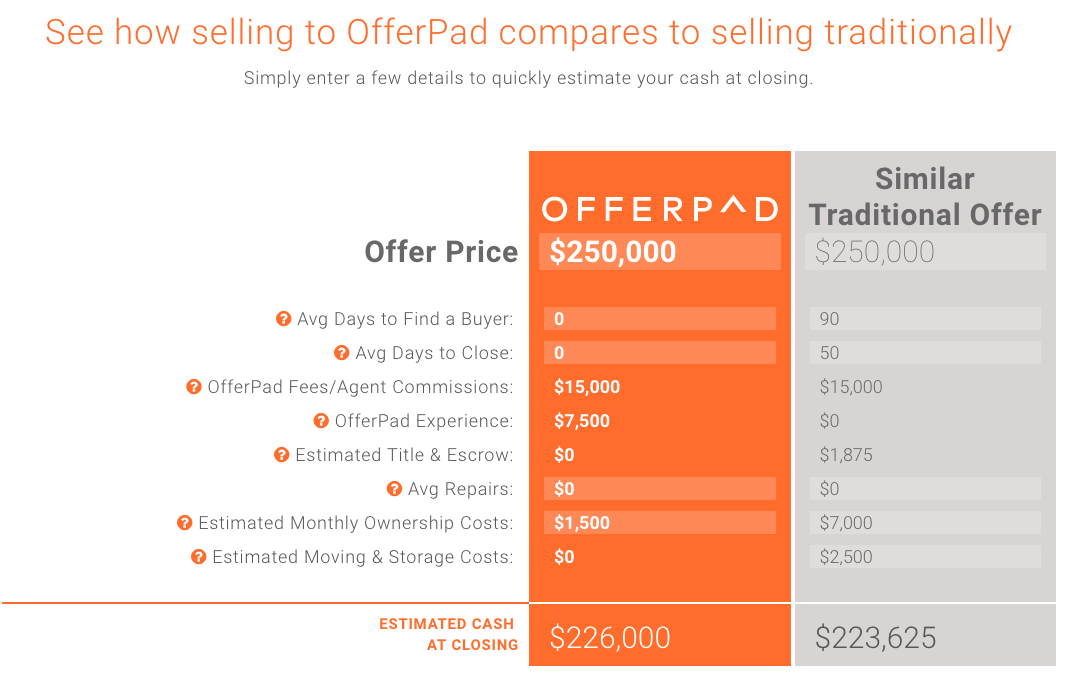 Obviously, both Opendoor and Offerpad are making assumptions to make their numbers more attractive. But still, it does raise the question of why the industry thinks that the traditional sales process always nets more money to the seller.
I mean, seriously, if even Realtor.com is saying that the total cost of selling a house will be about 8%, and these investors are charging about 8%… it's a wash, isn't it?
The Agent Will Get More for Your House
The big X factor is the assumption that using an agent will get a higher offer for your house than an investor will offer. That is, even if the cost of selling the house ends up being about the same, the real estate agent will get a far higher offer for your house than the investor will offer.
The biggest source for this claim I've been able to find is this one, from NAR, talking about FSBO vs. assisted sales in which NAR notes, "The typical FSBO home sold for $185,000 compared to $240,000 for agent-assisted home sales." Obviously, $60,000 is a lot of money — it's almost a third more than the FSBO home.
But that statistic has already been debunked by none other than a Realtor who happens to be an economist. This is from 2015, but as far as I know, the basic points he's making have not been countered anywhere in my research:
In the post that accompanies the video, John Wake explains:
The whole geeky truth isn't that real estate agents can sell homes for more money, it's that FSBOs tend to be more popular with inexpensive homes (mobile homes, manufactured homes and condos) and in inexpensive areas (rural areas, small towns and the Midwest).
His takeaway from all of this?
Hiring a real estate agent doesn't make you money, it saves you a lot of work and worry.
Now, I'm not an economist. If you want to argue that he's wrong, please argue with John Wake at Real Estate Decoded.
But my takeaway is that the idea that an agent will get you more money for your home is… well… unsupported by the evidence. After all, a home isn't worth what a real estate agent tells you it's worth: it's worth what someone is willing to pay for it. That could be a lot more, or it could be a lot less.
What If the Investor Offer is Better, By A Lot?
The final piece of this that no one else is talking about is the possibility that investor offers could be significantly better than anything that any buyer in the traditional open market process. How could such a thing happen?
Longtime readers know that I think the most interesting possibility is that companies like Opendoor, Offerpad, and others are looking at revolutionizing the home financing process by offering direct seller financing to buyers. That was premised on the idea that these guys would resell their loans as private label RMBS.
What if they figure out a way to just hold on to the loans and service them directly in some fashion?
Just for fun, I ran some numbers for the $250,000 house above on mortgagecalculator.org with 20% down payment. (And let's face it, 20% down payment is more than what most buyers can afford.) Here's what I came up with for a 30-year loan for $200K at 4% interest rate.
Monthly Payment: $1,298.58
Monthly Taxes: $260.42
Monthly Home Insurance: $83.33
Total Interest Paid: $143,739.01
Oh my. See that interest paid number?
If that's the kind of profit you're looking at, why bother lowballing or even fairballing the offer? Just go over asking, sell to a buyer on a seller financing basis, and make your profits from the loan. Screw the real estate; who cares about that when you've got the loan and the interest income?
Maybe the flip investor would never overpay for a property, because his profit will come from the sale of the house. We might be looking at a different kind of an investor here, who doesn't care so much about the property, except as a way to generate a mortgage. Those guys might be willing and able to pay way above what Mr. and Mrs. Joe Buyer can and will.
Something to Think About…
I know many of you are already horrified and fascinated, but… there's one more thing to just consider.
There is today a bipartisan push to do something about the GSEs — Fannie Mae and Freddie Mac. Who the hell knows if anything will ever happen when we're talking about something so big and so complicated in Washington DC?
But, one of the ideas often floated is the notion that the government should get out of backstopping the home financing system and allow the private market and private money to do all of that, and just subsidize home purchases by lower income families.
Why would the direct-purchase-and-seller-financing model be a bad one for Fannie Mae and Freddie Mac, once they are fully privatized? Especially if they put in place some sort of a direct subsidy program for low-income buyers (lower rates, lower down payments, lower the price of the home itself, whatever) to get the Federales to let them out of conservatorship?
None of this is likely to happen, of course, but it's something to think about.
The core of the question is the assumption that a homeowner always and everywhere loses money by selling to an investor. Maybe that assumption is valid, but… why? Inquiring minds want to know.
-rsh