The latest word out of National Association of REALTORS is that the Budget Committee, together with Leadership, has approved a new set of initiatives (not sure what that means, as we'll discuss below) called S.M.A.R.T. Initiatives and passed a budget to support it to the tune of $35 million per year:
We cannot afford – we have no right – to look back. We must look forward.

–Winston Churchill

With the same determination of Churchill, the 2018 NAR Leadership Team is not flinching from our responsibility to move the National Association of REALTORS® into the future. This past week at NAR's Budget Review meeting, we passed a budget with $35 million in new programming, which we are calling the S.M.A.R.T. Initiatives: Strategic Measures Advancing REALTORS® to Tomorrow. In an effort of complete transparency, we are excited to share all of the thinking that went into developing this budget, and why we believe the accompanying proposed dues increase is the best option to continue to serve NAR's 1.3 million members.
Some of the people who participated in the Budget Review meetings are pretty excited about SMART, calling it "bold moves" that make "tough choices" and involved "extensive and lively debate" with frank and straightforward answers from Bob Goldberg and the Leadership Team.
The stated goals of the SMART Initiative are:
Define measurable increases in professionalism
Increase influence in an uncertain legislative, regulatory and political environment
Take the management of real estate data to the next level
Ensure the role of the REALTOR® is essential to the consumer
I tell you what — this sounds exciting! New leadership, new tone, new culture — "complete transparency" are two words I would never have associated with NAR of the past.
I understand that NAR will be engaging the membership, local Association leadership, etc. so in the hopes of advancing that conversation, but not being a REALTOR Member (although my wife is!) or local/state leadership, I wanted to jot down seven of my top questions about SMART here. (To be completely transparent, there are more than seven questions; it's more like seven subject areas of questions….)
I'm basing my questions on the information presented here, on the Information Sheet, as well as here, in the F.A.Q. and the last Form 990 from NAR, for Fiscal Year 2015.
1. Show Us the Numbers
The first is just a request for more information. Krista Clark, 2017 YPN Chair, who participated in the Budget Review meetings, wrote on Facebook: "This year it was evident that every expense has been reviewed and steps were taken to reduce redundancies and inefficiencies."
So we can see what exactly was reviewed, could we get the 2016 and 2017 budgets or financial statements posted online somewhere?
If "complete transparency" does not extend to people like me who are not REALTOR members, that's fine; post them on REALTOR.org under password-protected section for REALTOR members only. For the rest of us, just post the latest Form 990 which NAR is required to file as a non-profit organization. The latest I've been able to find is 2015's Form 990, which is obviously outdated.
2. Consumer Advertising?
One of the biggest line-item expenditures for NAR is the Consumer Advertising Campaign.
There's language in the Information Sheet that says:
This forward-looking budget includes an annual 2.5% increase to dues for each year beginning in 2020. This does not include the $35 special assessment for the consumer advertising campaign.
That suggests that the 2.5% increase does not apply to the special assessment, but also implies that the $35 special assessment remains in place and that the consumer advertising campaign remains something NAR will be doing. Is this the case?
Because that's $45.5 million to be spent on the Consumer Advertising Campaign ($35/member x 1.3 million members). Why? What was the reasoning brought up to continue this program?
I've written about this program in the past and questioned it:
First, you have $38.3 million in "Advertising and Promotion" in 2014. That's 23% of total revenues of $162 million. It's also five times larger than the senior executive and volunteer leadership compensation. It is, in fact, the single largest expense line item in the 2014 Form 990, with Salaries and Wages coming in second at $36 million.

There are two reasons why this line item is a headscratcher:

1. NAR was created first and foremost as a lobbying organization, to represent the voice of the real estate industry to Washington DC. Yet, Public Policy Expenses for 2014 totaled $19 million. Shouldn't those two numbers be flipped?

2. What exactly is NAR "advertising and promoting" for $38 million a year? The "Use A REALTOR" campaigns? Given that in most markets in the U.S., everyone who is engaged in real estate brokerage is a REALTOR… what exactly is being advertised here? Sure, you might have a few non-REALTOR licensees doing new home sales or apartment leasing in most markets (yes, I know there are a few markets like the Seattle area where the existence of a private MLS means many agents are not REALTORS), but for the most part, every single consumer who lists his home or buys one is automatically using a REALTOR.

In fact, study after study, panel after panel, firsthand experience after firsthand experience show time and again that consumers have NO idea what REALTOR means, how a REALTOR is different from a mere licensee (even assuming a non-REALTOR licensee could be found in their local area), etc. etc. and so on. So what exactly is NAR spending $38 million a year to do?
I still question it. If Consumer Advertising survived the "extensive and lively debate" where tough choices were made, I sure would love to hear the rationale behind it.
Because NAR could fund everything in SMART by eliminating this consumer advertising program that appears to have no impact that anyone can see. What are we missing?
Why did you not choose to eliminate this expenditure instead of raising dues by $30 per year?
3. Can We Talk About Professionalism?
Keeping in mind that one of your Four Goals is "Define measurable increases in professionalism" I'd like to understand the budget we have seen so far allocated to it under SMART Initiative. I may very well be wrong or misunderstanding something critical, but… the Information Sheet lists the following:
$6 million for Occupancy (maintenance and renovation)
$7.5 million for Forms/Transaction Management (see above, #4 and #5)
$2 million for Commitment to Excellence, Financial Wellness, and Strategic Business Innovation
$20 million for REALTOR Party
Is there an initiative other than Commitment to Excellence that is aimed at "measurable increases in professionalism?" Because if not, I have to point out that you're allocating only a part of $2 million to that program, to be divided with two other SMART Initiatives which appear to have nothing to do with professionalism.
I happen to believe that an organization is what its budget says it is. A car company spends most of its money making and selling cars, for example. A real estate brokerage spends most of its money paying agents to buy and sell houses.
So please help me understand how "measurable increases in professionalism" is a major goal, but "building maintenance" is not, when you're spending more than three times on the latter than on the former?
Again, I may be missing a lot of facts and information — which is why I am asking questions and seeking clarification and answers, instead of making statements. But how are we to understand the disparity between a stated goal and the actual money allocated to that goal?
Furthermore, the Information Sheet states that you have cut $100K from the Travel budget, and said that expenses and headcount have been reduced wherever possible.
The latest Form 990 I have available is from 2015, so the 2017 numbers may be dramatically lower. Your posting your actual numbers (See #1 above) will help answer this question, but… having said that…
The 2015 Form 990 lists the following expenses that are by all appearances "discretionary" (that is, unrelated to salaries, employee benefits, or political advocacy):
$9.99 million for Office Expenses
$9.26 million for Information Technology
$8.41 million for Travel
You have stated that you've cut $100K from the Travel budget, and said that expenses and headcount have been reduced wherever possible. If we assume that you have held the line on Travel over the past few years, then the 2019 Travel budget would be $8.31 million?
Once again, the disparity between funding for Professionalism and what one assumes is travel (we don't have the exact numbers) is extraordinary.
What about Information Technology? What does this cover, exactly? It can't be Forms/Transaction Managements, since that's a separate $7.5 million. It can't be RPR/Upstream, since that's a separate $15 million or so (once you deduct the $5 million or so saved by cutting AMP). So what information technology is NAR spending $10 million a year on?
Some kind of explanation of the $10 million in Office Expenses would also be welcome. Again, I don't have the latest numbers, but NAR had 375 employees when it filed those numbers. That amounts to $26,666.67 per employee in Office Expenses. That can't possibly be correct, so some kind of explanation would be welcome as to what this $10 million is and why you didn't just hack-and-slash this expenditure to fund what you have identified as your priorities.
But, like I have already asked, the larger question is what your members and interested observers are to make of your stated goal of "professionalism" when you're spending a fraction of $2 million for it, while spending somewhere in the neighborhood of $18 million on Office Expenses and Travel — and boasting of cutting 1/80th of the Travel budget.
4. REALTOR Party Programming
While I do applaud just about every initiative that focuses on NAR's core strengths and reasons for being — Advocacy and Professionalism — I do have a few questions about the $20 million in additional funding for political initiatives.
Is this separate from the $40/year increase in 2011 for the REALTOR Party Political Survival Initiative (RPPSI)? Or should we understand this as an expansion of RPPSI?
Because when NAR passed RPPSI back in 2011, there was this promise to "re-examine" the dues increase for "quantifiable results" in 2013. I assume that was done.
So what were the results? Is there a report on the quantifiable results from the $40/year increase? Do those results warrant investing an additional $20 million from dues increases?
Closely related question is why NAR is collecting this money in the first place.
When RPPSI was passed, one of the selling points was that most of the money collected would be "sent back" to the local and state levels. Here's the slide: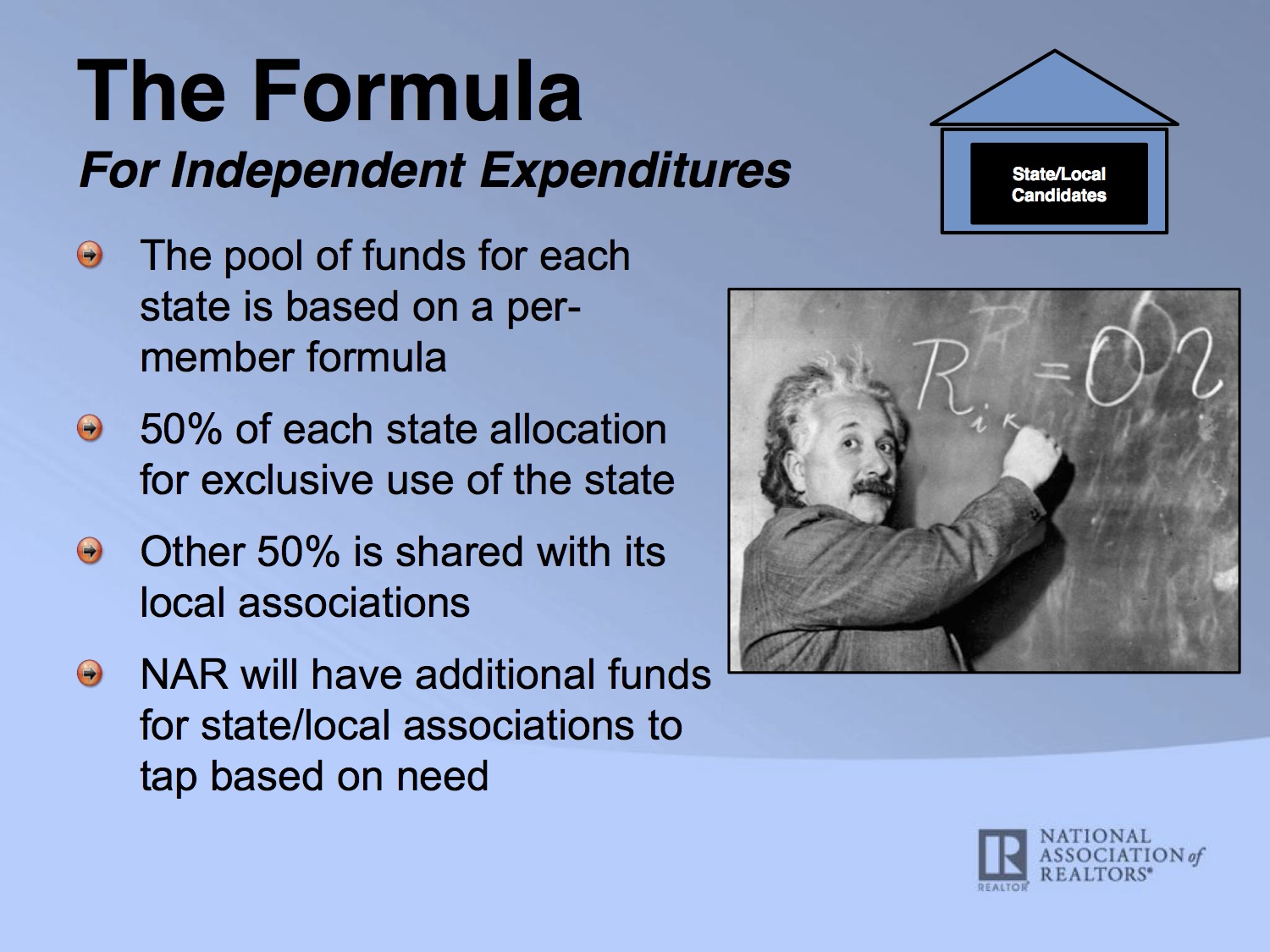 The formula is complicated and is not 50% to the state, and 50% to the locals of that state. In 2011, Inman reported as follows:
Of that money [$38.8 million raised], $9.77 million would be earmarked for state and local issue campaigns, and $8.95 million for federal issue campaigns. Another $7.02 million a year would go to supporting state and local candidates, and $3.95 million to federal candidates. The dues increase would provide an extra $5.17 million a year for Realtor mobilization, and $4.32 million for unspecified "campaign services."
My liberal arts self computes that as roughly 66% being spent on state and local issue campaigns.
Now the SMART Initiative Information Sheet says that 75% of the new REALTOR Party funds would be "allocated" to "state and local services" and 25% to federal advocacy.
My question is, why collect the money at all? If 75% is going back to state/local services from SMART, and 66% of RPPSI is going back to the states, why not just leave things up to the state and local associations to collect that money directly? By my math, NAR would only need to raise dues by $5 per year for SMART and $14 or so per year for RPPSI and leave the rest up to the states and local Associations to collect. Instead, between the two, NAR would collect $60 per member per year, then give $41 back to the state and local Associations.
I know my former state of Texas has a very active REALTOR political scene, with TREPAC and TAR taking the lead. I'm pretty sure South Carolina REALTORS are active in government affairs. All of the state associations I know of are always interested in increasing advocacy and are very actively involved. Many of the larger local Associations have extremely capable lobbying and political advocacy efforts — hell, Kipp Cooper's KCRAR has two Government Affairs Directors, because his Local Association is in both Kansas and Missouri.
Is there some reason why they can't collect this money themselves, but need NAR to do it for them?
The only rationale I can come up with is that NAR will serve as a transfer mechanism from some states and locals to other states and locals. That is, rather than allowing California to collect the money from its own members, or allowing Texas to collect from Texas REALTORS, by NAR collecting the funds and then distributing the money back, NAR is able to send funds to say Idaho or Ohio or San Francisco or wherever needs the money.
If so, could you just state explicitly that's the reason for collecting the money from the states/locals and then sending it back and make sure that your members want that kind of arrangement? Because in 2018, it is not at all clear to me that liberal-progressive REALTOR members from San Francisco want their dues dollars sent to support some issue or candidate in Alabama or Texas… and vice versa.
5. Forms/Transaction Management?
One of the most curious of the SMART Initiatives is around "NAR Forms/Transaction Management." This is not an inexpensive initiative. The Information Sheet has two numbers associated with this:
$38 million over 3 years;
$7.5 million per year "previously funded from reserves"
What was puzzling about this in 2015 when NAR announced zipForms and zipTMS as a member benefit, and remains puzzling today in 2018, is… was this an unfilled need in the marketplace?
That is, were existing vendors unable or unwilling to provide forms and transaction management to Realtors such that NAR had to step in to provide it?
For example, just off the top of my head, I can think of seven companies that provide transaction management software to thousands and thousands of REALTORS:
Dotloop
Reesio
Transaction Desk
Realsuite
BackAgent
Skyslope
Lone Wolf
I'm sure I'm forgetting a number of companies that also provide transaction management. So what was the need for NAR to provide this as a member benefit?
As for forms, as far as I know, hundreds of State and Local REALTOR Associations, as well as dozens of local/regional MLSs provide forms to their members already. Sometimes, they actually contract with zipLogix to provide their members these forms.
What was the lack in 2015 for NAR to step in and decide to provide "NAR Forms" instead of allowing the State, Local, and MLS to provide them? The question is especially relevant since real estate forms are local market area specific, with different fields, different customs, different business practices in each local market. There can be no "national" form, so it doesn't make a whole lot of sense for the National Association of REALTORS to provide "NAR Forms" to its members.
Now that we're in 2018, what has been the result of NAR's offering zipForms and zipTMS to members at no charge? Have your members seen significant savings from dropping their other transaction management platforms? Have they dropped the others?
Because the last I spoke with brokers, agents, and some of these vendors, none of them had dropped their transaction management platform in favor of zipTMS. So I'd like to ask what was the reasoning behind not just continuing the partnership, but in devoting $7.5 million per year to the partnership, raising dues to do so.
Which of the Four Goals — advocacy, professionalism, data management, and keeping the REALTOR central to the transaction — does this serve, and how?
Related question: if a REALTOR member has a transaction management vendor already, and her local Association or MLS provides her local forms, does she have the option to opt-out of the portion of dues increases allocated towards "Forms/Transaction Management" so that she's not forced to pay for software she does not wish to use? If not, could you explain why not?
6. Who Owns zipLogix? [UPDATED!]
There is a closely related question to #5 that should be answered for your members: Who owns zipLogix, the company providing zipForms and zipTMS to NAR? [This question has been answered, and the post updated to reflect new information received after publication.]
We are told here that zipLogix is a joint venture between Real Estate Business Services, Inc., a subsidiary of California Association of REALTORS, and NAR. Google contains this bit of info, which seems to corroborate that, but the link/page no longer exists:

We do know that until January of 2018, Joel Singer — the CEO of California Association of REALTORS — was also the President of REBS, which owned zipLogix. In January, Scott Strong replaced Joel Singer. That change strongly suggests a change in ownership, and yet, it is very difficult to find out what happened.
So we don't know who owns zipLogix today. The $38 million over 3 years figure suggests that NAR has either (a) acquired zipLogix from CAR outright, or (b) acquired a significant stake in zipLogix, thereby making it a joint venture between NAR and CAR (by way of REBS).
Can you clarify whether or not NAR or one of its subsidiaries, such as NARBAC, owns zipLogix or its parent company, REBS?
If NAR does not own zipLogix, does it own a stake in zipLogix as a joint-venture with REBS or CAR or any other entity? How much of a stake is that?
Can you clarify what the $38 million over three years paid for? Because if it was just for the provision of zipForms and zipTMS, going from almost $13 million per year to $7.5 million per year with more members is quite a discount. It makes more sense if at least a big part of the $38 million went to acquiring all or a big part of the ownership stake in zipLogix.
Let me explain why it's important for your members, AEs and Directors to know the answer.
If NAR owns zipLogix outright, then Mr. Strong (and all of the staff of zipLogix) are employees of NAR. ZipLogix's business activities and any profit generated should be reflected in the budget and financials for NAR. The $7.5 million allocated to paying zipLogix simply does not make much sense: it's taking money out of one pocket and putting it in another.
If, however, NAR only owns a part of zipLogix in a joint venture with REBS (or any other as-yet unidentified party), then one has to ask whether the JV partners (which includes the California Association of REALTORS, hardly a true arms-length outsider) get a profit from the $7.5 million per year to be paid to zipLogix. Because that $7.5 million is not a voluntary purchase by REALTOR members, but part of the mandatory dues collected from each and every member. It is reasonable for your members to ask whether a private company is generating a guaranteed profit from mandatory dues.
All of these questions revolve around the critical question of just who exactly owns zipLogix and REBS today.
I hope the new leadership clarifies this important detail as they push for the SMART Initiative.
UPDATE! QUESTION ANSWERED!
A reader who requests anonymity sent me the following link and information that clarifies at least the ownership question:
zipLogix , LLC ('zipLogix ') provides real estate professionals with electronic standardized real estate forms accessible via the Internet and software that facilitates internet-based real estate transactions processing for its transaction management system, RELAY®. The company provides a common electronic platform for the custom forms created by REALTOR® associations and brokers around the country. ZipForm® is the No. 1 electronic forms product used by real estate agents and the official real estate forms software for the National Association of REALTORS®. zipLogix also has a suite of products around the real estate transaction such as digital signatures, document storage, mobile app, desktop and online forms products that REALTORS® use in their transactional business.  REBS owns a 57% share of this entity and is the managing partner. The other equity owner is the National Association of REALTORS®. There are currently thirteen (13) Board seats, of which REBS may appoint eight (8). Directors of zipLogix should be familiar with current web-based business technologies. The REBS Board of Directors elects this Board for renewable one-year terms. [Emphasis added]
That information is from CAR's Committee Selection page, updated in November of 2017.
So, now that we know that NAR owns 43% of zipLogix and CAR owns 57%, the question is only whether the $7.5 million payment going forward generates a profit for CAR(REBS) and/or NAR.
7. Communication Timeline?
Finally, I have a question about the last section of the Information Sheet.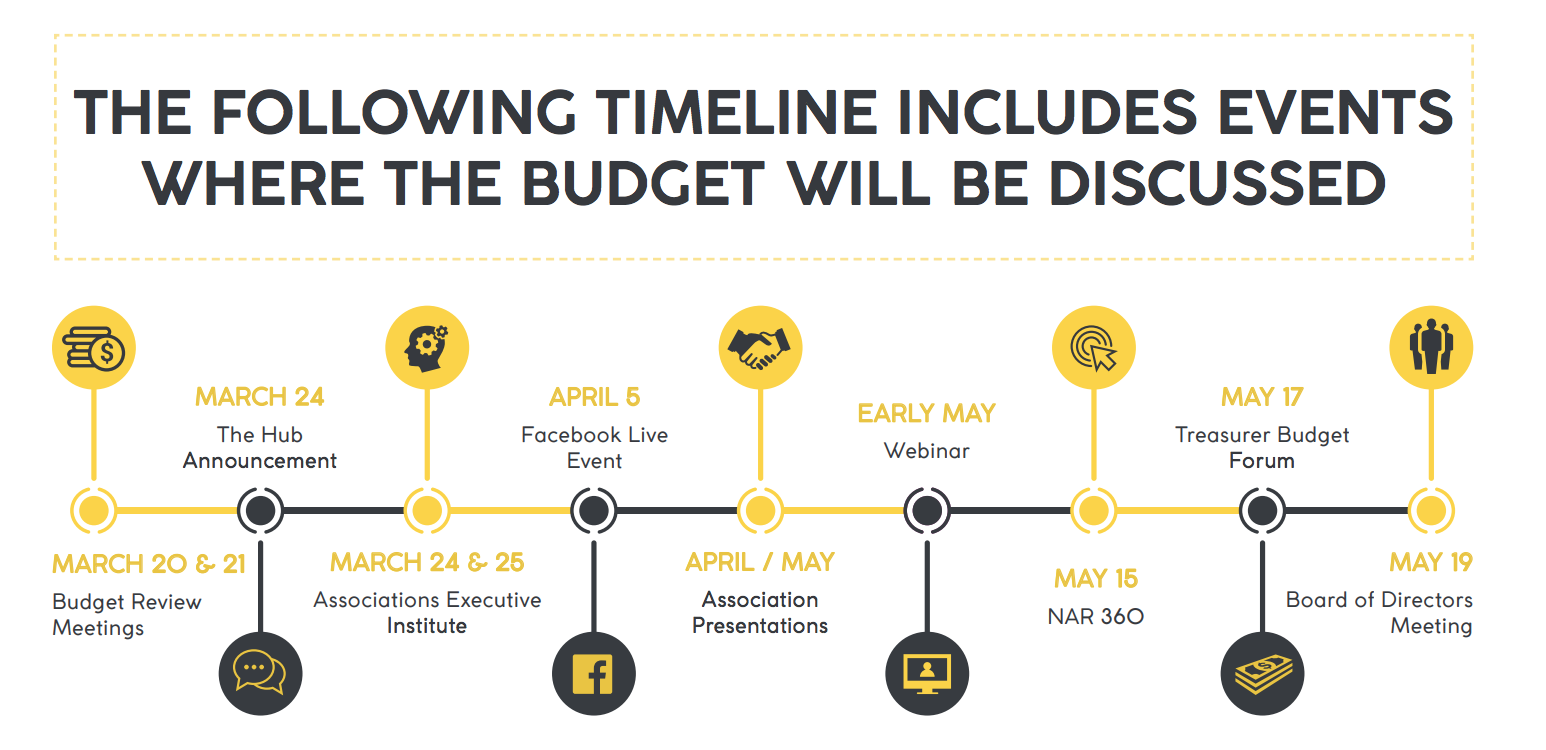 You have a Communication Timeline already, which includes the May 19th Board of Directors Meeting.
In your FAQ, there is this paragraph:
Each Senior Vice President/Group Team Leader and their teams reviewed their programs, cutting costs for efficiencies whenever possible. NAR CEO Bob Goldberg, who examined every program and initiative, then reviewed the budget. The 2019 NAR budget was then presented, reviewed and approved by the Budget Review Committee and the Finance Committee. This budget will be presented and approved by the NAR Board of Directors on May 19 at the REALTORS® Legislative Meeting in Washington, D.C. [Emphasis added]
How do you know that this budget will be approved?
That confidence strikes me as distinctly in conflict with this paragraph, from the Information Sheet:
We are committed to leadership in the sunshine, and therefore want every member to have access to this budget summary, whether in hard copy or online at nar.realtor/smartbudget. It is imperative that every member has the ability to review and discuss these S.M.A.R.T. Initiatives before they are voted on at the May meetings in Washington, D.C. [Emphasis added]
Would it not be reasonable to expect that at least some of your members might have concerns about this budget that increases the dues by 25%? Would it not be reasonable to think that perhaps some of your local and state AE's might push back, or oppose some or all of the dues increases, opting to point out areas of the 2019 Budget where cuts might be made instead? (Again, cutting Consumer Advertising funds all of the SMART Initiatives.)
In short, how do you have a Communication Timeline for a budget that is not yet approved? It's rather like sending out invites to a wedding when she hasn't said Yes, isn't it?
It is things like this that makes many of your REALTOR members think that their feedback/input is pointless theater.
Lead in the Sunshine
I really want to believe that with the changes at the very top of NAR, the culture has changed for good. Tens of thousands of REALTORS do as well. I know Elizabeth Mendenhall, John Smaby, Kenny Parcells, and dozens of others who have worked very hard on this SMART Initiative and Budget. I know them to be great people who intend only the best, and who are committed to transparency.
Which is why I am full of hope that NAR will openly answer the above questions, and provide not just Information Sheets and summaries and talking points, but the actual numbers, the actual budgets, the actual Form 990's, and the actual answers to questions. They have nothing to hide. There is no reason why they can't discuss the rationale behind keeping the consumer advertising initiative, keeping RPR going, spending whatever it is that they spend on IT and Office Expenses, who owns zipLogix, and sundry other questions sure to be asked.
I'm looking forward to it! Here's to leadership in the sunshine!
-rsh