One of the things I missed while finishing up the July Red Dot was this well-done interview of Redfin's Glenn Kelman in Inman. Andrea Brambila doing her rockstar thing again.
I'm thinking through what Redfin wants to see happen, but one passage in particular caught my attention. At one point, talking about incentives for agents to put the listing in the MLS, Glenn says:
And the question is, given that the listing agent did photograph the house, did talk to the seller, did the work, if we're going to put someone's name up there, shouldn't it be that person's name? Because we are putting someone's name up on the website. It just isn't the listing agent's name that appears most prominently.
Talking to Sunny, this remains an emotional sore spot for quite a few agents when it comes to the portals. They did the work, they got the listing agreement signed, they paid for the photography–and then there's some random buyer agent's name and face next to their listing on a website. It just pisses them off.
I get that, of course, and like I said, I'm processing what this "plain HTML link" proposal ultimately means.
But… in the meantime… it seems to me that at the same time NAR takes up the issue of requiring a link back to the listing broker or agent, NAR should take up the issue of IDX. Specifically, NAR should move the decision to participate in IDX down to each individual subscriber, rather than forcing that decision at the participant brokerage level.
Let me explain.
Comparing IDX vs Syndication
Longtime readers know that I have been arguing forever that there is no reasonable difference between syndication and IDX. I mean, this post was in January of 2012, ancient history as it comes to the blogosphere. I'm not going to rehash all of the various arguments here; feel free to go browse the archives if you'd like.
But if it is offensive to listing agents not to get prominent top billing on a listing they acquired on a portal, it has to be doubly so for IDX.
Allow me to provide an example.
I randomly Googled for a home for sale in my hometown of Greenville, SC. I skipped over all the portals, found an IDX website (EddyKicker.com), and found this home for sale at 116 Collins Creek Rd: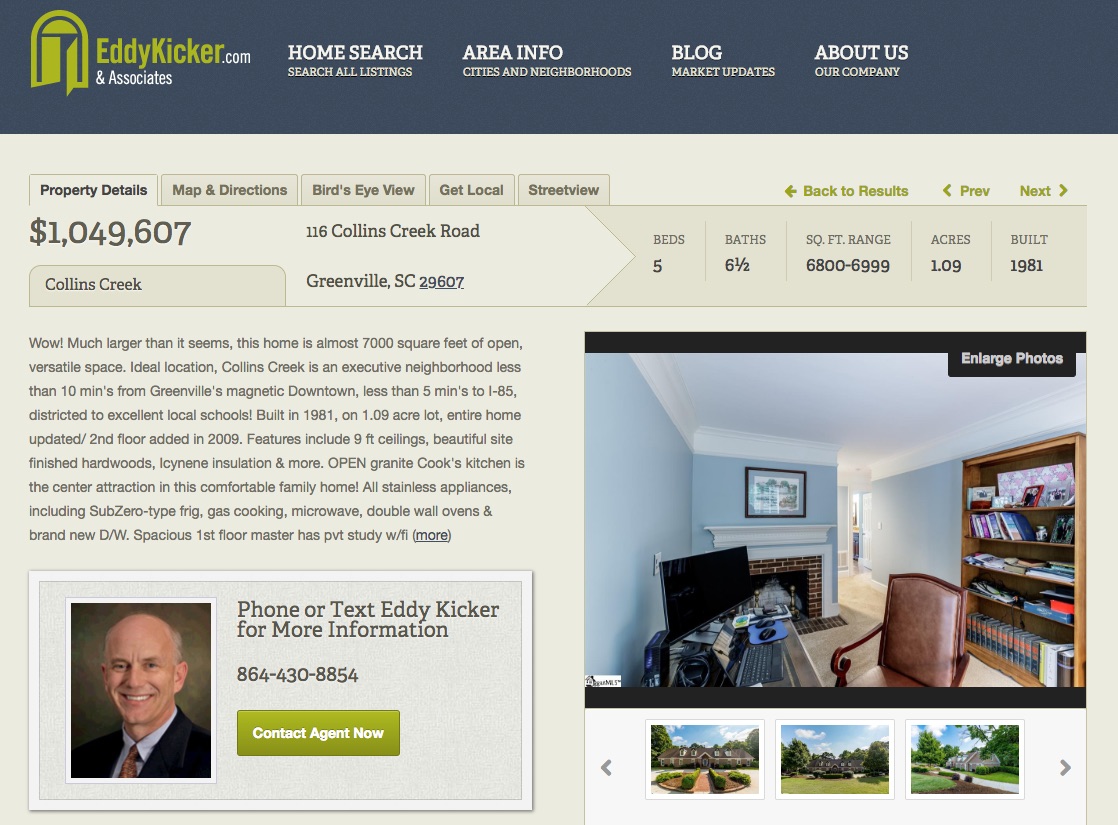 Note the prominence of the agent that the consumer should contact. Who is the listing agent? Well, for that information, you have to scroll all the way to the bottom of the page, past the Essential Information, the inquiry form, the two rows of "Similar Listings", and then a "Join the Discussion" section where you can comment on this listing, to the footer of the page.
There you find this: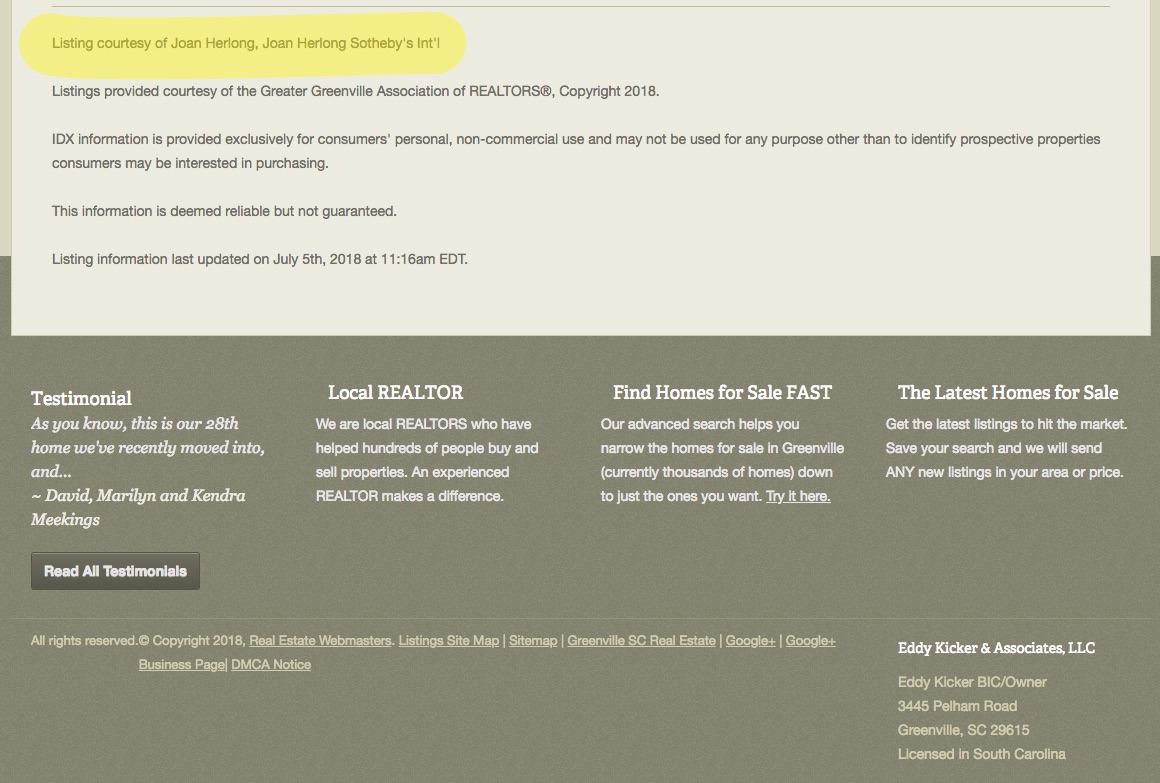 Huh. I got curious, so I looked for 116 Collins Creek Rd. on Redfin: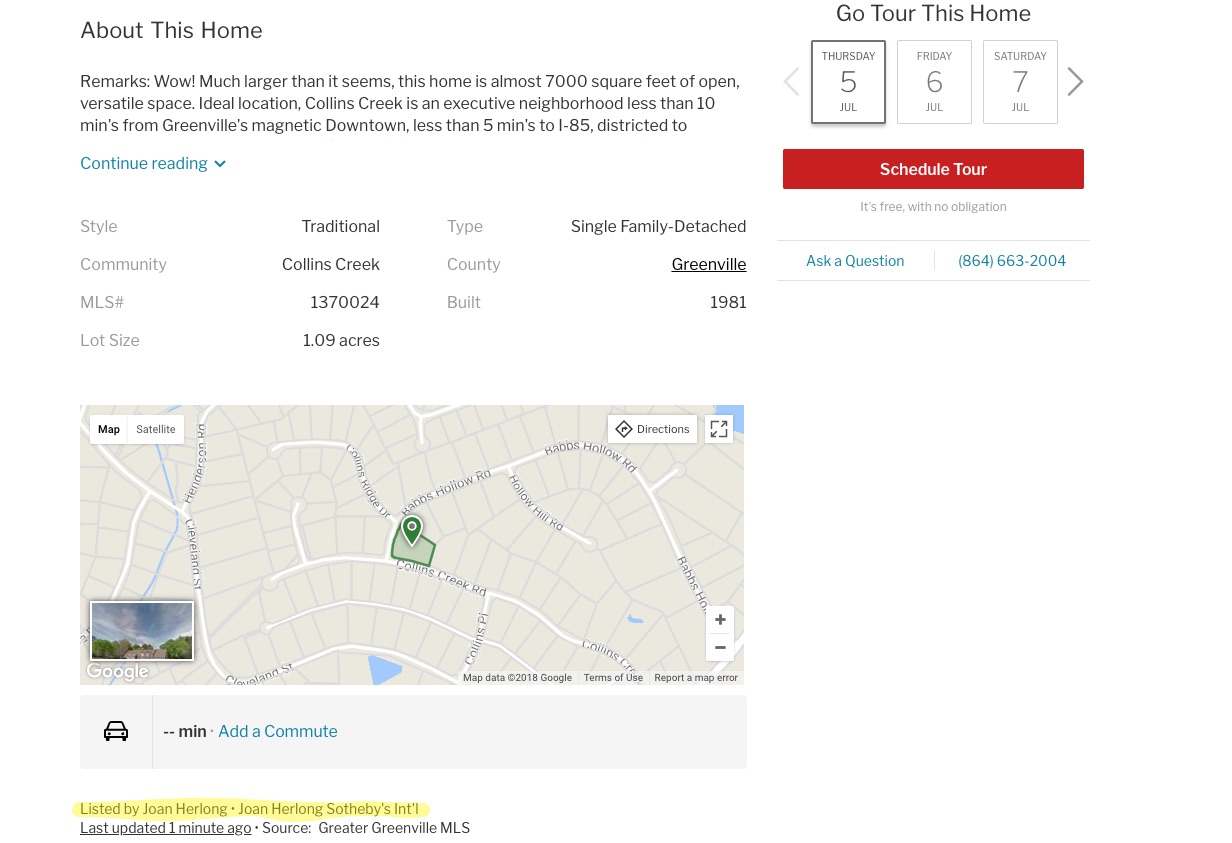 At least Redfin only makes you scroll down one screen (on my monitor) before you find the listing agent mentioned. But you decide how prominent that mention is.
What about the portals? You know, those bad guys who don't make the listing agent more prominent?
Here's the listing on realtor.com: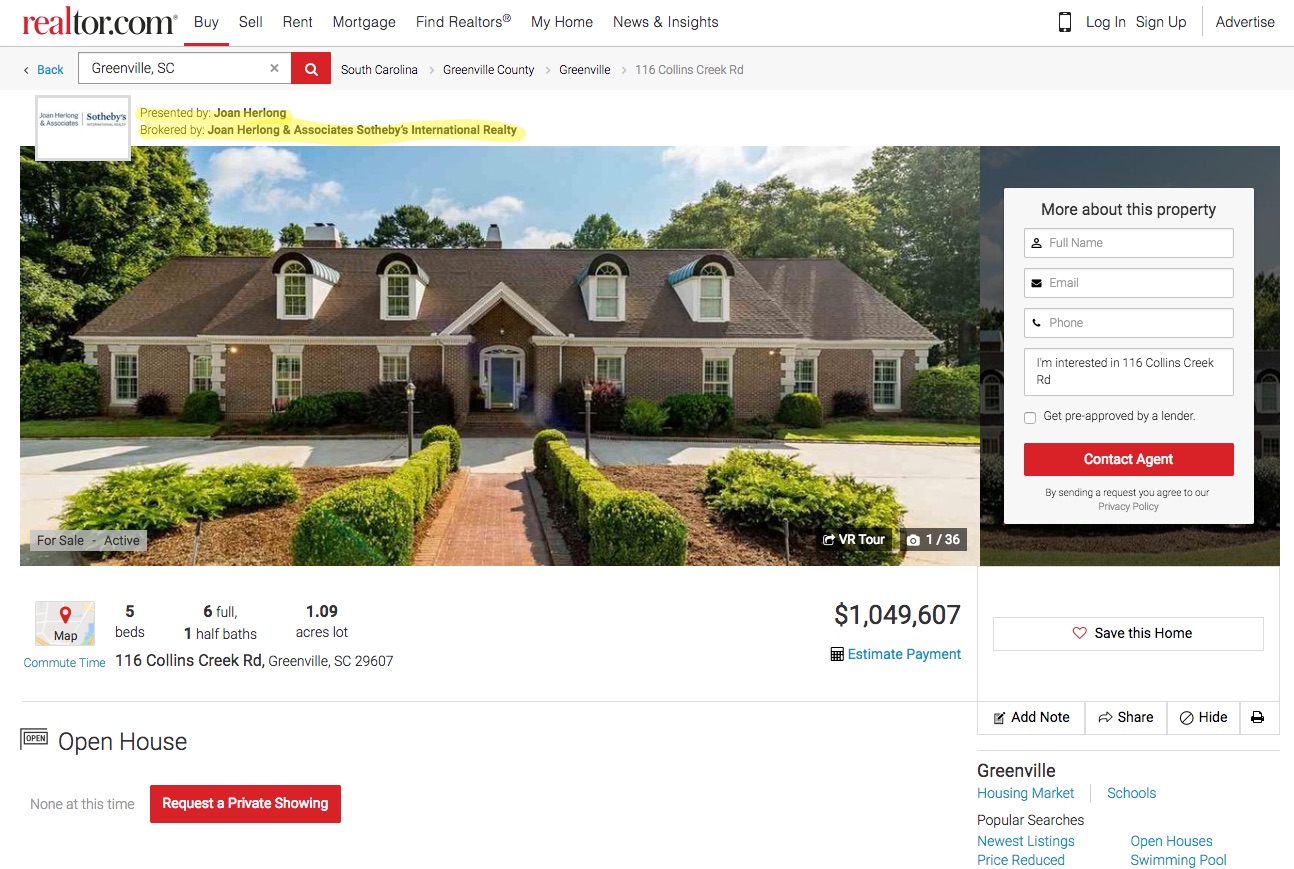 Odd, the listing agent's brokerage and name both come up right at the top, just above the main photo. The logo of the brokerage even!
Then there's Satan's Spawn Zillow: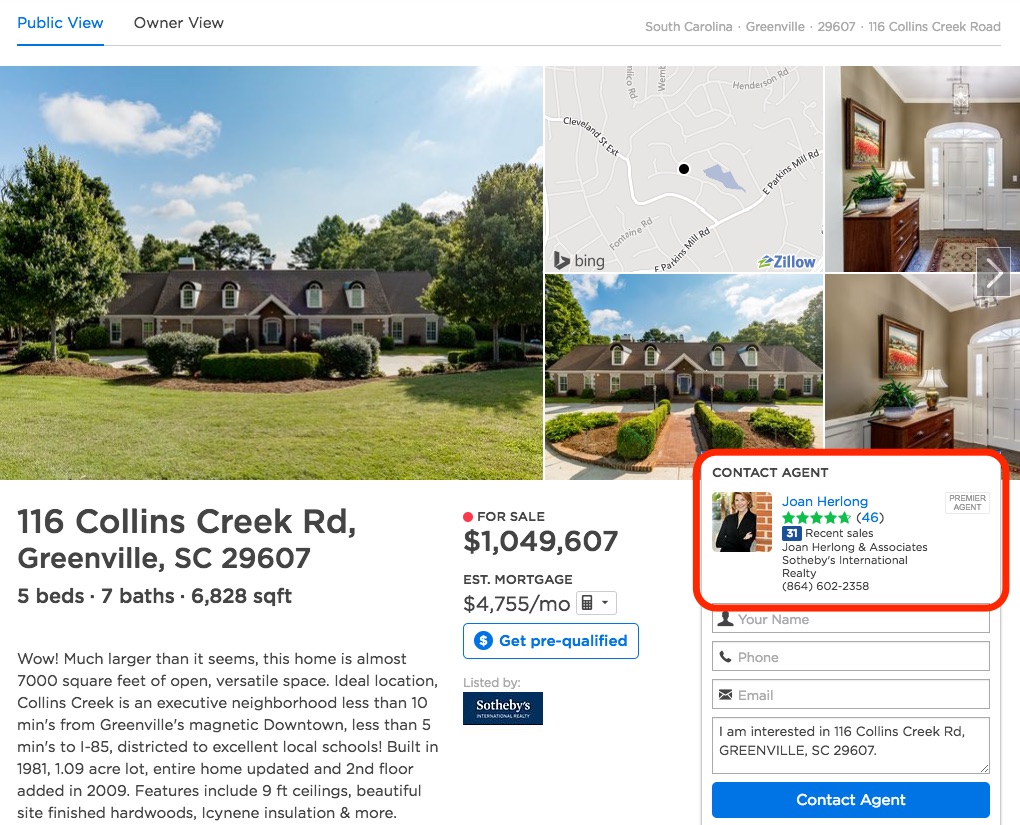 You may commence drawing conclusions.
Pay to Play vs. No Pay, No Play
Now, the one objection here may be that realtor.com and Zillow both might have some kind of a product they sell to listing agents where they are the only ones on their listings. I don't know, and frankly, I'm not interested enough to go search through listings where the listing agent hasn't paid for exclusivity. Here's why.
Tell me where Joan Herlong can go to pay to have exclusivity on IDX websites.
Maybe pay to play is bad. But isn't it better to at least have the option, versus no ability to pay to play at all?
To Be or Not to Be: the IDX Decision
Now, today, the decision to participate in IDX or not is left to the brokerage as per NAR's MLS Policy on IDX. That is reasonable since most everyone thinks that the broker owns the listing content. (Note that Mitch Skinner of Larson Skinner, one of the preeminent copyright lawyers in the MLS space, has a more complex view on this question.)
And it's an all-or-nothing proposition, with one exception:
Unless state law requires prior written consent from listing brokers, listing brokers' consent for IDX display may be presumed unless a listing broker affirmatively notifies the MLS that the listing broker refuses to permit display (either on a blanket or on a listing-by-listing basis). If a participant refuses on a blanket basis to permit IDX display of that participant's listings, then that participant may not display the aggregated MLS data of other participants on an IDX site.

Alternatively, MLSs may require that participants' consent for IDX display of their listings by other participants be affirmatively established in writing. Even where participants have given blanket authority for other participants' IDX display of their listings, such consent may be withdrawn on a listing-by-listing basis as instructed by the seller. (Amended 05/12)
So unless the seller specifically requests that his property be withdrawn from IDX, which today means requesting–often in writing, via forms provided by the MLS–that his listing not be shown on the internet at all, IDX is an all-or-nothing deal.
Just to drive that point home, despite the "listing-by-listing basis" language above, here's a passage from NAR's FAQ on IDX policy:
Q 6. What happens if a Participant doesn't blanketly prohibit other Participants from displaying her listings but instead indicates, each time she submits a new listing to the MLS, that her authorization to display that listing is being withheld. Since she hasn't issued a "blanket" prohibition against display by other Participants (but is constructively doing just that incrementally), is she entitled to display other Participant's listings?

A. No. A Participant cannot do indirectly what she cannot do directly. Since any Participant can opt out of IDX on a blanket basis, it can be presumed that those Participants who don't opt out are willing to allow other Participants to display their listings – except in those (likely) infrequent instances where a seller specifically prohibits the listing broker from allowing the listing to be displayed by other Participants.

This is analogous to the rules and policies of many MLSs that acknowledge the right of Participants to accept "office exclusive" listings in cases where a seller requests that their listing not be included in the MLS compilation.
Furthermore, agents have no say in IDX at all:
MLSs may, but are not required to, allow non-principal brokers and sales licensees affiliated with MLS participants to use information available through IDX to populate their own websites or to use in other IDX displays. 4. Even if use of information through IDX is provided to non-principal brokers and sales licensees affiliated with MLS participants, such use is subject to the affiliated participants' consent and control and the requirements of state law and/or regulation, and MLS rules. (Amended 05/12)
These rules are what I think need to be examined.
Power to the People, Y'all!
As Glenn so rightly pointed out, it's the listing agent who has done the work securing the listing, taking the photographs, writing up the description, etc. etc. And the reality of today's real estate industry is that the brokerage is often a large organization of dozens or hundreds of independent contractors, most of whom are in competition with all of the other independent contractor agents in the same brokerage.
To have the decision to participate in IDX at the brokerage level ignores that reality.
One listing agent in the brokerage might be perfectly happy with allowing her listing to be posted on an IDX website with a competitor's face and name all over it–and her own name way down at the bottom, just above the footer. Another listing agent might not be happy with that.
Let the agent make the decision whether she wants to participate in IDX or not. If there is so much value in IDX, then no agent would opt out.
With the portals, at least the listing agent has the option to pay to play. With IDX, she does not. Maybe she decides to opt out, but her brokerage doesn't want that. Resolve that conflict. Let the agent decide.
One way of doing that would be to implement in IDX what Zillow already appears to have implemented in syndication: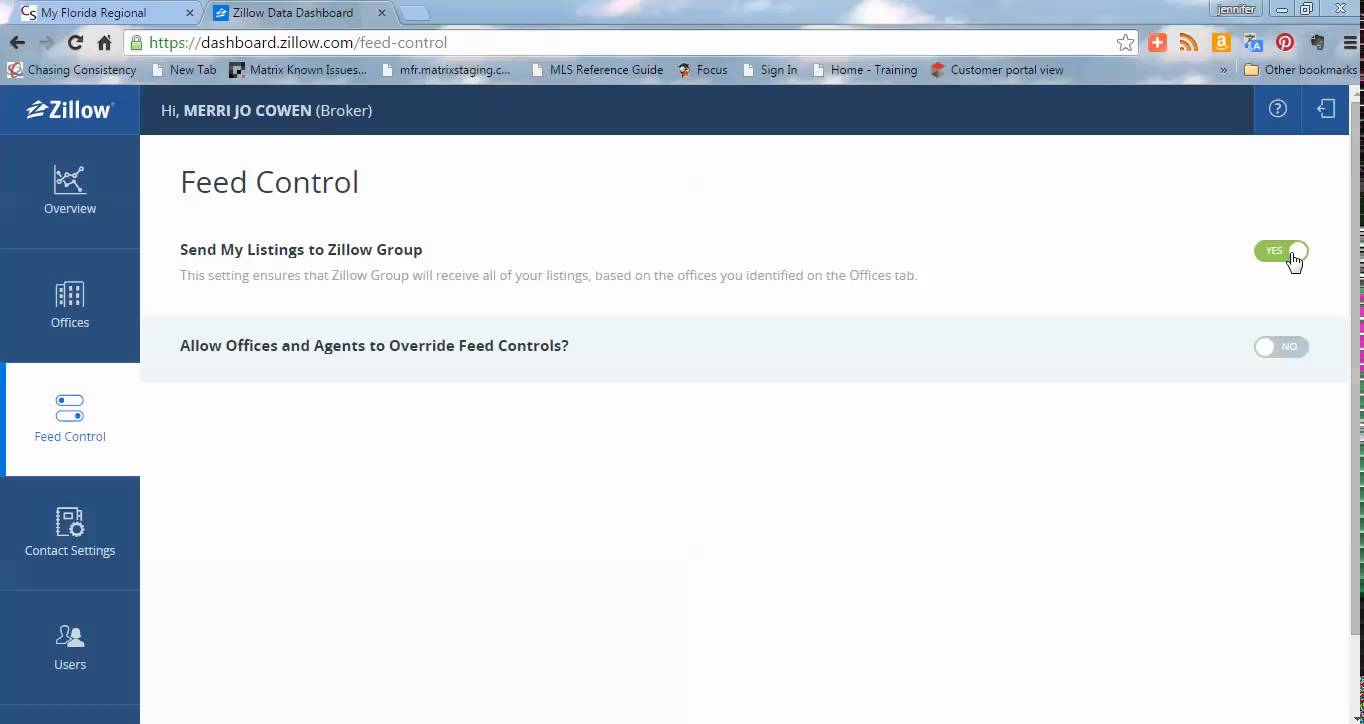 If it can be done in syndication feeds, allowing offices and agents to override feed controls, then it can be done in IDX. This is 2018 after all, not 2008, and MLS software vendors are more than able to implement the technology.
Stability of the Marketplace
Keep in mind that Glenn Kelman thinks this issue of misaligned incentive is so large that it leads to some listing agents not entering the listing into the MLS at all:
We're just trying to address this reality that there's a growing consensus among listing agents that they don't feel good about the deal that they're getting when listing a property in the MLS. And if I could wave a magic wand and just say, 'You should do this. You should give me the inventory because I deserve it. You should give me the inventory because I'll promote it and it's in your seller's best interests,' well then we wouldn't have to propose this change.
He literally thinks that the stability of the marketplace is at risk. There's a "growing consensus among listing agents that they don't feel good about the deal that they're getting when listing a property in the MLS." Part of that bad deal is that their listings then end up on portals without links back or prominent mentions.
In that case, seems to me that a small change in IDX policy is worth implementing to increase the incentives for the listing agent to put the listing into the MLS, without worrying about it showing up on IDX websites of her competitors all across town.
Put Control Where It Belongs
I think Glenn is on to something when he talks about growing discontent among listing agents. People should be free to make whatever decision they want to make for their businesses–as long as they're not breaching fiduciary duty or breaking laws or violating MLS rules. Part of the answer may be in this requirement to linkback to the listing agent. Maybe. I need to research that a bit more.
But surely, it's time to heed the call of none other than Jim Abbott, of ARG Realty Group, who published this famous clarion call in 2012:
As Jim put it so eloquently in this video:
Their only qualification may be in the form of membership fees paid to [the MLS]. It is almost certain that they have not seen the property you have called about. They are often so unfamiliar with the neighborhood or the complex that they start selling against it, trying to switch you to something they do know, or one of their own listings.
Put control where it belongs: the Official Listing Agent. Talk to the source!
Let the agent decide whether to participate in IDX or not.
-rsh