It seems pretty obvious now that the rest of the industry is waking up to the fact that iBuyer is not a blip on the radar, is not We Buy Ugly Houses with websites, and is something new altogether. The picture above and the quote from Glenn Kelman of Redfin at the recent T3 Summit kind of says it all.
But there is an issue related to iBuyers that needs exploring. Brokerages and MLSs need to be particularly aware of the issue, and start thinking about it. That issue is how iBuyer and fiduciary duty work in concert.
In my August 2018 Red Dot on iBuyers, the MLS Edition, I wrote:
One of the issues that the agents could use help on from the MLS and the Association is the tricky balancing act they have to walk when presenting an iBuyer offer at the same time they are trying to secure a listing agreement.

Glenn Kelman discussed the awkwardness above. On the one hand, the agent needs to act in the seller's best interests, but on the other hand, the agent represents a potential counterparty (who is her employer).

The problem gets thornier when an agent advises her client to request (and/or accept) an iBuyer's offer. There will certainly be real legitimate grounds for advising the client to do just that—remember that consumer frustration drives iBuyer phenomenon. But there are pitfalls for the agent here in terms of avoiding even the appearance of a conflict of interest. That is especially true when iBuyers have explicit Partner programs, or like Zillow, have structured an entire distribution channel on agents who do not work for Zillow.

Work with both the iBuyers and traditional brokerages on how to reconcile one's duty to clients and the public with iBuyer programs, and how to structure iBuyer business practices to ensure consumer protection.
In my research recently into iBuyer activity, I looked at hundreds of transactions involving Opendoor, Zillow, and Offerpad across multiple markets. Out of those hundreds, I ran across dozens of instances of a home that was listed with an agent, and then sold to an iBuyer. In many cases, the same brokerage or the same team represented the seller and the iBuyer in the same transaction, and then subsequently helped the iBuyer list that property for sale. So this is a general problem across the board that is relevant for all markets and for everyone working with iBuyer models.
But to illustrate the issue, I'm going to use one transaction from Phoenix, with Zillow Offers, because it is the most obvious example.
The Story of One Transaction
Our example comes from Phoenix, which is ground zero for iBuyers, since Opendoor opened its doors there as the first market. I'm going to talk about this one transaction, but again, the instances of a home that was listed with an agent and then sold to an iBuyer is not uncommon.
As iBuyer activity grows across multiple markets, this problem of the appearance of conflict of interest will need to be addressed.
The property is 15151 N Frank Lloyd Wright Blvd., Unit 2088, Scottsdale, AZ 85260. You can check it out yourself to confirm. It's a cute little 2BR/2BA condominium in what looks like a nice gated community.
Here's the price history, according to Zillow (which gets its data from ARMLS, so let's not have any of that "Zillow can't be trusted!" nonsense):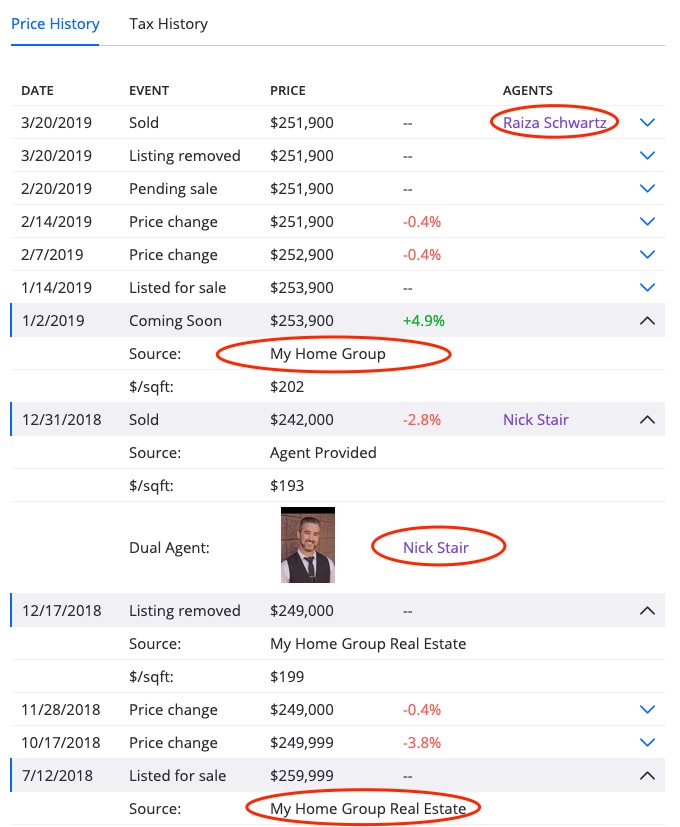 As far as I can tell, this condo was originally listed for sale by My Home Group, a fast growing brokerage with operations in Arizona and California:
It isn't clear who the listing agent was in 7/12/18 and I'm not a member of ARMLS so I couldn't tell you. But from what I can tell, My Home Group has two very large teams in Phoenix: the Laughton Team and the Jason Mitchell Group. I imagine one of these two teams took that listing.
After two price changes, the property was sold to Zillow by Nick Stair, acting as a Dual Agent for $242,000. (But see below for a clarification from Zillow.) Nick is a member of the Laughton Team. Two days later, it was marketed as a Coming Soon for $253,900 by My Home Group. In this case, I'm 99.99% sure that the listing agent was someone on the Laughton Team, because my research shows that the Laughton Team is the listing agent for all of Zillow's listings in Phoenix. Three months later, the property is purchased from Zillow by a buyer, for $251,900, who is represented by Raiza Schwartz, who happens to be an agent on the Jason Mitchell Group.
Nobody Did Anything Wrong!
Here's the thing: nobody did anything wrong here. I reached out to Zillow for comments about this transaction and received the following from a Zillow spokesperson:
The property was originally listed in July 2018 for $259k; the seller reduced the price to $249 in December 2018, but it still didn't sell.  The seller asked us for an offer and we purchased the home for $242k.  We re-sold the home for $251k in March 2019 – it took us 3 months to sell the property.  Zillow's offer eliminated risk and uncertainty for the seller, for a home that was languishing on the market, demonstrating the value of the Zillow Offers service.

Our internal policies prohibit the agent who represents us from also representing the seller.  In this transaction, the seller's agent and our agent were both members of the same brokerage, but each represented their own client, as is typical in many traditional transactions.
So let's go through a few things here.
The seller asked for an offer; no one, certainly not the listing agent, pushed the offer on the seller. If I were in that seller's position, and my home was sitting on the market and had gone through multiple price reductions, I'd want to get an instant offer too.
According to Zillow's records, the public records above is incorrect: Nick Stair did not act as a Dual Agent.
But even if Stair had acted as a Dual Agent, Arizona law allows dual agency with disclosures and restrictions.
No code of ethics provisions were breached, because the Code of Ethics specifically allows dual agency if the state law allows dual agency.
That the ultimate buyer was represented by someone with My Home Group brokerage, but on a different team, is coincidence — since both the Laughton Team and Jason Mitchell Group are very large operations in Scottsdale.
Zillow paid pretty close to the asking price when it bought the home, if not the asking price, after the homeowner asked Zillow for an instant offer. Zillow then sold the property after cleanup, light renovations, and paying carrying costs and whatnot, for a mere 4.1% over what they paid for it in the first place… three months later.
It really can't be argued that the homeowner did in fact eliminate all risk and uncertainty by selling to Zillow.
As far as I can tell, everybody is happy here. So why are we talking about it?
The Appearance of Impropriety
The problem is that there is an appearance of impropriety even if there isn't any actual impropriety.
The Laughton Team in the first quarter of 2019 alone did 349 transactions for Zillow as its listing agent. That's 349 listings and 349 closed transactions. We can further assume, because Zillow said so when launching Instant Offers and from the passage above, that Zillow used the Laughton Team to act as its buyer agent when it purchases properties. So the Laughton Team might have helped Zillow buy those 349 properties in the first place.
I assume that Zillow paid them the "institutional client" rate for that service, probably in the neighborhood of 1%. At that 1% listing fee, I can say with confidence that the Laughton Team made $700K in commissions from Zillow over a three month period, not counting any buy-side commissions it might have made representing Zillow as the buyer, if any. (I further know for a fact that Zillow paid the full 3% cooperating compensation to buyer agents in those deals, but that's not directly relevant to the issue here.)
Is it even questionable that Zillow is the most important client that the Laughton Team has?
Furthermore, both the Laughton Team and the Jason Mitchell Group are legally and technically agents of My Home Group, the actual brokerage. So in legal terms, everybody involved in these two transactions works for My Home Group, which is legally and technically the listing agent for Zillow.
Is it even questionable that Zillow is the most important client of My Home Group?
Accordingly, if I'm the original seller, I could easily think that My Home Group screwed me over in order to make their biggest client happy. I sell it and two days later it goes back on the market for $12K more? WTF?
If I'm the subsequent buyer, I could think that My Home Group screwed me over to keep their biggest client happy, because I paid more for the house than Zillow did, even if the reason is that Zillow renovated the place and put new carpets in and paid property taxes on it for three months and so on and so forth.
Both of these things could happen even if I told my agent to go get me a Zillow Offer, or I told the agent I only want to look at Zillow homes, because consumers can get emotional about stuff like this.
So the consumer complains to somebody… let's say the Attorney General of Arizona. From the outside, when you don't know the details of how the residential real estate brokerage industry actually works, and you start looking at this transaction… it just smells bad.
We Need to Talk About This
As an industry, we need to have a real conversation about this issue and talk about how to avoid even the appearance of impropriety. It does not matter that for those of us within the real estate industry, this transaction was 100% copacetic on the facts, because people outside of the industry will not see things as we do.
We know that single-agent dual agency is frowned upon, but (1) it is allowed under the laws of some states, and (2) in this case, Zillow's own policies do not allow it. So no single agent dual agency took place. Now, brokerage-level dual agency, i.e., designated agency, not only does take place, it is extremely commonplace. All brokerages and teams want designated agency to happen, since it keeps the commissions and the transactions within the same company, albeit with two different individual agents. Are consumers really going to understand the difference between dual agency and designated agency?
People who are not in real estate do not understand the extent to which agents sitting in the same office compete against one another. They don't understand the extent to which individual professionals, particularly REALTORS, take the idea of fiduciary duty seriously. Two REALTORS working for Redfin, one representing the seller and the other representing the buyer, deal with each other at arms length — and they are actual W-2 employees of Redfin. So for normal brokerages, who use independent contractors, the idea of collusion between two competitors is pretty farfetched.
We all know this. But a consumer who does a deal once every 7-10 years is not going to know that, and they're not going to understand it, nor will they be in the mood to understand it if they're pissed off that their house went back on the market three days later for $12,000 more.
We saw this kind of consumer irrationality three years ago in British Columbia, when the shadow-flipping scandal hit the press, and the government responded with a massive Report from the Independent Advisory Council. Shadow flipping is a complicated story, but one of the things I couldn't get away from was the fact that the seller got his full asking price: he got what he asked for. But because the value of the house had risen in between signing the contract and closing, the seller got pissed off. The rest is media hysteria, politics and history.
So I am suggesting that the industry — the entire industry, including the iBuyer companies — come together and start putting policies and disclosures into place to ensure that there isn't even a whiff of anything suspicious going on here.
I asked Matthew Consalvo, CEO of ARMLS, whether they had a policy on this, and his answer was that ARMLS has no policy or rule concerning this topic. Of course they don't, because the issue has never been raised. Now, consider the issue raised. Please consider at least discussing what policies, if any, should be put into place.
While I don't know what those specific policies ought to be, it does seem to me that proper disclosure and understanding by the consumer might be the key. Think about how the MLSs reacted to Coming Soon and off-MLS listings: forms, rules, policies, requirement to explain to the client the exact pros and cons of doing a Coming Soon or a pre-marketing strategy, etc.
A similar approach might work here. Perhaps the listing agent should explain what's going to happen, what to expect, what his role will be in that process, any company-level relationships that might exist, etc. etc. to make sure that the seller knows that everything is on the up and up. Perhaps the iBuyer companies might put policies and disclosures into place to make sure there is no possible misunderstanding of who is doing what for whom and how.
Most longtime readers know that I'm a pretty big fan of iBuyer programs, because they remove consumer pain, consumer uncertainty, and pay pretty darn close to market value. They're not for everybody, but for those for whom instant offer programs work, they're amazing. Similarly, most of you know that I'm a pretty big fan of great agents and great brokers in the industry; the great ones really do go out of their way to serve the consumer. I know, because I've had some great REALTORS help me with my sales and purchases.
Trust is the essential element behind both good iBuyer programs and good real estate professionals. The consumer must trust that he is getting a fair deal, and that his agent is looking out for his best interests. Legalistic answers from us, something like, "Well, see, no laws were broken…" is not the way to preserve that trust in our industry. And today, with all that is going on… now is not the time to test how much the consumer will trust us. No, now is the time to make certain that the consumer will trust us, because we all will earn that trust with transparency, forthright explanation, and service.
Let's figure this out. I'd be happy to help, and I start by raising awareness of the issue.
-rsh