So, I'm about to head off to another day at Inman Connect so this will have to be very brief and very shallow. I'll have to take some time to think more about the announcement that Realogy and Amazon have partnered on Turnkey.
At first glance, this seems like a pretty straightforward purchase of leads from Amazon by Realogy:
Amazon sends leads to Realogy;
Realogy sends those leads to brokers and agents who participate in the program;
Some Realogy agent helps the buyer purchase the house;
Amazon gives the buyer all manner of goodies and services;
Realogy cuts Amazon a check.
Given Amazon's massive traffic/audience, this seems like a pretty easy win for Realogy. On the other hand, based solely on what we've seen so far, this isn't a major game changer. So call it a nice little win for a nice little program.
Nice Little Win
Here are my assumptions for why this is a nice little win. From my conversations with various people at Inman and elsewhere, it seems like this is merely bolting on Amazon leads to the Cartus relocation infrastructure. In fact, one Realogy affiliated brokerage executive told me that right now, participation is limited to Cartus brokerages — i.e., those brokerages who are part of the Cartus relocation network.
That implies two things. One, Realogy can roll this out easily because it already has all of the infrastructure to manage lead routing, collection, etc. etc. with Cartus. Two, it implies that the referral fees from the Amazon Turnkey program will be relatively high. Cartus charges as much as 48.5% for one of its leads; could Amazon Turnkey be that high? Who knows. What we do know is that agents willingly pay extremely high referral fees for new leads.
The massive traffic at Amazon means that even if a tiny fraction of visitors click on over to inquire about buying a house through Turnkey, Realogy should see a pretty nice flood of leads.
Plus, this is a big PR win for Realogy, which has been needing some PR wins of late. Just the fact of inking this deal with Amazon is going to look good for Realogy, and will be good for morale of Realogy brokers and agents. So that's all good.
But It's a Little Win
There isn't a negative here, per se. But I do want to keep in mind that Turnkey is not going to change the fundamental narrative about Realogy any more than any of Realogy's previous announcements (CataLIST, Fast Lane, new franchise brands, etc.) will.
Fundamentally, the core problems of Realogy are two: debt and agent splits. We know this, Realogy knows this, and Wall Street knows this. Everybody knows that Realogy is big and important and fully integrated and all of that. Everybody also knows that Realogy has billions in debt and has been seeing its margins from its all-important NRT division get eroded quarter over quarter, year over year, time after time.
As Ryan Schneider put it once, the real violence in the P&L is from agent splits in the NRT. Period, end of story.
Amazon Turnkey does pretty much zip to change that core story in any real way.
Yes, in theory, the referral fees from Turnkey would change the economics between the agent and Realogy. Instead of it being a 95/5 split, it'll be 50/50 or 60/40 or whatever once the referral override is taken into account. But that only affects the leads from Turnkey, not the general overall split between Realogy and its agents. It does not, in and of itself, solve the huge debt overhang that Realogy has.
So, a nice little win, but a little win — Realogy needs to stack more and more of these wins, or do something significant to change the core narrative.
Having said that, let me spend a few minutes on some questions and nitpick some details.
Initial Questions
The first initial question is what the referral percentage will be. Will it be as high as Cartus? Or will it be more in the Zillow/OpCity range of 25-35%?
The second question has to do with what the announcement called "handpicked" agents. What does that mean? What are the qualifications to get into and to stay in this program? There are suggestions that the program will only be available to agents who meet certain performance requirements: productivity and customer service. That's a good step forward, but I'm not entirely sure what Realogy's programs/processes are for establishing agent service quality.
Is it a simple post-transaction survey? Or is it an involved multi-step deal like Zillow's CSAT program?
If it's the former, then it isn't clear just how much Realogy and/or Amazon can stand behind this program in terms of customer service delivery. If it's the latter, then that's better/strong, but could also result in less participation from the agent ranks. Guess we'll see as more information comes out.
More Details/Questions
One of the things I'm most curious about is the extent to which the partnership also provides partnerships on the data side of things.
We already know that Amazon collects and analyzes enormous amounts of consumer data. How much of that, if any, is shared with Realogy? For example, say an Amazon Prime customer clicks on the link to buy a house through Turnkey. How much of that customer's information will be shared with Realogy and/or its brokers and agents, if any?
This feels like it could be a bigger deal than we believe. Amazon's information on what we buy, what we view, what we ask Alexa for, etc. has to be pretty significant. It would help in targeting ads and marketing calls to action. But is Amazon going to share that freely with Realogy? I don't rightly know.
On the flipside, one wonders what kind of data Amazon will demand and get from Realogy. Amazon needs some basic information just to issue the gift certificates and so on. But what else would they get from the transaction and the overall relationship between the agent and an Amazon customer?
The Carrot: Consumer Benefit
Finally, I know I'm completely biased here and likely in a tiny minority, but the value proposition to the consumer is a bit weak. Look at what's actually being offered here: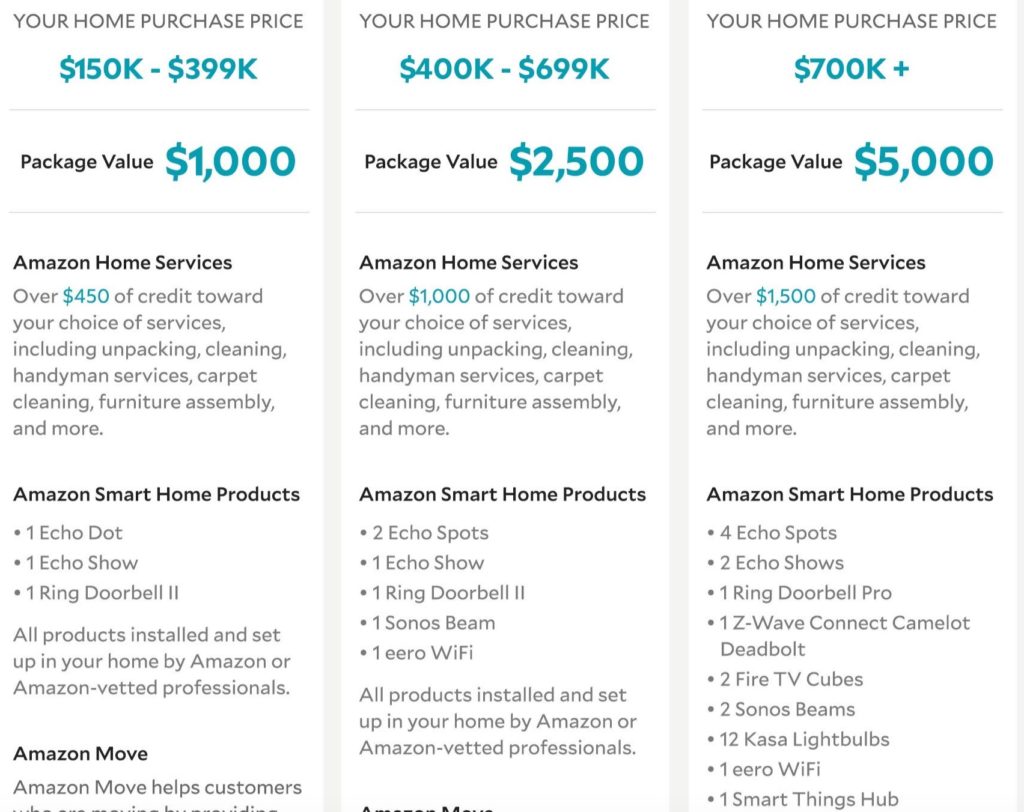 Since most homes in America are under $400K, we're looking at the $1,000 package of 1 Echo Dot, 1 Echo Show, and 1 Ring Doorbell.
I mean… I guess? Now, I'm biased because I've already banished Alexa from my house, because I don't need a 24/7/365 spying device in my house listening to every single conversation I have with my wife. But I know most people aren't that sensitive or that paranoid. But even so, an Echo Dot is like $50. Echo Show is… I don't know that I'd buy one just because it seems like a fairly useless device to me. Ring Doorbell is okay, but if I wanted one, I'd just buy one at $200 and be done with it. I don't know that any of those would influence whether I want to buy a house or not.
So we're looking for people who are already wanting to buy a house, did some research, and are maybe ready to speak to an agent, but haven't found one yet… who also happens to be on Amazon and finds this Turnkey thing and thinks, "You know, I might as well grab a free Ring and an Echo Show when I buy a $350,000 house…."
Feels a little bit thin to me, but that's just me.
Just apply this logic to other high dollar items. "Buy a Porsche through Amazon, and we'll throw in a free Alexa!" I mean… yeah… free shit is good and all, but… it's a bit underwhelming. I guess we'll see just how much this changes consumer behavior.
Anyhow, that's all for now, as I have to get to meetings and sessions and such. But I wanted to get some initial reactions out, and then dig into this with some time.
So in summary, a nice win for Realogy, but it's a little victory, and one that doesn't change the fundamental narrative of Realogy or traditional brokerages in any real way. Perhaps the real importance here is that Amazon had enough faith in Realogy to ink this deal with them in the first place. Its consumer value proposition is a bit underwhelming, at least for someone like me, but it might be huge for other people who just love having smart spies in their bedrooms.
Your thoughts are welcome, as always.
-rsh