The battle between Realogy and Compass took a strange turn in recent days, when Compass claimed that they rejected a marriage offer from Realogy according to The Real Deal:
With his back against the mats, Realogy CEO Ryan Schneider considered selling the brokerage to its chief rival: Compass.

In a statement Friday, the SoftBank-backed brokerage said Schneider even proposed a plan where the arch enemies would form a joint venture — a proposal Compass said it declined.
Obviously, that's quite an allegation. Realogy denied it, of course, but then The Real Deal continues:
A source close to the company told The Real Deal that Realogy is not for sale to Compass. "The truth is twisted here," the source said.
The truth must be twisted there indeed, because Realogy's denial took an extra step today when it filed a Form 8-K with the SEC with the email that Ryan Schneider, Realogy's CEO, sent to all Realogy employees. Here it is:
On July 10, 2019, we filed a lawsuit because of Compass's illegal and unfair business practices. We did not make that decision lightly and did so with the full support of our Board of Directors. We believed then – as we do now – that it was 100 percent the right thing to do in standing up for ourselves and fighting for open, honest and fair competition in the industry.

On Friday night, as we expected, Compass filed a motion to dismiss our lawsuit. Not surprising to us, they issued a media statement designed to inspire sensational news coverage about Realogy that is simply not true. Compass's misleading statement was clearly designed to create distraction for Realogy employees, agents and franchisees on which they could later try to capitalize. While we generally do not comment on pending litigation outside the company or even within the company, we want to be clear with you that we have never had discussions to sell or merge Realogy with Compass.

The reality is that Compass is trying to distract the media and the industry from the core issue of its illegal and unfair business practices, which are part of our lawsuit against them. Most recently, a judge in New Jersey ruled that Compass, in connection with the hiring of a Realogy employee, was complicit in improperly accepting Realogy's confidential information from that employee, and Compass created a 'dummy job' to circumvent his non-compete provisions. The judge issued a preliminary injunction against Compass and the former employee.

We stand by the allegations in our complaint. But most importantly, I ask that you not allow Compass's misleading and intentionally provocative statements to distract you from what you are doing to support our agents and our franchisees every day.

Ryan
I can't imagine a denial getting any stronger than that. False statements made in a public filing are punishable by law. There's no way that Ryan Schneider took such an extraordinary step if he weren't (a) 100% sure of the truth, and (b) super pissed off at Compass.
At the same time, I can't imagine that Robert Reffkin and crew at Compass would make up something like that out of thin air. It's too dangerous. For one thing, I might not be a libel and defamation attorney, but I did stay at a Holiday Inn Express last night, and I feel that this likely rises to the level of libel with significant damages (loss in Realogy stock value, etc.) if Compass just made up a story like that. For another, the judge in the lawsuit between Realogy and Compass is not likely to take wholesale fabrication kindly, so why risk it?
So let's speculate together on what might be beneath the surface, shall we? Maybe it's pointless to speculate, but… there's an interesting takeaway from the thought experimentation.
Was There a Meeting?
Let's start with these details as reported by Inman News:
However Compass not only disagrees with those claims, in an email Friday a company spokesperson said that if the case isn't tossed out it plans to countersue Realogy. That countersuit would be "based on, among other things, a meeting arranged by Realogy CEO Ryan Schneider in which Schneider discussed that he had considered selling the company."

Compass' spokesperson also said that in the alleged meeting, Schneider discussed the premium that his company's board would want if Realogy was to sell.

Additionally, Schneider allegedly complained in the meeting "about Realogy's agents leaving for Compass and proposed a plan where the two companies would form a [joint venture] — a proposal that was declined by Compass," the spokesperson added.
That's mighty specific, so we might begin by asking, "Was there a meeting at all?"
Note that Realogy's denial doesn't specifically say there was no meeting between Schneider and Compass people. It says "we have never had discussions to sell or merge Realogy with Compass" not that there was never any discussion about other topics, or that Schneider did not arrange any such meeting.
That assertion could be libelous — and definitely a PR nightmare — if Realogy produced evidence that no such meeting between Schneider and Compass took place. That would be easy to do: produce Schneider's calendar. I further believe that given the strength of Realogy's denial, if the meeting itself were a fabrication, we'd know about that. So I'm led to believe that some kind of a meeting did take place.
What Could Have Been Discussed at the Meeting?
Obviously, we don't know what was actually discussed at that meeting. We only know that whatever happened led to Compass claiming that Schneider offered to sell Realogy to or merge Realogy with Compass and then Realogy vehemently denying any such thing happened. But in the passage above, we do have Compass claiming that Schneider complained about Compass's recruiting of Realogy agents and then proposing a joint venture.
That implies to me that the meeting was likely before Realogy filed its lawsuit against Compass in July. It was likely some sort of an attempt to avoid going to court. I can't imagine that once the lawsuit was filed, there would be any kind of a meeting without legions of lawyers on both sides and all kinds of very careful notes taken. That can't possibly lead to the kind of misunderstanding we see here.
I think that Schneider never ever offered to sell Realogy to Compass or offered to merge with Compass. If he had, the denial that Realogy issued is just far too strong.
I do think, however, that Schneider might have offered to sell pieces of Realogy to Compass, and proposed a JV to make such a thing work. That could have been misunderstood (perhaps on purpose) to lead to the kerfuffle we have at hand.
What makes the most sense to me is for Realogy to offer to sell Corcoran to Compass, while creating a JV in which Realgoy would manage and operate the Corcoran franchise while Compass would own and operate the brokerage operations of Corcoran. Additionally, I wouldn't rule out the possibility that Realogy offered to sell Compass some of the NRT offices in areas where Compass was particularly strong: Northern California, metro Washington DC, etc.
Why Corcoran?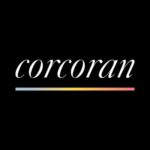 Corcoran makes the perfect sense as Realogy's offering to Compass.
We know that Compass has been on a brokerage acquisition spree of late, including the acquisition of Pacific Union in August of 2018. At the time of acquisition, Pacific Union had about $14 billion in sales volume. That's a big brokerage that Compass bought, to become a major player in California almost overnight.
Well, Corcoran the brokerage did about $21 billion at the time Realogy announced it was launching Corcoran as a franchise brand. It is usually the largest real estate brokerage in New York City (though it was overtaken by Douglas Elliman in 2018; see below).
Let's not forget that Compass is headquartered in New York, and is at its roots and its core identity, a New York based brokerage. Reffkin and the rest of the senior team all live and work in New York. And despite all of the money, all of the attention, all of the growth, Compass itself is a distant third place behind Douglas Elliman and Corcoran. According to The Real Deal, the top five rankings for New York for 2018 look like this:
Douglas Elliman, $8.99 billion
Corcoran, $4.53 billion
Compass, $2.0 billion
Brown Harris Stevens, $1.8 billion
Stribling & Associates, $1.62 billion
Compass acquiring Corcoran, which Realogy has owned since 2001, would instantly catapult Compass to top dog status in New York City (Elliman's monster 2018 might have been an aberration), cement its status as the #3 largest brokerage by sales volume with ~$66 billion, and potentially strengthened Compass's presence in Corcoran's other markets: the Hamptons and South Florida.
Offering Corcoran to Compass also likely made sense for Realogy, since some of the highest profile agent losses to Compass have been some of the top producers out of Corcoran. It may be that Schneider and Pam Leibman looked at what it would take to compete against Compass to keep their agents and decided that it would be more cost-effective to throw in the towel and sell the whole thing to Compass instead.
Like I said, I wouldn't be surprised if some other NRT offices in places like San Francisco and the metro-DC area, where Compass is particularly strong, were also offered up. But Corcoran makes so much sense.
The "joint venture" reference above is easily understood if what Realogy was proposing was to keep the recently announced Corcoran franchising, while selling the brokerage piece to Compass.
As reported, Compass said "No thanks!" But how does the misunderstanding arise?
Careless Whisper?
I could easily imagine it arising from the kind of macho banter that bigtime business executives — especially guys like Reffkin with a background on Wall Street — engage in in the course of meetings like that one. Picture the scene.
Ryan Schneider: So, in conclusion, I think we can avoid all this unpleasantness and lawsuits and such, if we can come to some kind of an agreement and partner up instead of involving lawyers.
Robert Reffkin: Okay, so you want us to buy Corcoran, a couple of NRT offices, but you guys keep the Corcoran brand?
Schneider: That's right, and we're willing to cut you in on a piece of the Corcoran franchising profits — maybe do a JV of some kind on that.
Reffkin: Hmm. (Looks thoughtfully into the distance, before turning back.) Why play small ball? What about the whole thing?
Schneider: Whole thing? What do you mean?
Reffkin: I mean the whole shebang. The whole kit and caboodle. How much for all of Realogy?
(Laughter all around.)
Reffkin: I'm serious! Why mess around with Corcoran and all this JV and stuff. What about all of it, Ryan?
Schneider: Well, Realogy is not for sale, Robert. We're just talking about Corcoran here.
Reffkin: Yeah, I know, but humor me. I mean, I've seen your stock price of late. What would it take to just do this?
Schneider: If you're serious, I'd have to talk to my Board, and they'll probably want a premium that better reflects what we believe our real value is, instead of this artificially depressed stock price we're seeing now. But like I said, I'm here to talk about a win-win scenario involving Corcoran, Robert. Let's not get distracted here.
It's so easy to imagine that conversation taking place. Reffkin could easily have thrown out that "What If" knowing that he wasn't interested in acquiring Corcoran, but wanting to see where Schneider and Realogy's head was at. If Schneider had jumped at the semi-idle inquiry, that would have told Reffkin all that he needed to know about Realogy's position.
After the lawsuit gets filed, that conversation is vaguely remembered by the Compass people at the meeting as, "I think Schneider was offering us Realogy if the premium is high enough."
The Possible Takeaway
So that's entertaining to think about. Is it useful to speculate?
I think there is one possible takeaway from this kerfuffle that is useful. If the above is something like what actually went down in a meeting between Realogy and Compass, that got misinterpreted, mis-remembered, or misunderstood to create the public kerfuffle we see today… then it implies that Realogy might really want out from under the NRT.
Let's not forget that the NRT is where the "violence in the P&L" is, to quote Ryan Schneider from an earnings call last year. The NRT is responsible for huge bulk of Realogy's top line revenues, but its margins are terrible and showing no sign of improvement. In Q2/2019, Realogy's franchise operations generated $163 million in operating EBITDA on $234 million of net revenue, while the NRT generated $47 million in EBITDA on $1.3 billion in revenue. That's margins of 70% vs. 3.5%.
It may be that Schneider and the senior managers of Realogy looked at their business segments and realized that they really can't think of a way to turn things around at the brokerage unit and if they could cut their losses there, they should. Selling off even a prestige crown jewel like Corcoran makes perfect sense if their margins from that brokerage operation are terrible and getting worse… as long as they can find a buyer who doesn't mind Realogy keeping the franchising piece.
If that's true, then there are multiple opportunities here for third parties. (I grant you, that's a pretty big IF, and I have been completely speculating here.)
First, if I'm HomeServices of America, I'm placing a phone call to Ryan Schneider to see just what Realogy's appetite might be for selling off major chunks of the NRT. Take a look at HomeServices of America's brokerage operations: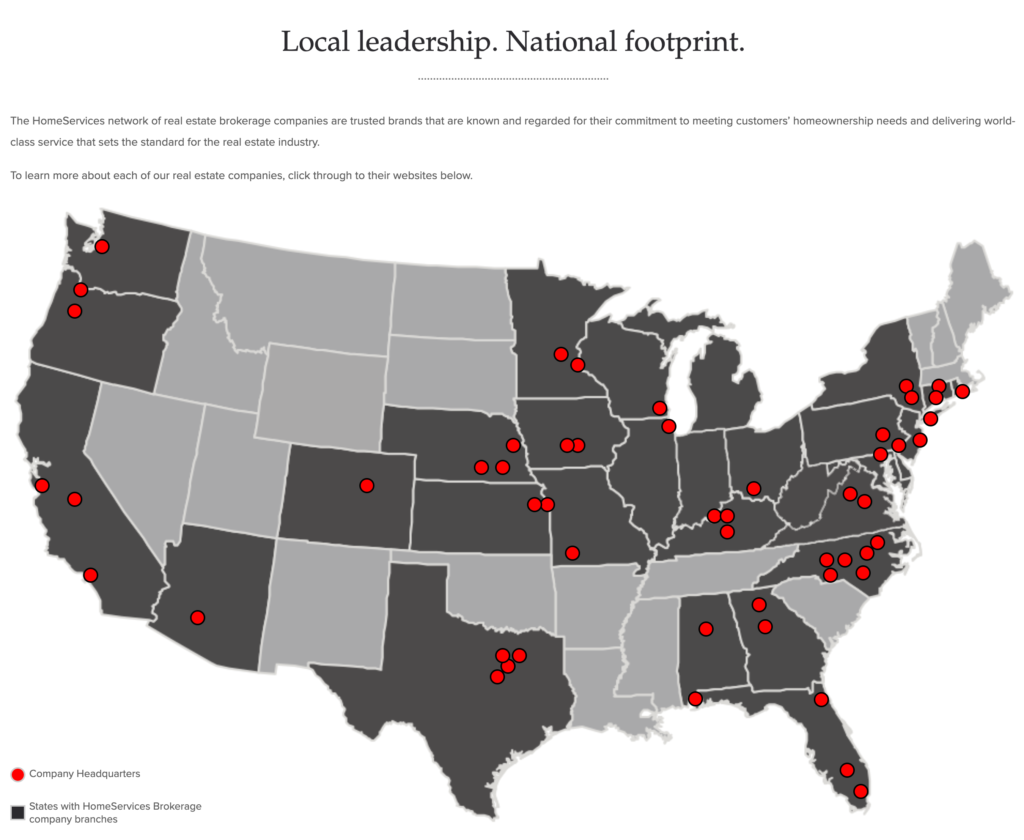 There are a ton of areas where HSA could become completely dominant if they could acquire those NRT offices: California, Florida, Chicagoland, DC Metro, etc. There are other areas where HSA has no presence to speak of: New York City, New England, Utah, Nevada, etc. And then there are areas like Texas where HSA can become a far bigger presence by adding NRT's operations to its own.
The trick is whether HSA would be willing to let Realogy keep the franchising piece, or perhaps entertain a JV with Realogy on the franchising piece (BerkshireHathaway HomeServices is a franchise brand). I had always assumed that there's no way that two arch-rivals like HomeServices and Realogy would ever entertain such a thing but… if Realogy was willing to sit down with Compass, nothing is off the table. And generally speaking, HomeServices has proven in the past to be tolerant of local brokerages keeping their local brand; why not allow the former NRT companies to keep the Coldwell Banker Residential Brokerage brand or whatever?
Obviously, HomeServices has the money; it has Daddy Warrenbucks behind it. I have to imagine that the only reason why HSA or Buffett hasn't already made a bid for Realogy is the enormous debt that Realogy is carrying (thanks, Apollo!) But if they can pick up discrete brokerage properties like a Corcoran, or a dozen NRT-owned offices throughout certain regions, without worrying about Realogy's corporate debt… that's a different story.
Second, if Realogy is willing to consider selling Corcoran, it is likely willing to consider selling less prestigious offices throughout the NRT network. If I were a big enough brokerage with strong local presence, and some kind of systems and management that gives me confidence in driving profitability, I'd be looking at making bids of NRT companies in my area. I'd be busy crunching numbers right now if I'm someone like HomeSmart given the dramatically different business models, because picking up something like NRT's Arizona operations could be a game changer.
Third, this kerfuffle raises some interesting possibilities for activist investment funds. For those of my readers who aren't from Wall Street, think of the actual movie Wall Street. Michael Douglas's character in that movie is an activist investor, also called "corporate raider" or whatever. If the pieces of a conglomerate are more valuable separately than together, then activists might take a big enough share of a company, then "break it up and sell the pieces" and generate a return. I'd have to run some numbers, but that doesn't strike me as a crazy investment thesis, especially in light of the possible proposal to Compass.
Last Piece of the Speculation Puzzle
Once you go down this speculative path, one recent development kinda sorta makes more sense.
In my last Quick Takes email (please let me know if you're a VIP Subscriber, but not on that mailing list), I wrote:
On the other hand, putting Coldwell Banker under Ryan Gorman is a bit puzzling. I have never met Gorman, although everyone says he's super smart. But NRT is where the critical issue at Realogy is: agent splits. That's the $6 billon question. Putting more on his plate strikes me as… well… I don't know.
Well, if the strategy for the NRT is not to fix the agent split problem, but to try to sell it off piece by piece… then this move suddenly makes all kinds of sense. Ryan Gorman is obviously one of Schneider's top lieutenants. If the overall strategy of Realogy is to make franchising the future, then Gorman is going to need some kind of a foothold in franchising. Coldwell Banker being the crown jewel of RFG, it makes sense that Schneider would put his most trusted guy over that unit.
It might be a stretch, but then, this entire post is a gigantic exercise in speculation.
Idle Speculation, Probably. Then Again, Maybe Not.
Okay, let's leave it there for now. This is an awful lot to read into a media report followed by a strong denial. It's likely rank speculation, and the kind of thing only a blogger/commentator like me can do on something like VIP.
Then again, I'm pretty good at pulling seemingly disparate strands together into a tapestry that makes some kind of sense. Or so many of you have told me over the years. So I personally don't think this is completely insane. There is just a bit too much smoke here for there not to be a fire somewhere.
The truth is twisted, but this narrative of Schneider offering Corcoran to Compass, being refused, and then having that be misinterpreted as Schneider offering all of Realogy to Compass does explain the kerfuffle. And if that narrative is essentially true at its core, then it means all kinds of opportunities for outsiders.
I suppose upon reflection it also means all kinds of red flags and warning bells for NRT brokers, managers, and agents. Avoiding that panic is going to be important for Ryan & Ryan so I expect to see some programs, initiatives, and communications to keep the troops calm. And I would agree with them: stay calm. The actual agents and managers are rarely affected as badly as we imagine if the ownership of a brokerage changes hands.
Then again, there's a reason why most of my presentations these days have a slide advocating the prepper mindset for people in real estate. So here as well, let me advocate embracing that prepper mindset: it isn't that whatever event you fear is going to happen, but that just in case it does happen, you're prepared for it.
-rsh