A few nights ago, Sunny and I were talking about the Metaverse. As a former MMO gamer, I posited that it will be the future of the workplace. As someone who had a social life and dated in high school, Sunny thought otherwise. Turns out, she just couldn't see herself piloting a little cartoon character around some video game.
She is hardly alone in the real estate industry, since it is populated mostly by high-EQ socially gifted people who also did things like go to parties and have dates as teenagers unlike most of us nerds who spent a lot of time in World of Warcraft or Ultima Online. Plus, real estate is about the ultimate physical reality: land and physical buildings that sit on top of land. Despite news stories of real estate agents getting into the virtual real estate game, most of the industry thinks the Metaverse is all hype.
There is one clear exception to this: EXP. The fastest growing brokerage in the country (in the world?) has been all-virtual from day one and bought the company that created its online world, Virbela. Its investor calls are done as virtual events inside Virbela, and EXP's agents just love having the virtual world.
The detractors point to Virbela as well. It just doesn't seem like a serious environment. Those of us who grew up with things like EverQuest or Asheron's Call (that was me) or even World of Warcraft would find EXP's virtual office familiar. That you have cartoon character avatars is not as jarring for us as it might be for others.
Thing is, it still is jarring for Normies.
So when people are hyping up the Metaverse, what Normies see is this:
This video is about Decentraland, one of the top Metaverse worlds today. This is one of the worlds where people are paying millions of real world dollars for plots of virtual land. Try as a Normie might, having cartoon frogs and blocky "trees" isn't going to get it done for them as a real working environment.
However… all of that is today. All of the skepticism and criticism are warranted. Today. I can't imagine serious investment bankers and lawyers getting together in a cartoon "conference room" with frog avatars discussing multi-million dollar deals. Nor can I imagine even real estate offices having real broker-to-agent coaching moments that are anywhere near as effective as in-person coaching. Too much meaning gets lost in subtle nonverbal communications.
I just saw a video this morning that kind of blew my mind, and it points to a future that is hard to imagine. Because, we humans have a hard time imagining exponential growth and development in technology. If someone shows us a glimpse into that future, however, it becomes far easier.
Behold the future.
Unreal Engine 5
The video I saw was this one, about what the latest in graphics technology enables:
This is… simply astonishing. Do yourself a favor and watch the whole thing. Skip over parts if you have to.
Although the point of the video was gaming, it is evident that this graphics technology will be applied to areas outside of super-realistic video games.
Pr0n immediately comes to mind, since that is the initial pathway into any consumer technology of note. We will certainly see this technology applied there first although flying under the radar. Given the subject matter, I don't think we have to imagine how metahumans and the Metaverse will be used in that industry.
But what I thought of is how this technology available today, right now, goes a very long way in enabling the office of the future.
Just imagine Virbela, but running on Unreal Engine 5 instead of on whatever late 1990s technology it is running on today. I have to think that the technology geeks at Virbela and at EXP are investigating that today.
The Office is Dead. Long Live the Office.
COVID resulted in the massive adoption of virtual workplaces. Zoom became not just a video conferencing platform, but a verb. It turned out that productivity did not suffer as much as some feared. Many jobs, it seems, can be done just as effectively from home even for large corporations with dozens of peoples on teams. I've watched Sunny do just that for almost two years. I've been on too many Zoom calls to count over the same time period.
Thing is, Zoom is not a good replacement for real human interaction. When various travel bans were lifted, and various restrictions relaxed, and we could finally get together in person at conferences and events, I saw how much we all missed real interactions with one another. The magic in a conference is not in the presentations or the panel discussions, sitting in neat little rows watching someone present. The magic is in the #Lobbycon, in the spontaneous conversations you can have with people you run into.
The same dynamic applies to the workplace. The magic of the office is not in the computer screen, or in meeting rooms. The magic is in the spontaneous interactions. Here's an article from Fast Company that explores this issue:
As we adjust to a prolonged period remote work, prioritizing casual chats and embracing random encounters can lead us to inspiration and encourage us to check more off our to-do lists.

This isn't just a hypothetical idea. Anita Williams Woolley, an associate professor of organizational behavior and theory at Carnegie Mellon's Tepper School of Business, says these unplanned moments can lead to improved problem-solving, productivity, and creativity.

"These conversations happen naturally in the office, and it doesn't feel like you're slacking off, because you're not," she says. "They ultimately feed into the quality of what you ultimately produce."
It turns out that the "water cooler chat" isn't just wasting time. It is often the driver of creativity, productivity, and problem solving. The article discusses how being forced to walk to the office kitchen for a cup of coffee leads to a more effective workforce:
For example, at home you may reach across your kitchen counter and pour yourself a cup of tea. In the office setting, you're forced to get up from your desk, walk to the kitchenette, select a mug and variation of tea, and spend some time making your drink, all away from your desk. Together, these little moments amount to a mini recharge.

Serendipitous interactions can provide the "happy coincidence" benefits of healthy teamwork and collaboration. "In the process of moving around the office, you run into people. These are people who know something about your domain [of work], but maybe aren't working on the exact same thing as you. And these conversations are likely to bring up links to things tangentially related to your work, and suggest a new association and bring about creative insight."

However, mixing across different specialties or departments can have a unique benefit. One example, says Woolley, is prior to the coronavirus pandemic, her university colleagues frequently interfaced with different department staff in meetings—a process which led to novel collaboration opportunities and light-bulb moments. In a remote work environment, this sort of creatively charged moment is less likely to happen.
This serendipity is what is entirely missing from our Zoom-fueled work from home environments. That is why many companies are planning on reopening their offices and having employees come back to the traditional office even if in some kind of mixed hybrid way. And the employees are excited about coming back to the office:
More than three out of four workers say their companies are still moving forward with return-to-the-office plans in January, despite the recent spread of the Omicron variant of COVID-19 and many workers seeking permanent remote work.

Amid the challenges, more than half of employees say they're "excited" or "happy" to be heading back to work, according to a survey of 1,000 full-time U.S. workers by Workhuman exclusively for Fortune. A smaller number were unhappy, however, with nearly 15% saying they're anxious and about 8% saying return-to-work plans are causing stress.
At the same time, a number of companies are getting rid of their expensive office towers and multimillion dollar leases. It simply makes financial sense not to spend the money if you're not going to be using the space. For many companies, rent and occupancy is the second highest line item in overhead expenses after salary. Why would they spend money they don't have to?
Plus… it isn't as if the modern cubicle farms are a wonderful environment for work.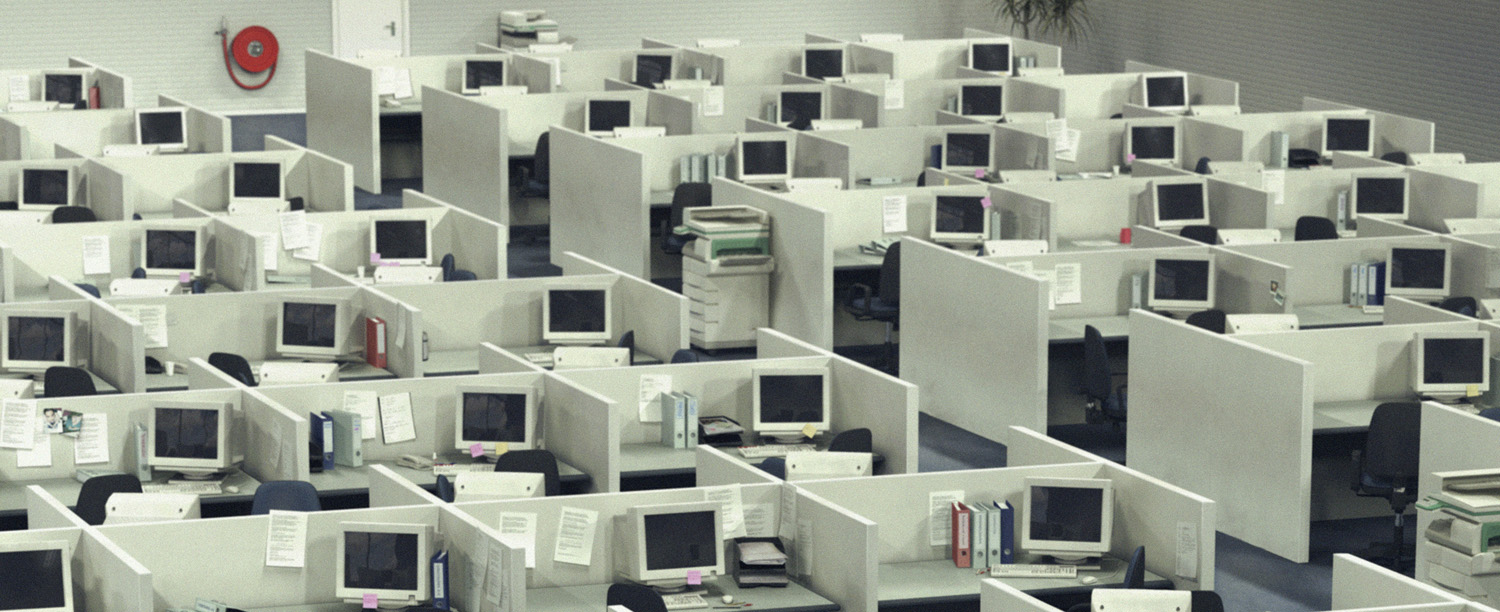 There is an entire movie, a modern cult classic, that deals with the soul-deadening impact of the modern cubicle farm white collar workplace. I'm sure you've seen it. If you haven't, you owe it to yourself to go watch it immediately on your streaming service of choice.
That office of Office Space is dead. It was a victim of COVID, and like most victims of COVID who died, it had serious comorbidities that were long present beforehand.
The challenge for companies and organizations then is to keep the good — the spontaneous interactions and communications that unlock creativity and productivity — while getting rid of the bad: the expense, the soul-crushing environment, the commute, the annoying coworkers and bosses.
The answer, it seems to me, is the virtual office in the Metaverse on a super realistic graphics engine. Maybe Unreal Engine 5. More likely, the Unreal Engine 6 or 7 that will be coming in 5 to 10 years, taking advantage of the hardware and bandwidth of 5 to 10 years from today.
The Virtual Office of the Metaverse
As we see in the Unreal Engine 5 demonstration video, technology can create metahuman avatars from digital scans. Keanu Reeves and Carrie-Anne Moss were scanned in to create the metahuman in-game characters. It won't be too long before the ubiquitous webcam that everyone has today because of Zoom can scan your face and your body and create a metahuman avatar that looks just like you do… with judicious digital enhancements, of course. Think of it like Instagram filters on steroids. Your avatar will be you… just the best possible version of you without the days in the gym, sacrifices in the kitchen, cost of designer clothing and hours of makeup.
The webcam won't only scan you once; it will constantly pick up your facial expressions and physical gestures and have your metahuman avatar reflect them so others in-world can pick up some of the nonverbal cues that are so essential for real communication. Shrug in the real world, and your avatar will also shrug. Smile, and your avatar smiles. It will be what every dreamer of the Metaverse imagined for decades: a second life inside of a virtual world. (Well, unless you turn that feature off, I suppose, because you don't want your boss seeing what you really think about his dumbass idea. (Or do what Sunny does and get botox.))
The virtual work environment will be cinema-quality realistic, but filled with light and space as well as top-tier industrial furniture. To hell with OfficeMax chairs and cheap plywood desks; say hello to the very best Eames, Saarinen, Isamu Noguchi furniture that you could only dream of. There is absolutely no need for cubicle farms when physical space is unlimited. Even if the "land" that your company bought in the Metaverse is a 10×10 square, there are no laws of physics that demands that the inside of a "building" be smaller than the outside. (There may be laws of the world programmed by the developers to maximize revenue, but that's a whole different story.) Rather than cubicle farms, workers will have as much or as little space as they want for themselves.
Some things will be missing, of course. The office kitchen, or water cooler, for example… since you know, you're not drinking coffee or eating free snacks in the virtual world. But break rooms, game rooms, meeting spaces, lobbies, hallways… all of those will exist and create opportunities for that spontaneous interaction with a colleague that sparks creativity, productivity, and cross-team collaboration once companies learn how to build that free time and space into the virtual work day. There will be the ability to walk down the hall to see if Joe is at his desk to ask a quick little question about how to do that one little thing. It's a little thing not deserving of a scheduled meeting, but who knows where that 2 minute conversation could go?
The socializing won't be what real world socializing would be, but it would be a hell of a lot better than Zoom "cocktail parties" that we all suffered through in 2020 and 2021. Maybe instead of heading out to a bar to connect with coworkers, you all head to a virtual karaoke room. Maybe you and your boss can go play virtual golf; it's not like playing real golf on real golf courses, but it will be a decent enough experience especially at the cost… especially when you can get tee time at Virtual St. Andrews or Virtual Augusta National.
Because the metahuman avatar will be a unique NFT in the blockchain-powered Metaverse, you don't have to worry about losing it and all of your digital identity should you move companies. You will own your avatar in the Metaverse, not your employer. And for the companies, whatever digital assets they create or purchase within their virtual offices are unique NFT items that they will own, put on the balance sheet, and perhaps even depreciate.
Finally, since the office is virtual and located in the Metaverse… your employees do not have to live in any particular place. Your bookeepers may be from Pakistan, your programmers from Estonia, and your head of HR from Paris. As long as language barriers and time zones can be overcome, every company can be a global company.
This is the office of the future. Long live the office!
EXP has proven and is proving that it can work, using 1990s technology. Imagine what it can do using 2020 or even 2030 technology.
Imagine, If You Can
I find this rapid pace of technology change both exhilarating and terrifying. And I have a really good imagination for what is possible. There are angles to this that I haven't considered yet, but I think some of you have and will. To take just one example, a thriving industry in virtual designer fashion is all but inevitable. There will be new social conventions that arise from metahumans in the virtual workplace.
The challenge for us today is to imagine that future, imagine what is possible, knowing that we are deeply limited in our imagination because we are human beings not evolved to cope with exponential technology development. Some of what we imagine will be horrible, because that's just how our imaginations run sometimes. But some of it will be wonderful. And I can't wait to see what world we all bring about with the tools that our geniuses have created and continue to create.
The Metaverse is the future of the workplace. The office is dead. Long live the office!
-rsh