At the recent REBarCamp Orange County, I found myself staring at the board listing the sessions and enjoying the wonder of discovery.  The discovery was that apparently, I was supposed to be leading a session with Stacey Harmon on "Social Media and Branding".  As they say, anything and everything could happen at a BarCamp.  That joy of discovery was followed by the joy of improvisation, as I learned that Stacey had to stay behind to finish up a session on using Twitter, and I had been planning on being Vanna to Stacey's Pat Sajak.
So I got up and did a bunch of verbal tapdancing.  For those in attendance, I promise to refund your registration fees.  [ED: Rob, BarCamp is free, you idjit.  Yeah, well, it's the thought that counts.]  To my surprise, the session ended up being one of the better ones for me, in part due to the awesome people who didn't seem to mind that I was speaking completely off the cuff, and in part due to the warm rays of the incredible southern Californian sun.
I wanted to expand on some of the concepts we discussed, however, because we didn't really get into how social media and brand interact.  It also appears that we need to discuss things further because prevailing misconceptions on how social media fits in to an overall marketing scheme.
What I Said in Orange County (I Think)
Considering that a fair amount of adult beverages were consumed after the BarCamp was over, much of this is based on somewhat suspect memory.  I think the following is roughly what I said:
Brand is a promise.
Making a promise is easy; keeping a promise… not so much.
For a brand to be meaningful, the brand promise has to be kept at every single customer touchpoint, including the all-important in-person touchpoint.  Companies spend millions on branding, only to have everything ruined by a single rude employee.  Corollary: your brand is only as good as your worst agent.
Understand and articulate the brand promise before you think about differentiation.
In services industry, like real estate, there is a baseline of competence that is promised by everyone.  Promising professionalism and concern for the client is hardly differentiation.  BMW and Mercedes Benz do not brand themselves on "Our cars have engines!"  Pick something above and beyond the baseline as the brand differentiator.
At the same time, each and every person is unique; if you are authentically human, then, you cannot help but be differentiated.  Plus, it's really hard to keep up a facade all the time.
Social media does not change the rules of branding.  It is but one of the channels of branding, albeit an important one.
A good deal of the explanation and articulation dealt with these basic observations.
Far too many people believe that a brand is something like "the design of our logo".  Or the colors on the yard signs.  Without denigrating design or color schemes, those mean nothing unless they represent the core brand promise: both the implied baseline promises of competence/quality, as well as the explicit differentiated brand proposition.
I used the example of "Service with a Smile" quite a bit during the session.  If your brand promise is "Service with a Smile", then your card had better be smiling in some way.  Your receptionist had best be smiling when she answers the phone.  Your flyers has to have a smiley face on it or something.  And your social media efforts have to be "smiling" in tone and content.  It goes without saying that all of your agents have to be a bunch of smiling people.
Social Media Branding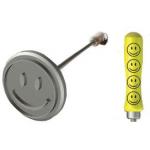 What I should have spent more time on in Orange County was some of the specific issues with social media and branding.
If we accept the idea that brand is a promise, then social media is a powerful channel for branding.  In many ways, it represents a way to keep promises.  For example, Zappos uses social media to provide customer service; the very usage of things like Twitter to provide customer service is keeping the brand promise of superior service.  This is branding by doing, and is no different than when a human being provides excellent service to a customer, thereby fulfilling the promise.
Second, social media provides an excellent channel to talk about the brand promise and how you're keeping it.  Did you have an angry customer call you today, but you dealt with the situation pleasantly, providing that service with a smile which your brand promises?  Blog about it.  Put up a video on YouTube.  Twitter them out.  Social media can and should be used to talk about yourself, even if that means (horrors!) talking about work.  We're all human beings, and our jobs are part of who we are.
Third, it is my belief that social media makes for a pretty poor channel for lead generation in inverse proportion to how good it is for branding.  Some of the folks out there in Expert Land tend to suggest that social media is a powerful lead generation tool.  I don't buy it.
For example, here's a post advising agents to "go where the fish are" that says:
Tip #2. DIVE INTO SOCIAL MEDIA

It is ridiculous that agents are crying for leads and business when social media is so easy. Only 33% of you try it. Of that 33% very few actually connect with their new found contacts. You have the whole world to connect to! Someone is looking for the very house you are marketing.
I suppose there isn't anything harmful about saying that social media is a powerful marketing channel; it is.  There is, however, something suspect about thinking of social media as this sort of a fishing pond.  As Todd Carpenter (@tcar), the Social Media Manager of NAR, likes to say in presentations, "No one is going on Facebook to search for a house."
Other suggestions like, "Make sure you tweet your listings", are dubious at best, and positively harmful at worst.  Spamming a "permission-only" environment like Twitter or Facebook is a pretty good way to get that permission removed (aka, unfollowed in a hurry).
Someone may be looking for the very house you are marketing, but I find it a dubious assertion at best, requiring quite a bit of evidence to back up, to say that someone is looking via social media for the very house you are marketing.
But I Get Leads Off Twitter!
The standard response from some quarters is that they generate leads off of social media, so, Rob, you don't know what yer talkin' about chief.  Without denying that I may in fact know nothing, I want to point out that branding drives leads.  That's the reason to engage in branding after all.  Consumers by the hundreds walk into BMW dealerships every day without ever having been "reached" with a lead generation effort, because the branding of BMW was so effective in creating the desire to buy one.
That ain't no reason to use your branding channel for lead generation.  If anything, that's a reason to keep your branding channel as a branding channel, and to make sure that you're delivering on your brand promise through that channel.
A buyer might read your blog post about your local neighborhood and click on the "Contact Me, I'm A Realtor" button.  That's wonderful — congratulations.  What you've done is effective branding of yourself as a professional worthy of consideration.  That doesn't mean you should now start to push "calls to action" in your blog.  Such crass commercialism has a tendency to corrupt the brand itself:
Even if I had wanted to buy a Honda before watching that ad, afterwards, I think less of Honda itself even while knowing that Honda corporate isn't responsible for such embarrassing advertising.
This Whole Post in Three Bullet Points
We could go on and on I suppose, but let's wrap up with the entire post essentially summarized into three bullet points.
Brand is a promise; make it and deliver on it.
Social media is a powerful branding channel.
Do lead generation where you brand at your own peril.
-rsh