A relatively brief post today, as I'm still trying to catch up from being on the road so much. Plus, I realized that I've been writing about Big Heavy Topics lately, and thought it'd be fun to talk a bit about marketing. Believe it or not, when I started this blog in 2009, my focus was to talk about marketing. Somehow, things went heavy into government policies, MLS, etc. etc.
Last week, I was blessed with the opportunity to moderate a panel of some of the top brokers and managers in Florida at the Orlando Regional REALTOR Association Broker Summit. It was a blast, but we ended up touching on marketing, and I couldn't help interjecting my opinion into the proceedings, which I normally try to avoid like crazy when I'm moderating. Based on that brief exchange, I realized it's maybe time to think in a deeper, more fundamental way about how real estate agents and brokers market themselves.
Bottomline: Maybe it's time for real estate brokers and agents to stop talking about themselves so much?
Let's dive in.
All Conversations in Real Estate Start or End with Zillow: The Context
Let me set the context. I can't remember the exact question from the audience, but it had something to do with how Zillow was the evil empire and so on. The panelists on stage were actually fairly divided on the issue, as some felt that Zillow was making money off the agent's back, while others felt that however we got to where we are today, it is what it is, and they're serving their seller clients by advertising on Zillow.
But the conversation took an interesting turn as we discussed how/why Zillow won the consumer over. I thought that part of the reason was in how Zillow markets itself. Take a look at one of their extremely effective TV commercials:
I remember telling Amy Bohutinsky, then CMO of Zillow, "Why you gotta try and make me cry all the time with your commercials?" If this didn't at least make your eye twinge a bit, I worry about you. But go ahead and look through all of Zillow's commercials from the very first one. You'll see the heavy dose of emotion throughout, and one other very important thing as well. (More below.)
Now, take a look at an older commercial from REMAX (although it is New Zealand, so there's that… but it's what I found, heh):
(To be fair, the more recent REMAX commercials, from America, take a different approach, as we'll see below.)
Finally, while it's not a big national company with millions in advertising budget, take a look at what is all-too-familiar from a local real estate brokerage:
What's the difference between the Zillow commercial and the other two?
Simply put, the Zillow commercial is (and has always been) all about the consumer. Real estate company commercials are (and has always been) all about themselves.
The phenomenon is even worse when it comes to individual real estate agent marketing. Here are a few examples I pulled off of Google just now: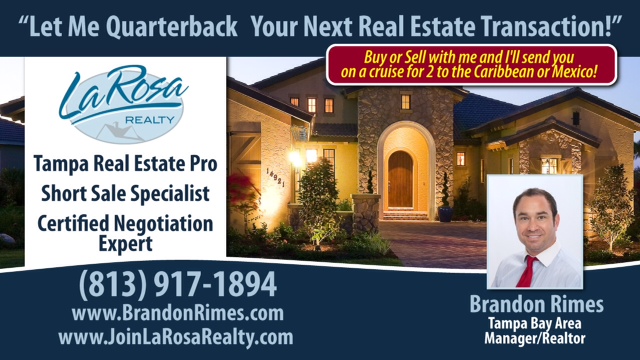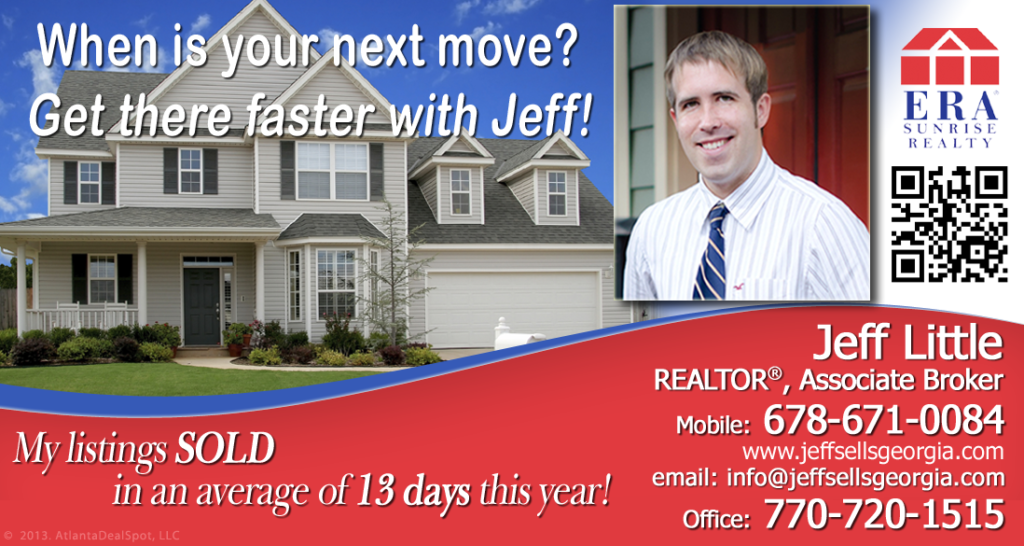 Honestly, I could go on and on, but I know all of you can come up with a hundred examples of Realtor marketing that is more or less the same as the above. I mean, the bottom image looks like a business card. And we've often discussed in the industry why real estate agents are the *only* "profession" who insist on putting their picture on the card.
In fact, I have a question for my friends at Nexthome. They have some of the sexiest branding/marketing in the industry, having hired a serious heavy hitter in Pentagram. Take a look: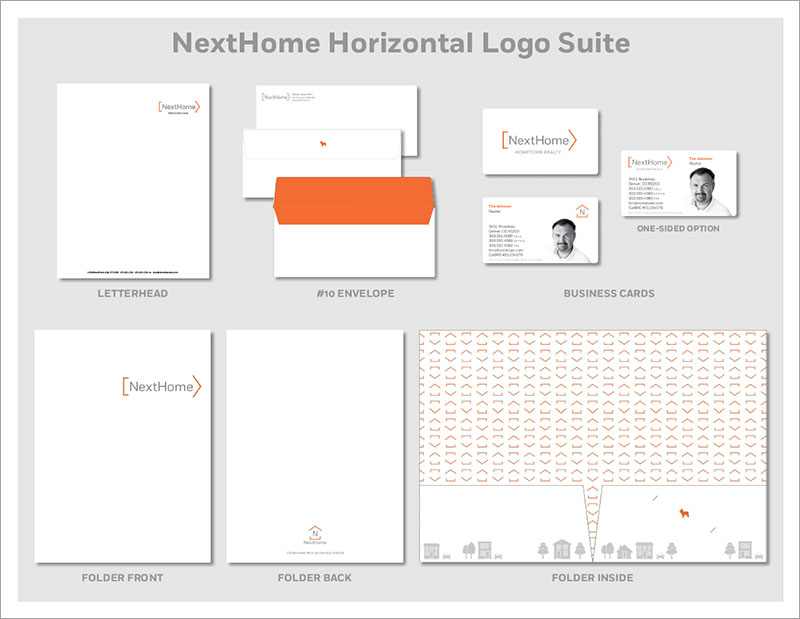 What I'm curious about is whether the world class designers at Pentagram thought it was weird to have headshot photos on the business cards. 🙂 James? Christine? Any comment on that?
In any event, I can pull up some brokerage websites as well, or agent brochures, or full-page magazine ads, or whatever else. The common theme to all of them is that the ads are about the real estate company or the real estate agent.
Deeper Still: The Listing Presentation
But we could go even a step deeper. As most of you know, I'm the co-founder of Hear It Direct. I've helped organize panel after panel of consumers, talking about their experiences directly to real estate professionals in quite a few cities.
In one of the most influential sessions, a seller said something along the lines of, "I don't really care about your fancy listing presentation with all of your stuff; I assume you know what you're doing, or I wouldn't have called you in the first place." That directly led to my co-founder, Sue Adler, a top real estate agent in New Jersey, to ditch the listing presentation. And her success rate with listing appointments went up. Maybe she'll come on and comment about her experience.
And my SO, Linsey Ehle, is the Career Development Coach for the largest office of the largest brokerage in Houston: BHG Gary Greene. She and I have talked time and again about listing presentations, what works, and what doesn't.
What's interesting to me is that the "default" listing presentation is, once again, all about the agent and the brokerage. Take a look at this "Sample Listing Presentation":
The first four slides are about the agent. Her picture. Her bio. Her recent sales. Her awards. The seller has now spent the first five minutes sitting there listening to the agent brag about herself.
Is this effective?
Then the next seven slides are about pricing and the market and the home. Then we wrap up with 11 slides about the "marketing plan".
Not one of the slides is about the seller. Not one.
Now, to be fair, maybe the agent already had the conversation about the seller, their motivations, timelines, all of that, but… then that makes me ask the question: Why do you need to bore me with a 23-slide presentation about things that I already assume about you, seeing as how I invited you into my home to talk about listing it for sale?
Imagine if the listing presentation were, like a Zillow commercial, all about the seller. I know Linsey tries to train her agents to make it all about the seller, their motivations, their pricing, their home, etc. etc. I know Sue has had experiences walking into a listing appointment, having a 15 minute conversation, never once opening the laptop, and walking out with a signed agreement… because the entire conversation was about the seller.
Wouldn't that be more effective?
The Big Picture Question
I wonder in the big picture whether it's not high time for real estate companies and agents to really shift their philosophy of marketing. For a hundred years, it seems that real estate marketing has been all about "ME ME ME" and so very little about "THEM THEM THEM". That seems odd for an industry that is premised on fiduciary responsibility and client service.
Zillow comes along and makes its entire campaign about the consumer: their hopes and dreams, their experiences, their life stories. And it resonates with people in ways that no real estate company advertising ever has.
The good news is that the sophisticated marketers in real estate are learning the lesson. Remember that REMAX commercial above? Well, here's their latest:
Still a bit heavy on the "you need a guide" and "with a REMAX agent" but still, the philosophy is far better. As a consumer, I'd much prefer this focus on me with a touch of the REMAX agent. It's a huge improvement.
And then you have the pioneer for real estate companies, Coldwell Banker. More than anybody else, CB understood the need to shift the philosophy, at least for television.
Here was Coldwell Banker's commercial in 2010:
Egads. Ugh. I got in trouble with my never-shall-be-named bosses because I disliked the campaign and said so in a blogpost.
Well, in 2012, Coldwell Banker abandoned the "all about us" philosophy, hired Tom Selleck as the voiceover guy, and started an extremely effective set of commercials:
The Coldwell Banker campaign actually predates the first Zillow TV commercial in September of 2012. I'd say that makes CB the pioneer.
But it hasn't filtered throughout the entire marketing philosophy just yet: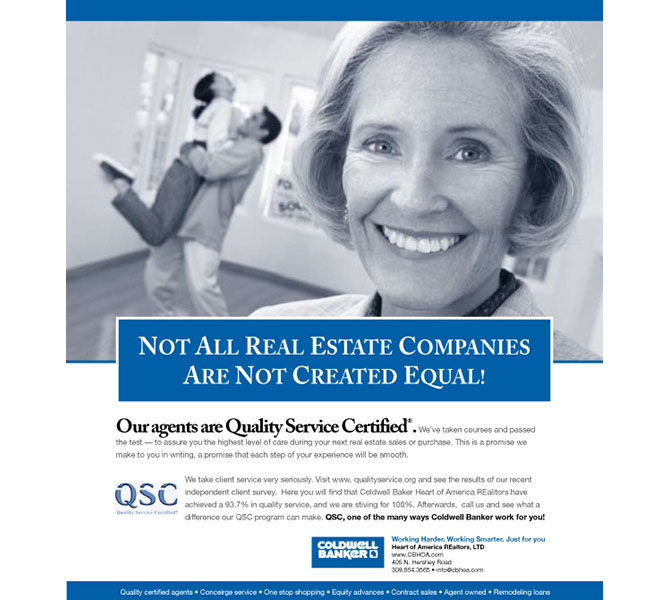 I do understand that there is a need to differentiate for brokerages and real estate brands. There is a place for telling consumers why they should choose brand X over brand Y, or choose us over the other guy.  I'll say this… it would be a fascinating assignment as a marketer to figure out how to do that differentiation while keeping the consumer foremost in all of the branding and marketing. How to differentiate, while keeping the overall philosophy all about them, them, them.
Finally, Social Media…
I don't have a whole lot to say here, because I've been making this point since… oh… 2009? For as long as I can remember?
Social media "marketing" is often mis-used by real estate professionals, because their fundamental philosophy is ME ME ME. They want to talk about themselves, their accomplishments, and even post their listings on Facebook.
My social media strategy can be summed up in one sentence:
Get THEM to talk about you on THEIR social media platforms.
The only way to do this, of course, is for you to deliver an amazing consumer experience, or for you to be interesting and valuable and funny and personable and so on and so forth. And since the old adage is "Interested is interesting"… well, you get the picture.
Make it about them, and your so-called "social media marketing" shall pay dividends. Again, this is about the philosophy of marketing.
Time to Change
We can go on and on about this topic, actually, but let's wrap it up. I think it's high time for marketers in real estate companies, for brokers, and for individual agents to really think long and hard about their philosophy of marketing. Think really hard about your focus, your stance, your "lean" if you will: is it about THEM or about YOU? Look at your website: is it about THEM, or about YOU? Look at your business card, your brochures, your signs, your everything and ask that question over and over again: About Them, or About Us?
If the latter, well, in the social age, in the Internet era, I'm not sure if that's as effective. I think it's time to change.
Your thoughts and comments are particularly welcome on this one, since y'all are the best informed audience in real estate, with far more hands-on experience with marketing/advertising real estate services. What do you think?
-rsh