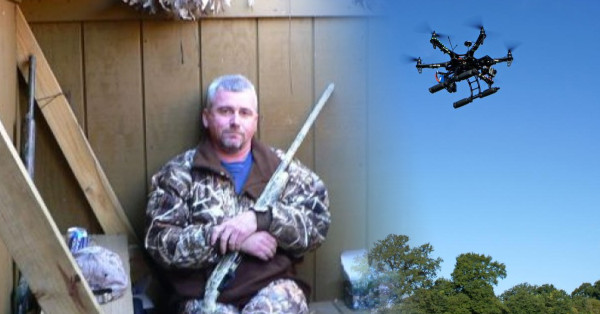 It's been a busy few days, so blogging has been very light. But I wanted to do a fun post about a fun (yet serious) topic that caught my eye. From the Washington Post comes this story of a man who shot down a drone in his backyard:
William Merideth had just finished grilling dinner for his family when he saw a drone hovering over his land. So he did what he said any Kentuckian might do — he grabbed his Benelli M1 Super 90 shotgun, took aim and unleashed three rounds of birdshot.
Read the whole thing, because as semi-amusing as the situation is ("Look, it's a drone! Let me get my shotgun!"), there is a serious property rights angle to the story. Let's get into it.
Can You Shoot Down a Drone Over Your Own Backyard?
Let's just assume that there are no laws against discharging a firearm within city limits, or within the HOA, or whatever. Like Merideth, maybe you live on a farm far enough away from any such laws/regulations.
You come out into your backyard (your very large backyard) and see a drone hovering about 50 feet in the air. Can you shoot it down?
On the one hand, it seems obvious that you should be able to. It's your property, the drone is intruding on it, you don't know what it's doing there, and you should have every right to take your shotgun and play skeet/trap.
On the other hand, well, there's this pissed off drone owner who just saw his expensive toy (some drones are in the thousands of dollars) get blown to smithereens. In this case, it's a Mr. John Boggs, who sued Merideth for becoming Drone Commander (without the huge beard). But the grounds for his lawsuit is what is so interesting:
John Boggs, a hobbyist, who told authorities he was trying to take pictures of the scenery. He argues in a lawsuit filed this month in U.S. District Court in Louisville that Merideth did not have the right to shoot the craft down because the government controls every inch of airspace in America. [Emphasis mine]
Hey there! What's that now? So here's the property rights issue charging into the situation like a Predator drone on crack.
Airspace Property Rights
It turns out, the law is really murky in this area. Washington Post again:
According to the Federal Aviation Administration, every inch above the tip of your grass blades is the government's jurisdiction. "The FAA is responsible for the safety and management of U.S. airspace from the ground up," said an agency spokesman, echoing rules laid out on its website.

But common law long held that landowners' rights went "all the way to Heaven." And today, it's clear that they have some rights.
Common law, that Anglo-American tradition of long-held community wisdom, kinda fits with common sense (which is in rather short supply these days, true, but…) in that it arises out of human experience over years and years.
For example, as WaPo points out, developers in big cities like New York routinely sell air rights above their building for millions of dollars. And if your neighbor's tree grows over your backyard, you can cut down the offending limb. One imagines that if your neighbor erected a giant billboard that hangs over your backyard, you probably could sue to get that crap removed.
The FAA's claim, that it has jurisdiction over the airspace "from the ground up" is absurd and definitely demolishes private property rights. In theory, if the FAA's claim is correct, it could regulate how I walk around my backyard, since my nose is way above ground level. Well, by "way above" I mean between 5 and 6 feet off the ground, depending on the size of the heels on my boots, and whether I'm on a pogo stick or not. But it is clearly in federal airspace.
Similarly, if I put up a trampoline, I'm most definitely intruding into federal airspace. Or a clothesline. Or a backyard volleyball net.
That simply cannot be the rule. Some amount of airspace above the ground, which I own, has to be mine. I have to have private property rights to it.
At the same time, common law is surely wrong in our technological age as well. "All the way to Heaven" doesn't work when commercial airplanes are flying 30,000 feet overhead, and cellphone signals are infusing the sky over my house. Nobody is going to let me build a laser fence that extends infinitely into the sky burning down everything that crosses my property lines. (Although if they would… hmm….)
NAR and REALTORS Should Be All Over This
Because of that property rights angle, I think NAR and REALTORS should be all over this issue. NAR has been dealing with the issue of drones for a couple of years now, but all of it is from the perspective of REALTORS using drones to take aerial photography of properties. Take a look for yourself.
But with the Merideth case, and the FAA's surprising claim that it pretty much owns the airspace from the ground up, I think it's time for REALTORS to get engaged on that side of the issue. First and foremost, NAR probably should weigh in on the FAA declaration and smack that down. The FAA cannot be allowed to assert jurisdiction over airspace "from the ground up" as that kills private property rights.
But second, and more interestingly, the industry should come up with some proposals for delineating where private property airspace ends, and provide some answers for a few  of the related questions as well. For example:
Just how much of the airspace above a property do I get when I purchase it? 100 feet? 200?
Where does that airspace start? Is it at the highest point of the roof? Is it at the highest point of the property? (Think chimneys, TV antennas and the like)
If I built a single story house that happened to have a 200-feet flagpole on the roof, where does airspace begin?
Does airspace-as-private-property imply that there are limits to how tall a building may be built without FAA approval? Large cities with their skyscrapers probably have local ordinances that deal with such issues, but what about a farmer who wants to build a very tall silo? What then?
Can that airspace be bought and sold? So if I don't want my neighbors building over two stories, because I plan on building a four story mansion with commanding views of the subdivision, could I buy their airspace above say 25-feet?
If I sold the airspace above my house past that 25-feet line, how much would that reduce the value of my house?
Could there be adverse possession of airspace?
I know, it seems silly on the one hand. But fun as hell to come up with questions and scenarios. I invite you all, the most informed readers in real estate, to submit your own.
But on the other hand, this is serious business. It does impact private property rights, which is (supposedly) the single biggest issue for NAR. It is why REALTORS are REALTORS, instead of just licensees. You know, the Preamble to the Code of Ethics and all that.
Speaking of the Preamble, should it be changed to start "Under all is the land and 200-feet of airspace above it…?"
-rsh