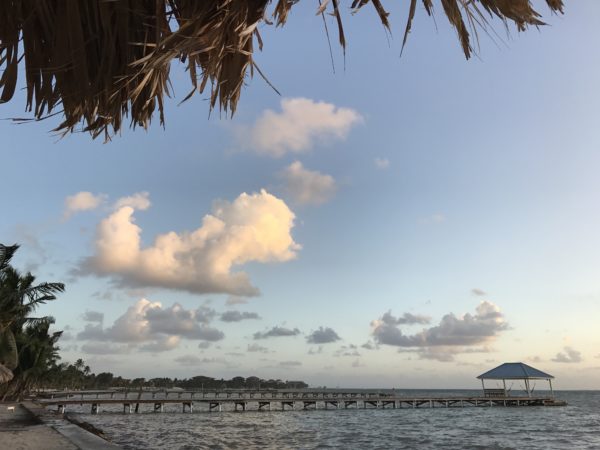 Blogging, social media, and work activities have been at an all time low. Big part of the reason is that the above is my view right now, except that you can't see the turquoise waters of the Caribbean glistening like a carpet of gems…. So yeah, getting on the ye olde laptop is not real high on my list of priorities. Plus, I'm procrastinating from Big Picture Think stuff I have to do… I'll get around to those at some point.
But the recent Inman News feature naming the Person of the Year is not something I can just wait a week to talk about. So let's do that.
A few notes before we begin:
I love Brad for all that he does, for his insights, for his commitment to the industry. He's definitely one of the good guys, and I'm proud to be a part of his media empire from time to time.
Brad's people at Inman, from Amber Taufen on down, are all good people with good intentions and good judgment (most of the time) and I respect the hell out of all of them.
As a sign I saw recently said, drinking rum before noon doesn't make you an alcoholic; it makes you a pirate. Nonetheless, the three or four rum punches that went down the hatch making me a pirate may be in full effect right this minute.
There may also be a real question about sunstroke at play here given my activities for the past three hours or so.
Having said that, let's get into it.
I get where Brad is coming from. He wants to acknowledge the "unwavering optimism, fortitude and determination" of the average REALTOR. He wants to let his readers in the industry recognize their importance. I get that.
But by naming the average REALTOR as the Person of the Year, Brad and Inman News exacerbate one of the great problems of the real estate industry: the soft bigotry of low expectations. It is clear now, and becoming clearer by the day, that until and unless we address this problem, all other problems cannot actually be solved adequately.
The Panegyric to the Everyday REALTOR
Brad opens his piece by describing a conversation with his wife, Yaz, in which she explained that her more-than-usual perkiness was her channeling the "REALTOR confidence" persona of charm and engagement. He then goes on:
It was a well-deserved compliment to the average Realtor who must constantly remain vibrant and present to make it in a tough and evolving business.

Despite the changes wreaking havoc on other parts of the industry, the everyday agent has remained central to the transaction. Nearly 90 percent of consumers rely on one when buying or selling a house, and despite robots, mega-portals and new software, they will be around for a long time to come.

In part, their persistence and determination has saved them from disruption.

That's why Inman wants to honor the Everyday Realtor as our Person of the Year.
He continues, perhaps thinking of Yours Truly:
Oddly, cynical consultants, associations execs, tech entrepreneurs and brokers will often poke fun at the characters in the real estate agent community. Incredulous. Consider, it is agents who indirectly fund most of the corporate salaries, their perks, business travels and excesses.

The fat cats should be on their knees with gratitude.  The paid staffers are not working weekends, nights and even, at times, holidays. Eight days a week with a smile.
Perhaps the fat cats should be on their knees with gratitude. And speaking as a "cynical consultant", I can say that I'm quite often on my knees with gratitude… but not to the Everyday REALTOR. In fact, this particular cynical consultant is of the opinion that the fat cats ought to be cloistered with their priest, rabbi, or other spiritual advisor begging for forgiveness from God, Allah, Buddha, Mother Gaea, St. Hillary, or whoever their personal deity is, for their role in the continuing Original Sin of real estate: the soft bigotry of low expectations.
The Truth About the Average REALTOR
It is now going on 19 months since NAR published the DANGER Report. The A1 problem identified in that report:

This isn't my cynical ass being cynical. This is the national trade group of all REALTORS, made up of REALTORS, being honest about the single biggest problem in the industry.
Further facts to chew on, from the 2015 NAR Member Profile:
I'm not a mathematician, but that means the average REALTOR made $16.95 per hour assuming a 40-hour workweek and 50 weeks of work. That's better than minimum wage, unless you live in Seattle, but for your reference, here's a list of jobs that pay $17-20 per hour, which includes:
Benefits Specialist
Seasonal Electronic Sales
House Cleaners & Maids
Supervisor, Front Desk/Guest Services; and
Nanny
Then we have this fun fact: the response rate to Calls for Action for members of an Association whose core mission is political advocacy to protect private property rights and homeownership was 18.3% in 2015, 5.5% in 2014, and 12.8% in 2013.
Do we need to rehash again how many a REALTOR today would be a hairdresser, except that they couldn't deal with the education requirements and the much higher continuing education requirements of that industry, so they picked the one with the lowest possible barrier to entry that nonetheless requires a license?
Brad is factually incorrect that Association Execs and Brokers, nevermind cynical consultant types, "poke fun" at the characters in the real estate agent ranks. One cannot honestly describe what they do as poking fun. It is closer to a combination of weeping while drinking rage-filled tequila shots through tightly clenched teeth in order to forget the soul-wrenching pain of having to deal with the sheer stupidity, ignorance, corruption, unvarnished greed, and resistance to learning among the characters in the real estate agent ranks. We should recognize the strength of human spirit in the fact that more brokers and managers and Association Executives are not full-blown alcoholics and meth addicts given what their daily lives are actually like.
The idea that the "average" real estate agent is occasionally being pushy or cheesy because of their dedication to helping people buy and sell homes is laughable on its face for anyone who has any experience with the "average" real estate agent. Those unfortunate souls on the front line of the war against incompetence recognize that the average, everyday agent cares nothing whatsoever about helping anyone buy and sell homes: they only care about the commission check, which they believe should fall from the sky like manna with no work on their part.
Fuck that. In fact, fuck the average real estate agent. They are nothing more than parasites on the most important transaction of a family's life.
Who we should be praising, recognizing, and acknowledging for their dedication are not the average REALTORS but the superior REALTOR. They are the men and women who actually give a shit and show it every single day, swimming against the current that rewards quantity over quality, rewards shortcuts over conscientiousness, and unethical bullshit over abiding by both the spirit and the letter of the Code of Ethics.
In Praise of Elitism in the Real Estate Industry
I have been fortunate enough in my career to associate mostly with these superior REALTORS. Their superiority doesn't come from the numbers-game of production figures, although many are top producers. It doesn't come from the size of their commission checks, though many earn incredible amounts of money. And some of them are occasionally pushy and cheesy.
But every single one of these individuals I have met share one thing in common: a genuine, heartfelt concern for their clients and their communities.
Their charm, liveliness and engagement are rooted in that core concern for other human beings… quite unlike the fake used-car salesman charm and "engagement" based around commission checks of the "average" REALTOR.
These are the REALTORS who would advise a client not to buy, because the timing isn't right, even though they could use the $30,000 commission check. They're the ones who would risk losing a listing by telling the client the truth about the market, instead of making inflated promises just to get yet-another-yard-sign with their name on it. They're the ones who show up at Association committee meetings, suffering through hours upon hours of boredom, because they genuinely give a shit about the mission of the Association: advocacy for homeowners and professionalism of the industry. They're the ones who choose to write a check to RPAC, instead of buying a new flatscreen TV for their den.
They're not always right, they make mistakes, and they have their prejudices and misconceptions. But they really, really give a shit. And that makes all the difference.
They don't sit back and say, "I already know everything there is to know about real estate." They are constantly learning, constantly seeking to improve, not just for a bigger paycheck but because they know that properly serving their clients is impossible with continual improvement. They don't reflexively resist change saying "that's the way we've always done it" because they recognize that they need to investigate everything that helps them serve their clients. They might not know every single jot and tittle of the Code of Ethics with all of the Standards of Practice, but they have internalized the spirit of the Code: fair play, transparency, duty to consumers, duty to one another. And they live it every day, with every transaction, every interaction, every communication.
These superior REALTORS are the ones who aren't satisfied with just churning out some automated CMA for a client. They know and want to know and want to keep learning what's special about their neighborhoods, their markets, their cities so their clients have the very best advice they can offer. They use technology to make their operations more efficient, but they do not use technology as a crutch to avoid learning and polishing the core skills and knowledge they need as an advisor, a confidant, a project manager, and a psychologist.
They bring value every day, to every transaction, that no computer algorithm ever could. They don't worry about being replaced by some bot, some AI, by Zillow, by whatever-else-is-coming because they recognize that real estate isn't about homes and properties and data and analytics but about families and human beings wanting to achieve a better life.
These are the elites of the real estate agent community. And they have their counterparts in the brokerage space. Although it would be far easier to just become a headcount-pimp turning a blind eye to incompetence, lack of ethics, lack of standards just to get that monthly desk fee, there are those brokers and managers who let go of top producers who don't measure up. There are those who choose to demand excellence, demand ethical behavior, demand that agents give a crap about their clients — then back up the demands with training, guidance, coaching, encouragement, and discipline. Those brokers leave money on the table every single day, but they do it anyhow because they realize their profession isn't to warehouse average agents, but to produce superior REALTORS.
These men and women are the ones the fat cats ought to be down on their knees thanking every day. They are the reason I continue to work in this crazy industry; it sure ain't the average REALTOR, I'll tell you that.
The expectations are high to join the ranks of these individuals. Sure, the state will give you a license with minimal education and preparation. Sure, the REALTOR Associations will make you a "member" if you can fog a mirror and pay the dues. But to be one of these Elite REALTORS requires far, far more.
Let us praise these extraordinary men and women, not the average, everyday real estate agent who we know to be a problem, not a solution, to the woes of our industry. If we're going to name anyone as a Person of the Year, let it be those that the average can look up to for inspiration, not the masses of marginal agents who threaten the credibility of the industry.
Guess some of you might hate me for these opinions. I'm cool with that, because that puts you on the side of the crappy average REALTOR who bring shame on the industry. I'll side with the elites, the superior real estate agent and broker, the ones who give a damn about the consumer, about their clients, about their communities, about the industry. It is only when their example of excellence becomes the expectation for everyone in the real estate industry that we'll start to find solutions to some of our thorniest problems.
The soft bigotry of low expectations is a sickness. We must fight it. And the first step to solving any problem is to recognize that we have a problem. Let it begin.
-rsh