The December Red Dot, Darkness Comes: Q3 and the Rise of Redfin, is now published and live. I'm pretty proud of it, but I thought I would write this post because I think this report might actually be important.
If you are in real estate, or interested in the industry, if you read nothing else this year, I'd like to encourage you to read this one. What came out of Q3 earnings was an embarrassment of riches for analysts. Both Zillow and Redfin made major announcements that will profoundly impact the industry going forward. But Redfin… Redfin announced that it will try to bring the darkness.
In fact, I feel strongly enough about this that I'm going to offer a Twelve Days of Christmas Flash Sale on the December Red Dot: $150 off the price, with the coupon code DarknessComes2018. Just add it to the cart and it should automatically take $150 off. The coupon is good for 12 days, and expires on 12/16/18. (For current subscribers, that means you can give a copy of the December Red Dot to your friends, colleagues, attorneys and advisors for $50 each — a wonderful Christmas gift!)
Having said that, I wanted to provide a couple of excerpts to this report which I think is so important and discuss it a bit.
(Excerpt) Zillow: From Vendor to Player
It is difficult to avoid hyperbole when talking about Zillow's moves in Q3. Sober Wall Street analysts couldn't do it, as Jim Cramer called Zillow a "land mine" and Marc Chaikin of Chaikin Analytics called the company's business model "ridiculous." Zillow's stock took a nose dive immediately afterwards, of roughly 20%.
Yet, even from my perspective as an industry analyst unconcerned with the ups and downs of the stock market, it is proving impossible to avoid hyperbole.
In short, what Zillow has done is to bet the company on an important strategy, which it has hinted at in recent earnings calls but has contemplated for years. We could call it Premier Agent 4.1, but it encompasses so much more. In includes the new Best of Zillow, which has underlying it the all-important Consumer Experience Report. It includes the Zillow Homes strategy, which includes Zillow's foray into mortgage lending via Mortgage Lenders of America. It includes Zillow Flex, which goes back on years of policy and public promises not to take referral payments.
This is a big risk. And investors are likely smart to take the risks into account. But taken together, these moves represent nothing short of standing up and asserting that it controls the American real estate industry.
I view Q3 as the culmination of a number of trends, a number of predictions, over the course of years. It confirms a number of thoughts from the June Report, when we dived deep into the Q1 announcements, and expands on them in a way I did not see coming this soon. The shape of things to come from Q1 are beginning to become clearer, as if the mist is starting to lift.
Given how careful Zillow's management is about making sure that the data from surveys, beta tests and trial balloons supports major decisions, I can only surmise that their confidence in making these moves is indeed confidence, rather than hubris.
…
Zillow Has a Living Brand
At the same time, Zillow has a living consumer brand. By "living" I mean that the brand actually matters to consumers, and the brand can be enforced.
In a lengthy blogpost after Zillow's PA4 announcement, I noted something interesting from a podcast from Ryan Lazine, a Premier Agent who attended an information session in which top producers were briefed on PA4 by Greg Schwartz.
It turns out that 50% of consumers who fill out a lead form on Zillow thinks that they are contacting Zillow.
Zillow's decision to undertake PA4 can actually be justified solely on the ground of defending Zillow's consumer brand. 51% non-response rate from Premier Agents (as cited by Spencer Rascoff above) means that almost 25% of consumers think that they are contacting Zillow and not getting a response. That is unacceptable to any company that gives a damn about its brand.
CSAT and Best of Zillow naturally flow from the need to defend Zillow's consumer brand. And those provide Zillow with the ability to enforce its brand promise.
In contrast, brokerages not named Redfin have a dead brand, in that their brands do not matter to consumers and the brand promises cannot be enforced due to the fact that their agents are not partners or coworkers, but customers. Indeed, brokerages have industry-focused brands that might or might not be meaningful to real estate agents, but are certainly irrelevant to consumers.
Interestingly enough, agent teams often have living brands, as most teams arise out of a superior individual agent's network and efforts. Quite literally in many cases, that agent's name is at stake when the team works with a client. Accordingly, the teams enforce their living consumer brands on their team members.
How? At the end of the day, the agent team controls the flow of leads and access to technology and systems for making money.
So does Zillow.
Zillow Is Transforming into a Team of Teams
Taken together, this means that Zillow is not transforming into a brokerage but into an agent team. Perhaps put more precisely, it is transforming into a Team of Teams.
That is an ever-so-slight difference from Bradley Safalow's take, but it is an important distinction.
For one thing, the expected margin erosion that Safalow predicts may not necessarily come to pass because Zillow is not a brokerage in all but name, but a super Team of Teams in all but name.
Agent teams normally command 50/50 splits (or better!) with the agents on the team because the team provides Leads and Technology. That's not quite Zillow's astonishing 89% gross margin numbers, but it isn't in the same league as margin problems of brokerages.
What it means in the short to medium term, strategically, is that Zillow and Redfin are converging. In the long run, it merely means that both are continuing their march towards the Iron Throne: becoming the Real Estate Platform.
Zillow Asserts its Power
For investors, all of this uncertainty is worrisome. And Zillow's share prices have taken a nosedive since the Q3 earnings release. Tons of people are talking about it, thinking about it, and making ginormous bets based on where they think Zillow is going from a financial/investment perspective.
As you know by now, we're going to take a different slant. If it ends up informing investment decisions, well, so be it, but that isn't what we do here, so it isn't what jumps out at us.
What does jump out at us looking at everything at a strategic level is that Q3/2018 is when we can truly say that Zillow has finally taken a stand and asserted its power in (and possibly over) the real estate industry in the United States.
Take the PA4 initiative. Yes, Zillow had to change its mind and go to 4.1, in which it would send the non-validated leads to agent teams who ask for them. But the fact remains that Zillow has decided, for a number of good reasons, to be the initial point of contact for the millions of consumers who inquire about a house.
In the June Red Dot, I talked about "The Home Depot Effect" and wrote:
Going forward, Zillow becomes not just the website where the buyer shopped for a house, found the house, and found the "installer" who helped him buy the house, but also the company that (a) responded quickly to his inquiry, and (b) maintained an ongoing dialogue, qualifying his ability to purchase, interests, necessary criteria, etc. until he was ready to purchase. At that point, Zillow hands him off – in a warm-handoff phone call – to a local real estate agent who can help him tour the homes, and help him through the purchase process.

The relationship of the buyer is not to the agent, or to the broker, but to Zillow.

Throughout this transformation, perhaps nothing transforms more than the relationship between Zillow and the Premier Agent.

Today, the Premier Agent is an advertiser on Zillow. For a certain amount of money, Zillow promises a certain number of impressions (CPM-based pricing) of that Premier Agent.

Tomorrow, the Premier Agent becomes something far closer to the windows installer for HomeDepot.
Well, that tomorrow was only two quarters away.
The true significance of this pivot is that Zillow felt confident enough to make it in the first place. The pivot was not without significant risks.
There was a nontrivial chance that Premier Agents would have balked at going from an advertiser on Zillow to something more like a local service provider to Zillow's clients.
There was a decent chance that brokers and agents would have responded to Zillow Flex with rebellion. Brokerages could have responded by cutting off listings to Zillow en masse. Agents could have rebelled by terminating their Premier Agent contracts. Neither has happened. Zillow looked at the data, talked to whomever they needed to talk to, and decided that the revolt would be small and manageable.
Similarly, the new CSAT and Best of Zillow programs carried a huge element of risk. It was not a given that Premier Agents would accept being "graded" by Zillow and being told whether they were good enough or not.
Once again, Zillow decided to take the risk.
The entire pivot is an assertion of power, of Zillow standing up and declaring that they have arrived, and the industry had better deal with it. Sure, Zillow takes on some additional market risks, but its management obviously feels that they can do just that.
It's a subtle change, and one that is hard to see from outside the industry, but in effect, Zillow's relationship to the industry is forever altered. Zillow is no longer a vendor, but a central player in the transaction cycle.
(Excerpt) The Rise of Redfin
For most of its history, apart from a couple of turbulent years right at its birth, Redfin has been content to fly beneath the radar. Despite being a Top 5 brokerage by transactions and by volume, Redfin didn't report to industry reports like Real Trends 500. Redfin was happy to let the industry think that it was just a weird little venture-backed money-losing brokerage with a nice website for over a decade.
No more. That all stops when Redfin starts dropping $60 million in advertising in 20 major metro markets, especially with its low-cost appeal. The "1% Listing Fee" will be prominent, unless the market changes enough to be a buyer's market, in which case the messaging will likely focus on how much money buyers will save by using Redfin agents.
Just like Zillow's moves in Q3 represent Zillow taking a stand and asserting power, with full confidence in its abilities, I regard Redfin's coming out of the shadows as a sign that it is now utterly confident that the industry can do very little to truly harm them.
Indeed, it's quite the other way around. Redfin may be powerful enough now to start inflicting real pain on the industry.
Pressuring the Commission
The real potential for disruption from Redfin is that it will be able to permanently alter the commission environment in the United States. Once changed, that environment will prove extraordinarily difficult to change back.
One of the more interesting takeaways from Bradley Safalow's work at PAA Research is the conclusion he reaches that no company in real estate has gained more consumer mindshare in the last few years than has Redfin. And he observes, "Redfin has achieved these mindshare gains with limited marketing spend. What happens when the company advertises its 1% listing fee on a national basis?"
Safalow is careful not to be dramatic:
Redfin could present a deflationary force on agent commissions. Zillow's Premier Agent revenues are inextricably linked to the current commission structure in the industry. [Emphasis in original]
Since I don't have to be as careful, not being an investment analyst, let me be more clear: Redfin will put pressure on commissions once it starts mass advertising its low-cost offerings.
This is neither surprising nor a way-out-there claim. It's obvious.
Bloomberg recently reported on massive discounts and incentives that homebuilders were offering to try and move higher end homes. Contained in that story was this paragraph:
His own sales are half what they were in 2016. In many cases, he's rebating to customers all but $1,000 of his commission on each home sale. He walks into an Indian restaurant for lunch and looks up at the television screen. A competitor, the "Maximum Cash Back Realtor," says he'll take only $750. "You know what that means," Konara says. "I'll have to do the same." [Emphasis mine]
It's hard to imagine anything less surprising than having to match the price of a competitor offering more or less the same service.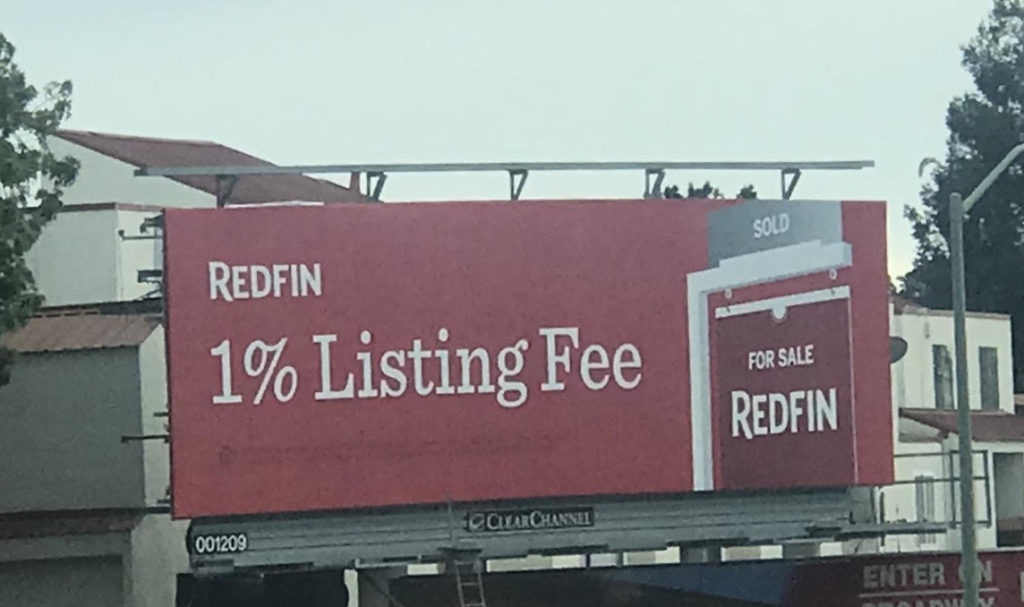 In markets where Redfin has been around the longest, and have been advertising its "1% Listing Fee", brokers and agents have already been feeling the pressure. There is no reason to think that pressure gets less if Redfin spends more money on billboards, TV commercials, radio, and online advertising.
Accordingly, the industry's expectation should be that Redfin will put tremendous pressure on commissions, at least on the listing side and likely on both the listing and the buy side. Don't forget that Redfin still offers rebates to buyers; just not as much as before in the current market environment.
And yet… the response from brokers and agents will be to dismiss the advertising campaign and Redfin out of hand.
The real estate industry has always dealt with "discounters". And none of them ever have changed the commission environment all that much.
For example, just about everyone who was in the industry during the 00s remembers Foxton's, which roared onto the real estate scene in 2000 and filed for bankruptcy in 2007.
So there is some justification for handwaving away the threat of commission compression from Redfin. Foxton's couldn't do it. Thousands of discount brokerages couldn't do it. Purplebricks is here, but not taking 20% market share, and Redfin itself has been discounting for over a decade… and has less than 1% market share.
The doubters may very well be right. But there are a few reasons to think that things might be different this time around.
Redfin: Bringing the Darkness
Glenn Kelman is fond of saying that Redfin was born in the dark, like Bane from Batman, because of its early years during the bursting of the Bubble. His confidence in Q3 is based on that experience:
We feel that our business model is built like a brick outhouse. It is solid. We have a significant cost advantage over our competitors. We can sell houses faster for more money at a lower fee. And that is going to become even more important over the next few years.
There is a very good chance that Kelman recognizes that Redfin is uniquely positioned among all brokerages to survive and even thrive in the dark. So they will bring the darkness, by spending $60 million to bring about the low commission environment.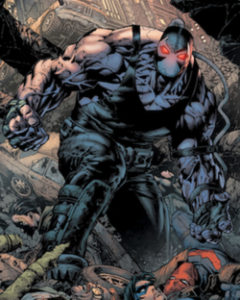 Strong agent teams will survive, of course, and having survived, they will actually grow their market share. And Redfin is the strongest agent team of them all. But tens of thousands of competent middle-tier agents will find themselves struggling to stay in business.
Brokerages will struggle mightily. Even the strongest brokerages with dominant market share face enormous problems in a low commission environment.
Take Redfin's home market of Seattle. According to one magazine article, Windermere has 32% market share in Seattle, while Redfin has 5%. Now say Seattle goes to a 4% commission environment.
The GCI from that 32% market share will be cut by a third, thereby cutting Windermere's Company Dollar by a third. And that's before its agents start (a) demanding better splits, or (b) getting a "real job" somewhere else. What does Windermere look like afterwards?
What we know at 7DS through our brokerage practice is that many traditional brokerages actually make very little money from their top producers. In some cases, they lose money on every deal that a top producer does, because of various financial incentives they provide to keep superstars happy. Top producers are a loss leader for traditional brokerages.
What they get from the top producer, however, are advantages for recruiting and retention: (a) market share, (b) yard signs, which can help consumer awareness, and (c) star power. Don't forget that modern brokerages are not in the real estate business, but in the B2B services business. Agents and agent teams are in the real estate business.
Where Windermere and other brokerages make their money is in that professional middle-tier of agents who are productive, but not quite productive enough to warrant the money-losing splits of top producers.
If that middle tier gets hollowed out because they can't afford to make a living doing real estate full-time, then Windermere is stuck between a rock and a hard place. They won't make any money from the top producers, who are getting stronger and gaining more market share, and quite disinclined to share more of their now-reduced income with the broker. And they won't make any money from the bottom tier newbies and part-timers who fall into a transaction now and then.
That's fighting in the dark. And Redfin, like Bane, was born in the dark.
(Excerpt) Conclusion
We will look back on Q3 of 2018 as the moment when things changed. It brings on the inflection point that has long been coming. The events of the next year or two will determine what the real estate industry looks like.
Zillow's bet-your-company pivot away from being a vendor/media company to a central player in the real estate experience would have been the story in any other quarter. But Redfin's numbers, it's growing confidence, and announcement about consumer advertising is the story of Q3. It may end up being the story of 2018.
For all of the major participants and institutions in American real estate, I think strategy is important, but a concrete wargamed action plan might be even more important right now.
In a way, I think companies in real estate should embrace the Doomsday Prepper mindset just a little bit going forward. We might think the paranoia is quirky and amusing, and folks who are stockpiling food, water and ammunition are entertaining in a slightly scary way. But those odd preppers look incredibly smart if a hurricane hits. In fact, they look smart if a hurricane will hit you three days from now, because they avoid the insane crush at supermarkets and long lines at the gas stations.
Either the darkness comes, or it does not. If it does not, and you're prepared, you have lost very little. If it does come and you are unprepared, the consequences are dire.
I urge you to prepare.
-rsh