I'm deep into writing the December Red Dot, which will be on the Q3 earnings calls and what they portend for the industry, but there's an angle to this I'm trying to work out. My initial thoughts were interesting enough that I figured I'd work them out with all of you.
I ain't gonna front — most of this came from the fact that I read "Why Are Young People Having So Little Sex?" in The Atlantic just before reading the latest report on Zillow, Redfin, Realogy and Re/Max from Brad Safalow at PAA Research. Those of you who have heard me muse about the impact of sexbots on the real estate industry (it's not good) should not be surprised I follow the research on  sex lives of Millennials.
Since I'll be doing a lot of thought-meandering, let me give you the thesis right up front:
Real estate will be "tinderized" and a massive culture shift will take place, which forever changes the nature of lead generation.
Intrigued enough? Let's get into it.
The Atlantic Article
So first, let me recommend that you go read the article in the Atlantic. Despite the titillating title, it's actually quite good and quite sober. It references a great deal of sociological research by legitimate academics on the subject. Plus, it's a great read.
The basic question that the article explores is why young people are having so little sex, compared to older generations. It goes through all sorts of possibilities, from the proliferation of porn to the economy and pressures of career and school and the hookup culture and so on and so forth. It even touches on sexbots! 🙂
But the passage that really got me thinking is this one, talking about the impact of technology on sex and dating:
Simon, a 32-year-old grad student who describes himself as short and balding ("If I wasn't funny," he says, "I'd be doomed"), didn't lack for sex in college. (The names of people who talked with me about their personal lives have been changed.) "I'm outgoing and like to talk, but I am at heart a significant nerd," he told me when we spoke recently. "I was so happy that college had nerdy women. That was a delight." Shortly before graduation, he started a relationship that lasted for seven years. When he and his girlfriend broke up, in 2014, he felt like he'd stepped out of a time machine.

Before the relationship, Tinder didn't exist; nor did iPhones. Simon wasn't particularly eager to get into another serious relationship right away, but he wanted to have sex. "My first instinct was go to bars," he said. But each time he went to one, he struck out. He couldn't escape the sense that hitting on someone in person had, in a short period of time, gone from normal behavior to borderline creepy. His friends set up a Tinder account for him; later, he signed up for Bumble, Match, OkCupid, and Coffee Meets Bagel. [Emphasis added]
Now, I'm not young, not single, haven't been on the dating scene since the late 90s… so I really have no idea. Maybe some of the younger readers could comment on how true or not true the Atlantic article is. But that's really not important.
The important part comes next, in which the Atlantic reveals actual data that confirms what so many people instinctively know about these online platforms: He That Hath, Gets. Poor Simon above swiped 30 times to have one woman swipe right on him, meaning one match out of 30. But even after matching, he would send messages that were never returned 9 out of 10 times. So for 300 swipes, Simon had one text-based conversation.
From the article:
In all dating markets, apps appear to be most helpful to the highly photogenic. As Emma, a 26-year-old virgin who sporadically tries her luck with online dating, glumly told me, "Dating apps make it easy for hot people—who already have the easiest time." Christian Rudder, a co-founder of OkCupid (one of the less appearance-centric dating services, in that it encourages detailed written profiles), reported in 2009 that the male users who were rated most physically attractive by female users got 11 times as many messages as the lowest-rated men did; medium-rated men received about four times as many messages. The disparity was starker for women: About two-thirds of messages went to the one-third of women who were rated most physically attractive. A more recent study by researchers at the University of Michigan and the Santa Fe Institute found that online daters of both genders tend to pursue prospective mates who are on average 25 percent more desirable than they are—presumably not a winning strategy. [Emphasis added]
There's quite a lot of anecdotes out there that these online platforms provide oversized rewards for those who are already at the top. Women considered attractive would be deluged with swipes and messages, and 35-year old 6'4″ man who is a CEO of his own company driving a Porsche would have no problems going on a different date every night, while others like Simon just swipe and swipe and message and message as if into a void.
What's Love Got to Do, Got to Do With It?
That's fascinating, but what does Tinder and the plight of the average-looking woman have to do with real estate?
Let me quote from Brad Safalow's research (as he gave me permission):
Zillow management and bulls would have you believe that only those agents that spend significantly online will generate meaningful transaction activity.

Of course real estate has been and always will be a referral business….
It is true that real estate has been and still is a referral business. As much attention as we pay to the portals and Redfin, online has hovered around roughly 10% of the average agent's production for years. Safalow argues, based on some pretty solid survey data, that paid online leads just aren't that big a deal for agents.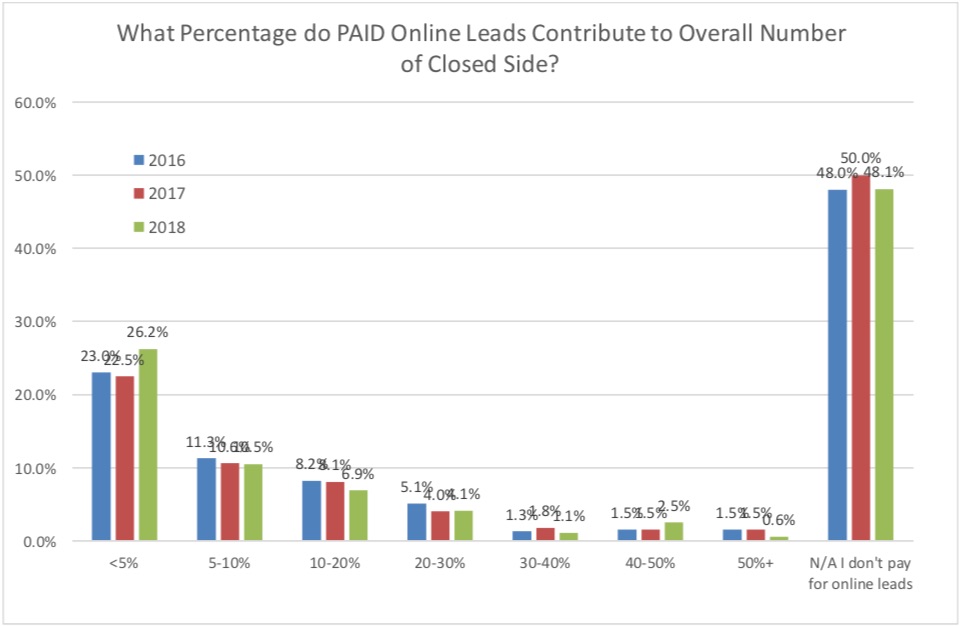 Almost half of the agents responding to PAA Research don't pay for online leads. Another 26% do less than 5% of their transactions from online leads. Another 7% say it's only 10-20% of their transactions, which is significant, but in a "meh" sort of a way. So only 5.3% of respondents say that online leads are 20% or more of their business. Then you have this: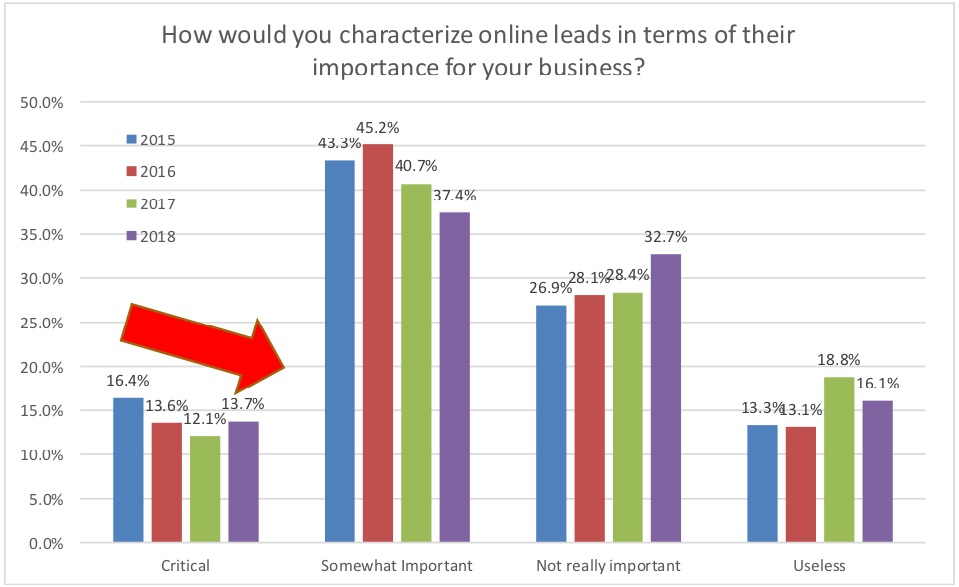 The trends are interesting, to say the least. "Somewhat important" is just dropping, and "not really important" has shot up, while "Critical" is up slightly but less than from 2015, and 16% of responding agents say online leads are "Useless."
As those of us in and around the industry knows, that fits in with everything we know about how business is actually done. Hell, I have a presentation that I give from time to time talking about how Service is Lead Generation. This is a "belly to belly" business of referrals.
What I'm wondering about is the "always will be a referral business" part of Safalow's statement.
Enter Tinder.
When Did That Change?
As I mentioned, I'm a proud GenXer who thinks that the youth of today don't know shit about real hip hop. Sorry, I digress. But I was young enough to have been single when online dating appeared. There was no iPhone, so Match.com was a website-only affair, over 56.6K modems, or if you were in a big city, maybe over ISDN. But I remember talking about internet dating. (Especially since I was a dotcom entrepreneur during Web 1.0 years, so heavily interested in anything web-based.)
What I distinctly remember was that we all wrote off these online dating sites because "they were bound to be sausage fests." The stigma against online dating was really quite strong in those early years. I know not a single young woman of my acquaintance during those years who ever set up an account on a dating website (or admitted to it). Even those people who met online would lie about how they met.
"Boy, you gotta be some kind of desperate to go online!" was the overwhelming consensus among the young GenX.
Just about everybody met (a) through friends, (b) at work/church/group of some kind, or (c) at a bar/club/party. Without question, the most popular and most successful strategy for meeting your boyfriend/girlfriend was through friends, either through getting set up, or just meeting at a mutual friend's party or some such. That's how we met and dated.
It was, if you will, a belly to belly (quite literally in some cases of overcrowded NYC house parties) referral-based thing.
As Simon's story above tells us, the world changed in seven years (for him). Scholars and academics and thinkers can debate when and how and why the world changed, but it's impossible to deny that the world has changed.
The Atlantic is filled with examples that echo Simon's plaintive observation, that hitting on someone in person had gone from normal behavior to borderline creepy. For example:
At first, I wondered whether Simon was being overly genteel, or a little paranoid. But the more people I talked with, the more I came to believe that he was simply describing an emerging cultural reality. "No one approaches anyone in public anymore," said a teacher in Northern Virginia. "The dating landscape has changed. People are less likely to ask you out in real life now, or even talk to begin with," said a 28-year-old woman in Los Angeles who volunteered that she had been single for three years. [Emphasis added]
Again, the article tries to figure out why, but for us, the important thing is not the why but the fact that the landscape has changed.
Why Wouldn't This Happen in Real Estate?
If society has changed so fundamentally about something as deeply personal and fundamental as sex and dating, why in the world would it not change about buying or selling a house?
In the automotive space, we have seen the internet just wreak havoc on the traditional dealership model, and the relationship (if you want to call it that) between the car dealer and the consumer.
It wasn't that long ago, because I remember doing it, that if you wanted to buy a car, you read some magazines, looked through the Auto section of the newspaper, and went down to the local Ford or Honda dealer and started talking to some pleasant salesperson. Then you did the whole test drive and negotiation thing, and drove home.
Now, anybody under the age of 60 has gone to Edmunds.com, to Autotrader, read online reviews, watched Youtube videos of car review guys, read up on all of the specs ("GTI Sport package has 220hp generating 258 ft.lbs of torque") of not just the brand but the specific car, even if it's a used car, done all kinds of comparison pricing… and then shows up to the dealership.
Sure, we accept that we have to sit through car commercial after car commercial while watching Monday Night Football, but imagine having some car salesperson calling you on the telephone to invite you down for a test drive. That's borderline creepy, and annoying as fuck, and I'm likely to never do business with such a pushy dealer.
Your role, as a car salesperson, is to wait for me to contact you via the internet, by phone (which I got off the website), or by showing up (guess where I got the address from?), and showing me the specific car I'm looking for, taking me on a test drive, and then working on the paperwork.
In other words, the culture of car buying has changed. And it has changed in much the same way that the culture of sex and dating has changed. Now, He That Hath, Gets. A tiny difference in the sticker price could mean that 90% of consumers flock to your competitor, because the Internet makes sure that consumers see that they could save $200 on a $35,000 car by driving across town to your competitor.
So as the Wall Street Journal puts it, Car Dealerships Face Conundrum: Get Big or Get Out.
As Zillow, Redfin, Realtor.com and others continue to become more and more important to the real estate process (iBuyer, listing leads, etc.), and Zillow and especially Redfin start to guarantee agent quality (Best of Zillow program, longstanding Redfin NPS program), why would this culture change not happen in real estate?
And before you're tempted to talk about how housing is not like cars, it's not a commodity, it's the biggest financial decision of your life, etc., remember that marriage is now being driven through online dating. Talk about non-commodity big decisions in one's life….
Tinderization of Real Estate
If we accept, for the sake of discussion, that real estate can be "tinderized" in which websites and apps become the way that consumers match with an agent, and the culture changes to a point where all of the traditional SOI marketing and geo-farming go from normal behavior to borderline creepy, what does that look like?
To me, it looks like the Top 1% or the Top 5% who get the gold star, who have the most glowing reviews, who "look the best" in a mobile app, get the lion's share of the leads and inquiries. Beautiful people who don't need the help benefit the most from dating apps. Successful agents and teams who don't need the help will benefit the most from real estate apps.
That implies that the 13.7% of respondents who said that online leads were "Critical" in the PAA Research survey might end up doing 85% of the transactions, and the vast majority of agents who don't see transactions from online leads, who think they're not that important, etc. suddenly find themselves in a world where anything other than waiting for online leads is borderline creepy.
At that point, they're Simon, futilely swiping right 300 times to have one phone conversation with a potential client… who picks the Top Ranked Team across town anyhow.
And Redfin? Well, Redfin will be that 6'4″ 35-yo CEO who drives a Porsche and vacations in exotic tropical locales. "Oh yes, baby, you wanna list your house for 1%? Or I should just make your life easy and take it off your hands? Oh, you need to buy a place too after? I got ya covered — how about I do that for you for free, if you do the mortgage through me?" Sade got nothin' on Redfin as a future smooth operator….
Your mission, if you choose to accept it, is to think about the changes in our culture for dating, think about the changes in our car-buying culture, and come up with reasons why the tinderization of real estate will not happen. I'd love to get your take on it.
And I'm 100% sure that Brad Safalow would love to get your take on it as well. 🙂
-rsh