I'm taking a break from writing my February report, and thought I'd think through something with you all. It's not directly relevant to my Red Dot topic, but it's so interesting that I couldn't help but want to do some "read what I wrote to see what I think" type of a thing.
We all know that one of the hottest "big picture threat" type of things out there is AI and machine learning. I know pundits, including myself, have wondered out loud about sophisticated computers replacing real estate agents — the image above is from a presentation I've been giving for a few years now.
But I ran across a couple of things that make me wonder even more about what might be coming down the pike. So let's get into it.
Zillow's Consumer Study
In my research for the February Red Dot, I came across the invaluable Zillow Consumer Housing Trends Report for 2018. I think it's one of the more valuable things that Zillow produces, and it's entirely free and entirely online. Go check it out.
One of the sections talks about "The Buyer-Agent Partnership" and is rather glowing in its praise of the real estate agent:
Agents play an integral role for nearly all consumer households throughout many stages of the home-buying process. For many buyers, agents are strategic partners who help with many aspects of the process and take charge of others.

About three-quarters of buyers have agents lead contract negotiations and guide them through the overall process (74 percent), take them on private tours (73 percent), and organize and submit paperwork associated with buying a home (71 percent).

Buyers take a more active role in other activities saying they participate, often with agent partners, to identify new homes for consideration (35 percent), preview and screen homes (32 percent), and find a mortgage broker by referral (32 percent).

There is no part of the process where buyers fly solo, but buyers appear to require less help on some things than on others. For instance, 42 percent of buyers say they did not rely on agents to determine whether a home is right for them, a recognition perhaps that how a home makes them feel is as important as the rest of the calculus.
It's a funny relationship that Zillow has with real estate agents. Zillow loves them and constantly pumps them up, and agents (with exceptions, of course) fear and hate Zillow and heap abuse on it. Unrequited one-way love affair…. It's a little bit like this…
In any event, there's a section where Zillow says:
The overwhelming majority of buyers recognize the value of agents and appear to see them as an essential part of the complex buying process. Overall, most services performed by agents are highly valued by buyers who work with an agent to buy their home.
And then it lists those valued services: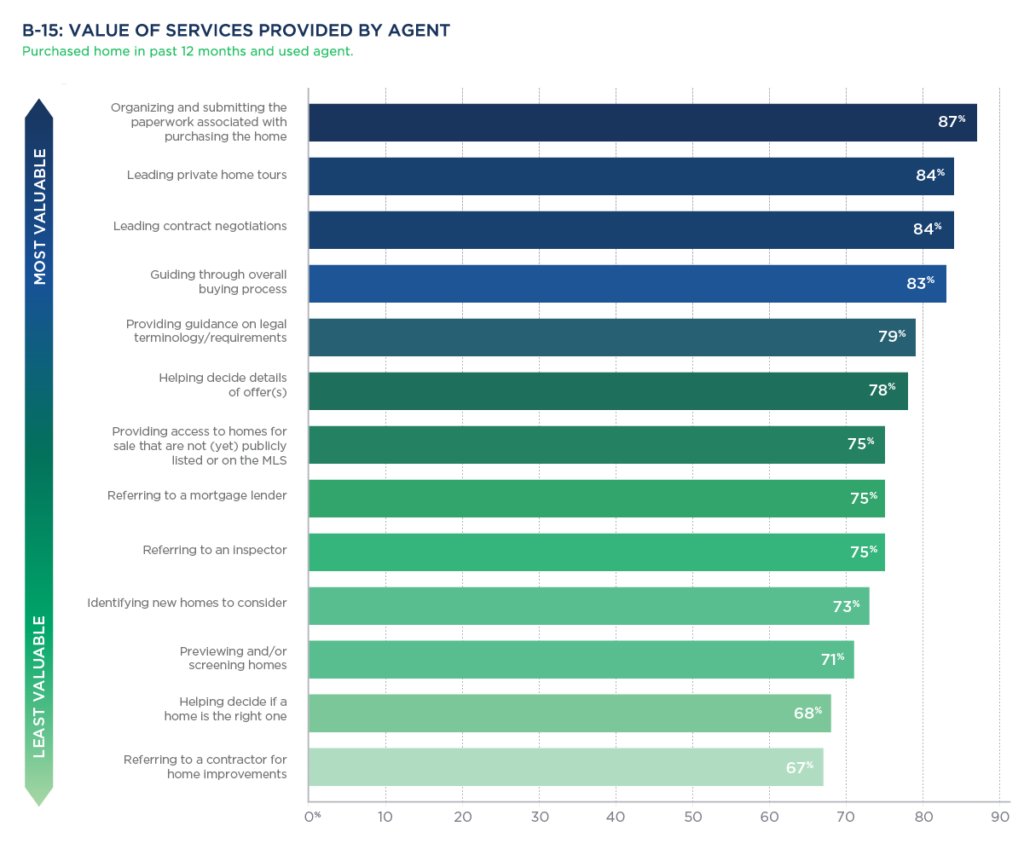 Pretty cool, eh? Hold on to that thought for a moment.
The Second Machine Age
In my research, I came across Erik Brynjolfsson, an economist at MIT and co-author of the book The Second Machine Age among others. He is an expert on AI and machine learning and automation.
He was interviewed by the Boston Business Journal in 2014, and here's an excerpt:
You've touched on this, but as far as potential drawbacks of this huge boost in mental power, what are the biggest ones?

We're having a big disruption in the kinds of skills and jobs and occupations that are needed in the new economy going forward. Routine information-processing tasks are especially easy to automate.

Consider what a tax preparer does. There are 17 percent fewer tax preparers now than there were a few years ago — not because taxes are so much easier to do, but in large part because software like TurboTax let's a machine do most of those steps.

And so there's two groups that really benefit, and one group that doesn't benefit. One group that benefits is consumers, who can get low-cost or even free digital goods — that's good news. Another group that benefits are the people that create these innovations — they create a lot of value, and many of them become millionaires and even billionaires.

But there are also the people who used to do those jobs, and they used to do them without the same amount of technology. And they're not adding as much value as they used to, because a piece of software can do much of those tasks. So that hasn't worked out well for them.

Now to be clear, technology has always been destroying jobs, and it's always been creating jobs. When the car was introduced, people who made horse shoes and buggy whips, a lot of them lost their jobs. But what's happening now seems to be affecting a lot more occupations and jobs, and a lot more skill categories than in the past. And it's a little harder to see what the new ones are going to be. I hope we'll be able to develop them, but they're not as visible right now as we'd like … Data suggests that in the past 10 to 15 years (jobs) have been automated faster than we're seeing the creation of them.

So what's your conclusion about where we're headed?

I wouldn't necessarily say I'm an unabashed optimist, nor am I a pessimist. I think both those groups make the same mistake. They both kind of assume a technological determinism — that technology is going to do things "to" us. We call ourselves mindful optimists, because we think that if we make the right choices we can have really good outcomes. The last line of book is that technology is not destiny — we need to take seriously the challenges that technology is bringing, and work to speed up our skills, organizations and institutions to keep up with technology as it races ahead. [Emphasis and line breaks added]
Robotics has already replaced a lot of manufacturing jobs and manual labor jobs. Take a look at any modern car factory if you need evidence.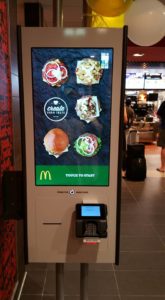 But the latest technology is replacing service jobs. If you haven't seen one of these self-service kiosks at fast food restaurants, just wait a bit. I've been seeing more and more of them lately, especially at places like airports.
Those are mere order-takers, of course, and it was obvious from the moment that ecommerce became a real thing that cashiers at fast food places were going to be replaced. But white collar professionals (which includes real estate agents) are as yet unaffected by such automation.
What Brynjolfsson and other AI researchers are talking about, however, is the next generation of machines that go beyond just taking input and passing it on. Brynjolfsson calls it "routine information-processing tasks."
But Hubspot thinks that some sales and marketing jobs will be replaced by next-generation machines:
AI can analyze sales calls far faster than any sales manager could — in fact, it would take 9 years of nonstop sales call analysis for a human being to compete, and that's if they didn't take vacation or sleep. And AI is already being used to develop marketers' content strategies and email marketing playbooks — it's only a matter of time before it plays a bigger role in the process.

HubSpot co-founder and CTO Dharmesh Shah has a more positive outlook on the future of AI — in fact, he thinks bots and AI will make us better at our jobsand more secure in our careers, not the other way around.

The truth probably lies halfway between these camps — in many cases, AI will serve to make our jobs easier and will make us more effective and data-driven. But the fact remains that some jobs will be replaced by machines — it's the essence of any industrial or technological revolution. The good news is; some jobs won't be strictly replaced — they just might be adjusted to account for new technologies' "careers."
So let's say that real estate agents are not going to be replaced. Rather, AI will serve to make their jobs easier and make them more effective and data-driven. That's kind of the vision that Alex Rampell touched on in his When Software Eats the Real (Estate) World video that has generated some buzz in the industry.
So far, so good, and so far so meh… because we've all been having these high-level generic discussions over the past couple of years.
Here's my new question: Look at the list of the value of services provided by a real estate agent, according to Zillow's consumer study. Which of these are not subject to being replaced by a machine?
Value of Services in the Second Machine Age
Let's go through the list, real quickly, and see if it falls under "routine information processing" or "sales and marketing analysis" type of tasks.
Organizing and submitting the paperwork associated with purchasing the home (87%): Uh-oh.
Leading private home tours (84%): Uh-oh, because August Lock is a thing.
Leading contract negotiations (84%): Seems safe.
Guiding through overall buying process (83%): Not sure what this encompasses, but… wouldn't an FAQ do just as well? Or a software wizard like you find on TurboTax? I'll go with Uh-oh unless this means more than what it seems.
Providing guidance on legal terminology/requirements (79%): Same as the "guiding through overall process" thing… seems like a wizard can do this just as well? Uh-oh, for now.
Helping decide details of offer(s) (78%): Seeing as how Redfin has already developed technology using big data and machine learning to do just this… I'm gonna go with Uh-oh.
Providing access to homes that are not (yet) publicly listed or on the MLS (75%): What the…??? Pocket listings would be a value, of course, but you don't need an agent for that — a website will do just fine, as we all know. So Uh-oh on this one.
Referring to a mortgage lender (75%): Uh-oh, for sure. This can be done today with a webpage.
Referring to an inspector (75%): Uh-oh, same as lender.
Identifying new homes to consider (73%): I'm not sure… on the one hand, the agent knows the buyer… on the other hand, so does Amazon and Google, especially if the buyer has an Alexa listening to his every word…. I'm going with Uh-oh for now.
Previewing and/or screening homes (71%): Seems safe? Maybe?
Helping decide if a home is the right one (68%): Seems safe.
Referring to a contractor for home improvements (67%): Uh-oh, cuz, anything referring can be done today.
That's my take on the list of services consumers say they value. You should look through that list yourself and see what you think.
To me, the only services of value safe from AI are negotiations, previewing and/or screening homes, and helping the buyer decide if a home is the right one… and that last one is a bit iffy since many buyers just fall in love with a home the minute they walk in and don't need a whole lot of convincing. (And if they do need a lot of convincing, that raises all kinds of troubling questions and potential liability issues… but that's a whole other post.)
Just about everything else falls into the "routine information processing" bucket of Brynjolfsson, or even a step below that, as in a website or a mobile app can do it better, such as referring contractors. We know because there already are websites and mobile apps that do just that, such as Angie's List.
The Right Question?
One of the more interesting things to happen last year was the distinction that Gary Keller drew between "tech-enabled agent" and the "agent-enabled tech." Thinking about this AI situation, perhaps the right question isn't which of those is going to dominate the industry going forward, but what the value of the agent is versus the value of the technology.
It isn't "tech-enabled agent" vs. "agent-enabled tech" but "technology and the agent" that together deliver services to the consumer. But who/what delivers which service to the consumer? Who/what is better at which service?
Another way to ask that question, perhaps, is this: If you remove routine information processing tasks from the real estate agent, what service is left to deliver that is of value to consumers?
It's an important question to answer, for the agents in the field, for the brokers who train and manage them, for corporate CEO's who make a living because of agents and because of technology, and for the MLS and Associations that serve agents. It might not be tomorrow or the next day, but that question is coming to real estate and when it arrives, we had better have some answers.
-rsh