It's been over a week since I thawed out from the polar vortex that was Inman Connect NYC. I realize that people in Chicago and elsewhere in the Midwest would have loved mere 10 below zero temperatures, but for this now-southern boy, that week came with a religious awakening: hell won't be hot, it'll be cold.
In any event, I missed the showdown between Robert Reffkin of Compass and Ryan Schneider of Realogy on Inman stage, being interviewed (and poked and prodded) by Brad Inman himself because of meetings. Thankfully, Inman recorded the discussion and has made it available, at least to Select members. Watch the whole thing here. (I would embed the video for you, but I see no way of doing that.)
I came away marveling at the intelligence and poise of both Reffkin and Schneider, both men of enormous talent whom I respect immensely. But I also came away marveling at the negative spaces in the conversation. The real story of that discussion about the future of brokerages were written by omission and silence, by the things that were not said, and names that were not mentioned.
As Martin Gore once sang:
In a manner of speaking
I just want to say
That I could never forget the way
You told me everything
By saying nothing
The General Themes
Although the discussion jumped around quite a bit, there were a few general themes that both Reffkin and Schneider sounded throughout.
It's all about the agent
Brokerage value proposition, value proposition, value proposition
Data and technology will be key
Bad Zillow Bad
Watch the whole thing obviously, but my general takeaway is that both men feel that the future of brokerage is in using data and technology to empower the agent to be more successful. The brokerages that survive will be those who have a value proposition at a price point that is acceptable to more agents than not. And Zillow is bad because it hurts agents.
There were many, many other things that were said.
Some were interesting and amusing, like when Reffkin flat out said that brand doesn't matter, and Schneider said it did to legitimize the agent, then added, "I love all my children equally" referring to the many brands under the Realogy umbrella.
At least one was incredible, in the sense that I couldn't believe it was being said on a national stage. This is when Reffkin talked about one national MLS, as well as one single technology system that the industry would all contribute to and collaborate on and control. All I could think was, "I really hope the boys and girls at the Department of Justice aren't watching this."
But on the whole, the real story was written in omissions.
Financial Pressures
At one point, Schneider talked about how the industry is in flux because of financial disruption: all of the shifts and changes are about finding a new equilibrium between brokerage value proposition vs price (read, splits). And throughout the discussion, it was as if Reffkin and Compass were somehow disrupting the equilibrium.
As far as I know, based on conversations with people who do know (including Compass agents), Compass doesn't have particularly aggressive splits. It offers signing bonuses, and sweetheart deals for a limited time, but after that, the splits are far more traditional. I've heard 85/15 in the Los Angeles area, and as high as 70/30 in other markets. If there's a cap, I haven't heard of it.
Sure, Compass is giving traditional brokerages fits with its aggressive recruiting, including rumored bonuses and guaranteed commissions and stock options and benefits out the wazoo, but it isn't an eXp or even a Keller Williams.
What Compass, KW, and eXp all have in common is that they are definitely not in the fastest growing segment of the brokerage business. How in the world do you have a 30 minute conversation about financial disruption, pressures on margins, and brokerage value propositions versus "market clearing price" and not once mention HomeSmart, Realty One Group, Fathom Realty, JP & Associates Realtors, Charles Rutenberg, Benchmark Realty, and literally hundreds of other smaller local and regional players who are all pursuing the time-tested and proven 100% commission transaction-fee business model? I mean, HomeSmart is the #5 brokerage by Transactions and #8 by Volume on RealTrends 500. These are not unknown companies.
At one point, Reffkin sort of nods that way, talking about "landlord-tenant DIY brokerages" but only mentions KW and eXp, who are split-based brokerages. In one migration report I've read, KW got its rear handed to them in San Diego by a 100% shop called Big Block Realty from a recruiting standpoint.
It was an odd omission, but not the biggest absence from the discussion. Not by a long shot.
The Glaring Omission
At one point, Reffkin says that in the future, there will be four models of brokerage:
DIY shops, who do nothing for the agent and have a landlord-tenant relationship with the agent, such as KW and eXp;
Do it All For You companies, like Compass, who will do everything for the agent so the agent can get clients, work deals, and do their thing;
Seller-Owners, who have a hundred agents underneath an active agent-broker who uses them to "get more business for themselves"; and
Real small boutiques, who don't want to be a part of any of that, will make less money, but they'll be okay with that.
Schneider didn't necessarily agree, but launched into a speech about how all of that is because the disruption today is financial disruption that messes with brokerage margins and pricing for value proposition (read: splits). Then he went into a Zillow Bad moment, which was interesting.
Here's the thing about Robert's four models: how in the world do you not mention Redfin?
We still haven't seen the final FY 2018 earnings report from Redfin (that will come on Valentine's Day). But based on the first nine months of 2018, here's what we have so far:
Transactions: 33,132 (on pace to break 43,000 for the year; and tack on another 8,856 Partner transactions)
Sales Volume: $20 billion (on pace for over $25 billion)
Revenues: $363 million (on pace for over $480 million)
Gross Profit: $93 million (on pace for over $120 million)
Gross Margins: 30% in Q3
In 2017, the last year for which we have RealTrends data, Compass was #6 by Volume with $14 billion, and #45 by Transaction Sides with 10,543. That same year, Redfin posted $21.3 billion in Volume and 35,038 in Transaction Sides (with an additional 10,755 transactions in Partner business). Redfin did that with 1,023 full-time Lead Agents, which translates to an average of 34.3 transactions per agent.
Redfin isn't a flash in the pan anymore. It's a public company that has been around for more than a decade. They report their numbers every quarter and have earnings calls with Wall Street analysts. That business model is not part of the four that survive in the future?
Data and Technology? Seriously?
Worse still, how is "data and technology" one of the major themes of the discussion and not one person on stage mentions Redfin even once?
Do we even have to talk about how far ahead of every other brokerage company in the world Redfin is in terms of technology and data science?
Here's one example: Schneider talked about a few data tools Realogy has announced. One is a predictive analytics tool for marketing spend, another is to help agents prioritize leads, and another is to help franchisees figure out which agents to recruit. Reffkin kind of dismissed the whole thing, saying that he's never once talked about data. He then says, "What really matters is listings" and that technology is below that and is the most overrated thing that people are talking about now. What Reffkin thinks agents really need is a single sign on, or in the alternative, all of their technology tools in one place, built by one company.
In contrast, here's Glenn Kelman from the Q4/2017 earnings call:
Our goal overtime is to convey a competitive advantage, not just to Redfin but to our home buying customers who should never have to wait on an agent hot listing. This commitment to speed is why we've also invested in our own offer-writing software which lets our agents put together data in a few minutes.

In the fourth quarter, we expanded the markets the software supports from Chicago, DC and Virginia to Maryland. The localization involved for each market is extensive. Different states, counties and cities require different forms and local customs around earnest money amount and other deal terms require different default values for the form.

In Maryland alone, we have to support 30 addenda. For these reasons it will take us years to adapt our offer-writing software to every major US market. But as we do we believe we will be able to move faster than any other broker at lower cost and with comprehensive data about what it takes to win in each neighborhood.
Redfin's offer-writing software utilizes machine learning and AI to tell the agent what blend of terms from price to contingencies to whatever else they have is most likely to have the offer accepted. That software is mobile, so the Redfin agent can submit an offer from the car as they are driving away from the listing.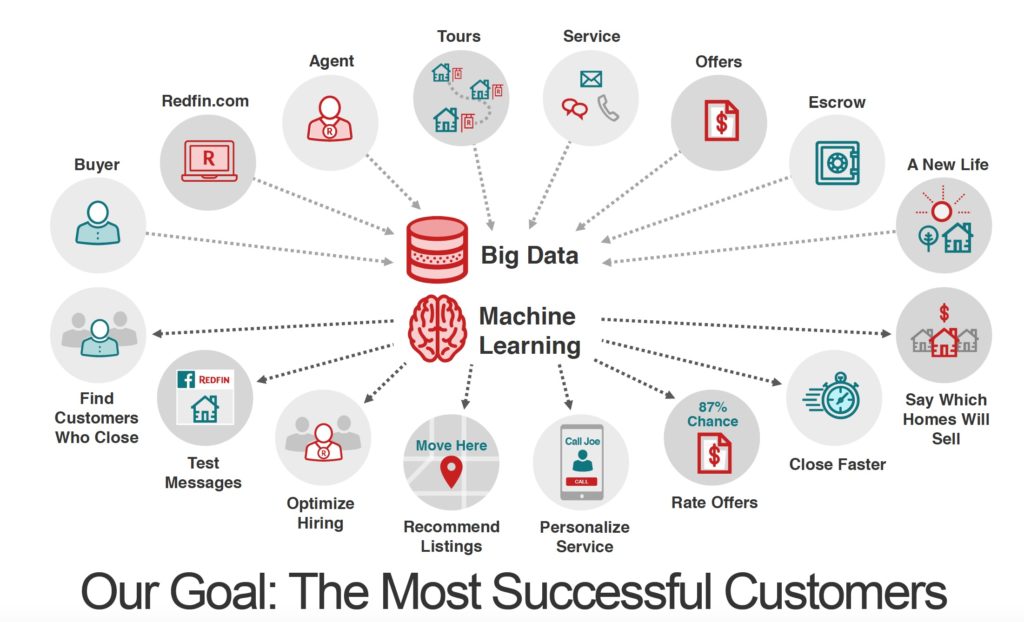 It's really not close today. Single sign on versus automated offer writing. Analysis of leads versus the above. It's not close. Maybe it will be some day as Compass and Realogy pour money and attention and focus into technology and data science, but it isn't as if Redfin is going to kick back and lounge. It isn't as if the data scientists already at Redfin are going on an extended sabbatical.
It's like nobody wanted to mention the elephant in the room. Strange.
Agents vs. Companies
What kept coming to mind for me as I was watching the video was the Alex Rampell video from a16z Summit, which I mentioned in The Machine and the Real Estate Agent post. It's worth watching in full, so let me embed it for you again.
Both Reffkin and Schneider kept talking about the agent, the agent, the agent. Rampell predicts that the real estate agent isn't going away, but the agent will work under the rubric of a company. Why?
Because answers. Rampell talks about how individual agents really can't answer simple questions such as:
How much should I list my house for?
When should I list my house?
Should I stage my house?
Should I buy ads in the newspaper, Facebook, Google, etc.?
Companies have an advantage in doing data analysis and data science over individual agents. They can provide answers to questions like the above based on actual data, rather than intuition or conjecture without proof.
I kept wondering how the future of brokerage, as painted by Mssrs. Reffkin and Schneider, where the sun in the brokerage universe is the real estate agent, competes with these new breed of Companies whose sun is the consumer.
iBuyer? Brad Inman brought it up. Reffkin dismissed it saying that no agent has come to him to ask him for iBuyer services. Schneider said they were experimenting with iBuyer to ensure that the agent is involved in the purchase of the home and the sale of the home. Huh, that sounds just like Zillow's iBuyer program, and it's certainly Redfin's iBuyer program in which an agent is involved in the purchase and the sale of the home. She just happens to work for Redfin.
One interesting observation, before we close, as this is getting long.
One of the major themes of the discussion from both Reffkin and Schneider is how everything is about the agent and making the agent more successful, is how much the agent is making as an independent operator versus "under the rubric of a Company."
According to LinkedIn, the total compensation for a Realtor at Compass in the Greater NYC area is $122,000 a year, with a range of $78K to $248K. Who knows how they compiled that data, and it may be wholly inaccurate, but it is what we have unless Compass wants to disclose some data. But given that Compass agents are real estate agents, I imagine they have a few expenses to pay from that "total compensation".
Nationally, according to Payscale.com, the average REALTOR salary (which one assumes would include everyone who works for a Realogy brokerage or branded franchisee) is $53,711.
According to a detailed blogpost by Redfin itself from a year ago, the median compensation for Redfin agents in 2017 was $90,166. The 85th percentile made $153,017, which I imagine compares pretty favorably to the kind of agents that Compass tends to recruit. Then add in another $20,000 or so in benefits, and factor in the fact that Redfin agents do not have business-related expenses.
Could it be that if brokerages really cared about the agent, they should start copying Redfin?
The Future is Written in the Negative Spaces
Some of you have heard me speak on what I think is the future of brokerage. The heir apparent, then next wave, is the 100% low-cost brokerage. I wrote an entire Red Dot on the subject. But what also comes is the institutional brokerage, the Company. I wrote an entire Red Dot on that subject as well. I watched the video hoping to learn something new that might help me change my mind. Maybe these two brilliant and accomplished leaders would provide some insight that I had hitherto missed.
What I got instead was further confirmation that the future belongs to Next Generation Brokerages and the Institutional Brokerage Companies. That story was written in the negative spaces, in the omissions and silences. Like Voldemort, they cannot be named.
And that silence and that omission give me the words. They give me the words to tell you everything.
-rsh