So one of the bigger announcements in recent memory went out a few days ago, and… no one appears to be asking the obvious question about it. I am speaking of the announcement that CoreLogic will be the new vendor for UpstreamRE. Since I have good friends in both companies, I congratulate them both and wish them the very best. Contrary to some ad hominem rumors notwithstanding, I actually want to see the goals of Upstream fulfilled and there are some really great people throughout that organization and in the brokerages that form Upstream.
Having said that… why is nobody asking the obvious question here? I mean, some poor little startup talks about a new MLS platform, and the same day Michael Wurzer of FBS has a response online. MLS leaders have not been quiet about Upstream for years, but this news comes out and… not a peep?
Fine, I'll do it then. It's kind of a specialty around here to ask seemingly obvious questions. I apologize in advance to any of my friends and colleagues if these questions make you uncomfortable. But let me put it this way: there are dozens if not more who won't ask but have the same questions, and those people have real power, unlike me. So.
The market leader in MLS software platforms just agreed to be the technology vendor for an organization that most MLSs think is out to put them out to pasture. Does no one think that might cause a bit of a reaction from various quarters?
Alignment Is the Key
From Upstream's post announcing the partnership, "The Power of Alignment":
​Today we officially announced our partnership with CoreLogic replacing RPR as our vendor.   We are excited to make this announcement and about the future of this initiative. We've been working closely with CoreLogic for almost six months to ensure everyone is aligned on Upstream's promise to the brokers. A promise to provide brokers with better tools to exercise their fiduciary duty to protect and control their firm and client's data.

Navigating Upstream through industry waters has sometimes felt like Class V rapids as we learn and maneuver to reach our goal.  The greatest lesson throughout this journey is the need for alignment. Alignment of stakeholders, alignment of mission and alignment of incentives. "We are very excited about our partnership with CoreLogic. Their team has demonstrated an understanding of our needs, a willingness to work through the complexities, has deep relationships with MLS's and brokers across the country, and a track record to get the job done," says Real Estate One CEO and UpstreamRE Chairman Dan Elsea. "They collaborated early on to ensure all parties were appropriately set up and aligned to succeed." [Emphasis added]
I'm going to assume that during the six months of courtship between CoreLogic and Upstream, none of CoreLogic's current MLS customers were informed about the possibility, or consulted. Maybe I'm dead wrong about that, but knowing what I know of board politics and MLS politics, I rate the possibility of prior consultation as being pretty low.
And then there's that praise being heaped upon CoreLogic, which has demonstrated such understanding of needs and a willingness to work through the complexities. Odd. Because I'm old enough to remember when Greg Robertson (my partner in crime on Industry Relations) over at Vendor Alley wrote this:
When Alex was pressed on why the "pivot" he made a statement that a big reason was MLS vendors had been uncooperative. At this point Michael Wurzer, CEO of FBS and a CMLS board member called bullshit. He described FBS's interaction with the project, which contradicted Alex's previous statement. To which Alex said it wasn't really FBS and then proceeded to throw CoreLogic under the bus. Stay classy Alex, stay classy. [Emphasis in original]
Maybe that was a different CoreLogic that was so uncooperative and threw up roadblock after roadblock to Upstream.
More seriously, one does expect a certain amount of mutual admiration society stuff in press releases announcing new partnerships. If there were hatchets, they were buried long before any press release comes out. But that whole "need for alignment" does have one wondering exactly who is aligning with whom for whose interests.
CoreLogic and the MLS
Let's start with the obvious and longstanding alignment of interests between the MLS and CoreLogic. That used to be a very simple thing: MLS was the customer, CoreLogic sold the MLS a bunch of stuff from software to data, and that was that.
Simple, traditional, and everybody understands that alignment of interests.
The MLS and Upstream
The history is a bit convoluted, but suffice to say that Upstream was initially conceived of as a way to get around, replace, or simply "get upstream" from the MLS so that brokerages had total control over their listings, including whether those listings would go to the MLS or not.
Upstream then goes and partners with NAR, who not only provides technology through its subsidiary RPR but provides funding to both RPR and to UpstreamRE LLC. The MLS gets absolutely paranoid at that point, since RPR itself was born out of a Presidential Advisory Group long ago that advocated for a single national MLS owned and controlled by NAR, instead of by hundreds of little local REALTOR Associations. So the cold war was on.
That's a simple alignment (or conflict) of interests: Upstream would like to see the MLS go away, and the MLS would like very much not to go away, so the MLS would prefer that Upstream go away instead. That drags on for a few years.
Then there was The Pivot, which Greg mentioned in the post above and I wrote many thousands of words about here. So Upstream was going to take listing data from the MLS, rather than put it into the MLS. And then Bob Goldberg became CEO of NAR, and shortly thereafter, Upstream and RPR were both relegated to the back burner… and eventually gutted.
At that point, most MLS folks figured Upstream was more or less dead. They declare victory (in private of course), relax a bit, and move on.
Upstream and CoreLogic
But Upstream is not dead. If it was, it has been reanimated by CoreLogic.
This alignment of interests is a little less obvious. The announcements do not mention any financial terms, but then, why would they? Few business deals announce how big they are. But such things are not unknown in business press releases.
If the release said, "CoreLogic is thrilled to win the $70 million contract to provide UpstreamRE, LLC, with a technology solution that kicks ass" then we'd know what the alignment of interests there is: Upstream is the customer, and CoreLogic will sell it a bunch of stuff from software to data. And that's that.
Problem is, absent such announcement, one naturally wonders what Upstream is paying CoreLogic… and with what money. Because its primary funding source, NAR, has cut up the credit card. Here's what I wrote about this problem a while back:
Think about what everyone is focused on with this split (and frankly, before the split as well): the $13 million that NAR spent on Upstream (by way of funding RPR). You see anybody talking about the $13 million that brokerages invested in Upstream?

If Upstream had been paying NAR's RPR unit $13 million the past few years, the Inman headline would look really different: "NAR Loses $13 million Upstream Contract." And the commentariat would be abuzz about incompetence at RPR for screwing up such a lucrative piece of business, rather than talking about how NAR wasted member dollars and so on.

But the reality is that if UpstreamRE had been paying RPR $13 million over the past few years, Upstream is up and running two years ago, because after the first missed deadline, Upstream CEO Alex Lange is chewing out the developers, and after the second, the contract is terminated for cause. That's how businesses who are paying developers handle things.

There is a fundamental problem here, though. A business exists to make money; it was never clear from the start that Upstream existed to make money. Rather, Upstream was created to fulfill a mission objective, or a set of mission objectives, that have nothing to do with making money. Things like single point of entry, compliance to RESO standards, broker data management, immediate "entitlement" (granting developers and vendors access to data), etc. etc. are valuable objectives, but are they money-making opportunities?
I urged brokerages to either fund Upstream or run it as a non-profit.
Look as I might, I see no sign that Upstream has become a not-for-profit organization. Indeed, we see this language instead:
Brokers remain in charge of the initiative with its board and operating agreement unchanged, maintaining its "cooperative style" operating structure. The Board of Managers remains elected by the Upstream members to manage and direct the initiative. And Upstream will continue to drive the product roadmap, marketing, sales, and governance, and quoted prices will not be increased.
So is Upstream paying CoreLogic? If so, did it finally convince the brokerages to drop a few million bucks into the bucket to pay CoreLogic? If Upstream had, one would think that such a major development would have been announced already, or at the very least, whispered about in the back hallways and such places where I learn anything of importance.
Nary a whisper has been whispered, as far as I know. And I've checked with some other people who are pretty damn knowledgeable. Not a word about brokerages investing millions into this new Upstream so it can go hire CoreLogic to do its bidding.
If CoreLogic is Not Getting Paid by Upstream…
This little detail is important since that raises all kinds of questions about the alignment of interests here.
If CoreLogic is not getting paid by Upstream, then I have to ask why it would endanger the existing MLS business worth many, many, many millions of dollars every year. Matrix and Realist are big deal products, at least in real estate tech, and quite a few MLSs write big checks every year to have them for their members.
What exactly is the alignment of interests here?
Sure, vendors often decide to branch out into new markets and get new customers. But they very rarely do so while endangering existing cash flow unless the new cash flow is bigger. It's one thing to tell current customers to find a new vendor, because a competitor just offered far more money. That happens, and is understandable; which is why the proper hashtag is not #vendorsluts but #vendorwhores. It never happens that you abandon a longtime customer paying you gobs of money for someone who isn't paying you. Never.
Unless CoreLogic knows something that its MLS customers do not? Like their days are numbered? Or there's something even more valuable than dollars that Upstream (and its brokerage members) can provide CoreLogic?
CoreLogic/Upstream and the MLS
So how do these interests align, exactly? One would really like the other to go away, and the third is making money from one but not the other (as far as we know) but helping both sides make the other one go away? What? Does that sentence even make sense?
I suppose it could make sense if we think of CoreLogic as an arms dealer who has no trouble selling to both sides of a war. But that only makes sense if CoreLogic is selling to both sides, not selling to one while giving it away to the other.
What interests are aligned here exactly?
Could It Be… Data?
One possible answer comes from a totally different place: the Michael Wurzer takedown of Remine, linked to above. Maybe it's data that CoreLogic would get, not dollars.
A little background. As Inman News announced, Remine raised $30 million and said it would launch "MLS 2.0":
Remine, a real estate data and analytics company known for its ability to predict which homes are "likely to sell," has raised $30 million for ambitions that go way beyond lead prospecting.

The firm plans to launch a brand-new multiple listing service system in the third quarter of this year to compete with entrenched vendors such as CoreLogic, Black Knight and FBS as well as a suite of broker tools.

Remine's upcoming "MLS 2.0" platform will offer both a front end (the part that agents see and enter listings into) and a back end (database) like current vendors do, but unlike them, will also allow any front end MLSs choose to connect to its back end, including a tool like broker data management platform Upstream.

On top of that, Remine's platform will be "open" in the sense that it will allow integration with any number of third-party vendors and allow MLSs to share specific back-end functionality — such as saved searches — with third-party vendors.

"Remine's vision is to empower the MLS industry with modern, open and scalable technology which supports front end and input of choice, while adding new reporting and safeguarding controls to ensure the integrity of its data," said Mark Schacknies, CFO and co-founder of Remine, in a press release.
In response, Michael Wurzer, CEO of FBS, wrote a blistering post titled "Remine is trying to mine the MLS, not re-invent it." In it, he points out that FBS's own Spark platform has been providing open API for a while, and then writes:
I don't think API innovation is actually Remine's focus. Rather, Remine's focus has been on their up-sell to their "sell score" and related products that allow agents to target prospects. (Interestingly enough, I went to look for the pricing on Remine's web site and it looks like they've taken it down. I wonder why?) These are cool tools but they are aimed at the broker and agent, not the MLS. Why do I say this? Because the "sell score" and similar products are ways for brokers and agents to compete with each other, and the MLS is about cooperation. Competitive products like "sell score" have a negative network effect in that the more agents use them, the less valuable they are to any one agent (imagine all the agents calling the same high "sell score" prospects).

The reality is that, as much as Remine might want to claim they're creating MLS 2.0, to me it looks like they're really trying to use the MLS to monetize the tools they want to sell to agents. In my experience, that's going to be a tough sell to a lot of MLSs, who are pretty sensitive about their MLS vendors pounding away at their agents with marketing and sales tactics. And, if somehow Remine's supposed innovation actually is about APIs, I'll just reassure our customers that they already have the best API that puts them 100% in control of their and their members' data. Problem solved!
Hmm. Mining the data in the MLS in order to up-sell related products… say… isn't that… CoreLogic and Black Knight?
Because I could swear that one of the main reasons why the two companies, who make their real money on data and data-related product sales to large institutions like Wall Street banks and investment funds, are the two dominant MLS software vendors is to… ah… mine the MLS. To create products like this one: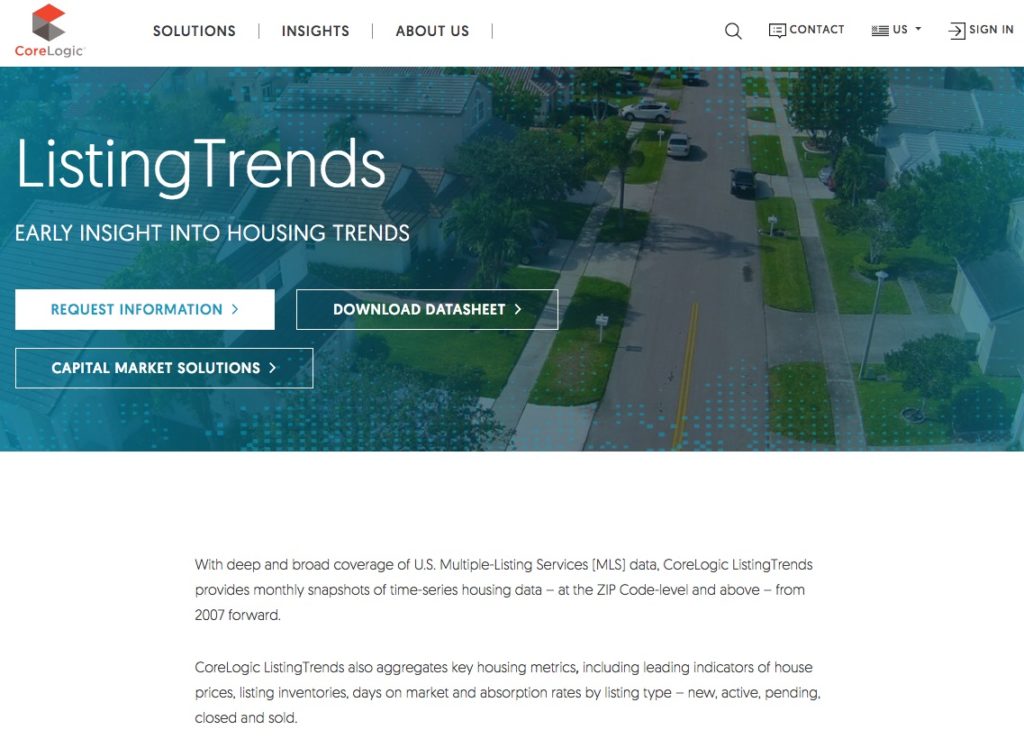 And maybe that's why CoreLogic decided to get into bed with Upstream, as that would let them aggregate and analyze and repackage and sell some data that even the MLS lacks. That at least makes sense from CoreLogic's standpoint.
What the interests of the brokerages are to having their data mined, aggregated, analyzed, packaged and sold to Wall Street are has yet to be explained to me. But I await edification.
Finally, what the interests of the MLSs are to having CoreLogic do all this wonderful data mining, packaging and selling of broker data is unclear. Would that lead to CoreLogic charging less money to the MLS for Matrix and Realist? Is there a revenue share involved here?
Because…
Does Any of This Even Happen Without the MLS Saying Yes?
It seems apparent to me that all of that hypothetical data sales riches requires that Upstream be useful to its brokerage members. That in turn requires that the MLSs agree to (a) send listings to Upstream, and (b) accept listings from Upstream. CoreLogic might own the software that the MLS runs on, but it doesn't own the data inside the MLS.
Presumably, the deep relationships that CoreLogic has with major MLSs is why Upstream picked them:
CoreLogic has outstanding experience, relationships, and coverage across the MLS community. They are the perfect choice if you want to align better with any MLS. Upstream has always looked to partner with the MLS community, but we are better with CoreLogic by our side. Their platforms already cover over 60% of the US, and they adroitly understand regional nuances and issues MLS CEOs face. With the Trestle platform, we can create a custom product for brokers that leverage their enterprise infrastructure and integration architecture. Over 300 vendors are already integrated and receive data today!
I suppose it is true that CoreLogic is the perfect choice if you want to align better with any MLS. Upstream is better with CoreLogic by their side, no doubt about it.
But you still have to get the MLS to say Yes. The deep relationship helps, but let's not forget that the deep relationship was built based on a customer-vendor relationship. And for the past few years, in the Upstream Era, CoreLogic was unquestionably on the side of the MLS. That now appears to have changed. Will the deep customer-vendor relationship lead to those customers agreeing to commit suicide? Probably not.
The Key Issue and Question
From that perspective, there is one key issue and question for CoreLogic to answer on behalf of its new partner, Upstream: where will the data be stored?
This is not an idle question, nor is it a technical one. It's critical to the MLS's interests being aligned with Upstream's interests. I wrote about it at some length in 2016:
Furthermore, Upstream has stated publicly that it intends to be the "single source of truth" for real estate data:

"Upstream is a consolidated database of broker information in one place," said Dan Elsea, president of Real Estate One and vice-chair of Upstream's board of managers.

"The idea is to facilitate the distribution of information and to streamline the process so that a broker doesn't have to put information multiple times in multiple places."

Upstream is "a single source of truth" for broker information, said Cary Sylvester, a Keller Williams vice president and Upstream board member.

The problem I have with that structure is that the real estate industry — indeed, the country as a whole, given the importance of real estate to the economy — needs a "reference database". I mean there needs to be some yardstick of accuracy, completeness, timeliness, etc.
This still remains the key issue. Is the MLS the single source of truth? Or is Upstream the single source of truth? Or are both sources of some of the truth?
If under the new CoreLogic-Upstream, the data is stored in the MLS without a second database floating around somewhere in CoreLogic's server farms, then the MLS remains the single source of truth and Upstream is but a data management utility.
If, on the other hand, Upstream has its own database and stores the brokerage data there… to pass down to the MLS as needed and as directed by the brokerage… well, then that's a different thing altogether. Then the MLS is no longer the single source of truth, no longer the marketplace, and no longer all that vital in the grand scheme of things. Sure, sure, the MLS will do cooperation and compensation, but so will a simple two page form co-broke agreement that can be e-signatured in 5 minutes.
So if this latter scenario, then it's safe to say that the MLS's interests and Upstream's interests do not align. In fact, they're in conflict.
For CoreLogic, its interests lie where? How do they thread that needle between the MLS and Upstream?
If they side with MLS and all the data lives in the MLS database, is that enough for Upstream? Because then Upstream is just a data utility, like Bridge Interactive or MLS Grid or Spark API or what-have-you.
If they side with Upstream and all the data lives in the Upstream database, hosted by CoreLogic, is that okay with the MLS? Because then the MLS is just another data destination, like any CRM software vendor.
Ah, Mystery!
Well, this got long. I would like to say that I'm ready for answers, just in case anybody wants to provide them, publicly or privately. But as is often the case when I go stupidly asking obvious questions, chances are that others have the same questions as I do. They just won't or can't ask them for a variety of political reasons.
So I'll do it for them. If I get answers, I'll happily share them with you.
In the meantime, we must all do what we can while living in the land of confusion, dreaming a thousand dreams….
-rsh