Happy Monday, everybody.
A couple of you have asked for this topic in the Notorious VIP Network (all VIP Subscribers have been invited, so check your inbox if you don't know what the Network is), so I figure I'll kick off this week of writing-while-at-home with some free advice (worth exactly what NAR paid for it) that is likely to be ignored, if not pooh-pooh'ed into the ground.
Keep in mind that I am a huge, giant fan of the REALTOR Movement, as anyone who has been reading this blog for a while should know. For example, this post from 2017 where I point out that the origins of the REALTOR Movement was the shift from "let the public be damned to let the public be served." I love the Preamble to the Code of Ethics, as it lays out the high ideals of the REALTOR Movement:
I love these words. Who could not? They ring of concern for not just the buyer and seller, but for the public, for the interests of the nation and its citizens. They talk about grave social responsibility and a patriotic duty. The REALTOR Movement, at its heart, is a patriotic, public-minded, socially responsible movement. They are every bit as inspiring to those of us who work in the real estate industry as the Declaration of Independence is to the American people.
So my advice, for what it's worth, will be heavily tinged by that admiration for and love of the men and women who have internalized the ideals of the REALTOR Movement.
Let's get into it.
A Bit of Context
To be fair, let's lay out a bit of context here.
As I mentioned in the Network, I've been seeing more and more signs of real disconnect between the NAR leadership and the NAR membership. There has always been grumbling about NAR among the rank and file membership, but in recent months, as I travel around the country and work with not just the rank and file but the local leadership of REALTOR Associations, I'm picking up more and more hostility to NAR even from those who have spent decades serving the REALTOR Movement at local, state and even at NAR.
Questions like, "What does NAR actually do for us?" are no longer merely whispered behind closed doors, but loudly asked in groups. Complaints about high-profile NAR projects, such as RPR and Upstream and the Investment, Opportunity, Innovation summit, as well as core NAR programs like the advertising campaigns are no longer just beneath the surface: they are right on top for all to see and hear.
A couple of years ago, I did a fun Black Swans of Real Estate presentation in which one of the Black Swan events was what I called the "The Union Dissolves". I pointed out then, using the example of the Miami Association of REALTORS, that members pay $301 out of $750 total annual dues to Florida REALTORS and for NAR.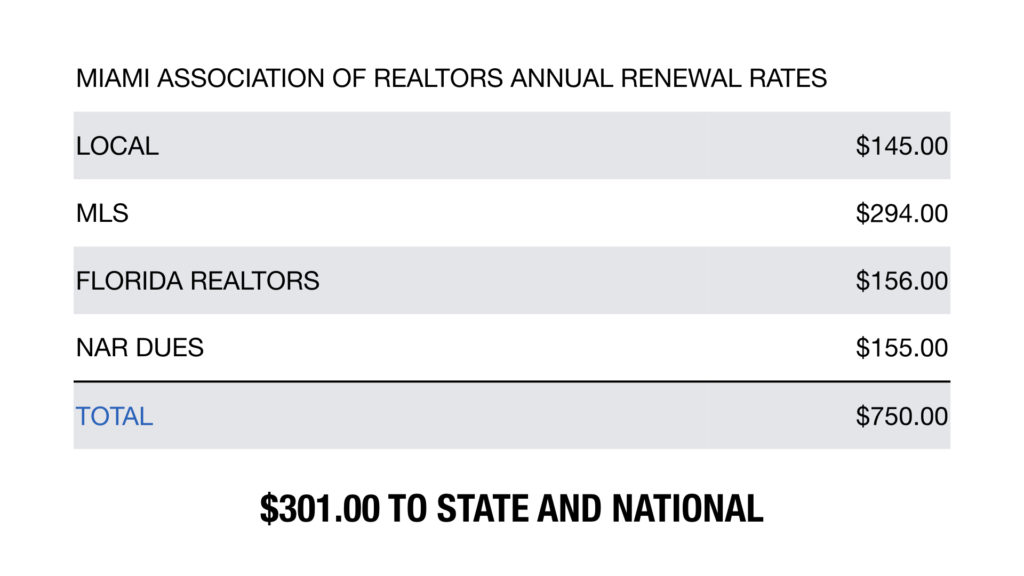 After pointing out that the REALTOR brand has become meaningless, because everybody has it, and pointing out that the Miami Association of REALTORS owns and controls its local MLS (which is the reason why 70+% of its "members" join the Association), I theorized that Miami could decide to go independent, save its members $300/year (or pocket $300/year and offer more products and services to its members), and lose nothing more than NAR's liability insurance coverage (insurance is not exactly impossible to buy).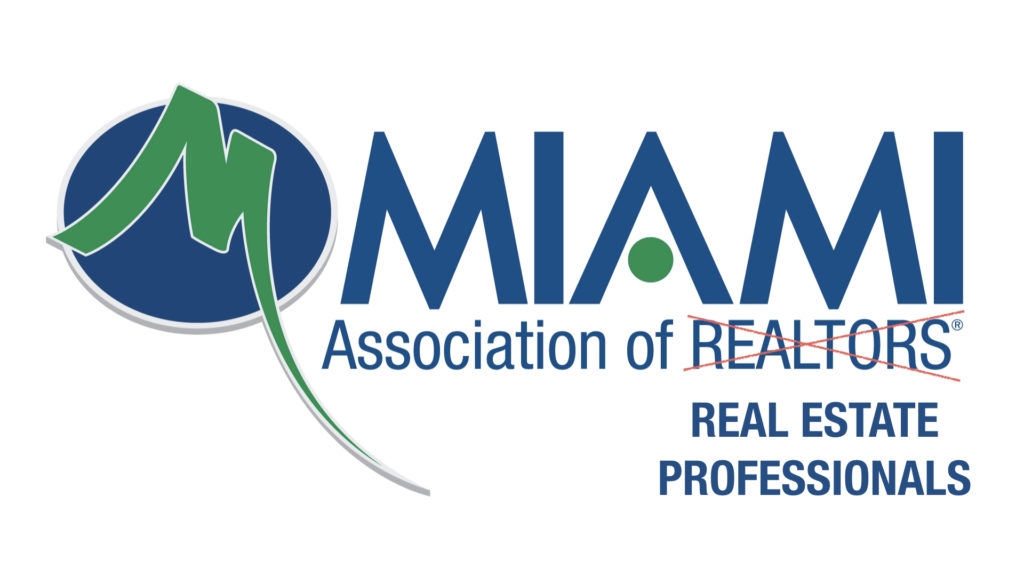 In 2019, I think this Black Swan is looking more and more like a grey goose or perhaps even a "matter of time before somebody somewhere does it." Quite a lot of local Association and MLS leaders are voicing complaints about NAR and even their state Associations that I haven't really heard from people like them before, even if I had heard it from average REALTOR members.
In addition, if you go and speak to brokerage owners and managers, particularly those of large brokerages, you find that most of them regard the MLS as a necessary evil but the Association as a useless burden. If they could figure out how to get out from under that burden without losing access to the MLS, many of them would. Moves by large companies like Compass, Howard Hanna, and others to start systemizing "Coming Soon" as an alternative pre-MLS marketplace take on a whole new meaning when seen in this context.
In the meantime, in the past few years, as the emergence of iBuyers completely changed the landscape for real estate, and as billions have poured into disruptive startups (and a couple of companies pretending to be disruptive startups, while being updated versions of Realogy and Keller Williams), NAR has done little to suggest that it is seeing (never mind responding to) these challenges. NAR continues to do what it has done for years, holding the same conferences with the same topics talking about minutiae and details that few people who are not NAR insiders care about.
I fear that NAR is becoming more and more irrelevant to the real estate industry as it undergoes radical and extremely fast changes. My fear is that the entire REALTOR Movement gets dragged down with NAR.
So, how do we change that? How do we make REALTOR Great Again? Here are the three most important things that NAR can do to change its trajectory in my view. There are dozens of other steps NAR can and probably should take, but these three are the most impactful and therefore the least likely to be done.
1. Reform Governance
The first step is to completely redo NAR governance.
As I point out in many a presentation, NAR's Board of Directors is larger than U.S. Congress… with less accountability to the "voters." That's saying something.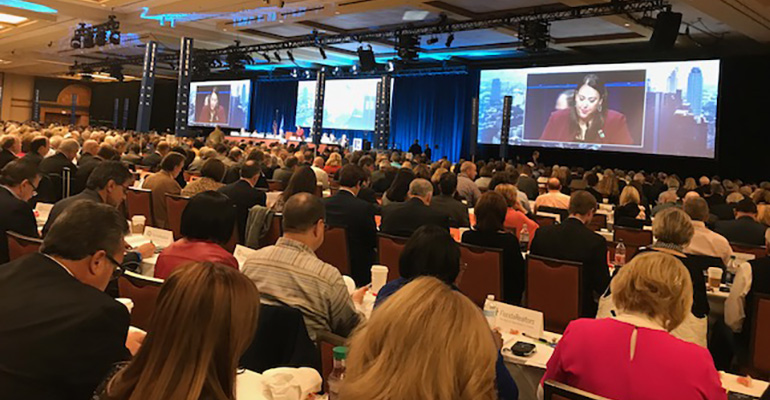 Go grab a few active members of your local REALTOR Association. Ask them to name their NAR Directors. Chances are, they won't be able to. Mind you, these are active members, perhaps people who serve on a committee or two. Even they often don't know who their NAR Directors are. So imagine how it is for the rank and file REALTOR member who is just going about her business trying to help people buy and sell houses.
I have been to a NAR Board of Directors meeting a couple of times, and I can say with absolute certainty that there were Directors who were opening their information packets for the very first time during the meeting. I have spoken with many a Director who say that many of their peers are simply rubber-stamping whatever proposal is put forth because that's what they have been told to do.
Truth is that real decision making at NAR happens at the far smaller Leadership Team. For 2019, there are eight individuals listed. I know all but two of them pretty well, and I know them to be really good people who care a great deal about the industry, about NAR, and about the members. But the typical NAR member does not, and for that matter, there are real questions today whether most of the local and state leadership have much of a connection with any of them. Showing up at a local or state event and giving a speech is not exactly the same thing as having a real connection.
How then, do we change that?
Recommendations: Governance Reform
Again, I will make the three suggestions that are the most impactful.
A. Merge the CEO and the President Position
First, I think it makes sense to eliminate the distinction between "professional staff" and "volunteer leadership" as it comes to the most important position at NAR: the CEO. Bob Goldberg is a capable man, and very, very smart. He is the right leader for NAR at this time.
But as great as Goldberg is, one cannot say that he has any kind of a popular mandate from the membership to lead NAR in any particular direction. He was chosen by the NAR Board of Directors, not by the membership. There are hundreds of thousands of NAR members who had no voice in his being CEO of the organization. So of course there's a disconnect.
At the same time, the highest elected position at NAR is the President. Today, there is a new President every year and with the way that NAR politics works, who the President will be is known well in advance by the other positions that are steps to the Presidency. The President is elected by the Board of Directors at the May "Midyear" meetings and then installed at the November NAR Convention. Of course there's a disconnect between even the President and the general membership, many of whom never cast a vote for him or her, and don't know the names of their NAR Directors who did.
The recommendation then is to merge the position of President of NAR and the CEO of NAR together and have the highest executive officer of NAR be someone who is popularly elected by the membership. The term of office would be long, as befits the chief executive: 4 years seems to work for the United States and most of the governorships of our 50 states, so it's probably good enough for NAR.
Since the election is every 4 years, those elections would then be competitive. Candidates would run on a platform to appeal to the membership, and then have to live up to the promises they've made. But the winner would have the time and the authority to implement those programs. Winning that election means that the President has the popular mandate from the membership — something that the current Chief Executive cannot be said to have.
Perhaps an accomplished association executive like Bob Goldberg becomes the Chief of Staff of the new President to help the elected leader manage the actual business and corporate side of NAR… and such a talented Chief of Staff would be retained through multiple Presidents, thereby guaranteeing continuity, if that was something the President wanted.
This change also helps subtly shift the center of power within NAR. Today, the CEO and the President are both selected by the Board of Directors, and the CEO reports to the Board of Directors. Their incentive is to keep the Board of Directors happy. Tomorrow, the President is elected by the membership; her incentive will become to keep the membership happy, and the Chief of Staff will serve at the pleasure of the President.
Maybe that's both good and bad, but one thing it won't be is disconnected from the rank and file membership.
B. Convert the Board of Directors into a House of Representatives
At the same time, you don't want all of the power concentrated into one person. So, it is necessary to counterbalance the powerful new President & CEO with a democratic body. The Board of Directors is the wrong entity, because each Director owes a fiduciary duty to NAR.
A better approach would be to convert the Board of Directors into a directly elected House of Representatives who are not fiduciaries of NAR, but instead have a duty to represent their constituent members who voted them into office.
If NAR must have a Board of Directors for corporate law purposes, then have the House of Representatives select a small Board (think 7-9 people) to work with the President/CEO to govern and manage NAR the corporation. The Board can be subject to recall by the House, and each Representative can be subject to recall by the members who put them there.
This reform must go hand in hand with…
C. Direct Election of Representatives
In conjunction with the above, election procedures across the Association landscape have to be changed to be direct election by the membership. Furthermore, that election must have high enough requirements so that everyone can see that there is sufficient popular support for that person.
Today, we have "leaders" who are on local and state and national Boards of Directors who are there without even a single member casting a single vote for them. They are leaders without followers, which means they're not leaders at all, but "club insiders" — and that's exactly how the general membership see them. In other situations, there are "leaders" who are elected into office, with the vote of maybe 1% of the membership… because the members don't vote in elections. Again, they are leaders without followers.
I recommend that anyone being elected to any position in the Association be required to get the vote of at least 25% plus one of the total membership of that Association. Even if she is running uncontested, she has to go get 25% of the membership to vote for her, if only to show that she has supporters and followers among the membership.
At a minimum, what this does is to make sure that NAR policies can be communicated down through the leadership to at least 25% of the membership, and those leaders can much more easily convince their supporters that whatever policy is a good idea. In an ideal world, that leader is in direct contact all the time with her constituents, has real relationships with them, and can better reflect their concerns and their issues to decision makers in the organization.
2. Shrink, On Purpose
The second major change that NAR can make is to intentionally slash its membership.
I know, I know — who in the world thinks about giving up that much revenue on purpose? That's just crazy talk.
However, from the perspective of the REALTOR Movement, and thinking about the roots of NAR's power, it comes down to the REALTOR brand. If the REALTOR brand is strong and meaningful, then NAR will be strong and meaningful. If it is not, then NAR won't be either.
The single biggest problem with the REALTOR brand is that everybody has it. The term "REALTOR" is the victim of its own success, the way Xerox and Kleenex are victims of their success. In most of the United States, every single real estate agent is a REALTOR because they have to be in order to access the REALTOR-owned MLS. And even in the so-called Thompson jurisdictions, most are REALTORS because their broker forces them to be REALTORS.
The result is that despite the $35 million or so that NAR spends on advertising the REALTOR brand every year, it has zero impact in the marketplace. How could it, when everyone that a consumer might contact is a REALTOR?
Taking a look at a sister industry like commercial real estate, if the REALTOR brand were something more like the CCIM brand, with only about 6% of practitioners holding that brand, then it might actually be really meaningful to consumers. We know from commercial world that CCIM is meaningful there; perhaps the term "REALTOR" can become meaningful to consumers over time as well.
Shrinking and Political Power
The second beneficial impact of shrinking the membership on purpose is political power. The one thing that everyone agrees on, both inside the world of Associations and outside of it, is that the Association does one thing very well: political advocacy. And I know that Associations, especially NAR, like to throw around their large member numbers and say that they have enormous political power because of it.
I don't think that holds anymore.
I believe that in 2019, political power comes from highly motivated activists, not from a large number of uncommitted and often ignorant "members." Example? Democratic Socialists of America — tiny in number, and yet, they have two members in Congress and they're making gains.
Elected officials can safely ignore any threat of NAR mobilizing its members to vote against them, because they can do math and they know that the average REALTOR members is not a diehard member of the REALTOR Party. The average REALTOR is not an activist.
If that should change… and NAR shrink down to say 150,000 committed, politically informed, RPAC-contributing, door-knocking, phone-bank manning activists… that changes the political equation quite a bit. 150,000 activists makes the REALTOR Party some three times the size of DSA, and may get the REALTOR Party close to par with (believe it or not) the Democrat and the Republican parties. (Based on the rough estimate of 200,000 Precinct Captains in each party vs. 150,000 committed REALTOR activists.)
That's political power that no candidate can ignore.
3. Lobby for W-2 Status for Real Estate Agents
Shrinking the membership on purpose improves the REALTOR brand, and helps refocus NAR into the first of its core missions: political advocacy.
The lobbying for W-2 status recommendation is the single biggest change that NAR can make to live up to the second of its core missions: professionalism.
NAR and its state and local affiliates have been instrumental in protecting the 1099 status of real estate agents. They continue to be instrumental in making sure that real estate agents are not employees of their brokers, even while under supervision of their brokers under real estate license law.
The fact that brokers cannot manage independent contractors, tell them what to do, how to do it, and when to do it, means that there is precious little control over the professionalism of real estate agents outside of license law. That lack of professionalism was and is the #1 issue in the DANGER Report should surprise nobody.
All of the ideas to date to improve professionalism, to "raise the bar" so to speak, have failed because none of them address the core issue: brokers cannot manage their agents. As the saying goes, being a broker today means you have all of the liability and none of the authority.
NAR can change that by actively lobbying the federal government, and through its state and local affiliates lobbying the state governments, to remove the 1099 exemption for real estate agents. Make real estate agents W-2 employees of their brokerages, and we'll see a massive sea change in both the productivity and the professionalism of real estate agents. Brokers can now actually manage their agents to be more productive, and enforce their standards on professional conduct, including client service and professional ethics. Those brokers who neither manage their agents nor enforce standards will find themselves at a significant disadvantage in the marketplace, especially as the REALTOR brand becomes meaningful again.
I don't know that anyone would miss such brokers.
Restore the REALTOR Movement
The above is hardly an exhaustive list of things NAR can do. NAR can do a better job of focusing on its core competencies of lobbying and professionalism, and stop being distracted by technology. That's just not a trade association's core competency. It can stop doing print magazines, or have articles about swimming pools.
But all of those pale in significance to the above three. If NAR can do these three things — and once again, let me point out that I see no scenario in which NAR does any of the above — then it becomes smaller in membership, but far more powerful in politics and in the industry (through the power of its revitalized brand). NAR can restore the connection between the rank and file members (those who are left as members anyhow) and the leaders who govern, guide and manage NAR.
Along the way, NAR will also restore the REALTOR Movement to its rightful place: at the spiritual heart of the professional real estate industry. NAR will once again become the National Association OF REALTORS who understand and embody the noble words of the Preamble to the Code of Ethics:
Under all is the land. Upon its wise utilization and widely allocated ownership depend the survival and growth of free institutions and of our civilization. REALTORS® should recognize that the interests of the nation and its citizens require the highest and best use of the land and the widest distribution of land ownership. They require the creation of adequate housing, the building of functioning cities, the development of productive industries and farms, and the preservation of a healthful environment.

Such interests impose obligations beyond those of ordinary commerce. They impose grave social responsibility and a patriotic duty to which REALTORS® should dedicate themselves, and for which they should be diligent in preparing themselves. REALTORS®, therefore, are zealous to maintain and improve the standards of their calling and share with their fellow REALTORS® a common responsibility for its integrity and honor. [Emphasis added]
That strikes me as a real service to the nation and to the world.
-rsh