I am alternatively furious and despondent that this post has to be written in 2019. But it has to be.
In case you missed it, Newsday, the local newspaper for most of Long Island in New York, ran a three year investigation into racial discrimination and steering in real estate. They just published their findings in a serious piece of investigative journalism. If you haven't read the piece, and more importantly watched the accompanying 40-minute video, I urge you to read the whole thing and watch the whole video.
We have a problem.
It is a public relations nightmare for the industry, and I sincerely hope that the brokerages involved, the franchises whose brands have been trashed, and the REALTOR Associations local, state and national who stake their very existence on a Code of Ethics that imposes "grave social responsibility and a patriotic duty" are getting in front of this crisis right the %&#$* NOW.
But this is more than just a PR problem. This is a social, political and most importantly moral problem. Housing is the American Dream because it is so important and so far-reaching in its consequences. It is a path to generational wealth, a path to economic and community development, and a path to mutual understanding between people of different backgrounds.
Denying people of opportunities to live and work where they want on the basis of skin color is a most profound form of racist discrimination and oppression, and it is abhorrent to the American ideal.
It must be addressed. All people of good will absolutely must unite in not just condemning what has been going on in Long Island, but also in ensuring that this moral rot does not ever rear its ugly head not just in the suburbs of New York City, but anywhere and everywhere throughout this country. Let's not pretend that what Newsday documented over three years, using dozens of trained testers and academically valid research methodologies, is a phenomenon only found in Long Island. Let's not pretend that what we saw and heard on the video is something unique to just those agents, just those brokerages, just that area of the country.
I know that most of you reading this share my disgust, sadness, and anger at what was revealed. If you're not disturbed by it, please do me a favor and never come back to this blog again. I do not wish to know you.
Question is, what now? How do we move forward? I have a few suggestions.
But first…
Not Enough
Many of the brokerages contacted by Newsday sent along some sort of a bland statement. Others just refused to comment. Maybe your legal counsel told you to do that. Maybe your PR team crafted a boring-ass statement that is meant to deflect attention.
Let me tell you in no uncertain terms, that is not enough. It isn't even in the same ballpark as enough.
The Real Deal posted an article with reactions from some of the top NYC brokerages. Some of the comments:
"If anyone in my office did it, I'd be like, 'Get out,'" said Jed Garfield of Leslie J. Garfield, whose firm specializes in high-end townhouses. The only qualifier his team considers is whether the buyer has the money to close the sale. "I can't have people be concerned about race," he said. "We run a very capitalist shop here."
That is the only appropriate response here. It most certainly is not what Douglas Elliman said:
"Newsday's report is an unreliable, unethical, and unscientific attempt to create a news story where there is none," a representative for the firm said in an email. Newsday said it used the same method that the federal government does, overseen and vetted by unpaid, outside experts.
One of your agents told a white tester that Hispanics had "taken over the area" but left that gem out when talking to a black tester. That's on video. He may also have engaged in steering. And this is your response?
There are 34 agents who Newsday found have possibly violated fair housing laws, including steering and denial of equal service. The list is here along with each case, responses from the agent and the brokerage, and expert opinions.
So what have the brokerages and brands done about these 34 problematic agents?
Almost all of these agents remain employed by their brokerages, not disavowed by their brands. They all proudly state on their websites that they are members of LIBOR, of NYSAR, and REALTORS in good standing with NAR.
Quite contrary to Jed Garfield's statement in The Real Deal, it appears that none of the brokerages, none of the managers, were like, "Get out!" The REALTOR Association has done precisely zip.
Bland PR statements promising to "address things" with the agents. No action.
Not good enough. Not by a long shot is this enough.
Clean House, Ruthlessly and Publicly
I am far more disturbed by the lack of action by the companies than by the racial steering and wrongdoing by agents.
Why? Because every organization has idiots and morons. It is entirely unfair to attribute the words and actions of a single agent to the entire organization.
It is, however, fair to attribute the words and actions (or inactions) of the organization to the entire organization.
Allow me to point to an example, and suggest that Coldwell Banker Residential — a Realogy company-owned store — needs to do a helluva lot more than what they have so far.
Rosemarie Marando was caught on video telling a white tester:
"I can't say anything, but I encourage you, I want you to go there at 10 o'clock at night with your wife and buy diapers. Go to that 7-Eleven. They didn't buy there. I have to say it without saying it, you know?"
She is still an agent with Coldwell Banker Residential, out of the Setauket office. Newsday makes it clear that they communicated their findings to Coldwell Banker corporate office:
Newsday notified Marando of its findings by letter and email, invited her to view recordings of meetings with testers and requested an interview. She did not return phone messages.

Newsday presented its findings by letter to Charlie Young, president and chief executive officer of Coldwell Banker Residential Brokerage. The letter covered the actions of Marando and additional Coldwell Banker agents.

The company's national director of public relations, Roni Boyles, wrote in an emailed statement:

"Incidents reported by Newsday that are alleged to have occurred more than two years ago are completely contrary to our long term commitment and dedication to supporting and maintaining all aspects of fair and equitable housing. Upholding the Fair Housing Act remains one of our highest priorities, and we expect the same level of commitment of the more than 750 independent real estate salespersons who chose to affiliate with Coldwell Banker Residential Brokerage on Long Island. We take this matter seriously and have addressed the alleged incidents with the salespersons."

Coldwell Banker declined to discuss the company's responses to specific cases.
I know Charlie Young; I've worked with Charlie Young back in my Realogy days. He's a good dude with a good heart, and I refuse to believe that he would countenance this kind of behavior from one of his agents. I also know Ryan Schneider, CEO of Realogy, and he's one of the finest men I've met. I know a lot of executives at Realogy, at Coldwell Banker, who have to be as outraged and as furious as I am.
Having said that… gentlemen… this is not good enough. Expect the same level of commitment? Rosemarie Marando and three others caught on video are still working for you. In fact, you recruited another problem child from Keller Williams. You're going to have to do a lot more than "expect the same level of commitment" here. Declined to discuss the company's responses to specific cases? Not even a "the agents have been required to go through additional training" kind of a deal?
If I am Charlie Young, or Ryan Gorman who just took over Coldwell Banker, or Ryan Schneider the CEO of Realogy, I have to open an inquiry into how these agents fell through the cracks. What is the culture of that office, of that brokerage, or even of the brand itself such that these agents were working there and doing this? Was Marando who "have to say it without saying it" truly a unique outlier, or is there something to be addressed?
You want the answer to be, "She's an outlier." But make certain. Make sure of it.
And I'm not singling out Coldwell Banker, because all of the brokerages and brands whose agents were found to be doing this shit need to do a whole lot better than they have so far. At least Coldwell Banker expressed its commitment to fair housing and standards of ethics. Laffey, Charles Rutenberg, Coach Realtors, Century 21, and Realty Connect USA simply refused comment.
All I can say is, you can refuse to comment, but you can't refuse to act.
It is not enough to just terminate these individual agents. Brokerages need to bring in their managers in for questions: How did this happen on your watch? Franchises must have serious meetings with their franchisee brokerage owners: What kind of shop are you running under our brand over there? Associations need to investigate their fair housing training classes and the people who teach them, as the video from Newsday makes so abundantly and so painfully clear.
Every organization involved in this mess, from the individual brokerage to the franchise brands to the REALTOR Associations must clean house and do it publicly so that rank and file agents as well as the consumers who trust them see that real actions are being taken.
Clean house. Ruthlessly and publicly. It is the only possible way to restore trust in the industry as a whole, so that consumers understand that there may be some bad apples, but the entire barrel is not spoiled.
To the REALTOR Associations: LIBOR, NYSAR, and NAR.
If any of these 34 people remain REALTORS 90 days from today, which is more than enough time to conduct a thorough investigation, then you had best publish detailed reports on why any of them retain REALTORS status.
If you do not do this, if you cannot do this, then what is the point of you existing at all? If people caught treating blacks and whites differently on camera are still REALTORs, what is the goddamn point of that "R" badge? If agents who are steering customers based on race, in violation of the law and the Code of Ethics, are still welcome to call themselves REALTORs, why in the world would any decent person want to be one of them?
Clean house. Ruthlessly and publicly. Or else, have the United States Department of Justice's Civil Rights division come in and do it to you. Given what else has been happening, that attention from on high is the very last thing you can afford.
On Culture
One thing I need to bring up here is the issue of culture. Brokerages everywhere talk a great deal about the importance of culture, usually in recruiting pitches to agents. And culture is important to every company in every industry as it permeates throughout the entire organization and its way of doing everything.
Newsday ran its investigation on the 12 brands that represented more than half of Long Island's sellers in 2017:
They included Douglas Elliman, Century 21 Real Estate LLC, Charles Rutenberg Realty Inc., Coldwell Banker Residential Brokerage on Long Island, Coach Realtors, Daniel Gale Sotheby's International Realty, Laffey Fine Homes, Keller Williams Realty, The Corcoran Group, Signature Premier Properties, Realty Connect USA and RE/MAX LLC.

Tests of agents associated with two of the firms–The Corcoran Group and Daniel Gale Sotheby's–produced no evidence of disparate treatment.
First of all, kudos to Corcoran and Daniel Gale Sotheby's. You have a right to feel proud that your agents did the right thing at all times with all potential buyers, no matter their race. Whatever company culture you have, it's working.
For the other ten, the fact that some of your agents engaged in racial steering doesn't mean that your whole company is engaged in it. But when you respond with silence, while keeping all of the bad actors on, we can justifiably ask about your culture. When you not only don't get rid of such agents, but in fact bring more on, we can justifiably ask about your culture.
Frederick Peters, the CEO of Warburg Realty, said it best in The Real Deal article:
"If the culture of a company is a no-tolerance culture, you end up with brokers who aren't thinking it's OK to do this," he said. "There are companies where if you make money, they don't care what you do."
I refuse to believe that ten of the top brands in real estate in Long Island are racists or tolerate racists in their company culture. But you know what? You no longer get the benefit of the doubt.
One last thing: culture starts at the top. This investigation, this work to ensure that these racial steering incidents are indeed unique outliers rather than a systematic culture problem in the company, must start at the very top, with the owner/CEO. The entire company must know that the head man/woman is personally interested and invested and will not tolerate racism in his/her company. This has to be priority for the CEO.
Otherwise… I can tell you with certainty what is wrong with that company's culture.
Point of Personal Privilege
I could go on, but I won't, because we all know what has to be done. If there are excuses, they had best be the world's best excuses. If there's a misunderstanding, then the agents and the companies involved had best be standing on the world's biggest soapbox telling everyone who will listen what the misunderstanding is.
But I'd like to take a moment and exercise a point of personal privilege as the owner of this here blog.
I grew up in Long Island, and I'm Asian-American. I'm an immigrant son of immigrant parents. I grew up all over Long Island, from Hempstead to Ronkonkoma to New Hyde Park: poor and predominantly black/Hispanic, to working/middle class of predominantly Italian and Irish families, to upper class privileged neighborhoods with top schools. My parents and my brother have lived in even more places, from Northport to Hicksville.
That street in the video showing the divide between minority Hempstead and white Garden City? I used to walk down that street every day as a 10 year old child, wondering why the houses on the other side of the street looked so nice, and the streets were so clean.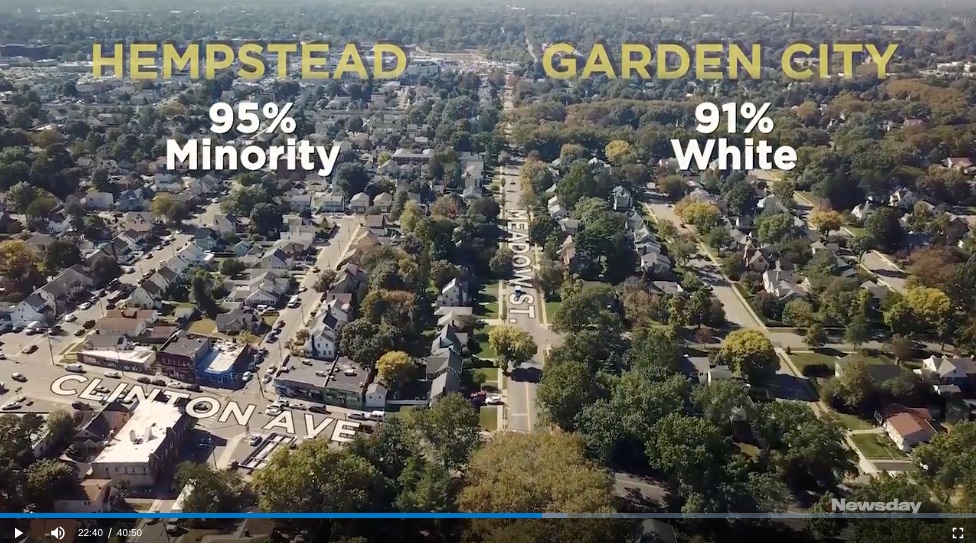 Now I have to wonder if my parents ran into the same shit, the same racist steering, the same unequal treatment that the Newsday testers found, which is why we ended up in Hempstead instead of across the street. Now I have to wonder if the only reason why my parents were able to move to towns like Searingtown and Northport was that they are Methodist ministers, and the parsonages of predominantly white churches were located in those areas. Could they have bought a house in those towns on their own?
This is deeply personal to me, and brings up rather unpleasant memories of my childhood growing up in Long Island. When Eugene Burnett, the elderly veteran denied housing in Levittown, talked in the video about how he would tell the African-Americans from the South that they had to put up with racism that New Yorkers did not… only to find systemic racism in Long Island… I got chills down my spine. Because I have lived in Texas. I've lived in South Carolina. I've traveled throughout the country, East, West, South, North — and I have never experienced racism as I did as a child and then as a teenager in Long Island.
Maybe there's a reason why Public Enemy, the rap group which came out of Hempstead and Roosevelt, resonates with me so much. That kind of childhood breeds rage.
I'm no child today. I'm well past middle-age, heading towards AARP membership. And it is just an infuriating tragedy that Long Island still suffers from this kind of crap more than three decades later. It is even more infuriating that it is the industry I have dedicated my career to that is doing it.
The entire real estate industry owes itself, the clients, and the public an accounting. Bland statements about "we have addressed the issue" while the racist assholes are still working at your offices are not going to cut it. They never have, but now, today? In the social media age? With video everywhere? Not a chance.
Let me also make something clear here. Though I grew up in Long Island, so this story hit home personally, I know this isn't a Long Island problem. Because many of my friends in the industry — many of you in fact — have already reached out to say they see this kind of thing happen in their markets as well. Let's not pretend this is some regional New York thing, because you and I know the truth.
It's time to clean house, and make sure this kind of crap will never rear its ugly head in real estate again. And if it does, those who do should know that we will not tolerate this bullshit and the consequences will be severe. It's time. In fact, it's past time.
Fight the power. Don't be the powers that be.
-rsh