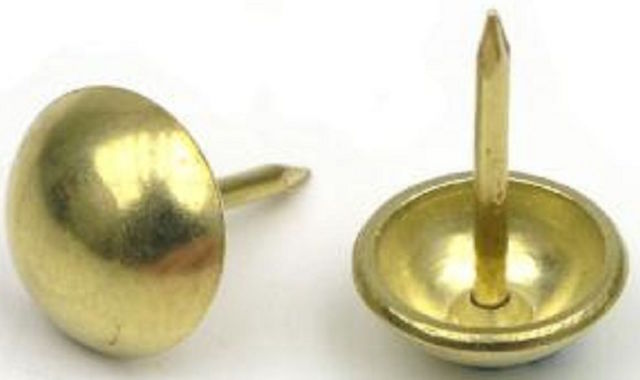 My recent post on Zillow and the winds of war led to some predictable responses. The automated bot-scripts posted about how Zillow sucks, the leads are terrible, and how Spencer's gonna eat your baby, etc. etc., even though my post had nothing to do with any of that.
The principal objection of those who actually read the post was something along the lines of, "It's great that Zillow's catering to their highest paying customers, but that doesn't mean they're doing anything to raise the bar at all."
Sam DeBord, who gets quoted in this blog a lot because (a) he's thoughtful, (b) good-looking, and (c) often on the other side of these debates for me, wrote this as an example:
I dunno.. I think he's a good-looking guy!

A pivot in strategy for profitability's sake is commendable for business purposes. Let's please not pretend that its intention is anything else

And yes, there are lots of other companies developing systems, training, and tools that improve agents' ability to provide superior service. Kudos to Zillow on the intelligent strategy, but let's save the humanitarian awards.
Elsewhere, like on the Facebook post where I sent semi-trolling, some of the more intelligent discussion focused on this issue, and I thought it worth laying it out in some detail, seeing as how the NAR Annual Conference just happened, without any major news on the Code of Excellence front. In fact, the news from NAR Annual is a bit… thin on the professional standards front.
Given that "Masses of Marginal Agents Destroy the Reputation" was cited as A1 on the D.A.N.G.E.R. Report, one might expect something with a bit more oomph. But hey, I wasn't there, and I have no power besides. But then again, you're here, and many of you do have power. So at least here in the corner of the Web, we might get down to some brass tacks on this issue.
The general question is this: What is to be done about the problem of marginal REALTORS?
A corollary question is: What exactly does "raising the bar" mean if it doesn't mean getting rid of the marginal REALTORS who destroy the reputation of the good professionals?
Let's get into it, with an actual example.
The Tale of Two Listings
Since the whole issue of "marginal REALTORS" gets all kind of confused when we speak in generalities, with the single biggest claim being that "high production doesn't mean high service", let's actually get as specific as we possibly can.
I have written in the past about the problem of crappy listing photographs in the MLS. The problem is widespread enough that there's a whole website called Bad MLS Photos dedicated to mocking them. But let's get specific here. Since I'm not a REALTOR, I have no Code of Ethics provision prohibiting me from criticizing a REALTOR, and while I'm generally loath to bash anybody, I don't see how it is possible to even have this discussion without… well… some sharp criticism. So let me say at the outset that I have no idea who these agents are, and the one I criticize might be a wonderful human being in every respect. The person is not the issue here; the work product is.
Let me show you two listings in my neighborhood of Katy, Texas. Both are Active at the time of writing.
Listing #1: 21515 Ivy Blossom Ln
First up is 21515 Ivy Blossom Ln: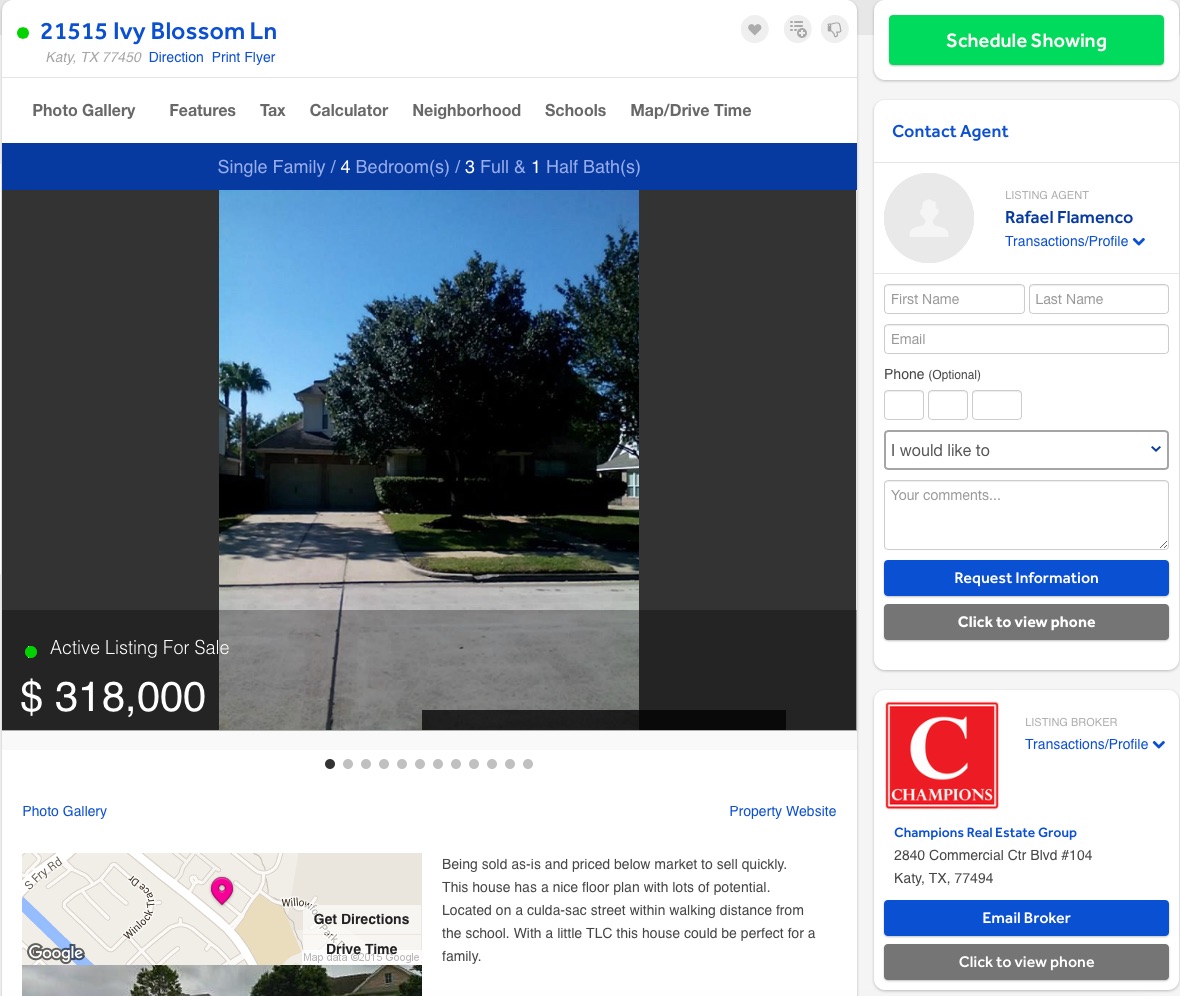 As you can see, this is a 4BR/3.5BA single family home with the list price of $318,000. This is well above the median home price in Houston metro of $205,000 in October, and above the average home price of $271,648, according to HAR: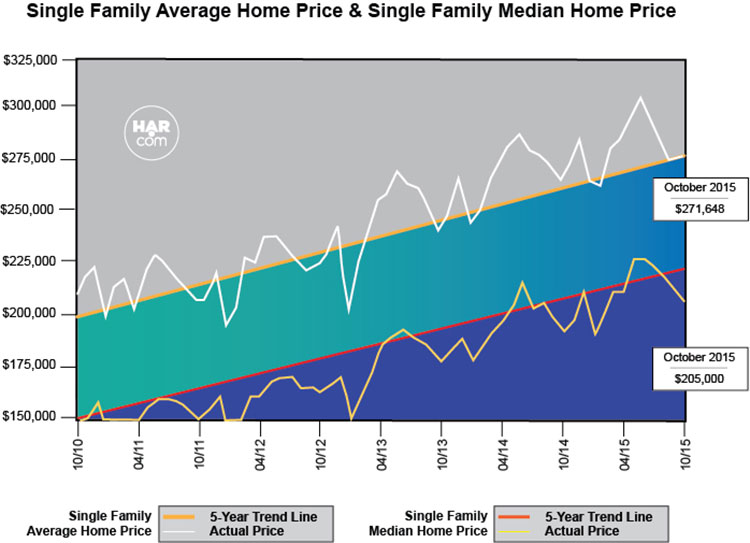 Now, note the Property Description:
Being sold as-is and priced below market to sell quickly. This house has a nice floor plan with lots of potential. Located on a culda-sac street within walking distance from the school. With a little TLC this house could be perfect for a family.
That's the entirety of it. Now, look at some of the listing photographs: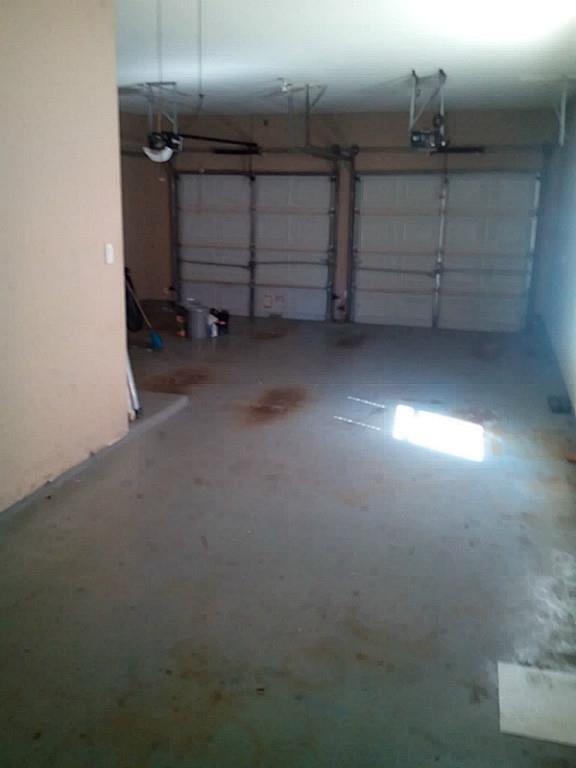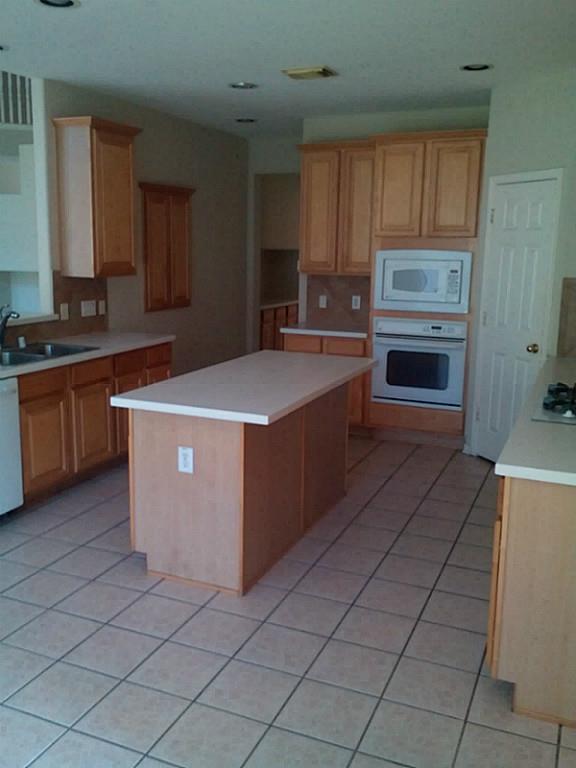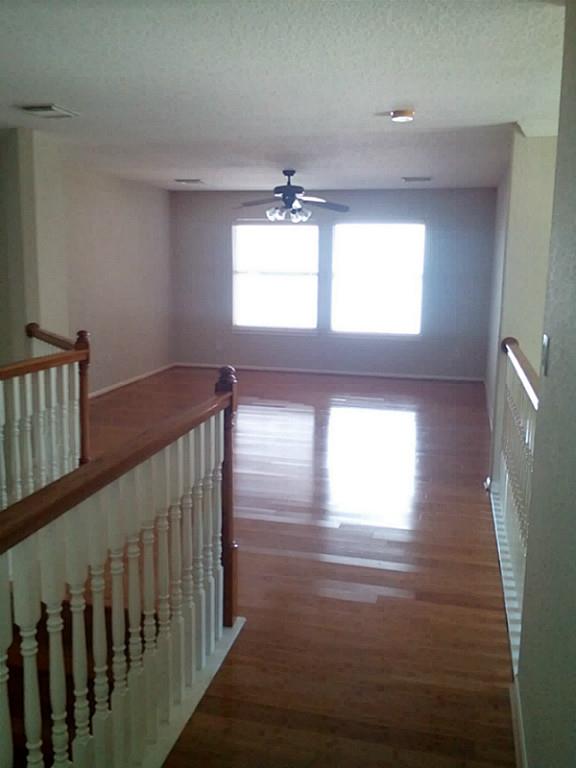 Feel free to click over to the live listing on HAR.com and take a look at the 12 photographs there.
The listing agent is Rafael Flamenco, a dues-paying, full member in good standing of the Houston Association of REALTORS, and through that, of the Texas Association of REALTORS, and the National Association of REALTORS. Here's his Profile Page on HAR.com: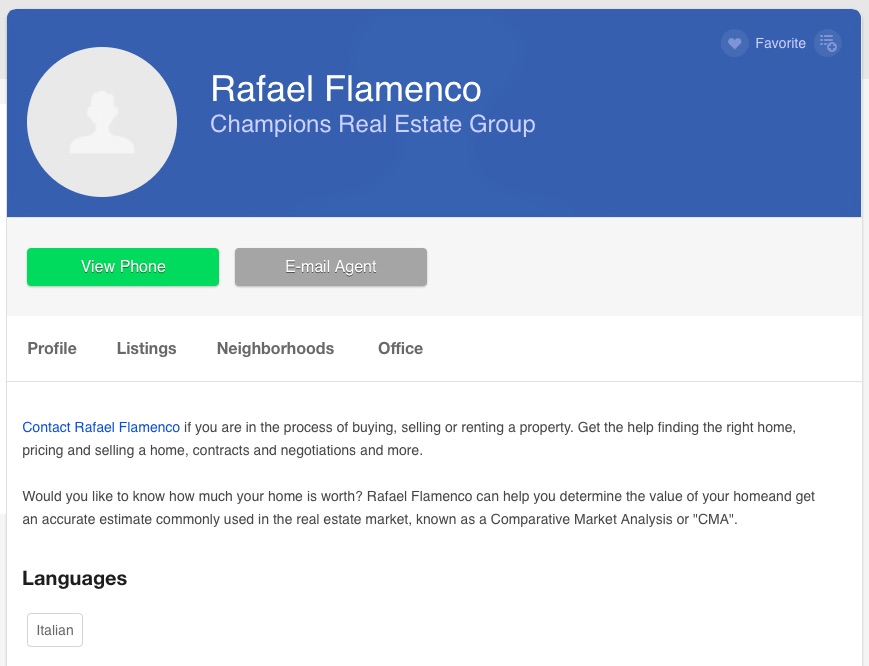 His brokerage is Champions Real Estate Group whose homepage says:
We serve the entire Houston, Dallas, San Antonio and Austin real estate markets; from fine Inner Loop properties to master-planned communities. We are Texas's foremost resource for master-planned communities and offer detailed information on smaller enclave communities. We have extensive information on all area schools and we can supply packets on most school districts. We represent our clients in both the purchase and sale of real estate. As licensed and experienced Agents/Realtors, we are committed to providing home buyers with professional buyer representation and home sellers with innovative marketing campaigns designed to insure a successful home sale. Our unmatched technical expertise, extensive market knowledge, and caring personal touch assure you the highest quality real estate service. [Emphasis added]
Presumably, Champions Real Estate Group does not think that the job done on 21515 Ivy Blossom Ln. represents "innovative marketing campaigns" or displays "unmatched technical expertise" or "caring personal touch". I seriously doubt they would consider the above to be the "highest quality real estate service" for a family (or even an investor) who is selling their home for $318K.
Listing #2: 1230 Ragsdale Ln
Now take a look at 1230 Ragsdale Ln: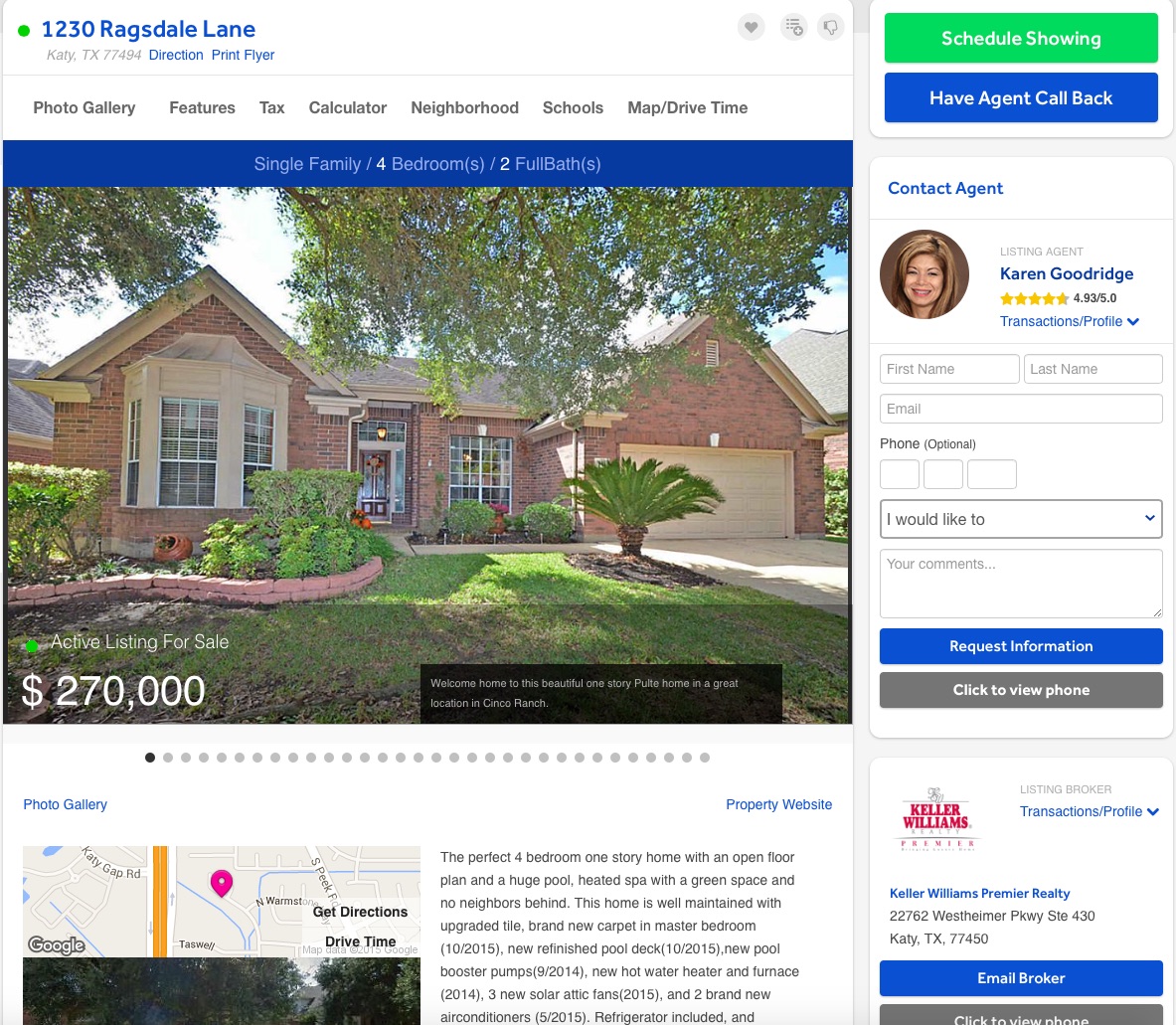 Since the Description is cut off, let me reproduce it here:
The perfect 4 bedroom one story home with an open floor plan and a huge pool, heated spa with a green space and no neighbors behind. This home is well maintained with upgraded tile, brand new carpet in master bedroom (10/2015), new refinished pool deck(10/2015),new pool booster pumps(9/2014), new hot water heater and furnace (2014), 3 new solar attic fans(2015), and 2 brand new airconditioners (5/2015). Refrigerator included, and bathrooms have double sinks. Easy aacess to 1-10 and zoned to CRHS.
No, this isn't exactly the greatest example of copywriting, or attention to detail. You have typos/mis-spellings, bad grammar, etc. But at the very least, the listing agent is providing some details about new carpet, new furnace, and so on.
Note that this is a 4BR/2BA with the list price of $270,000 — right in line with the average price, and above the median price, but cheaper than the $318,000 that 21515 Ivy Blossom Ln is asking for. The important point there is that the listing agent here, Karen Goodridge, stands to make less money from this property than Rafael Flamenco does with his listing. In fact, assuming 2.5% commission for both, Karen will make $1,200 less than Rafael will: $6,750 vs. $7,950.
But here are some listing photos from 1230 Ragsdale Ln: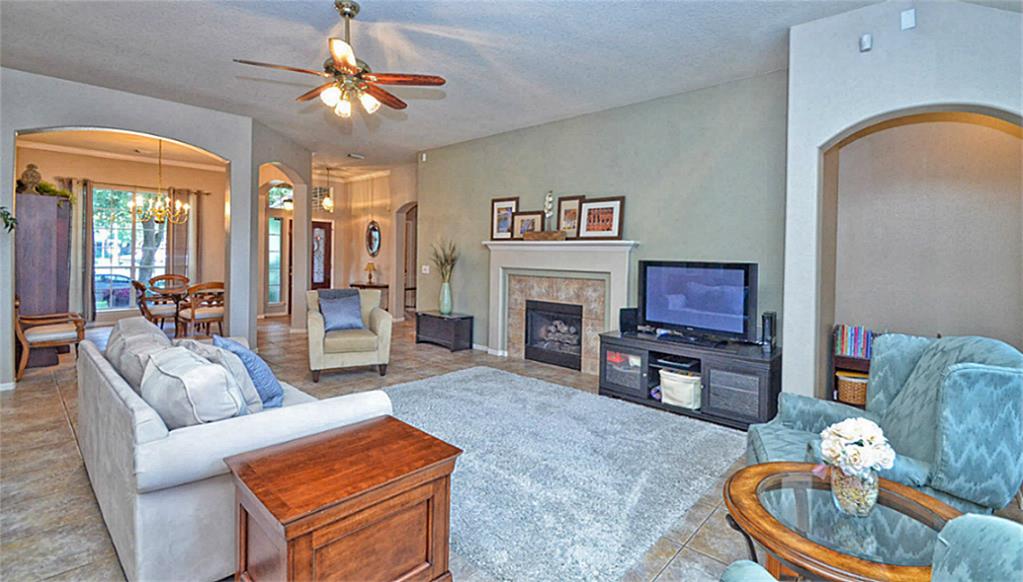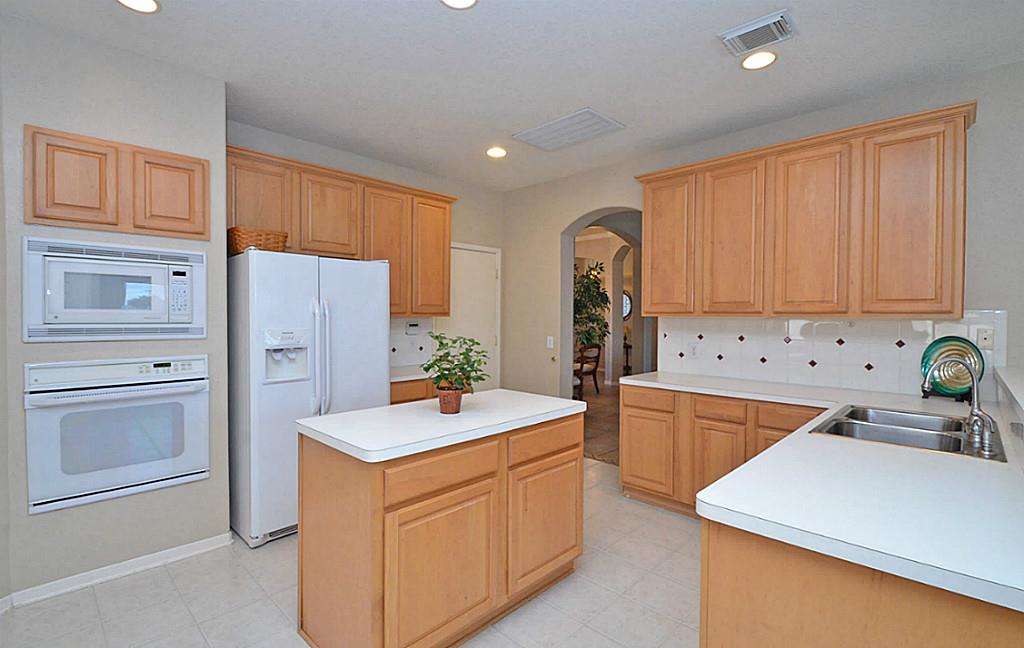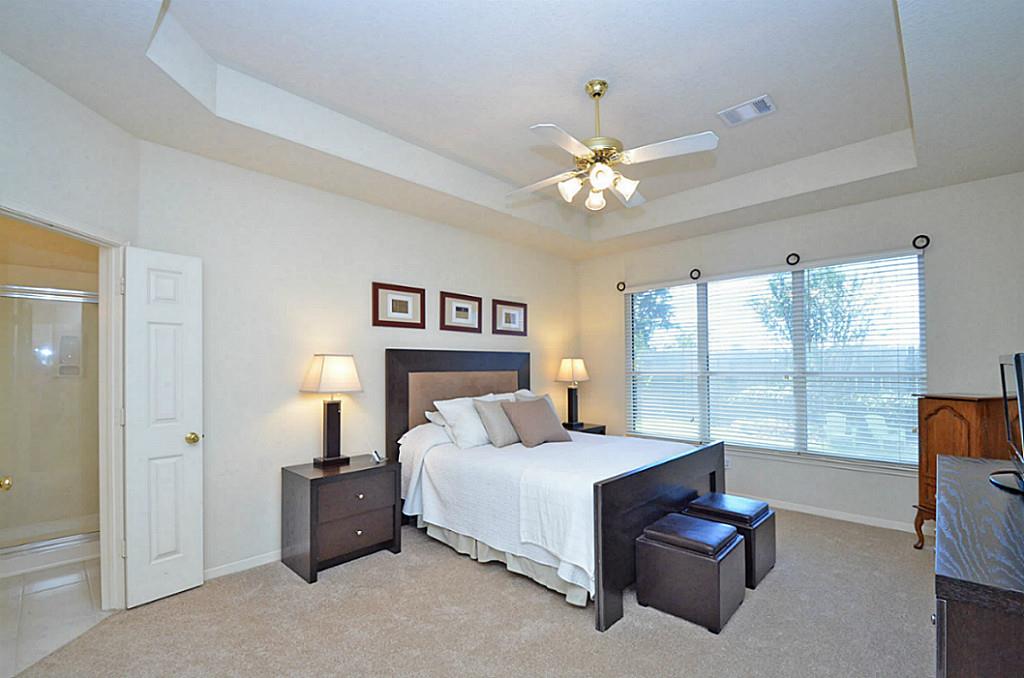 It's not close. It's not even in the same universe as close. Either Ms. Goodridge is an accomplished photographer on her own right, or she paid a professional photographer to take these pictures — 32 of them in fact. If these rooms have not been professionally staged, then Ms. Goodridge has done a phenomenal job of cleanup and staging herself.
Here's her profile page on HAR.com: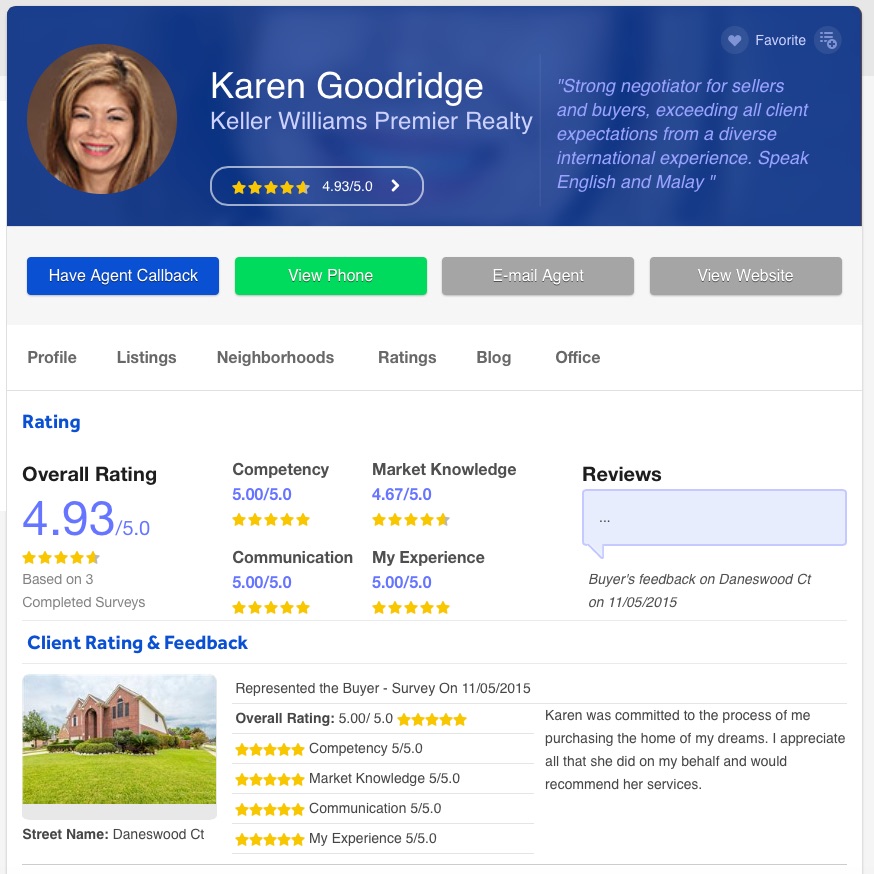 Once again, it's not close. This is a professional REALTOR's profile page. Again, Rafael Flamenco might be a great dad, a fantastic husband, and a super human being all around, but as a REALTOR, he's not good.
Note that Karen Goodridge isn't one of the super-agents, one of the Elite 100K, with 50 sales. Her profile indicates that she has two listings, and six "recently sold" transactions. Rafael, by the way, had five "recently sold" transactions. They're comparable from a production standpoint.
Her brokerage is Keller Williams Premier Realty, which has 322 agents, and lest you think that the excellence of Karen's work is somehow because of her broker (as in, perhaps KW Premier automatically sends professional photographers and stagers to all of the listings), take a look at 25231 Sterling Cloud Ln., listed by a KW Prermier agent, Eric Folkerts.
Both Rafael and Karen have the same MLS (HAR) and the same Association. They have access to the exact same tools and training available from both. (And by the way, HAR offers a discounted listing photo service to its members where 32 professional photos are $170.)
Now, one difference between Rafael and Karen is the brokerage.
Champions Real Estate Group is a 100% shop, with transaction fees only. KW's model is pretty well-understood by everyone that could possibly be reading my blog, so I'll just note that it isn't exactly a high-split, high-service like some boutiques or even like "mainstream" brokerages like BHG Gary Greene or Coldwell Banker.
With all of that said…
What Do You Actually DO About Rafael?
I wanted to go through all of that detail above so we can get down to brass tacks about what can be done about Rafael. (Again, I don't know the man, and he may be a great guy, but he's a terrible agent.)
What exactly does it mean to "raise the bar" here?
One perspective (appears) to be that as long as companies, brokerages, Associations, MLSs, and Facebook Groups preach professionalism, and make tools available, that's raising the bar. The problem is simply that Rafael hasn't been talked to enough by enough people, and perhaps he just doesn't know that taking crappy no-lights-on photographs on his cellphone is not an acceptable level of professionalism for an industry that prides itself on how it helps homeowners with the biggest asset they own: their family homes.
According to this perspective, HAR is raising the bar, because it provided Rafael with a great consumer website (HAR.com), with a Profile page, with tools and resources (like the 32 professional listing photos for $170), as well as a wealth of training classes and seminars and data and so on and so forth.
And yet, Rafael puts up that embarrassment to sell a $318,000 home — well above the average and median price of homes in Houston — for which he will be paid $7,950 should it close.
Sam DeBord's point above, that there are many companies "developing systems, training, and tools that improve agents' ability to provide superior service", strikes me as utterly irrelevant when the plain logical conclusion has got to be that Rafael and others like him do a crappy job, not because these systems, training and tools do not exist, but because they don't care.
I say that because Karen Goodridge exists. She's not a made-up persona, but a real, live, working in-the-trenches REALTOR. She's done a professional job with a listing that is cheaper than Rafael's listing; she's going to make $1,200 less than Rafael would. Yet, she's done professional photography, and I'm willing to bet she's done professional staging. She's no super-agent, and I have no idea if she's taking full advantage of all of these "systems, training, and tools" to improve her ability to provide superior service. But I'm willing to bet that she would, if she were aware of them, because she gives a damn.
But both Rafael and Karen are REALTORS in good standing. Their production levels are similar. From a consumer standpoint, they're the same. And if I had my home listed by Rafael, then I assume that's how Karen will be too. Hence:

So get down to brass tacks here. What do you DO about this problem? What does it mean to "raise the bar"?
Preaching at both Rafael, who plainly doesn't give a crap, and at Karen, who does, is raising the bar? Rafael continues to list homes and represent buyers, in the biggest financial transaction of their lives. And this is acceptable because at least the industry is preaching at him?
Brokerage?
Is the problem here that Champions Real Estate Group is a 100%, transaction-only shop that provides zero oversight? That's entirely possible.
HAR could provide all these tools, the companies Sam wants to extol provide systems and training and so on, but hey, the problem is that you have these brokers who don't give a flying %&#$. So the problem is that the BROKER lies through his teeth when he says crap like "Our unmatched technical expertise, extensive market knowledge, and caring personal touch assure you the highest quality real estate service."
Okay, then what do you DO about that? Preach at them some more, because what's been missing for the past few decades is a lack of preaching? Is the issue that brokerages that don't give a damn, who tell baldfaced lies about "highest quality real estate service" while providing zero oversight over the Rafaels of the world, are that way because they haven't heard the message about how professionalism is important?
Note that Champions is a member of HAR, SABOR, ABOR, and METROTEX. Presumably, that means that the Broker has agreed in writing to abide by the Code of Ethics of NAR, because this is what HAR's By-Laws says about becoming a Member of the Association:
B. Individuals who are actively engaged in the real estate profession other than as sole proprietors, partners, corporate officers, or branch office managers, in order to qualify for REALTOR® Membership, shall at the time of application, be associated either as an employee or as an independent contractor with a Designated REALTOR® Member of the Association or a Designated REALTOR® Member of another Association (if a Secondary Member) and maintain a current, valid Texas real estate broker's or salesperson's license or be licensed or certified by an appropriate state regulatory agency to engage in the appraisal of real property, shall complete, within 60 days of making application, a course of instruction covering the By-Laws and Rules and Regulations of the Association, the By-Laws of the State Association, and the Constitution and By-Laws and Code of Ethics of the NATIONAL ASSOCIATION OF REALTORS®, and shall agree in writing that if elected to membership they will abide by the Code of Ethics of the NATIONAL ASSOCIATION OF REALTORS®, and by the Constitution, By-Laws, and Rules and Regulations of the local Board, State Association, and the National Association. [Emphasis added]
Can we agree that Champions is in violation of the Code of Ethics, as well as the state law regarding Broker's responsibility to provide oversight at least as far as Rafael and his awful listing is concerned?
And lest you think I'm picking on Champions, can we agree that Keller Williams Premier Realty is also in violation for the awfulness that is 25231 Sterling Cloud Ln., listed by a KW Prermier agent, Eric Folkerts? I guarantee you that if I chose to, I can find similarly awful examples from just about every large brokerage in HAR, in every single Association in the country.
Is this because the brokers and the office managers, most of whom are good people with good intentions who care about their brand, about customer service, about excellence, and about professionalism, have failed to do enough preaching and talking at the bad agents?
In Light of All This…
The problem of "marginal agents" who destroy the reputation of the good, hardworking professionals, has to be solved. Somehow, in some way, it has to be solved. NAR itself said as much via the DANGER Report.
As of today, the preferred "solution" seems to be MOAR PREACHING. Smart industry leaders want to claim that as long as companies are making systems, tools, and training available, that's enough. What we need is more inspirational speeches, more Facebook "I Am a REALTOR" banners, and more aspirational Codes with no enforcement.
And when a company literally fires paying customers, that's just selfish money-grubbing, because well, because Zillow!
Fine, let's go along with that. Zillow is scum. They're the devil. Everything they do is for the purpose of enriching the banksters and obeying the secret commands of the Bavarian Illuminati who meet in catacombs deep in the earth to drink the blood of newborn babes, while engaging in dog fighting Michael Vick style. Fine.
So what then is the non-Zillow, non-hateful, non-evil ACTION that is to be taken to deal with the Rafaels of the industry? If the brokerages are the problem, what is the non-evil ACTION that you recommend to deal with them?
Since, I, as someone who has never sold real estate, have NO idea as to what should be done, according to one popular view out there, and only licensed and active REALTORS can offer solutions, let me defer to your practical wisdom.
Brass tacks — what is to be DONE about Rafael?
Because I gotta tell you, MOAR PREACHING ain't working.
-rsh