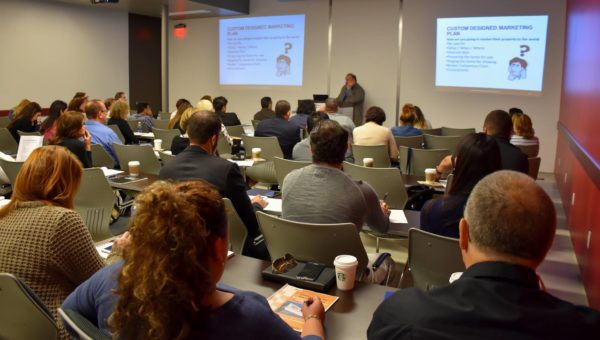 Just about every single MLS in the country has mandatory training for all new members that's in the 3-5 hour range. Add in other courses ranging from how to use the tax data system to creating CMAs to whatever else the MLS offers and you're looking at tens of hours of training in order to use the MLS effectively.
Let's leave to side the issue of why it takes 3-1/2 hours just to learn the basic essentials of how to use the MLS. Instead, let's explore a different take altogether on this.
Here's my question: What if the MLS were to become a service company instead of a software and data company? What if, instead of offering training to subscribers, the MLS offered to do it for you?
Would you sign up for that? How much more would you be willing to pay for that kind of a MLS?
The Point of Training…
Training is a real burden to the agent on the street, and yet… it's necessary given the way we have set things up in the industry. Take a look at this video (although, by no means should you watch the whole thing…):
I ran across this doing research for a paper I'm working on and three things jumped out at me about the video:
The trainer is Jay Meyers, Sr. National Trainer from CoreLogic, the company that makes Matrix, which means he's not an amateur on his first training session.
The video is 52 minutes long.
This video is just part 1 of 5 videos, all of which are between 40 and 50 minutes in length.
Lest you think this is just the Williamsburg Association of Realtors (who provided the training and filmed it), take a look at a random example that came up first in my Google search: MLSListings in Northern California, in the heart of Silicon Valley.
MLSListings is one of the best run MLSs in the country, and one of a very few with its own software development team. If you were to take all six "Basic Courses" — one of which is mandatory — you would have spent 11 hours in the classroom. Add in the seven "Pro Courses" and you're up to 20 hours. Finally, the five "Power Courses" brings the total up to 25 hours.
That's a lot of hours spent either on your own, in a classroom, or in a lab just to learn how to use a piece of software. As a point of comparison, Ledet Training runs Photoshop Bootcamp that promises to take a novice and turn him into a Photoshop professional in 24 hours over 4 days — and Photoshop is one of the most difficult tools to master out there.
Of course, the training is necessary because everything in the MLS is directly connected to the business needs of the agent in the field. The point of training is to enable to agent to do business.
For instance, the mandatory "MLSListings Essentials" class from MLSListings above lists the following as Course Content:
Guiding principles and compliance
MLS tools overview
Profile
Matrix dashboard
Market watch
Inventory search
Saved searches
Auto-emails
Hot sheets
Those are all necessary for any MLS subscriber to conduct her day to day real estate business.
But think about why the subscriber needs to know how to do an Inventory Search in Matrix in the first place. A client or a prospective client calls the agent, says he's looking for a 3BR/2BA with a swimming pool in X part of town between $250K and $300K or some such. The agent has to go see what's on the market that fits the client's criteria.
Similarly, saved searches, auto-emails, hot sheets, CMAs — everything on the MLS is directly related to some business need of a real estate agent.
So why not just do it for them instead of training them to do it for themselves?
Introducing RCMLS
At RCMLS (Rob's Crazy MLS), that is our vision for the future of the MLS.
Instead of logging into the MLS, navigating to the appropriate area, and doing an inventory search, you simply pick up the phone and call your Account Executive and ask him to do the inventory search and email you the results.
Need a CMA? Just send an email to your Account Executive with the details and it'll be waiting for you by the time you get back to your office.
Did you take a new listing? Congratulations! In another MLS, you'd have to rush back to your office and start the laborious process of adding a new listing.
At RCMLS, you just call your Account Executive from the car as you're driving away from the client's house and your new listing will be ready within 24 hours — or within 2 hours if you are a Gold or Platinum Member.
Did something change with the listing? Price change? Extend listing date? Want to use new photographs? Add a virtual tour? Just call your Account Executive and the change will be made within 4 hours — or in real-time while you are on the phone if you are a Gold or Platinum Member.
Change your syndication settings? No problem! Map-based search? No problem!
Not only will you save 25 hours of your life sitting in a classroom listening to a trainer — although, if the trainer is particularly sexy and interesting, maybe that's a loss — but you will save countless hours of your life having to futz around with the MLS itself.
Premium Services of RCMLS
In addition to the basic services of RCMLS, we offer numerous premium services for those subscribers with specialized needs.
Advanced Search
Have a difficult client with extremely specific and narrow needs? He's looking for a property with at least 100-feet of mid-bank saltwater frontage that also has a private dock and a workshop within 20-minute driving distance of the hospital during peak traffic hours. Oh, and it must be a colonial, a craftsman, or a mid-century modern with privacy so the neighbors can't see him.
In a normal MLS, that would be a nightmare property search indeed. Many of the features are not even in fields, or even if they are, the listing agent likely did not complete them because they are not required fields.
At RCMLS, that kind of search is sent to our Advanced Search team who utilize advanced database tools from simple SQL queries to AQT to Cogito Semantic Technology and beyond. Our team of data experts will connect to multiple data sources from tax data to ESRI to Google Maps to get you the best answers to provide your client.
The cost is $50 per search, and Advanced Search is included with your Gold or Platinum Membership.
Copywriting
Are you way too busy to write the description of the property? We have professional copywriters on staff who will create compelling listing marketing copy for you starting at $25. Copywriting is included with your Platinum Membership.
IDX/VOW Setup
The expert RCMLS staff will work directly with your IDX or VOW vendor to ensure smooth setup of your credentials. No more filling in complex forms and waiting; your RCMLS Account Executive will handle all of the details for you.
Don't delay! Call today!
Your MLS experience need not be filled with pain, frustration, and hours of classes to do even the most basic task. With all the free time you have, you can focus on business development or client service. Maybe spend more time with your family! Or more!
I was a stressed-out workaholic constantly frustrated with trying to do things with my MLS. I spent hours and hours just doing CMA reports for clients. But now, after joining RCMLS, I have so much free time that I finally pursued my lifelong dream of becoming a painter! One of my paintings is now up at the Museum of Modern Art! Thank you RCMLS!

– Joan, Platinum Member
Call 1-800-RCMLS4U to speak to a sales representative today!
Benefits of the MLS As a Service
Yes, I had some fun with that. But think about it. There are real benefits of operating a MLS as a service, rather than as a technology platform.
The most obvious is saving time and effort for the subscriber. But there are less obvious benefits to the MLS itself.
For one thing, human error can be minimized by having all listing input be done by MLS staff who can be trained to become experts in data entry into the MLS and who have far different consequences for screwing up than the paying member. Forget compliance emails; we're talking terminations of employment.
All of those optional fields in the MLS might actually get filled in should the MLS take on the job directly.
For another, certain copyright issues (such as with photographs) can be prevented if the MLS is doing that itself. Sometimes, listing agents will not bother taking new photos and reuse old photos, believing incorrectly that they have the right to do that since they paid for it. That isn't always the case, depending on the license from the photographer. The MLS can make sure that there are no copyright violations.
Speaking of photos, if the MLS is handling listing entry for its members, it has a far easier time policing rules on photos.
And so on and so forth. In fact, it's difficult for me to see a downside to doing this as a new business model for the MLS.
The Downside: Cost
The only downside, of course, is cost to the subscriber. Hiring all of that extra staff — Account Executives, database people, copywriters, data entry clerks, etc. etc. — isn't exactly cheap. The question is how much the real estate agent is or is not willing to pay for MLS-as-a-Service vs. what she has today.
On the other hand, I know quite a few high producers and agent team leaders who hire administrative staff specifically to help with the MLS. Even if such admin people are being paid $8/hr and are doing things other than futzing with the MLS and attending classes and whatnot, that's a cost that would go away for those agents. $8/hr is $320 a week and over $1,200 a month after all.
So that's the question for my Realtor audience.
If your MLS offered this RCMLS concept as a "premium level" service, what would you be willing to pay for it per month?
$100? $500? $1,000? What?
PS: I have no clients right now who are thinking of doing this, so this isn't market research for anybody. This is just my curiosity about something many people would initially go, "Oh, that crazy Rob Hahn," and then say after a few minutes go, "But actually… hmm… there's something here…."
-rsh