One of the recurring problems of the real estate industry is that it is almost entirely reactive when it comes to problems. We continually look backwards, rather than forwards, then wonder why things don't improve.
A good example is the latest recommendation from Victor Lund of the WAV Group, who promotes Redfin's idea that IDX policy require linking back to the listing broker. The goal is to drive more traffic to brokerage (and agent) websites by providing more Google-juice via authorship and canonical URL information. This, he (they) believe would let brokers fight off the portals like Zillow and Realtor.com:
As much as any other company, Redfin sees where real estate search has gone. The overwhelming majorities of consumers visit advertising websites rather than broker websites. In his opinion, this is a challenge for real estate brokerages and a tax on consumers who ultimately pay for the advertising costs agents bear to appear on other websites, and it is getting worse.
This is a classic example of fighting the last war. What's worse, should the industry go along with this suggestion, not only would it not help brokers and agents, it would actually make things worse if your brokerage is not named Redfin.
Let me explain.
IDX Policy Does Not Affect Portals
Let's just get this out of the way first.
IDX policy does absolutely zip to the portals like Zillow and Realtor.com seeing as how they don't use IDX in the first place.
Should IDX policy change requiring all of these things, all that means is that brokers and agents have to put all that information in, which likely helps Redfin more than anybody else (more on this below). To require the same of Zillow and Realtor and any other syndication-based portal, the various MLSs and brokers and franchises must change the existing data contracts.
So there's that.
Based on what I heard at the ARMLS meeting last month from Glenn Kelman, CEO of Redfin, I believe that what Redfin wants is not just IDX but all listing data feeds including the syndication feeds that Zillow and Realtor.com use. (Although, it's not clear that Realtor.com uses the normal syndication feed, due to the Special Relationship with NAR… but what Redfin wants is this link-back, authorship, and canonical source info required for everybody.)
But let's assume that we're talking about modifying the syndication feed, not the on-its-face-useless modification of IDX. Then what?
Talking SEO in the Age of Mobile
Even if the industry were to somehow convince every MLS, all brokers, all franchises, etc. to require the portals link back to the listing broker, it isn't all that clear how much of an impact that would have. Why?
Because we're talking about Google juice and SEO in an age where mobile is becoming more and more important. And the whole "mobile web" vs "mobile apps" debate appears to be more or less settled in 2017, doesn't it?
Consider this: in the latest Q3/2017 Investor Presentation, Zillow revealed that more than 2/3 of its usage comes from mobile devices.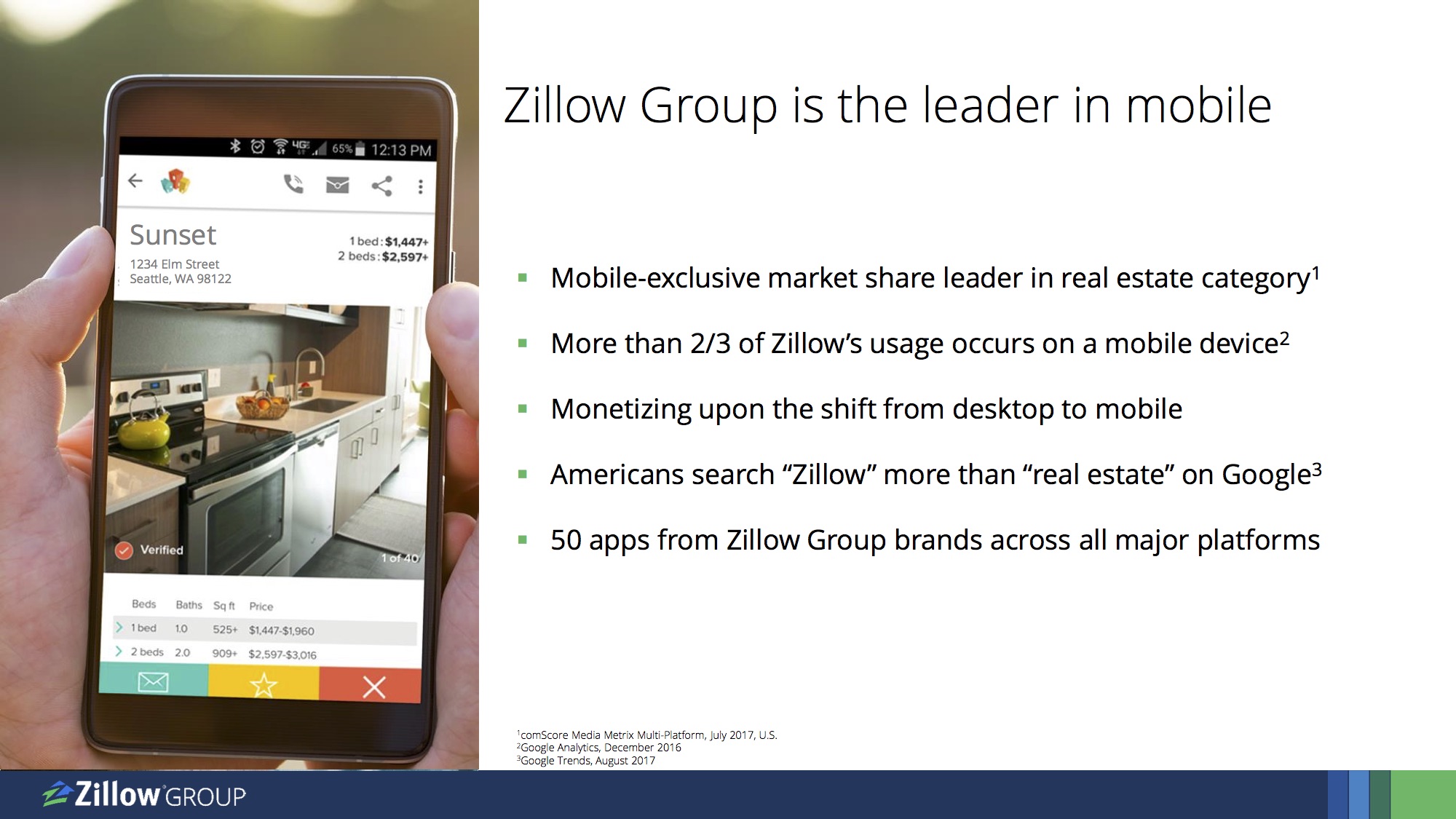 And as you can see from that slide, people search for "Zillow" more than they do for "real estate" keyword.
So precisely when Zillow is busy monetizing the shift from desktop web to mobile, and has 50 mobile apps across major platforms, the real estate industry is talking about SEO and Google juice. Even though the Zillow brand is stronger in the consumer's mind than the generic "real estate."
If that's not fighting the last war, I don't know what is.
The proposal from Redfin and WAV Group might have been all kinds of interesting in say… 2007. In 2017? Not so much.
The Problem Can't Be Solved with Traffic
But let's go a step further.
It isn't as if SEO/SEM is totally unimportant in 2017. Mobile is taking over, but Google is still very important. So sure, requiring link-back, authorship, canonical URL, etc. etc. might help. Let's even assume that by some sequence of events that brokerages start driving massive traffic to their websites and that they build mobile apps that don't get crappy reviews from consumers. So brokerages everywhere start getting huge amounts of traffic.
That doesn't solve the problem of brokerages in 2017.
The core problem of brokerages in 2017 is that they are no longer in the real estate business, but in the recruiting and retention business. And their offerings to agents are undifferentiated commodities (except for a few small boutique shops).
The consequence of that is something we all have known for decades: brokerages make less money from productive agents than they do from not-so-productive agents. In many cases, brokerages actually lose money on the producers, and try to make it up from the new, inexperienced, high-split agents.
If that weren't enough of a problem, we have new competitors who leverage technology to offer 100% commission, transaction-fee only brokerages to productive agents everywhere. (And before them, the capped-commission, profit-sharing model of Keller Williams.) The fastest growing companies in real estate today are all low-cost models: Realty One, HomeSmart, Charles Rutenberg, Keller Williams, NextHome, and on and on.
How in the world does more traffic to the brokerage website help that core problem?
Especially when in 2017, producing agents are forming agent teams to make sure that they monetize buyer leads from their listings, not the brokerage…. I'm trying to imagine the brokerage trying to tell its listing agents that they have to pay a 30% override on buyer leads that came off of their own listings. If you can see it happening, then you have a far better imagination than I do.
Where brokerages could get some traction might be helping their agents do the non-web, non-mobile lead generation: sphere communication and geographic farming. Maybe they could do something with predictive analytics as my friend Andrew Flachner of RealScout seems to believe. Maybe they can investigate business models that actually solve their problem. But of course, those are hard to do. Mucking around with IDX policy or syndication feeds does absolutely zero for those things, but at least it's easy to do.
Until brokerages solve the problem of agent-centric recruit-and-retain business models, nothing else much matters. That's the next war, today's problem, not the last war and yesterday's problems.
So… Why This Proposal? Why Now?
Given all of the above, one might ask why Glenn Kelman is pushing this proposal so hard. I mean, he's one of the smartest guys in not just in the real estate industry, but in the technology industry as well. The guy just took a brokerage with less than 1% market share public, and that company is now worth $2.2 billion (as of this writing). He understands technology, and specifically understands SEO/SEM, Google-fu, and all of that better than pretty much all of us.
So what gives?
Obviously, I don't know, because I haven't spoken to the man. But I can speculate.
Seems to me that Glenn knows that he has solved the core problem of brokerage, because Redfin doesn't do recruit-and-retain and worry about agent splits. They hire agents as employees. Consequently, they make more money from producing agents and less money from non-producers.
And it is clear that Redfin's revenue growth is directly tied to its traffic growth. So for Glenn, the real competition isn't some random brokerage website. As Victor Lund pointed out in his post, Redfin's traffic is two or three times larger than its closest brokerage/franchise competitor's. Glenn's not worried about Coldwell Banker overtaking him; he's worried about making up ground vs. his real competition: Zillow and Realtor.com. He's not going to catch Zillow anytime soon, but Realtor.com is within striking distance.
Should whatever policy come about that brings Google juice back to the listing agent and listing broker, Glenn knows that he can take advantage of that far better than any of his brokerage/franchise competitors. Think about it. How many SEO experts work at Redfin? How many work at brokerages and franchisors? Glenn spent $35 million on technology last year, and that wasn't with a constellation of vendors; how much did HomeServices of America spend on technology in-house? What about the thousands upon thousands of brokerages who aren't giant corporations? What would they do with all this wonderful Google juice, except maybe call some SEO vendor who's doing the exact same thing for all of his clients?
I have to admit that the strategy is absolutely brilliant: convince a whole lot of brokers and agents to give a leg-up to Redfin's traffic growth strategy, while harming its principal competitors. I'm just not as sure why they would go along with it. What's in it for them?
More traffic that doesn't solve their problem? I guess….
Likely to be Popular
Given my past experience, I suspect that the "Modernize IDX" thing is going to be pretty popular in the industry. Because it's easy, it sounds sexy-techie, and it allows all kinds of folks to vent their hatred of all things Zillow.
But what's right is rarely what is popular.
What's right is to look at the real problems of brokerage and think of solutions to those. Sorry to be a party pooper, a debbie downer, a nattering nabob of negativity, but fighting over SEO and IDX is not it.
-rsh