It's been weeks since I've put pen to paper — or rather, pixels to the vast electronic swamp that is the interwebz, but you know what I'm sayin', right? — and the only excuse I have is that I've been home for roughly five days in the past eight weeks. It's been wonderfully busy, but that doesn't allow for a lot of thinking and writing.
In any event, I just got home from the CMLS 2017 Conference in Austin, hosted wonderfully by the Austin Board of REALTORS. And the whole CMLS crew put together a great program, so kudos to all for that. And frankly, I'm bubbling over with a few things to talk about, but many of those will require further reflection.
Instead, I thought I'd share my biggest takeaway from CMLS 2017. It's something I've been saying for a while (found a presentation from 2015 where I talked about it) but in light of all that I've heard the past couple of days, I think this might be more important and relevant than ever.
Here it is: Don't tell me what you're going to do, what you have to do, what you plan to do — tell me where and how much money you're going to spend.
In other words, show me the money.
Let's get into it.
When Conversation Gets Real
The point of conferences is to have conversations. People from around the country, or around the world, gather to talk about issues. Sometimes, you learn something new and interesting, but most of the time, you're rehashing the same issues from years past. That's normal and understandable.
But like any good Realtor knows, conversation gets real when there's money on the table.
Some homeowner could talk to you for months about maybe putting his house on the market. You could talk to him for weeks and months about market conditions, recent sales, the overall economy, whatever. But that conversation gets real when he invites you for an actual listing appointment. Because that's when there's money on the table.
Similarly, the MLS community talks about cooperation, collaboration, consolidation, has workshop after workshop, listens to speaker after speaker talking about the need for consolidation, hears panel after panel where smart capable people tell everybody that there's a need to do X, Y, and Z.
Then the conference ends, everybody goes home, and puts zero dollars towards any of it.
Spending IS Priorities
Here's what I tweeted out during the conference:
I will stop asking "What are you going to do?" And ask instead, "Where are you spending your money?" #cmls2017

— Robert Hahn (@robhahn) September 15, 2017
I stand by that statement.
My father, a Methodist minister, was fond of saying that salvation begins with the pocketbook. His view is that you can tell what is important to a man by looking at what he spends his money on. If he spends his money on clothing, then appearance is what is important to him, no matter what he might say.
The same applies to companies and organizations. I used to, and still do, make this point often in my strategy consulting work: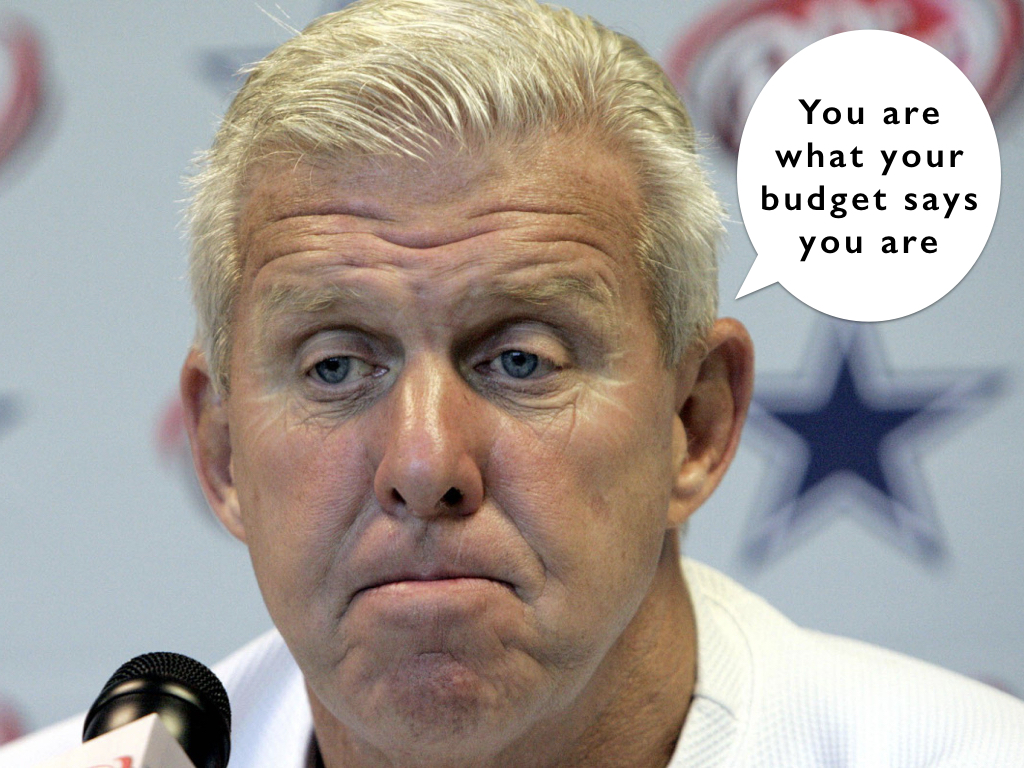 To paraphrase Bill Parcells, you are what your budget says you are.
A car company should spend most of its money designing and building cars; if it spends most of its money on pension payments, that's not a car company — it's a pension fund that happens to make cars.
So when a MLS says that consolidation is one of its top goals, ask "How much of your budget is allocated to consolidation work?" If the answer is none, then we already know how things are going to work out (or not work out).
If cooperation and collaboration is truly important, then the question can no longer be "How will you foster collaboration?" The real question is, "How much money are you spending on collaboration?"
If a MLS says that improving data analytics to help its brokers and agents be more competitive, you should see it reflected in the budget. Otherwise, it's all just talk.
Universal Truth
We can apply this "you are what your budget says you are" across the board throughout the real estate industry, as well as to any company in any industry.
By this thinking Zillow is a Sales & Marketing company first, and a Technology company second since in Q2, ZG spent $131 million on the former and $78 million on the latter. That actually fits the "we're a media company" narrative pretty well.
What about your MLS or your Association?
If your local Association's spending on the lockbox program is 10 times what it spent on education and 30 times what it spent on government affairs, is that organization one whose principal goal is advocacy and professionalism? Or one whose principal goal is providing lockboxes to its customers? It's not hard to determine is it?
Show Me the Money
So as another CMLS conference ends and various executives and leaders return home to get back to work, I'd like to urge them all to think less about what they want to do, what they plan to do, what they hope to do, and far more about whether their spending matches up with their priorities.
If consolidation is a priority, then there needs to be a budget item for consolidation work. And the larger the budget, the more serious the priority. The same goes for any other We Should Do's — better technology, better communication with brokers, better governance, better whatever. By your spending, we shall know ye.
There were a lot of great ideas brought up at CMLS 2017. There have been reports released, initiatives urged, exhortations made, and a ton of great conversations. There is reason for hope.
But we'll know that the conversations have gotten real when we start to see spending happen. You are what your budget says you are, no more and no less.
This is my top thought coming out of CMLS 2017; but there is so much more to talk about. I'll get to those as time allows in the weeks ahead. Be well until then, and as always, your thoughts and comments are welcome.
-rsh