Rob has been asking me to step into the Notorious ring for months. And while I have a lot of things to say, I don't use nearly as many words as he, or Notorious S.A.M., or the other guest contributors. So. Many. Words.
But here goes …
I moved to Houston in February, which is one of the pivotal moments of my life. Not because I had lived in Washington my entire life. Not because I was leaving the community I had been ingrained in for over 20 years. But because it made me an honorary Texan. If you don't believe me, I'll show you my mug. H/T to Jennifer Archambeault.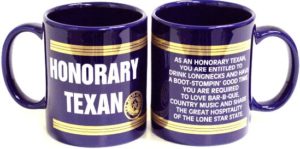 I travel a lot for work. I spend far more nights in hotel rooms than I would like. But I've never seen anything like what I have seen from Texans during my short tenure in the Lone Star state. There is a sense of pride and humble gratitude. There is a strength of character. There is common courtesy that has been lost in so many other places.
I have felt a profound sense of helplessness since Thursday, August 24th when I landed in Denver. I haven't been able to get home since. What was supposed to be a quick overnight trip has turned into 10 days and counting. Away from my home. Away from my dog. Away from my new community. All I can do is watch and wait and pray.
Everyday Heroes
I am humbled by my new community. People have been coming together to help each other. We've all seen it on the news. The horror is not over; but the transformational healing process has started. And it started with some of the most unexpected heroes.
It's not the folks in charge that I'm talking about when I speak of heroes. It's the folks coming from across the country with cargo trucks full of food and supplies. It's the strangers in fishing boats rescuing those who can't rescue themselves (including animals), the most famous of whom is the Cajun Navy but includes hundreds of unnamed and unsung people who have done the same. It's the furniture store owner opening the doors of his showrooms to people who have lost everything, so they can feel a little comfort in the most uncomfortable and uncertain of times.
They're not showing up because it's their job. They're showing up because it's their responsibility as human beings. They're showing up because Texas pride teaches that they take care of each other; that they are all in this together; and that they will not let others slip through the cracks. They see the need and say, "We have work to do."
Yes, the leaders at the local, state and Federal levels have all done their jobs. They worked tirelessly, made decisions that none of us want to have to make, showed up taking responsibility when things didn't go as planned or the public didn't understand the reasoning.
But it is the everyday heroes who inspire us. We are all seeing just a small percentage of those people on the news and social media. But we are feeling the impact of all of them.
I'm proud to be an honorary Texan. And as soon as I'm able to get home, I'm ready to roll up my sleeves and help however I can.
What The Real Estate Industry Can Learn From This
In addition to being a Texan, I am a real estate nerd and industry lover. And I have been feeling utterly helpless for the past 13 years, as I watch the industry I love destroy itself.
An idea that I can't get out of my head is this:
If everyday Texans can come together in a time of crisis to help heal the lives of those around them, can't the everyday Realtor do the same to help heal the organization and industry?
I'm not talking about NAR staff or elected leaders. I'm talking about 'boots-on-the-ground, feeding-their-families, building-communities' everyday Realtors. I think that the majority of the over a million Realtors are these folks. They're not the ones who get the recognition and the glory. They're not Madam President or Mr. Chairman or Director of anything. They're the ones that practice real estate as their chosen profession, without the need for outside recognition or the desire to push a political agenda.
NAR leadership and staff have work to do, just as the elected leaders across Texas did: make the tough calls, be held accountable, and stand up for the decisions and direction of the organization. But these people aren't going to be the movement that heals the Realtor organization — not by a longshot.
I'm sure a lot of people reading this will say "The everyday folks aren't true Realtors. They don't feel the need to get involved. They're unprofessional and untrained." Trust me, Rob says this right here on Notorious, as well as on stages across the country. But some of those same naysayers, including Rob, might not have thought that random guys would risk their lives, boats, and trucks for strangers. They might not have imagined that average people would get involved to the extent in which they have and become heroes.
I'm not saying that every Realtor has the best interests of the public and community at heart; but I believe that a majority are good people. Just like I think that a majority of people on this planet have good intentions. Maybe I'm naive. But I don't think so. And thousands of Texans are proving me right day after day.
So only 15% of members respond to NAR Calls to Action. Maybe it's because the rest feel disenfranchised from an organization that has been run by political agendas instead of the original core values — an organization that has lost its way. Maybe they feel like their voice doesn't matter because only the chosen few hold all of the power.
Or maybe the other 85% don't know that it's raining because they are so busy serving their clients, taking care of their families, and trying to balance it all that they haven't slowed down long enough to feel the rain.
People, it's raining.
I think the everyday Realtor is more powerful than she might understand, and certainly more powerful than she is often given credit for. I believe that she will rise to the occasion in times of crisis.
Well, folks, the crisis is upon us. The Realtor organization is terribly broken. Some may say irreparable. Some may say NAR needs to be burned to the ground for a fresh start. <raises hand/>
Realtors, get your boats.
Instead of waiting for leadership to fix the problem of professionalism in the industry, go out and help your fellow Realtors by offering guidance and support.
Don't publicly shame them because they "Ask the wrong questions." Words DO matter, but actions and character matter more. How are we supposed to heal a broken organization if we aren't willing to treat each other with dignity and respect? Why should consumers treat us as trusted advisors when we stab each other in the back?
Granted, there are some truly crappy agents out there that don't care about their clients or the industry. They don't know the contracts. They put their needs above their fiduciary duties to their clients. They see people as leads.
Those people need to go. But those people aren't the majority.
Realtors, drive your truck full of supplies to those who don't have the resources that you do. We know that all brokerages are not created equal, and some leaders make better mentors. But that doesn't make the Realtor under that leadership less worthy or less professional.
Use these moments as opportunities to serve one another and provide a better experience for everyone involved. Don't wait for NAR to rescue 'the others' while you sit comfortably high and dry.
I am a recovering broker; and as one person, I did the best I could to serve the agents in my office. But as one person, I fell short at times. I acknowledge my limitations and take responsibility for them.
But I didn't wait for the Realtor organization to solve my problems. And frankly, I don't think it can or will. Just like the leaders in Texas couldn't save every devastated community. We have to save each other. We have to serve each other.
So to all of the NAR leadership, both paid and volunteer, keep doing what you do. And to all of the Realtors doing it to provide a living for their families and create vibrant communities, get your boats. We have work to do.