[Note: I advised Zillow on its communication plan for rolling out the program I discuss herein. I do not have an ongoing relationship with Zillow.]
I assume that by now anybody who is reading Notorious is aware of the big announcement from Zillow:
Zillow Group, Inc. (NASDAQ:Z) (NASDAQ:ZG), which houses a portfolio of the largest and most vibrant real estate and home-related brands on mobile and the web, will expand Zillow Instant Offers™ to Phoenix this month. With this expansion, Zillow® plans to participate in the marketplace, buying and selling homes with Premier Agent® partners in the Phoenix and Las Vegas markets.
I further assume that you've seen Inman's coverage of it, the various videos put out by Zillow (which I can't embed here, so just find them here on Inman), and the reactions from the industry.
You don't come to Notorious to find regurgitations of what everybody else is saying. Since I am writing about Zillow, presumably I have something to say that hasn't been said yet. Well, I hope not to disappoint you.
There are indeed some things to note about this zBuyer program that I think are profoundly interesting. Let's get into them.
Something Feels Different This Time
The first observation is that the reaction from the real estate industry feels different this time.
Remember when Zillow first launched Instant Offers? The reaction then was fast and furious. I have to imagine Jay Thompson earned combat pay during those couple of weeks.
A few typical comments from that time:
"By the comments I've read today, I would say the response is a big middle finger."

"I agree with Roland in that Zillow seems to want to bite the hand that feeds them."

"Zillow has a right to run their business they way they want to, and so do I. Zillow has already built their business by using our listings. My response? BOYCOTT ZILLOW. They aint gonna get a dollar of advertising money out of me."

"Zillow disgusts me. Every agent should stop buying leads now. Where is our protection from state regulators and our real estate boards who take our money every year???? Oh wait they are the ones Zillow pays for the info.. They are in on the cash train. Makes me sick. We need to come together and create our own portals. Time to unite."
And of course, we all remember the Stop Zillow movement, which has over 5,500 Likes on its Facebook page, and raised over $320K. Granted, $320K is probably less than what Zillow spends on fresh fruit, LaCroix waters and free lunch Fridays at its headquarters, but still… it's kinda sorta impressive.
This time around? Crickets (comparatively speaking).
Sure you do see a few Zaterade drinkers come out with the same-old-same-old. But they would boycott Starbucks if Zillow bought Starbucks, so… it's kind of difficult to take them seriously.
Instead, we see responses like these:
"This is really interesting. There are going to be a lot of opinions on this, but as an agent, think about this… in some cases here, ZILLOW would be your buyer and/or seller client. That's a client with a very large pocketbook, the ability to invest necessary $ to get the property to sellable quality, the ability to close on the buy side, and no emotional ties to the property. Depending on the commission structure, it seems like a possible slam dunk for Premier Agents."

"I readily concede this is a space that can have big gains, for both Zillow as well as the agents representing Zillow and/or the sellers, it is a commodity style model that could go either way with downturns etc. I'm a fan of their innovation."

"I don't see too much of a downside to this for agents or Zillow. The point is that this activity is already going on and investors are nabbing these properties, rehabing/flipping for a profit and agents are barely involved and when they are they take significant commission hits. Zillow is now becoming the investor so they make money while feeding the buyer and seller commissions to their premier agents so they get more out of their advertising spend. Zillow is going to be using premier agents (I'm thinking they probably have some qualifiers) to buy and sell homes as an investor. What am I missing? I think it's great, I'd rather get more for my advertising spend. I hope I can be a part of the early testing on it because I LOVE rehabing homes- spreadsheets of cost estimates, what to do with the properties for highest gains for sellers while satisfying buyers' needs too. #allgoodIMHO"
Maybe it's just me and I don't hang out in places where the fires are raging, but I'm just not getting the sense of outrage and anger and fury that I've seen in the past.
One of three things are happening here:
The real estate industry has accepted Zillow as a natural part of the ecosystem;
The industry hasn't accepted Zillow per se, but they're freaked out by Opendoor, Offerpad, Knock, and the other iBuyer companies and Zillow is the lesser evil;
The angry mob is spent from having bashed on NAR over #Logogate just days before the Zillow announcement.
I'm not sure I'd go so far as #1; there's still plenty of suspicion and distrust and hatred of Zillow. #2 and #3 are possible explanations.
But therein lies the fascinating transformation of Zillow and of the industry.
Zillow, NAR and the Industry
The logic here might be a bit hard to follow, so I'll go step by step.
For over a hundred years, NAR has more or less represented the industry. It has a video series called Voice for Real Estate. It lobbies the federal government on behalf of the real estate industry, while its state and local affiliates lobby the statehouse and the local government respectively. NAR makes policies that govern all sorts of things, from the local MLS to standards of practice.
In more recent years, NAR's mission statement has been:
The core purpose of the National Association of REALTORS® is to help its members become more profitable and successful.
With the selection of Bob Goldberg as CEO, that mission statement was elevated, with Goldberg saying that it isn't National Association of REALTORS but the National Association for REALTORS. I took issue with that, as longtime readers know.
Nonetheless, NAR has recently come out with the S.M.A.R.T. Initiatives (which comes with a $30 dues increase, mind you). One of its key goals is:
Ensure the role of the REALTOR® is essential to the consumer
Bob Goldberg has said time and again that he wants to keep the REALTOR at the center of the real estate transaction. So one would expect to see some kind of an initiative that does just that. Well, REALTORS will get zipForms and zipTMS (for $7.5 million a year, collectively); if you recall, I had some questions about all of that.
You could make some kind of an argument, that requires writing semi-fictional narrative, about how giving REALTORS zipForms (which most of them already have through local/state Association or MLS) and a transaction management platform (which most of them already have, or can purchase easily in the open market) keeps them "essential to the consumer." It'll be difficult to convince me — or anybody else with functioning rational thought processes — but you could make the argument.
In contrast, you have Zillow making one of the biggest announcements in its history, in which they leave behind their media roots and become an active participant in the real estate market. In the video interview with Inman, Errol Samuelson, Zillow's Chief Industry Development Officer, says:
The key difference between what we're doing and what most iBuyers are doing is, we're keeping the agent and the brokerage community central to the transaction.
Huh. Sounds familiar, doesn't it?
Except that Zillow is actually going to keep the agent and the broker in the middle of the iBuyer transaction, paying "full traditional commissions" (Errol's words, not mine) on both ends of the deal. From the Inman article:
Samuelson told Inman. "Now, in the event that the homeseller decides they wish to go for the instant offer, we'll be working with a local agent at a local brokerage in the market to represent us as the buyer of the home and we will also recommend that the seller work with the local agent," Samuelson added. "In fact, we'll introduce the seller to one of our Premier Agent customers."
Represent us as the buyer, and recommend to the seller that he work with a local Zillow Premier Agent — that sounds like actually doing something that does in fact keep the agent essential to the consumer. When selling, Zillow will use a local Premier Agent to list the property, put it in the MLS, all that jazz, and again, likely recommend that the buyer use a local Zillow Premier Agent to represent them. That sounds like four transaction sides to me.
Sure, all of those involve Zillow Premier Agents — the guys and gals happily writing big checks to Zillow. Oh noes! The GREED!!!! But last I checked, Zillow isn't running a charity, and not a single broker was operating a nonprofit 501(c)(3) either.
I mentioned that I advised Zillow on the communication rollout plan, and with their consent, I am free to tell you some of my experience with that.
At least the men and women I worked with were and are genuine in their desire to protect brokers and agents from what they see as the potential automated future of unnamed competitors, including one whose name may or may not rhyme with Deadspin. Maybe there are Zillow executives in back rooms rubbin' up their mittens for the future in which they get rid of all real estate agents (who generate 70% of Zillow's revenues, but still!). If so, they kept those people far away from me.
"How do we keep the agent central to the transaction" was a frequent theme and concern. Now, again, take it for granted that the unspoken second part of that is, "…so they can continue to pay us," but like I said, ain't nobody running nonprofit brokerages in real estate I know of.
Take it, leave it, tell me to shove it — but that's what I saw and heard. Zillow really wants to keep cash money flowing to brokers and agents… even if they have to be paying one half of that money flow in 10% of the cases.
Raising the Bar, One Premier Agent At a Time
The other angle to the zBuyer program is one I haven't seen anywhere else just yet.
Back in 2015, I wrote a post called The Future of Real Estate, According to Zillow. In it, I noted that Spencer Rascoff, Zillow's CEO, said some very interesting things during the Q2/2015 earnings call. I then wrote that the long game for Zillow, and the future of real estate, is concentration of power:
Zillow has read the tea leaves and has decided to bet the farm on the top 5-10-15% of the producing agents, who have no trouble spending $5,000 per month on Zillow because they have the systems, staff, technology, and the expertise to turn that $5,000 investment into $50,000 in income. The rest of the industry — franchises, brokerages, Associations, MLSs — continue to try and preserve headcount-based business models.

When the entire economic model of real estate is a zero-sum game, where the number of homes sold and the prices of those homes have nothing to do with the industry and everything to do with macroeconomic factors that no one (besides maybe the Federal Reserve) controls… productivity gains for the Best of the Best have to come from somewhere.

For all the Raise the Bar hoopla of the real estate industry over the past decade or so, maybe it'll ultimately be Zillow that does it for us, over our objections, over much weeping and gnashing of teeth, as the bottom 60-70% of the agent population find themselves completely locked out of the Top Producing Agents Club because they can't afford the investment it will take to compete with the big boys and big girls. [Emphasis added]
Think about Zillow's incentives for a moment here.
As a media company, Zillow is happy to sell advertising to anybody who can write a check. Sure, they'll focus on the top 5-15% of the agents who can afford to write $5,000/mo checks, and of course Zillow would love to have those advertisers see 10X ROI so they keep writing big checks to Zillow. But really, at the end of the day, whether those agents convert those leads or not doesn't matter to Zillow. Whether the Premier Agent is a top notch solid gold pro or a part-timer with too much money on her hands, Zillow does not care as long as the check doesn't bounce.
That incentive changes completely once Zillow is an actual participant in the deal.
Zillow thinks that it will have purchased 300-1,000 homes in the Instant Offers markets of Orlando, Phoenix and Las Vegas by the end of 2018. The median price of listed homes across all three markets is $275K. That means Zillow has as much as $275 million in inventory risk, as well as enormous upside if they can buy at $260K and sell at $290K.
Now, Zillow cares very much whether the Premier Agent they are using to buy and sell those properties actually gets shit done or not. The risk isn't only on the Premier Agent as the advertiser; in fact, Zillow has most of the risk now as the homebuyer and as the homeseller.
I'm willing to bet that Zillow will be picking and choosing very carefully who gets to represent them either on the buy side or the listing side. I'm certain that they will look at factors way beyond "how much is she spending on Zillow?" because they simply can't take that risk.
In fact, I'm willing to bet that Arik Prawer, the new Chief Business Development Officer, might butt heads with Greg Schwartz, who oversees Premier Agent program, from time to time. But there's no way that Prawer takes the risk on some agent whose track record sucks just because she happens to be a big advertiser. It's not how corporate chieftains work.
Now think, what's the value of 300 new Zillow-owned listings a year to a top notch agent? Not just from the listing-side commissions, but just from having 300 new listings a year? In this market?
If you said, "concentration of power" then congratulations, you win the Notorious C.I.G.A.R. He that hath, gets is a universal law; it's even in the Bible.
The effect of that kind of concentration of power is a natural raising of the bar. It just is.
And the effect is far-reaching, even outside the few Premier Agents who will be tapped by Zillow because they're the best at their craft. If you know that you need to hit a certain level of competency and sophistication to qualify to sell Zillow listings, you know you're going to try to hit that. Hundreds of listings, with all of the buyer leads they generate and the name recognition and the sign traffic and all of that, are at stake!
All kinds of brokers and agents are going to up their games in order to qualify for that river of listings. Watch — it's going to happen. If they don't up their games, then they eventually go out of business because he that hath, gets.
While Zillow is doing that, NAR is doing… what exactly?
Once again, we turn to the S.M.A.R.T. Initiative. Another one of NAR's important goals is:
Define measurable increases in professionalism
To do that, NAR will spend some fraction of $2 million a year… on Commitment to Excellence, a voluntary aspirational program.
To counterbalance the laughable spend, however, all kinds of NAR leaders are going to talk loudly and often about the importance of professionalism, the critical need to Raise the Bar, and to do more at some point any day now real soon-like.
But first, a new logo! Oops.
No Hat, Lots of Cattle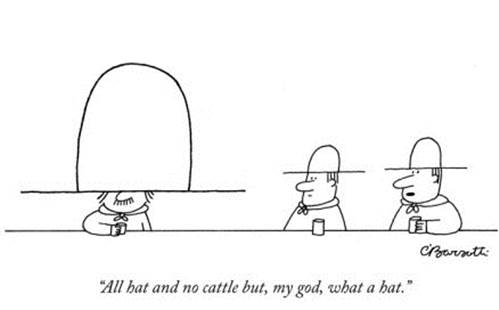 The transformation of Zillow is absolutely remarkable, if you think about it.
Back in the day, when I was advising Zillow on strategy, one of my recommendations was to position Zillow as the "defender of the industry against true disruptors." [I got permission to discuss this with y'all, because I keep my clients' confidences.] I thought then that the real estate industry could not possibly handle some of the disruption I saw coming, whether from Big Tech (and I mean, real big tech like Amazon and Facebook) or AI or driverless cars or virtual reality or any of the big game-changing technology shifts. The industry didn't have the money, didn't have the tech, and didn't have the willpower to protect itself from real disruption.
I thought Zillow did, and given its reliance on real estate brokers and agents to keep paying them, would if given the chance.
I don't know that they've been given the chance, but with this zBuyer program, seems to me that Zillow proved that they have the money, the tech, and the willpower to do so anyway.
"Big hat, no cattle" is a Texas expression which means exactly what it sounds like. Well then, Zillow is "No hat, lots of cattle." They're not out there talking up a big game about Raising the Bar, or keeping the REALTOR essential to the transaction. They're just doing shit that results in both — and makes them a fortune besides.
The irony, of course, has always been that the industry loves to hate on Zillow. It's become a strange sort of fixation.
But maybe the zBuyer announcement, and the relatively tame response to it, marks a real turning point. Maybe the industry — or at least parts of it — are starting to realize that Zillow is here to stay, isn't going anywhere, and are actually doing things that others (notably NAR, but there are many others) just talk about doing.
Maybe that explains why the most vitriolic comments I've seen so far seem to focus on NAR, on the MLS, on the Association. Or maybe it's just that #Logogate is still fresh on people's minds.
I don't know. I don't read minds. I wish I did, though. Would come in handy. And lucrative.
But what is clear, to me at least, is that somehow, Zillow has transformed into both the defender of and reformer of the industry. Time will tell if the transformation sticks. And yes, I'm fully aware of just how difficult this may be to wrap your head around. It's as if Megatron suddenly became Optimus Prime… but that's where we are in 2018.
Now the challenge is on the other powers that be in real estate, most notably NAR, but not limited to them by any means. All of the others who have been talking the talk for years and years about all kinds of stuff they're going to do to help brokers and agents, all kinds of actions they're going to take to increase professionalism, all kinds of things they need to do to be more "consumer-centric" are going to have to start walking the walk.
Because Zillow just did.
-rsh
PS: The music video features the main entertainment for NAR's Annual Convention, Fall Out Boy.