Welcome to yet another edition of the Seven Predictions, sure to be wrong or your money back. (Does not apply to VIP Subscriptions.) This is one of my favorite annual traditions around this time of year. For those keeping track at home, I just published my results from last year's predictions, and my lifetime average is .374.
As longtime readers know, each year has a different musical theme. We will soon have to revisit music I've done in the past, but not this year. Because somehow, I discovered the wonder that is the UK hip hop scene. Sometimes referred to as grime, drill, jungle, etc. the UK rap scene is pretty damn amazing if you're a fan of the art form. I would characterize it as a hardcore take on American gangsta rap heavily influenced by Caribbean music (like reggae), electronica which has always been more popular in Europe than in the U.S., and British street slang. But that's my take; I'm sure others have very different takes.
In any event, here are my seven predictions for 2023 — sure to be wrong! — featuring the music of some of my favorite UK rap artists. Please be warned that UK rap seems quite a bit harder, rougher, and far more gangsta than its US counterparts… at least to my ears and at least in 2022. Many of these might be deemed NSFW, but they are bangers for sure.
1. Opendoor Opens the Door to a New National MLS
In Q3 of 2022, Opendoor surprised us all with the announcement that it was launching a new marketplace for buyers and sellers that did not require Opendoor to be buying homes for cash from sellers:
Today, we are officially launching that marketplace in Dallas-Fort Worth and Austin, under the brand umbrella of Opendoor Exclusives.

Now our sellers can connect directly with our buyers to transact without the hassle and complexity of a traditional listing. Earlier this year, we announced the launch of the buy side of the marketplace, our e-commerce experience to directly buy an Opendoor-owned home – and we are now opening up this platform to our home sellers. What underpins our conviction is years of being one of the largest buyers and sellers of homes and the capabilities that we've built, which enable us to bring together hundreds of thousands of our home sellers with unique homes and our growing base of home buyers.
They delivered on that with its Sell With Opendoor Exclusives program in Austin, Dallas and Houston for now. And the FAQ for "Customer-Owned Exclusives" is now available here.
In my review of Opendoor's Q3 earnings, I talked at some length about this new 3P Platform and said:
Under the rules today, Opendoor Exclusives — whether 1P or 3P — end up on Zillow's second tab. Those are not agent listings sourced from an MLS via IDX feed. Zillow cannot display those homes on the main tab. That's a big problem for sellers utilizing 3P Marketplace. If buyers don't know about my home for sale, and certainly their buyer agent belonging to the local MLS isn't going to tell them because the home is not in the local MLS, then how do I get any traction?

Opendoor can try arguing that Opendoor Connect is a licensed real estate brokerage, and its listings are agent listings belonging to the main tab. That is the exact argument being advanced by REX in the case of REX v. Zillow right now. We don't know how that case will be adjudicated, but until it is, Opendoor Connect is just like REX.

The Opendoor-Zillow partnership can't get around the rules imposed on Zillow by the various MLSs it gets data from, and Zillow isn't gonna screw around with that for Opendoor's sake.

However… if the 3P Marketplace is itself an MLS, then Zillow can display those on the main tab because it is being sourced from an MLS.

Relevant to this thinking is the fact that the term "MLS" is nowhere defined, other than in private industry groups' own rules and policies. NAR defines what an MLS is. CMLS defines it. But if you're not a member of NAR, what do you care what NAR thinks is and is not an MLS?
As I write this in mid-December, I haven't heard of any reactions from the MLS world but I think a reaction is inevitable. And said reaction will be negative.
I mean, Opendoor is outright telling everybody that they intend to get rid of real estate agents and get rid of "traditional listing." No MLS or REALTOR Association can let that stand. It's practically their mission statement to go after companies and people who might threaten real estate agents or the real estate commission, even if they don't actually want to do either one (see, e.g., Zillow and Zaterade). No way they leave Opendoor be.
Which means that Opendoor will more or less be forced into becoming an MLS. That MLS will, of course, be national since Opendoor is national. It won't actually be an "MLS" in the traditional sense, just like the Customer-Owned Exclusive is not a "listing" in the traditional sense. It isn't as if agents can go enter listings into the Opendoor 3P Marketplace and get credit for them or get cooperation and compensation or whatever, but it will be an "MLS" for the purpose of getting their properties onto Zillow, onto Homes.com, and onto any other portal.
According to Eric Wu, this marketplace was always the vision for Opendoor. I think they were kind of forced into it a bit early due to the Jerome Powell housing market, but if that's true… well, then that's Opendoor showing out. Ready or not, here they come.
2. Rocket Mortgage Acquires Redfin
Perhaps one of the more significant developments of 2022 was Zillow's big announcement in Q3. I wrote all about that in my Zillow Q3 analysis. To be fair, there were a number of big announcements, but the one I honed in on was this one:
We plan to overhaul our current mortgage funnels away from third-party lead generation and toward Zillow Home Loans, and bolster our loan officers' tools and capabilities to help the customers who come their way. Our future state is one where customers who start with Zillow Home Loans work with a Premier Agent partner to whom we've connected them, and customers who start with a Premier Agent partner through our touring product are also choosing Zillow Home Loans as their mortgage provider. We aim to increase the number of purchase loans, loans per officer, and Zillow Home Loans customer adoption rate. [Emphasis mine]
The context of that announcement was Rich Barton saying that 87% of buyers use a mortgage, that the top 25 lenders in the U.S. combined have about 1/3 of the market, there are very few national brands in mortgage, customer acquisition cost is extremely high and "distribution requires brand power and a network of local real estate agents." Enter Zillow Premier Agent network, and Zillow Home Loans.
Zillow went into even more detail, but fundamentally, I thought this was Zillow declaring war against the entire mortgage industry. Zillow intends to capture the mortgage lead at the time the buyer is dreaming about a home and visiting Zillow, and then convert them with Premier Agents.
Thing is, it isn't as if the boys and girls making billions from mortgages today are going to just sit by and let Zillow do whatever it wants. Here's what I wrote in the Zillow article:
But even Rich Barton has to admit that Zillow is not a brand in mortgage. One of the key things he said Zillow has to do is to make people aware that Zillow does in fact offer mortgages. There's a long way to go before people will associate Zillow with financing, the way that they associate Rocket with mortgages. It is, I think, roughly the same hill that Rocket would need to climb if they wanted consumers to associate Rocket with buying and selling homes — which they do, via Rocket Homes, a wholly-owned brokerage subsidiary.

Yes, Zillow has the Premier Agent network and its experiment in Raleigh, combined with the bundle discount offerings, suggests that there is a path there for Zillow to become a major player in purchase loan mortgages. I'm just saying they're going up against some real big boys with real power and real assets, and they're having to play catch up on Rocket's home turf.
So, I think we see Rocket one-upping Zillow in the fight. Jay Farner, Rocket's CEO, knows that they have the advantage in the mortgage space but they're at a disadvantage in the home buying and selling space.
Rocket Companies at time of writing is a $16 billion company. Zillow is about $8.5 billion. Redfin has fallen from grace and is at $536 million. Rocket could buy Redfin for cash today; Redfin shareholders are likely to be interested in a stock swap as well if that's offered.
Redfin would give Rocket Homes an instant presence as a real estate portal. Redfin.com is, according to most knowledgeable people, the #2 real estate portal behind Zillow. Sure, the brokerage part is hurting badly because of the housing market, but the website remains as vital and as viable as ever.
Plus, Rocket Mortgage could take Redfin's W2 workforce and move them over to Rocket Homes to serve as in-house agents without too much difficulty. There is at least one very good reason for doing that: a W2 employee agent can (as per Glenn Kelman) sell every product the company has, including mortgage, without running afoul of RESPA. Zillow can't do that with its Premier Agent network.
[Note from Sunny: If Zillow still has licensed employees, they too can sell any product the company has without running into issues with RESPA. I could imagine a world where a Zillow Advisor gets the buyer pre-approved through ZHL (as well as upselling any other services) before connecting her to a Premier Agent. Even if the rest of this prediction doesn't happen, I anticipate attach rates for ZHL to start moving up.]
In fact, if Rocket were able to, it could take a Orbitz approach to Redfin and buy it as part of a syndicate of other top mortgage companies: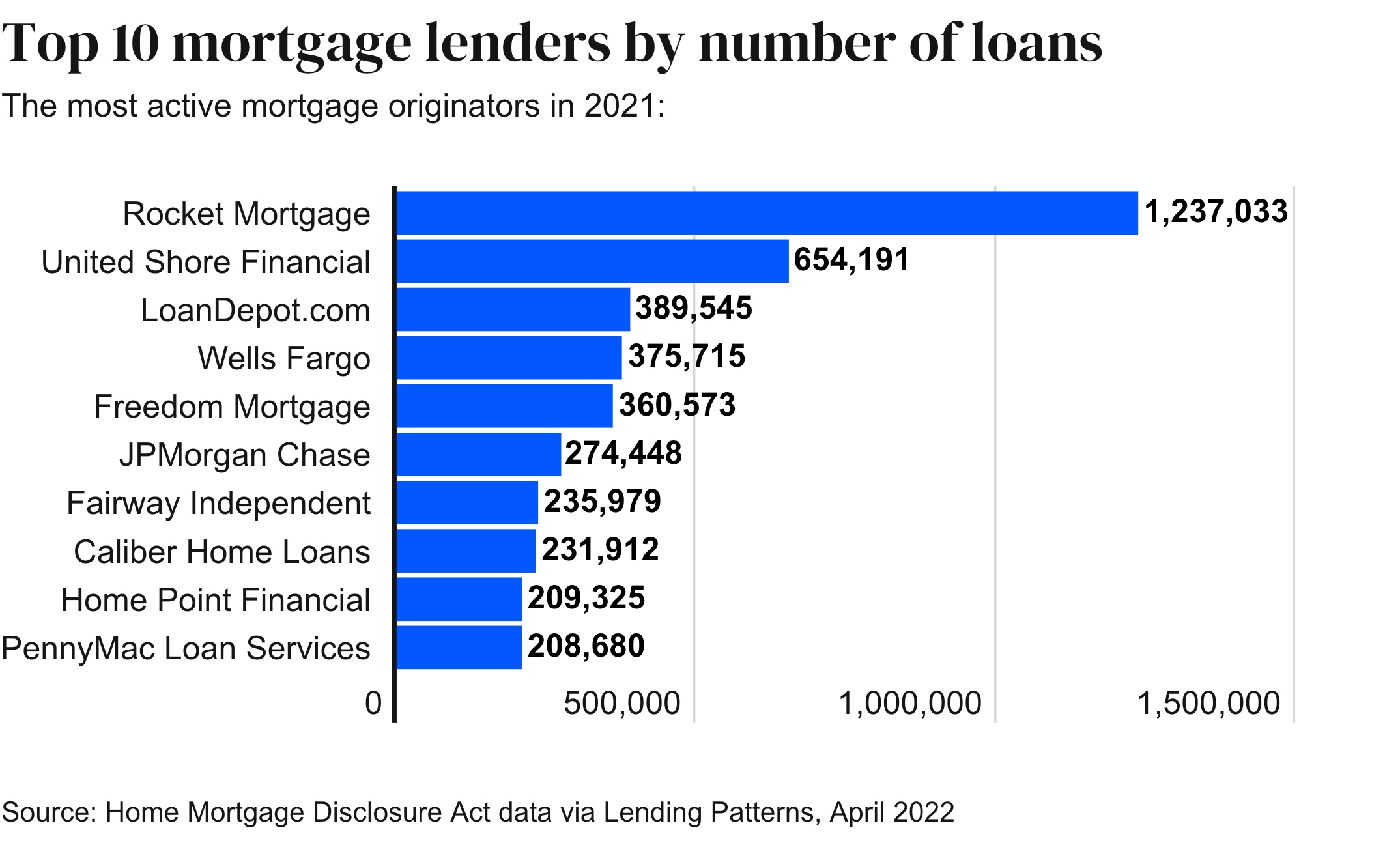 Just like Orbitz was intended to compete against Travelocity, a syndicate of top mortgage lenders could go in with Rocket and re-launch Redfin to compete against Zillow.
Talk about one-upping Zillow's move into mortgage. The top portal in real estate with a fledgling mortgage operation versus the Masters of the Universe, Too Big to Fail banks and all their friends. Redfin is the key that unlocks the move. I say it happens in 2023.
3. Big National Builder Builds More Rental Homes Than For Sale Homes
The most important development of 2022, of course, isn't Zillow or Opendoor. It's Jerome Powell hiking rates like he wants to plunge the country into the Great Depression 2.0. We have gone from 0.25% at the start of 2022 to 4.5% after the latest FOMC meeting. That's the fastest it has been in 40 years and led to collapses in various real estate stocks (Zillow, Opendoor, Compass, etc.) as well as a real malaise in the housing market.
Mortgage rates have gone from ~3% in January of 2022 to ~6-7% in December; that has driven housing affordability to near all-time lows. The last time housing was this unaffordable was when the Gipper was President and the Soviet Union still existed.
For all intents and purposes, Jerome Powell has shut down the home buying market in the United States.
One result of this incredibly rapid change is that homebuilders are facing real problems.
Existing homeowners can simply choose not to move; that's one reason why inventory remains so low despite market conditions. Homeowners sitting on a 4% mortgage have precious little incentive to sell and buy a new home at a 7% mortgage — assuming they can even find a home to buy, and can afford it. But homebuilders are in the business of building new homes, then selling them. If you don't sell the homes, then the homebuilder just eats the carrying costs, watches the value of the inventory drop, and maybe the construction lender comes calling for its money back.
For a few years now, I've been tracking the growth of BTR or "Build to Rent". These are entire communities that are built in order to be sold to institutional landlords to be operated as rentals. These BTR deals make more and more sense for developers, and never more than in today's horrible buying environment. Back in 2021, I found this story on The Real Deal that spelled it out:
For an extreme example, look to Conroe, Texas, where D.R. Horton recently built 124 rental homes. The homebuilder rented those homes out and subsequently put the entire subdivision up for sale. A bidding war broke out in December, and Fundrise LLC, an online property-investing platform, won with its $32 million bid, which was submitted on behalf of about 150,000 individual investors.

The price tag was about twice as much as D.R. Horton typically makes by selling homes to the middle class, its CFO told the Journal.
I've been speaking to a few builders throughout the year and more and more of them are going into BTR's because those (a) keep their workers busy, which is important for homebuilders, and (b) the margins are significantly higher, and (c) the entire sales transaction is much, much simpler. Here's a story from Builder Online:
"Homeownership just got punched in the gut," says Mark Wolf, CEO of San Antonio–based AHV Communities, a developer, builder, and operator of single-family BTR homes. "We're seeing another resurgence of the demographic shift toward renting houses versus buying them."

By contrast to what's happening on the sales side, the single-family BTR market, where developers create entire communities of stand-alone units with the sole intent of renting them out, has been on a tear. Single-family rents started 2022 up 12.6%, the largest increase in 17 years, according to CoreLogic, and have even outpaced similarly surging apartment rent gains during the pandemic.

"BTR is the hottest sector in residential real estate right now, bar none," says Katie Fidler, director of research and communications at Atlanta-based developer and asset manager St. Bourke. "It's actually been outperforming traditional multifamily investments in rental growth and occupancy for half a decade."
Since I expect 2023 to be more of a bloodbath in the home buying market than 2022, I am predicting that one of the big national builders will end up building more houses as rentals than as for-sale properties next year. Figure one of the big public companies like KB Homes or Taylor Morrison or perhaps even Pulte Homes.
From Builder Online article above, we get this:
Taylor Morrison, for example, has partnered with operator Christopher Todd Communities to build out its "horizontal apartment" communities, while Toll Brothers has a similar relationship with BB Living dating to 2018. PulteGroup has paired up with Invitation Homes to deliver 7,500 new BTR homes over five years, and Lennar has raised $1.25 billion in equity to support its own BTR strategy, partnering with Centerbridge and Allianz Real Estate. Finally, D.R. Horton, the country's largest single-family home builder based on closings, expects to generate $700 million in revenues from rental property sales in 2022 alone.
All of those companies are already in the BTR space; I think one of them makes a full pivot and builds more rental housing than they do for-sale housing next year. #RenterNation is coming. You will own nothing and be happy.
4. CoStar Acquires Black Knight
Greg Robertson and I did an interview of Saul Klein earlier this year on Industry Relations trying to understand the Black Knight acquisition by ICE (Intercontinental Exchange) and I left that podcast wondering if I knew what was going on.
The short story is that ICE and Black Knight have agreed to a deal. That deal is undergoing FTC review, because there are some real serious antitrust concerns over ICE (which owns the #1 loan origination software platform) acquiring Black Knight, which owns the clear #2 loan origination software platform. The latest I have is that ICE says they "certified completeness" with the FTC for the deal, but that doesn't mean the deal has been approved by the FTC.
Now… the original deal between ICE and Black Knight was for an eye-popping $13 billion. But that was back in May of 2022, before the housing market and the mortgage market kind of collapsed thanks to JPow and his rate hikes. It isn't all that clear whether BKI is actually worth $13 billion in this market and the housing market that is expected to be struggling in 2023 and beyond for a few years.
If the FTC is having heebie-jeebies anyhow because of the loan origination software platform thing, maybe it opens the door for someone else.
That someone else will be CoStar.
We already know that CoStar made a play for CoreLogic in March of last year for almost $7 billion before walking away when it became clear that they weren't going to get it. We already know that in that takeover bid, CoStar promised to agree to whatever antitrust covenant required to get the FTC to approve.
We know that CoStar has raised a significant war chest, and that Andy Florance has said that they are actively looking for a "transformative deal" in residential real estate.
Black Knight might be that deal, if ICE runs into problems with the FTC, and if a way to resolve the issues is to break up Black Knight into pieces with CoStar taking most of it, and ICE taking what it wants from Black Knight, all pending FTC approval.
I think that happens.
I think ICE walks away from the Black Knight deal, citing FTC opposition to it, and saving $13 billion in the process. With the changed market conditions, perhaps Black Knight's price drops enough for CoStar to want to take a run at it in the $7 billion range instead of the $13 billion range. That would get CoStar something close to what it wanted from CoreLogic — one of the top real estate data vendors in the country, with technology and public records and lien data and everything else that CoStar needs to make Homesnap/Homes/etc. into a real residential data powerhouse.
Yeah, that would be a transformative deal, and I think Florance gets it done in 2023. Going in for the kill ("IFTK") is a signature move of Andy Florance at CoStar, and this would be one of those moves.
5. A Top Ten MLS Leaves NAR
Back in 2020, I made a prediction that MLS would run scared from NAR:
Up until 2020, it felt as if the MLS was being protected by Big Daddy NAR with its deep pockets, national presence, lobbying prowess, and large legal teams. After 2020, it feels like for whatever reason (aka, REX), the outside world has painted a big target on NAR. Now it's starting to feel like being too close to NAR is more of a risk than a reward….

…

So, my prediction sure to be wrong for 2021 is that we start to see a number of MLSs take steps to distance themselves from NAR. The Board members, who have long been stalwart REALTOR defenders, will increasingly look for ways not to be rolled up in some lawsuit or discovery process or regulatory regimes that NAR will be.
I got that one wrong. As far as I can tell, no MLS ran from NAR in 2021 or in 2022. Which is all the more reason to repeat the prediction this year to happen next year. With a twist.
Let's remember why this prediction made sense in 2020 and why it makes sense in 2022, especially since the non-VIP readers don't know about the Worst Case Scenario's peculiar hell for the local MLS. Much of what follows is from that VIP post:
Let's start with the basic outline of what we know so far.
Moehrl v. NAR was filed first and covers huge swaths of the country, but Sitzer v. NAR (now Burnett v. NAR) out of Missouri got class action status first and is going to trial early next year — February 21 if the calendar dates hold. Trial is scheduled for two weeks.
Note also that this is a jury trial, not a bench trial. So the lawyers are going to have to convince six regular people (federal courts usually have juries of six for civil cases) that they're right.
Word is — from speaking to lawyers I know — that the judge in the Sitzer/Burnett case tends to work fast. The jury might make the actual decision, but the judge can hurry things along. We might get a decision by April, maybe May. If anything, I rather think the jury is going to have trouble with the damages phase, rather than the actual "who do you find for?" phase.
If you have read Judge Bough's opinion denying NAR's motion to dismiss (which I have, so you don't have to), then you are likely to reach the conclusion that the judge is going to lean towards the plaintiffs in the Sitzer/Burnett case. Again, the jury decides but the judge referees. I think it's safe to say that the plaintiffs may be playing in front of a home crowd.
In the Sitzer/Burnett case (as well as the Moehrl case), the defendants are but five: NAR, Realogy (now Anywhere), HomeServices of America, RE/MAX and Keller Williams. None of the local Associations or the local MLSs involved — the lawsuit names Heartland MLS in Kansas City, MARIS in St. Louis, Souther Missouri Regional MLS in Springfield, and CBOR MLS in Columbia — are defendants in the lawsuit.
We already know that the Burnett case has been delayed until sometime in mid-late 2023 thanks to appellate action. Okay, fine. But if there is a trial, I happen to think that NAR will lose. Convincing a jury of regular non-industry people who might have bought or sold a home at some point in the past several years that they did not get screwed is going to be quite difficult. It really isn't that hard to convince people they got screwed by corporations, especially in our current environment.
Now, that will lead to copycat litigation where lawyers go around looking for companies to sue who aren't NAR and the four corporate defendants. The local MLS is a prime target since they have been named as co-conspirators, but are not named as defendants. So we all can expect to see a lot more videos like this one all over late-night cable programming:
Plus, if the worst case scenario in Burnett and Moehrl come to pass, then NAR will be going through serious austerity because it will need to file bankruptcy just to protect itself from having to pay hundred of billions in damages. Which means NAR might not have the money to be doing things like paying for local MLS liability insurance. (In fact, it isn't clear that NAR itself will have a company brave enough to keep insuring them. $300 billion liability exposure isn't something even Lloyds of London could take on easily.)
Furthermore, the local MLS's vulnerabilities all stem from NAR rules and policies since the local MLS doesn't make its own rules unless permitted to do so by NAR.
This isn't something that local Association and MLS leaders have really considered seriously. I've spoken to enough of them over the years about divorce that I know many think it's an interesting idea, but no one has yet really pursued it.
The prospect of awful lawsuits and ginormous damages changes that equation. As the saying goes, nothing focuses the mind quite as much as the prospect of a hanging.
In the past several months, I have been having a number of sub-rosa conversations with friends and colleagues throughout the industry. What was once a merely interesting idea is starting to become more like a real thing to consider. The chatter about the MLS leaving NAR and REALTOR control is growing louder and louder. And the talk is coming mostly from large, well-established, well-capitalized MLSs who have nothing to fear from losing NAR's umbrella liability coverage.
So if there is a move away from NAR, I think it comes from the largest, wealthiest, and best operated MLSs. That's the top ten.
According to T360, the top ten largest MLSs by subscriber count are:
California Regional MLS (CRMLS)
Bright MLS
Stellar MLS
First MLS
Georgia MLS
North Texas Real Estate Information Systems (NTREIS)
Miami Association of REALTORS
Midwest Real Estate Data
OneKey MLS
MLS PIN
Two of the ten are broker-owned already (FMLS and MLS PIN) so they're not NAR affiliated in any event. So I'm predicting that one of the other eight will drop its affiliation with NAR. They already have the example of the successful broker-owned MLS to copy in terms of operations.
It won't be a fun meeting of the Board of Directors. I suspect passions could run high, and NAR certainly won't just stand by and watch it happen. And yet, the logic of divorce has gotten stronger over 2022 than it ever was before.
Then again, given my past track record with this particular predictions, I'll echo Tion Wayne and say, "I dunno, I dunno, I dunno."
6. Compass Becomes an Employee-Owned Company
The last few months, the real estate industry as a whole has been predicting the death of Compass. Sometimes with concern, but usually with glee. After all, Compass has been making life miserable for traditional brokerages for a few years now. Fueled by near-unlimited cheap money, Compass was able to buy agents, buy teams, and buy other brokerages to grow faster than any company in history of real estate to become the largest brokerage by volume in 2021.
The JPow economy, the massive rate hikes, the intentional crashing of the housing market, the (likely) intentional crashing of the stock market, etc. have all meant that Compass is no longer able to access capital the way they had been able to. Suddenly, profitability has become a major concern, and in the Q3 earnings call, Robert Reffkin made it perfectly clear that Compass will cut expenses to the bone and increase fees and do everything they can to get profitable and cash flow positive. I mean… he kinda had to with operating income down 51%, net income down 55%, and adjusted EBITDA down 450% YOY.
The markets have punished Compass: its stock price is down to near $2.50 from about $20 in April of last year, and its market cap is now sitting right around $1.15 billion.
Thing is, Compass still remains the largest brokerage by sales volume with significant footprint in major metro markets. It still boasts having 28,960 agents, and over 13,000 of them are "Principal Agents" — top producers and team leaders that everybody else wants. Despite the weakness in the housing market, Compass did almost 55,000 transactions in Q3 for $1.5 billion in revenue. On the 80/20 split that Compass says it gets, that's $300 million in Company Dollar. That's quite a company.
Most industry insiders (including myself) think that Compass makes for a very tempting takeover target for someone like BerkshireHathaway, which already owns HomeServices of America. Other large brokerages like Anywhere or Howard Hanna could also be buyers if they could raise the cash to do it.
But I think Compass might go in a different direction, in order to stay independent.
Those 13,000 Principal Agents at Compass are among the best and most productive agents in the industry. Most of them joined Compass because of money; the deals that Compass was offering them were unbelievably sweet. Many of them were promised stock options as part of the recruiting pitch. Well, I imagine most of those options are now underwater and worthless.
However, those 13,000 Principal Agents have a lot of money. It is no secret that if the brokerage keeps 20% of the revenue, then the agent keeps 80% of the revenue. Just in Q3, the agents of Compass took home $1.2 billion in income. (That's what 80/20 split means on a $1.5 billion revenue line.)
That means that the agents of Compass took home more than Compass's market cap in just Q3 — which was an off-quarter. I think those top producing agents of Compass have more than enough money to take Compass private as an employee-owned company.
Some smart banker — and let's remember that Reffkin came out of Goldman Sachs and knows a lot of smart investment bankers — could put a deal together for something like a leveraged-buyout that keeps the management in place, but switches ownership from publicly-traded to employee-owned.
The best logic for doing this, I think, is that Compass is a very healthy company on the top line. It spends too much money, which is why their profitability and cash flows suck. Without question, the biggest expense are agents. If those agents, however, were owners of Compass… then their interests get aligned with the company's interests in terms of maximizing profit and cash flows.
It does not seem like a too-difficult concept for the agents of Compass to buy in at $2.50 a share, forego all kinds of shit they don't need, save massive expenses, slash salaries, etc. etc. and then turn the company around to be profitable by end of 2023. That would take the stock price far higher, resulting in huge gains for all the agents who bought in.
I think this scenario is entirely possible given just how agent-centric Compass has always been. There is nothing more agent-centric than making the agents the actual owners of the company. I think Reffkin would go for it, and with the moribund financial performance of Compass, I think current shareholders would be open to hearing from a buyout committee led by agents. Maybe Reffkin and his bruddas just vossi bop their way to profitability.
Because this move probably makes too much sense, it won't happen. But that's kind of the point of these predictions, sure to be wrong or your money back! (Does not apply to VIP subscriptions.)
7. Corporate Dormitories Come into Being
The major story of 2020 and 2021 was Work From Home. COVID accelerated a trend that had been going on for a while, and when employees were told not to come into the office because of ze bug, many companies chose to make that arrangement permanent. Millions of people found themselves working from their kitchen tables, from home offices, and from their tiny apartments for good.
That led to what Rich Barton called the Great Reshuffling: people moving away from cities and close-in suburbs in favor of larger homes on bigger lots away from downtowns. In many cases, people moved away to completely different states. Florida, Texas, and Tennessee all benefited from the untethering of work to the office. We're all familiar with what happened.
Well, the major story of 2023 might be the Return to Office.
Elon Musk is the standard bearer for this new development. First, it was Tesla employees who were told in no uncertain terms to return to the office, or resign:
"There are of course companies that don't require this, but when was the last time they shipped a great new product? It's been a while," Musk wrote in the second email sent. He added that it's important for senior employees to show their presence and said it's why he "lived in the factory so much" and that, had he not, "Tesla would long ago have gone bankrupt."

"Tesla has and will create and actually manufacture the most exciting and meaningful products of any company on Earth. This will not happen by phoning it in," he added.
With Tesla, however, a manufacturing company with actual factories, that made more sense to most people. Even desk workers, if they work for a manufacturing company, then there are real morale reasons why they should have to report to an office, just like line workers have to report to the factory floor.
But it was when Elon bought Twitter and demanded the same return to the office, or else, that something changed. Twitter is not a manufacturer. There is no factory, no warehouse. Every single employee, including software engineers, can work remotely. Elon just won't let them, because he believes that the team getting together physically in an office is the most productive way to operate.
We know that other corporate chieftains are thinking the same thing. You can call it Boomers doing Boomer things, or idiotic management, or whatever. Point is that more and more companies are requiring workers come to the office full time.
There is a major problem with this, of course, as illustrated by this story on Twitter employees sleeping in the office: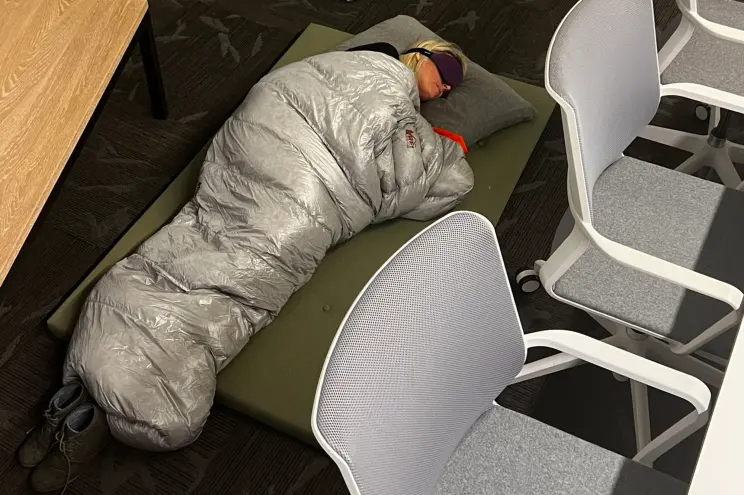 That photo went viral, leading to Elon installing bedrooms at Twitter headquarters, which then led to the City of San Francisco going after Twitter and Elon for daring to have bedrooms in the office. There was a bit of drama there, mostly politically motivated.
However, there is a real issue here even if the company isn't Twitter and the corporate boss isn't Elon Musk. The issue is that housing in or near city centers where company headquarters are is expensive as shit, and completely out of reach for many workers.
According to RentCafe, the average rent in San Francisco is $3,397 for the average 740 sq. ft. apartment. So just to pay rent for a shitty average apartment, we're looking at (pre-tax) income of almost $7K a month? No wonder the tech salaries were so ridiculous.
But even more generally, we are starting to see the resurgence of manufacturing in the U.S. from on-shoring. Just in 2022, we have had news of Intel building a $20 billion semiconductor factory in Ohio. But read that article and you find this:
The plant will be situated 30 minutes northeast of downtown Columbus in the suburb of New Albany in Licking County. Construction is to start later this year, according to Intel. By the time that production comes online in 2025, it will cost $20 billion and employ 3,000 at an average salary of $135,000 each.
I've looked at some photos of Licking County online, and… it looks like a delightful place. The kind of small-town Americana that is disappearing. But you know what else? It looks like the kind of place that you are not going to get a lot of people making $135K a year wanting to live there. Not enough amenities, restaurants, cafes, bars, nightclubs, or cool housing.
Which implies that Intel is going to need to build not just the factory, but an entire community that will appeal to young computer scientists and microchip engineer types making six figure incomes.
The TSMC plant going up in North Phoenix might have more of a chance, but again, the workers are going to have find a lot of housing in Phoenix… and just looking at the actual location of the plant… that's quite a commute from where people live.
The answer to all of these, of course, is corporate dormitories.
This is hardly a new concept. Company towns were a big part of the growth of the United States during the Industrial Revolution. Sure, you had shitholes built by coal mining companies, but Hershey, PA is a delightful town built by the chocolate company. In fact, Smithsonian Magazine has this to say:
Second, as Green explains, to speak about company towns in the past tense is to overlook that they still exist. The original coal and textile towns in America are now largely ghostly, but places like Hershey and Corning, New York, which was invigorated by the Corning glass company, are still going strong. Plus, as the LA Times writes, businesses such as Google and Facebook today are providing housing, amenities and transportation for their workers—meaning that while we think of company towns in sepia tones, they're also in digital blue.
Google and Facebook are not providing housing per se to their workers. They were making plans to do housing development generally, but they are located in California which hates all kinds of housing development.
I think all that changes in 2023. We will see companies take advantage of the Work From Home emptying out office buildings and converting them into corporate dorms. Younger workers who can least afford housing near work will be offered a compensation package that is far lower on cash, but includes attractive, modern, safe and convenient housing located a few floors down from the office on the same elevator bank. This is a win-win for both the employee and the company.
For the company, it means significant savings on salaries. It means increased productivity from workers being physically at the office… 24/7/365. Work from Home is so 2021; Live at Work will be 2023 and beyond. You don't have to offer nice cafeterias or fancy coffee; the employees can just take the elevator to their homes and get whatever vegan lunch or fancy coffee they have at home.
[Note from Sunny: Cities may actually start incentivizing companies to build office dorms to help revitalize downtown cores. While Rob thinks employees will "run home" for lunch or coffee, I think they'd rather go to their favorite corner coffee shop or local restaurant to grab something to eat. Covid and WFH killed off a lot of small businesses and turned downtowns into something from The Walking Dead. Forward-thinking cities could look at this as an opportunity to resuscitate urban centers by throwing money and tax incentives at companies who bring employees back – bonus points if employees live onsite.]
For the employee, at least the younger single college-educated worker, it means significant savings on housing costs, combined with the kind of socializing and community that they know from dorm life. Instead of having to find random roommates to share a crappy 1BR apartment with, those corporate workers can roomie up with Susie from Accounting or Joan from HR. They will build relationships that strengthen the workplace, help with their careers, and foster a company culture. And with housing cost eliminated from the personal budget, the smart worker can save up to eventually move out of the corporate dorm and put a down payment on a house of her own far sooner.
I'm calling it now, which means it will be wrong, that we will see a major company offer housing as part of the compensation package and that we will see corporate dormitories come into being.
Conclusion
Another year, another set of predictions. I always have fun writing these, and a lot of fund grading them afterwards.
2022 turned out to be a crazy year. I don't think anybody saw Jerome Powell go as hard as he did on rates, more or less killing the housing market, killing crypto, crashing equities, and burning down the bond market. I don't think anybody had "Russia invades Ukraine" on their bingo card of predictions. I know for a fact that nobody (except a couple of intrepid independent journalists) saw the largest ponzi scheme in history in FTX and Alameda Research unraveling. I doubt anybody saw the enormous shifts in geopolitics (Saudi Arabia cozying up to China?) happen in 2022 either.
I suspect that 2023 will bring further surprises, both to the upside and to the downside. Nothing is constant except constant change, death, taxes and human nature. But because of human nature, and the realities of life, housing will remain central to human existence, which means real estate will be here in one shape or form. It might be back in black, or burning like a dumpster fire… but it will be around and we'll be around to see predictions play out.
I leave you with one of the more interesting works of UK grime. Not sure what the song has to do with the soccer player Thiago Silva, but it isn't just this song or video that was a phenomenon. The rapper Dave brought a 15 year old fan Alex Mann on stage at Glastonbury Music Festival, and that performance blew the hell up. That performance went more viral than the original video and Alex has become a short-term sensation. Here's an interview on Good Morning Britain for your pleasure; it's kind of a sweet story to come out of such a banger.
-rsh