Yes, it's that time of year again. As always, in advance of my 2023 predictions, I like to grade my 2022 predictions and see just how wrong I was with them. I think it's gonna be bad news for me, and good news for everyone featured in my 2022 predictions.
Here's where we stand after 12 years:
Pretty sure that a lifetime batting average of .374 puts me into Cooperstown… if I were playing baseball. But I am not, so that's a really crappy track record.
So, let's see how things went for me in 2022.
1. Rich Barton Retires Again; Susan Daimler Named as CEO of Zillow 3.0 –
NO
When I wrote the prediction last year, I thought Rich Barton wouldn't want to stay for Round Two of operating a portal that sells leads to real estate agents. I thought he was all about "fundamentally changing the way homes are rented, bought and sold." That was why he came back out of retirement to take the reins at Zillow.
And I figured, he had Susan Daimler waiting in the wings. She's been killing it on IMT side of things, and the two of them have known each other since 2007. It seemed like a no-brainer.
What I did not take into account, I guess, is that Rich Barton does not appear to have failed at anything in his career. I don't think something like folding up Zillow Offers and abandoning that dream has ever happened to the man. And perhaps I discounted his ambition for transforming real estate.
So instead of retiring, he set forth a bold vision of creating the ultimate one-stop shop. From the Q4 earnings call:
Our opportunity is to create the housing super app, an integrated digital experience in which Zillow connects all of the fragmented pieces of the moving process and brings them together on 1 transaction platform, empowering customers with data, a suite of Zillow-owned solutions at their fingertips and a network of best-in-class partners to make it easier for them to move, start to finish.

Our customers will be able to do everything within the Zillow ecosystem. That's the dream we're building towards. Accompanying this dream is a significant addressable market. Housing-related transaction fees were roughly a $300 billion industry in 2021. This includes residential real estate, rentals, mortgage, title and escrow. It does not include more speculative future potential in adjacent services like renovations, home insurance, moving services and appraisals. The TAM is large. And currently, we are a very small part of it despite our outsized audience and trusted brand.
And he has been pushing Zillow all-in on this vision. ShowingTime is now ShowingTime+ and becomes something like a central hub for all things real estate agent. Plus, in the latest earnings call, Barton more or less declared war on guys like Rocket Mortgage (Quicken Loans) with his vision of an easy to use digital mortgage product.
He doesn't look or sound like a man heading back to retirement; he looks and sounds like someone engaged in battle for the future of the company and of the industry. Good for him, and good for Zillow!
Happy to be wrong on that prediction.
2. An Explicitly Conservative Real Estate Brand Launches –
Kind Of… (.5)
So on the one hand, there was no major explicitly conservative real estate brand launched in 2022. I thought someone would do so given the market opportunity. As I wrote in the Predictions post:
At the same time, we are starting to see the rise of conservative brands in the wider economy.

Black Rifle Coffee Company, 5.11 Tactical, Grunt Style, Altar'd State, Sweet Salt and a few others come to mind. Their products have nothing to do with politics. They're marketing things like coffee and t-shirts and jeans to a right-leaning customer base. It just makes business sense in a hyperpoliticized world to differentiate your brand.
Yet, no major operator has taken up that opportunity. There is no national explicitly conservative, anti-woke brand in real estate.
On the other hand… what do you call this?
Just watch the first 20 seconds of that video.
I mean.. 1911 Syndicate is not a national explicitly conservative real estate brand. But Jake Dwyer is now actively recruiting agents to become part of some kind of a network whose tagline is "Real Estate for Shooters." Shooters are not necessarily conservative, but… in this environment, just owning a firearm makes you kind of conservative and anti-woke. It seems like a mere hop and a skip from what he's built and building over there to a real estate brand, no?
I am going to be charitable to myself and say I was kinda correct, and award myself 0.5 points for this one.
3. Opendoor Launches a FSBO Service –
YES
Here's what I wrote last year:
Second, given the technology that Opendoor has built, it would not be difficult to repurpose that for FSBO. Consider some of the difficulties with going FSBO:

Pricing the home for sale
Getting the home ready for sale
Marketing the home
Dealing with showings
Dealing with the closing

Opendoor built its systems to be able to do all of that for its own company-owned properties. The algorithms price the home with assistance from human inspections. The legions of contractors do the minor repairs and maintenance to get the home ready for sale. Opendoor is a participant brokerage, so all of its listings go into the MLS and get syndicated out everywhere, and it does marketing on top of that. Opendoor does showings via mobile app; buyers can tour Opendoor homes pretty much whenever they want. And Opendoor has a wholly-owned closing services division as well as a mortgage brokerage.

With the exception of the "self-tour" thing, Opendoor can help a FSBO homeowner take care of everything else. If the homeowner is willing to vacate the house for a month or two, Opendoor can even do the "self-tour" thing. Of course, Opendoor would charge a fee for all of these services, but still, whatever the FSBO owner wants done, Opendoor can do it. It would be the ultimate in assisted FSBO to date. (Note, Redfin can probably offer the same if they wanted to.)
And here's Eric Wu in the latest earnings call:
For our home sellers, we are working to make the experience just as easy as selling to Opendoor.

In addition to an Opendoor offer, we seek to bring homeowners additional offers without the need of repairs, extensive home prep for months of open houses or listings. Like an Opendoor offer, these offers require no commitment from the seller and come with the control and flexibility of an early closing. I believe this is a critical part of our next chapter, and we feel uniquely positioned to launch a managed marketplace that can benefit every single home seller and home buyer.
Voila! Sell with Opendoor Exclusives is live in Houston, Dallas and Austin.
Since the mechanics of this Third Party Marketplace ("3P Marketplace") requires that the seller list the home with Opendoor's non-MLS brokerage, I guess we can't call it a FSBO by definition… but it sure sounds a lot like an assisted FSBO offering. Take a look: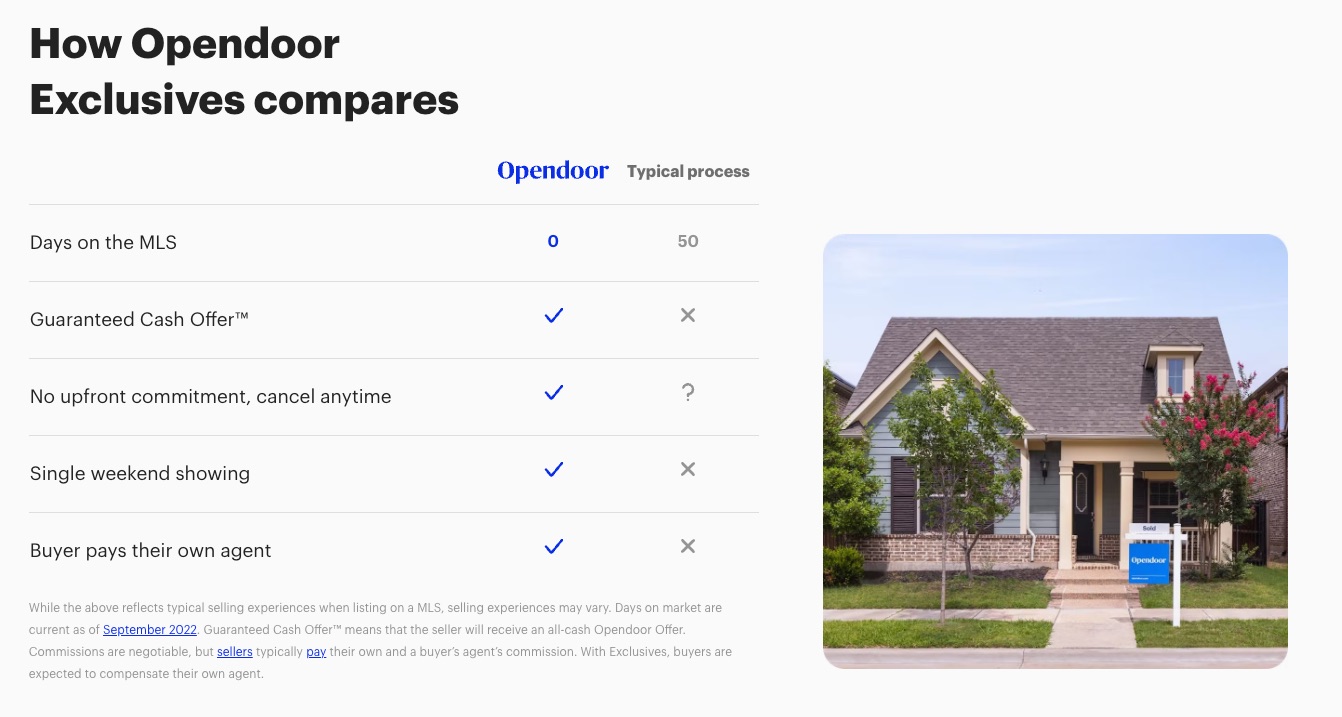 If you want more details on this new offering, head on over to my Q3 Opendoor analysis.
Quibble if you must, but I think what Opendoor launched is a FSBO service in all but name. So I'm going to credit myself for this one win from last year.
4. The FTC Hands Down First of the Big Regulations –
NO
I mean… what is there to say except that the FTC has done nothing in the way of regulations.
FTC did go extort Opendoor for $62 million, but that had no actual regulation or actual rule of any kind in it. It was more of an enforcement action, rather than a rule-making action.
So I got that one wrong, period.
5. CoStar Launches a MLS… in the Metaverse –
NO
Yeah, so that didn't happen. Not only did it not happen, 2022 saw the entire cryptoverse implode.
Terra Luna collapse was followed shortly by 3 Arrows Capital collapse, which then led to Celsius collapsing, then Voyager, then BlockFi and a number of other companies and protocols crashed and burned. And then we had the Fraud of the Century (which somehow still remains unprosecuted by anybody, at least for now): FTX, Alameda Research and Sam Bankman-Fried.
Of course, when I wrote the Predictions, none of that had happened. Furthermore, when I wrote the Predictions last year, the negotiations between CoStar and the Broker Public Portal had not gone belly up yet.
Whatever the reasons, CoStar did nothing whatsoever in the Metaverse and in late 2022, I rather doubt they would ever do anything in the Metaverse. In fact, I think no one serious anywhere would ever do anything in the Metaverse for a few years yet.
Mirror Worlds on the other hand….
6. Realogy Debuts Property Management Business –
NO
I happen to think this is a matter of being too early. Because the major trends and principles behind the Prediction remain all valid. Here's what I wrote last year:
As I wrote in that post, Sunny and I know of companies that have thriving brokerage practices because their property management business funnels buyers and sellers into them. My introduction to real estate was through commercial real estate where property management is offered in order to control the inventory. I've always been puzzled why we don't see more of this in residential real estate.

Furthermore, since the United States and Canada are turning into #renternation societies, and commission compression is just over the hill, the greatest opportunities in real estate are not in selling more houses, but in property management and asset management.

Scott Brady doesn't think big brokerages can make the pivot. I'm predicting that they can, and that they do, because the alternative is bankruptcy.
2022 has been rough on the housing market, but not "depths of despair" rough. We might need to wait for 2023 to see that. It may be that we'll see Realogy (now Anywhere) get into property management in 2023, so I might save this Prediction for next year… but it is certain that I got this one wrong last year.
7. Federal Ban on Investment in SFRs –
Kind Of… (.25)
Okay, hear me out here.
On the one hand, there has not been in any way shape or form a federal ban on investors buying up single family residential properties. So the Prediction was dead wrong.
On the other hand… we have this: Governments Begin Pushing Back on Investors Snatching Up Homes. In that story, we hear about local zoning officials refusing to approve permits for BTR (Build to Rent) developments. We hear about local HOAs banning investors from buying in their communities. We hear about cities thinking about doing some shit:
Atlanta Mayor Andre Dickens has said he wants the city, where the median home price rose 14% over the past year to $426,000, to place limits on how much real estate institutional investors may purchase.

Some local governments are considering ordinances that would cap the number of rentals in any community or restrict investors from competing with local homebuyers for homes.
From the story, at least one state lawmaker in Ohio has introduced legislation to prevent or at least slow investment into SFRs:
In Ohio, a state senator introduced a bill to impose a 45-day waiting period once a private investment firm offers the highest bid on a rental property in foreclosure. During that time, the tenants, if they can match the bid and agree to live in the home for one year, may buy the property. Also during that window, another buyer—an individual who promises to live there for a year and offers more than the winning bid, or a nonprofit affordable housing group—may buy it.

Failing those offers, the investor would be allowed to purchase the home.
Finally, Senator Jeff Merkley (D-OR) has introduced S.5151 – End Hedge Fund Control of American Homes Act at the end of November. Obviously, the bill hasn't even been debated, never mind passed. But it's not nothing, right?
I think I deserve at least some kind of a nod here, so I'm going to award myself a quarter point for… ah… directional correctness even though the prediction itself was wrong.
Conclusion
I thought maybe my comeback had started last year, going 3.5 for 7. Alas, I am trending back to my (recent) historical average of like 1 for 7 with a 1.75 for 7. And the 0.75 was… shall we say… marginal.
It was fun making the predictions, and fun (although less so) grading myself on said predictions. Hope you had fun reading the predictions, thinking about them, and now making fun of just how wrong I was last year. I'm certain that I will continue to be wrong this year as I make 2023 predictions.
Be safe, keep your head up, Merry Christmas and goodwill towards all everywhere!
-rsh