A friend and subscriber who has been reading my stuff messaged me to ask why I do not believe the "home prices will fall" narrative. I figured, why not let it all hang out, right?
Keep in mind that I'm no economist, and not a macro investment analyst. Keep in mind that I could be very, very wrong about all of this, because markets and economics are both ultimately about human psychology. Talk about unpredictable. That the Kardashians exist as public figures at all just shows how unpredictable human psychology is.
Having said that, let me explain at least my reasoning on why I don't believe we're in a bubble, why 2022 is not the repeat of 2007, and why I ultimately do not think home prices fall at all. Price growth slowing is not the same as price actually falling. Again, I don't claim to be right; I only claim to believe what I'm writing. And as in all things, I have strong opinions weakly held. Evidence and argument can and will change my opinion.
With that out of the way, let's get into it.
No Price Gains, Just Currency Devaluation
I've been saying this for quite a while now, ever since I got redpilled about what the hell actually happened post-COVID in 2020.
I maintain that there has been no actual price increases in the price of houses. Instead, there has been dollar devaluation from massive fiscal and monetary stimulus.
This is a very different situation from the Great Recession housing bubble, where the price of housing was driven up by speculation.
Here's the evidence for my crazy proposition: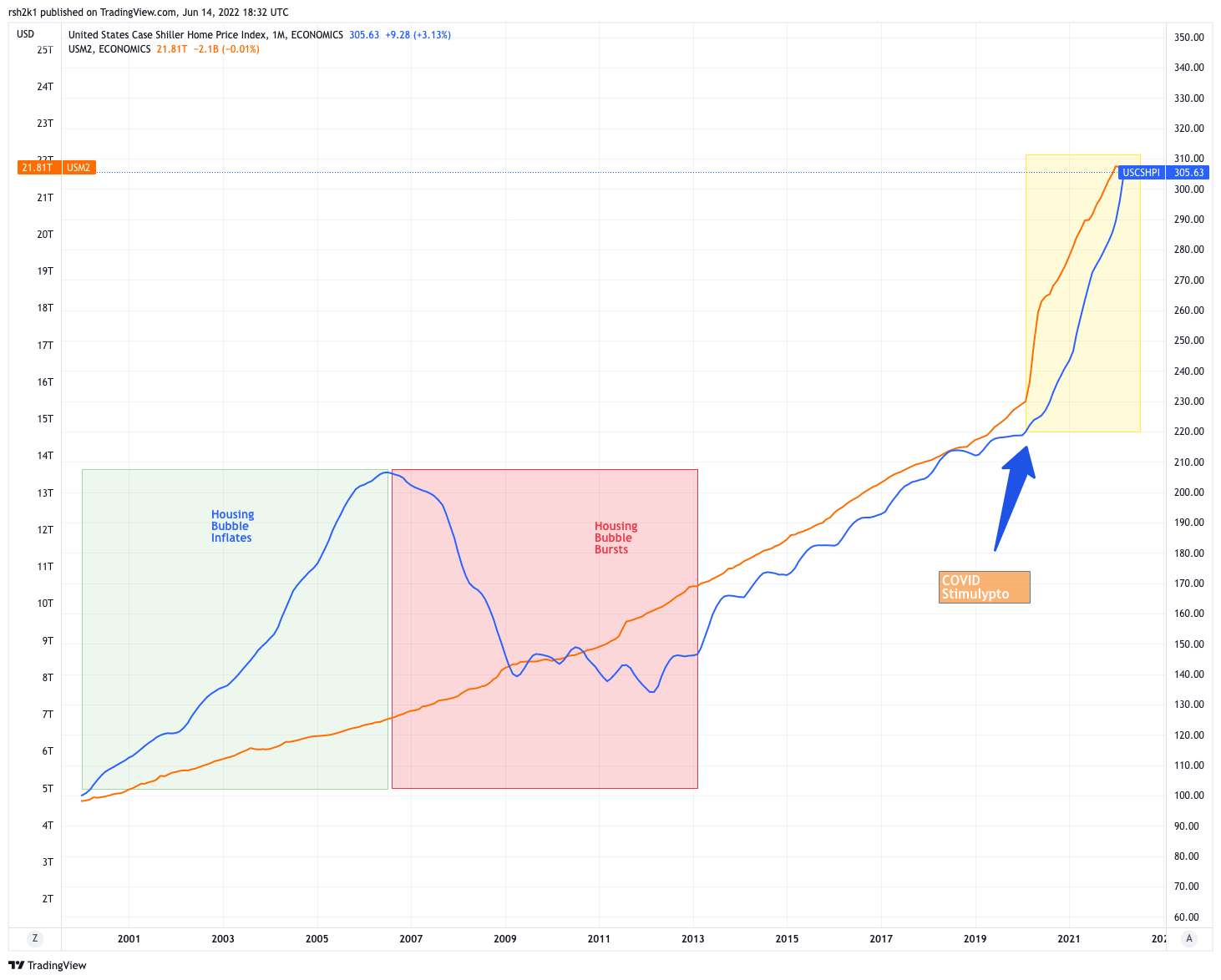 The link to the chart is here in case you want to mess around with it some more.
This chart is a simple comparison of the US M2 money supply with the Case Shiller Home Price Index. The blue line is the home price index, and the orange line is the M2 money supply.
The steady increase in the money supply from 2000 onward is troubling enough, but that sharp jump in 2020 is what's driving 8.6% CPI prints and historically high inflation across the board. I do not agree with the Keynesians that our inflation problems have anything to do with demand, supply chain issues, Putin, whatever. I'm down with Big Papa Friedman in agreeing that inflation is always and everywhere a monetary phenomenon.
The enlightening line is the blue line. We see it shoot up from 2000 to about 2007 as the Real Estate Bubble inflated. Why did it inflate?
For those of us who were adults back then, 2000 is when the Dotcom Bubble burst. 2001 is when 9/11 happened. The double whammy caused serious, serious problems in the economy. So the Fed acted to stimulate the economy:
As a response to these two economic shocks, Federal Reserve Chairman Alan Greenspan decided to cut rates to one percent starting in 2001 in order to stimulate the economy. This expansionary policy was Greenspan's weapon of choice, as he had been praised in the past for saving the United States from several crises by using the same policy. After 11 federal funds rate cuts, the federal funds rate was one percent from June 2003 to June 2004.
That cheap money (i.e., money printing) plus a bunch of other things (Clinton era Community Reinvestment Act, among others) practically told the banks to start giving away money via mortgages. Add in shortsighted and greedy mortgage bankers and brokers, and we had the Bubble.
But look at the chart above. What that shows is home prices unmooring from the money supply. It goes absolutely parabolic, despite the actual money supply being flatter. That signifies a true increase in home prices relative to the dollar.
In contrast, look at the post-Bubble home prices. We went through a trough from about 2009 until sometime in 2013 or so. I remember it, as I was already doing consulting work. Those were some lean years and dark days, and it wasn't until sometime in 2013 when things started to ease up. And since then, we have had a ten year run of home prices going up and to the right.
However, when I look at this chart in light of my redpilling, I now believe that home prices did not go up at all from 2014 or so until today. The dollar just devalued, because of increased supply. I don't know how else to explain the lines looking like they do. In fact, a pretty decent argument could be made that home prices were actually too low and not going up fast enough from 2014 until today.
No Bubble, No Burst
So the reason why I don't believe we will see "Housing Bubble Bursting 2.0" is that there is no actual housing bubble in 2022. Just look at the blue line relative to the orange line. In 2000-2007, yes, absolutely a Bubble formed in housing because prices became completely unmoored from the money supply. From 2014 to now, home prices just track US money supply growth.
I mean, I guess you could call that a hot housing market… in dollar terms. A more accurate description, I think, is a flat housing market tracking an explosively growing US Dollar market.
For comparison, here's the NYSE Composite vs. the US M2 chart: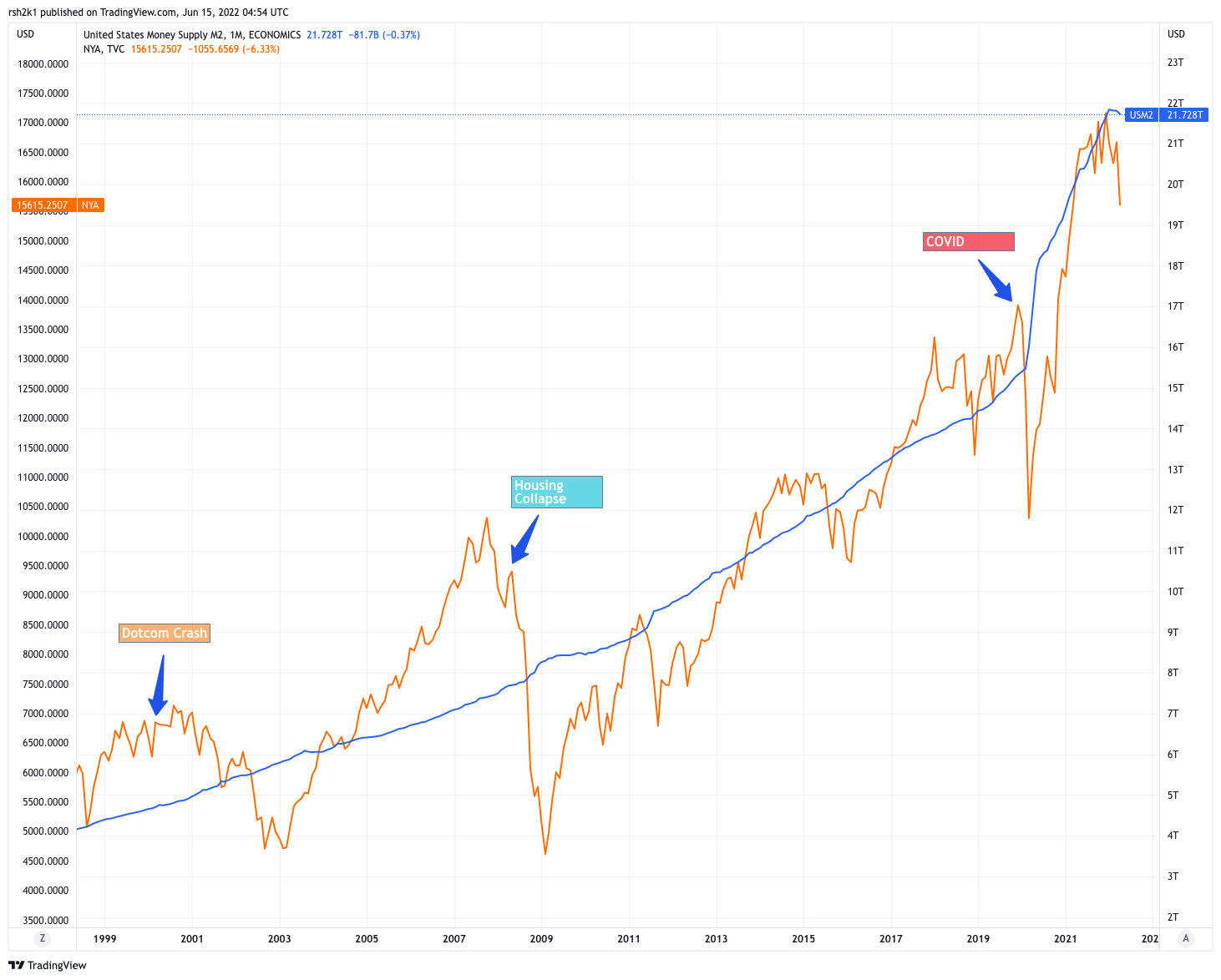 We have very similar action in the stock market as well, except the Dotcom bubble, then the crash, then the housing bubble, then the crash, then a much more volatile jagged upward trajectory, until COVID. If you look closely, you can sorta see the stock market absolutely crashing, then the massive money printing, which causes a very sharp rebound. And now, it's crashing again because of Fed actions.
Maybe the stock market also has not been in a bull run; it's been flat in the middle of a currency bull market.
Falling Home Prices
Given the above, the only way I can see home prices actually falling is if:
We somehow decrease the M2 money supply pretty dramatically.
The government passes laws or regulations that make housing a terrible asset.
The Fed is trying to do (1) with all the rate hikes and threats of quantitative tightening (QT). Maybe the Fed can also raise reserve requirements, forcing banks to keep more on deposit with the Fed.
From cursory look at the charts, to get us back down to longterm trend for M2, the Fed would need to suck some $6 trillion out of the economy. And that's just to get back to the default inflation of the M2 supply from 2000 onwards. If the Fed did that, then yeah, I guess we'll see home prices falling from around 310 to around 230 as it will just track money supply as it has since 2014.
The last time the Fed removed liquidity from the economy as it was slowing, we got the Great Depression. Here's Milton Friedman explaining it:
The Depression, I may say, which started in 1929 was rather mild from 1929 to 1930. And, indeed, in my opinion would have been over in 1931 at the latest had it not been that the Federal Reserve followed a policy which led to bank failures, widespread bank failures, and led to a reduction in the quantity of money.

What happened was that for every $100 of money, by which I mean the cash that people keep in their pockets, and the deposits they have in the bank, for every $100 of money that there was in 1929, by 1933 there was only $67. The Federal Reserve allowed the quantity of money to decline by a third. While, at all times, it had the possibilities and the power of preventing that from happening.
Well, going from $22T to $16T isn't quite a third, but it's about 27% of the money supply. That's close enough for real concern. And considering how the various financial markets are responding to a couple of fairly mild steps by the Fed, I don't know what happens if the Fed actually removed 27% of the money supply out of the system.
25% unemployment rate? Equities down 80%? Thousands of bank failures, bankruptcies, foreclosures, and immense social misery. That's what we had in the 30s. And at the end of that, we'll get back to the pre-COVID inflationary levels where we were adding about $1 trillion to the money supply every year.
The second way that home prices fall will be if the government takes actions to make housing a terrible asset class. Price caps, rent control, prohibitions of investing in real estate, all manner of regulations, etc. etc. Y'know, the whole "Housing is a Human Right" thing but written into law. That will essentially make housing stop being an asset at all, and become a durable consumer good, like cars. That in turn impoverishes some 65.4% of Americans who are homeowners, and for most of those homeowners, the primary residence is the single biggest asset for retirement.
And Congress is going to do what to whom now? It won't happen because it can't happen.
Since I see no political or economic reality where either happens, that leaves only one possible outcome. The money supply continues to grow, and home prices continue to grow right along with it. Because houses have not gotten more expensive; the dollar has gotten cheaper.
I suppose this is a very long way of saying, "Yeah, but this time, it really is different." Famous last words, I know. And yet….
-rsh